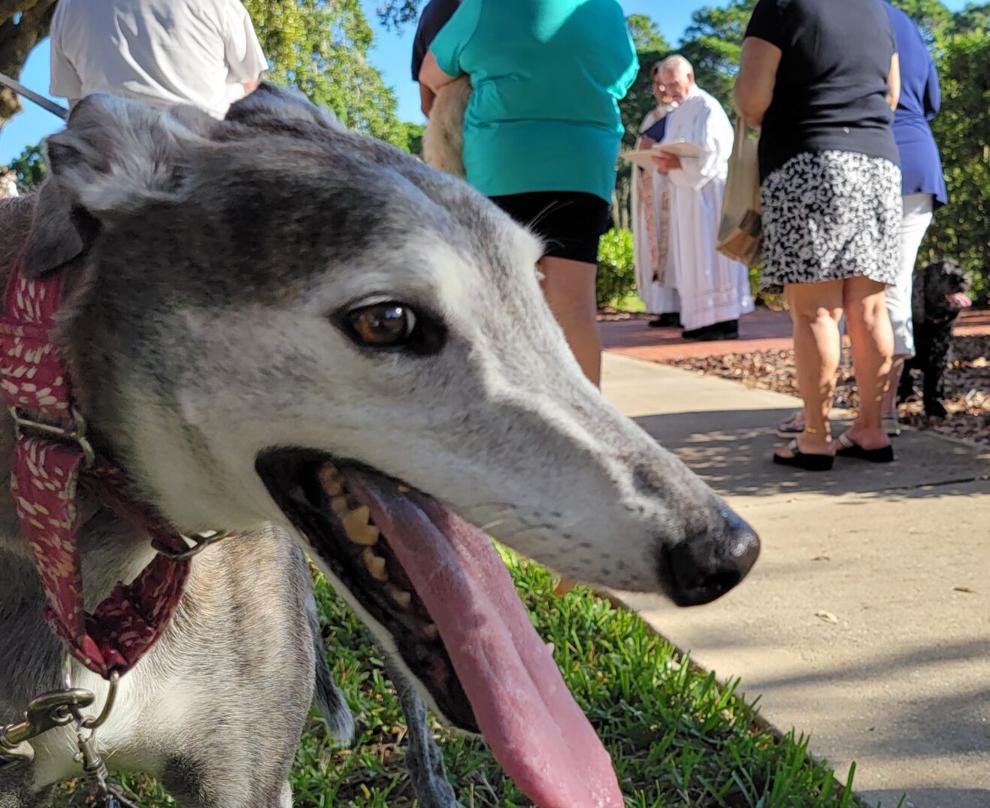 ENGLEWOOD — Paola Donhauser told baby Luna it was OK to eat vanilla ice cream, and then she was sprinkled with a little holy water.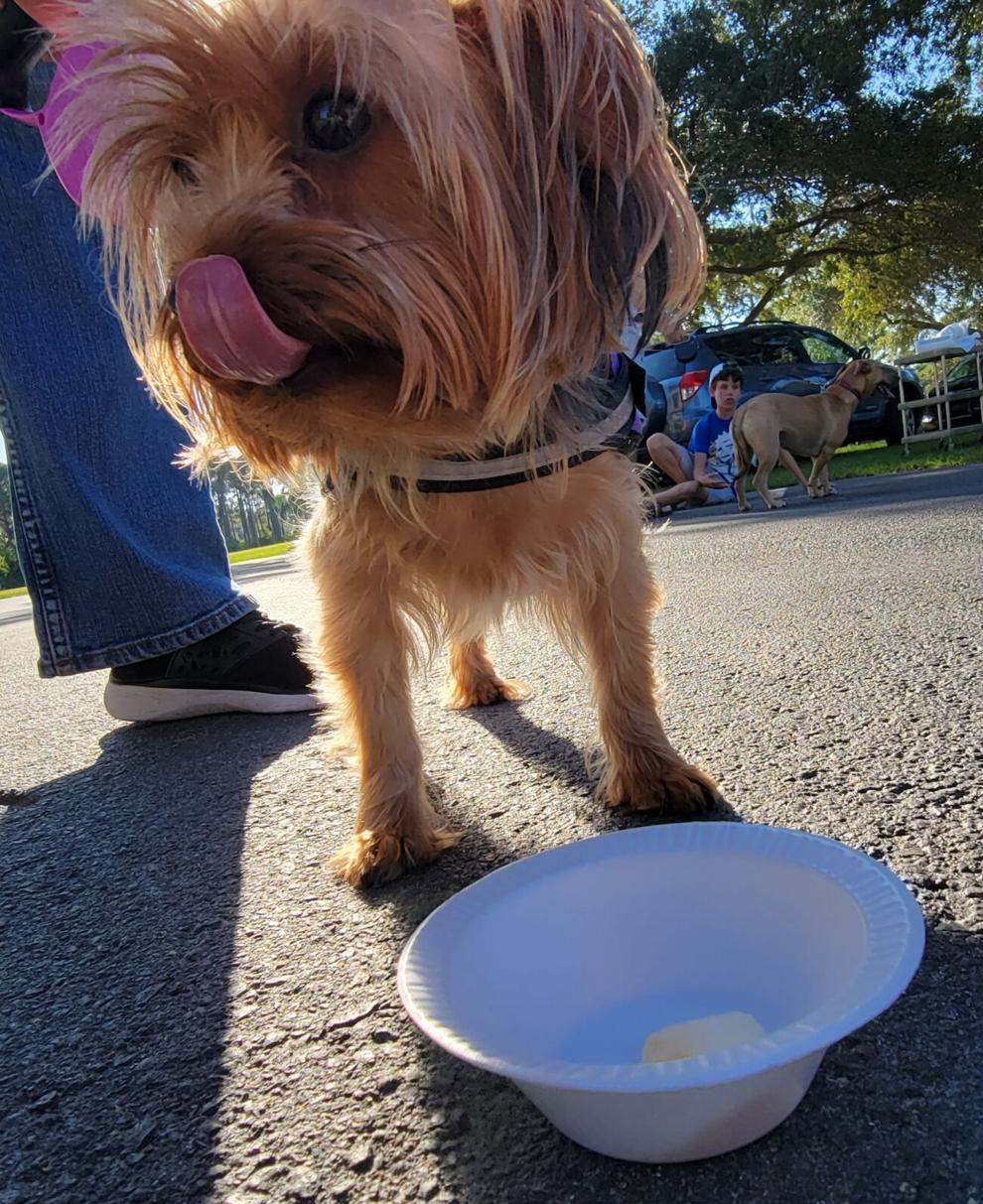 The 2-year-old Yorkie licked the bowl of ice cream and looked around at other dogs after the St. Francis of Assisi Catholic Church's blessing of the animals Saturday.
"She's so spoiled," Donhauser said. "We belong to the church. I brought Luna here in hopes it will improve her behavior. No, I'm just joking. She takes naps with me. She sleeps in my daughter's bed. She runs the house. We love her so much."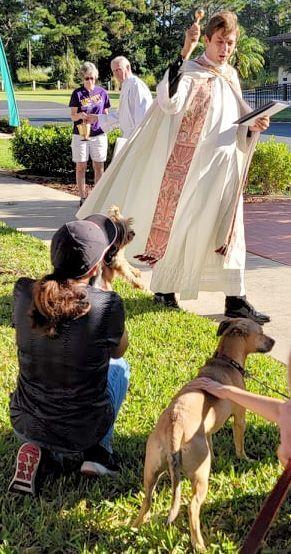 Several breeds joined the tiny Yorkie including greyhounds, shepherds, a standard poodle and lots of mutts, all blessed with holy water by the Rev. Cory Mayer.
"I think they are all wonderful," said Mayer, who is in his first year at St. Francis of Assisi in Grove City near Englewood. "Pets are a reminder that God blesses all of our creatures and those around us. We would love to see more come next year. We will hold the blessing close to the Feast Day of St. Francis."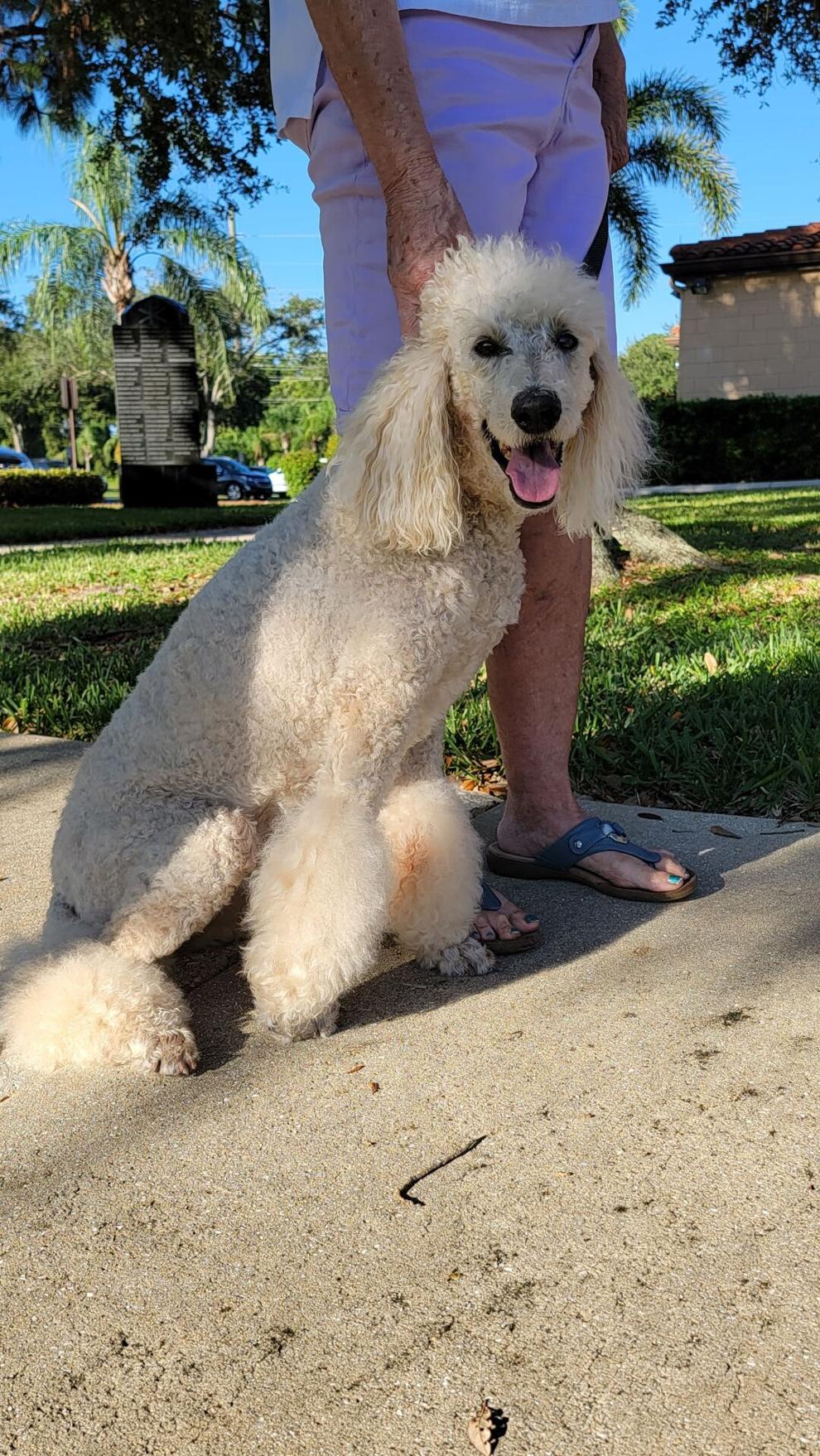 While no one knows exactly when St. Francis was born, the Catholic church celebrates his role as patron saint of animals and ecology on his feast day, Oct 4., which commemorates his death in 1226.
Deacon Robert Godlewsky read a blessing for the crowd of about 50 pet lovers and their pooches.
Philip Knecht, 14, asked Mayer for a photo of them with Raspberry "Razz" the dog after the service.
Eileen Formes and Denise Allen brought 14-year-old Sadie the standard poodle to be blessed. Sadie "met" Gus, an 11-year-old cocker spaniel, Molly the 2-year-old white Labrador retriever and others. None barked at each other during the blessing.
The Knights of Columbus 7672 provided the ice cream as they've done every year except last year, when it was canceled due to COVID-19.
"We love it, the dogs love it," Knights member Richard Woodcroft said.
There are two more upcoming Blessings of the Animals in the area:
• After the 11 a.m. Mass Sunday at San Antonio Catholic Church, 24445 Rampart Blvd., Port Charlotte. Father Leo Riley, the pastor, will be blessing all the pets outside the front of the church under the overhang. The Peace River Wildlife Center will be on hand for the blessing. In addition to the blessing, pet medals and prayer cards will be given out. It asked people to not bring your pet into the church and do not leave a pet unattended. It asked participants to use a leash or pet carrier.
• Noon-2 p.m. Monday at St. David's Episcopal Church, 401 S. Broadway, Englewood. Rev. Vickie McDonald will conduct the drive-through blessing. All are welcome.