ENGLEWOOD — Charlotte County is preparing to maintain Stump Pass.
Commissioners will be asked Tuesday to approve a $2.2 million contract with the Florida-based Atlantic & Gulf Dredging & Marine for the maintenance dredging of 5,000 cubic yards of sand from the Stump Pass channel. The channel will be dredged to a depth of 5 feet.
Dredging could begin soon after the end of the sea turtle nesting season in October and be completed in the early spring.
The contract also calls for the restoration of the south shoreline Stump Pass, the north shore for the Palm Island Resort on Knight Island.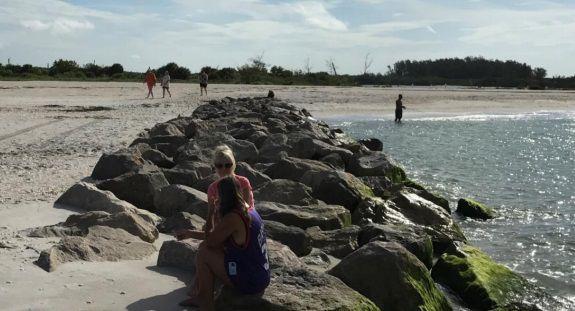 The good news is that the permeable 400-foot-long rock groin — a "leaky jetty" extending from the southern tip of Manasota Key — that was built in 2017 and is working as designed. The groin was engineered to trap some, but not all of the sand traveling south in currents from slipping into the Stump Pass channel.
"The Stump Pass dredging interval has been extended over four years," Public Works spokeswoman Tracy Doherty said.
"While the pass continues to fill in and migrate southerly in response to coastal forcings, the pass has held the approximate (five foot) controlling depth since the spring 2017 dredge project was completed," Doherty said.
Other good news is that the bulk of the costs for the $2.2 million project is expected to be paid with funding from the Florida Department of Environmental Protection and with hurricane funds available through the Federal Emergency Management Agency and Florida Department of Emergency Management.