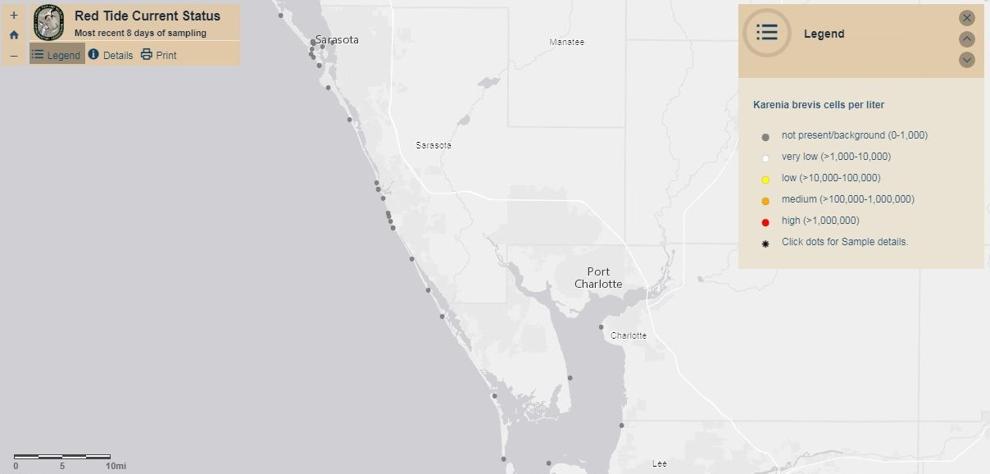 ENGLEWOOD — With sporadic rain and an overcast sky Friday morning, few people braved the weather on local beaches.
The good news, however, is recent reports suggest local Gulf beaches appear free of airborne toxins from patchy red tide algae blooms that have persisted since December of last year. Thicker concentrations of the toxic algae and its airborne toxins cause coughing, irritated throats, respiratory and other ailments in humans.
When asked if red tide will return any time soon to Gulf beaches, Nadine Slimak said, "There's no way to tell." Slimak serves as a spokeswoman for the Red Tide Respiratory Forecast system.
The system receives and tests water samples three times daily at the shorelines of beaches from a network of volunteers throughout the state. With the help of a high tech microscope and iPods, photos of the water samples can be transmitted by satellite to researchers who analyze the water samples for red tide.
Slimak stressed the forecast system is narrowly focused on the respiratory and other health conditions resulting from red tide. It does not address fish kills and other environmental conditions provoked by red tide concentrations.
The testing system was implemented by the National Oceanic and Atmospheric Administration and the Gulf of Mexico Coastal Ocean Observing System five years ago.
"We want to ensure that all communities have access to important information to protect them from the health effects of red tide," said Barbara Kirkpatrick.
She was a respiratory therapist who participated in the development of the forecast system with NOAA researcher Richard Stumpf.
The results of the testing system now has expanded its services to coastal counties in the Florida Panhandle. Red tide concentrations are intensifying along Panhandle, especially in St. Joseph Bay.
For the most part, Sarasota, Charlotte and Lee counties are free of algae blooms for the moment, according to samples collected by the Florida Fish and Wildlife Conservation Commission and posted on myfwc.com Friday.
However, there were exceptions.
A water sample taken Tuesday, nearly 10 miles off Sanibel, turned up with medium concentrations — 100,000 to 1 million cells per liter of water. A second sample, taken a mile off Sanibel, showed a low concentration of the algae, less than 100,000 cells per liter of water.