Patti Robertson asked the crowd to pray for her nephew Joshua Freeland who sent a message from Afghanistan saying "I'm safe."
Robertson and her husband, a Vietnam War veteran, spent Friday morning at Englewood Veterans Memorial and Freedom Pavilion singing and praying for those in Afghanistan.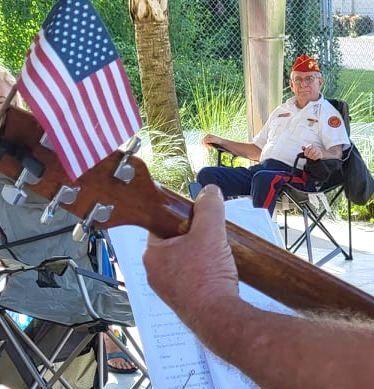 Each Friday, a group of men board a boat and head to Don Pedro Island for what's become known as Freedom Friday.
They sing, pray, give testimony and "enjoy God's beauty."
On Thursday, after learning a suicide blast at the Kabul Airport killed 13 U.S. service members and more than 100 Afghans, members Randy Smith and Bruce Crane called a community prayer service at the end of Englewood's West Dearborn Street.
Despite the short notice, several veterans, women's auxiliary members, families of veterans and three pastors came to show their support.
Smith is known among local veterans as the soldier in 1975 who took down the U.S. flag at the American embassy in Saigon, Vietnam. He helped evacuate more than 5,000 American civilians from various points in and around Saigon.
"When we left Vietnam, we got out hundred of Vietnam contractors and our troops," Smith said.
He said contractors do "the same thing" as the military in a variety of ways.
"We appreciated them. I know things are a lot worse in Afghanistan as they are leaving," he said. "Only God, only God can protect our service members and our allies and their families."
He said now is no time to seek blame.
"But for us to be united as one nation under God," he said. "I cannot image what it's like for the spouses, mothers, fathers, children and grandparents of the soldiers who died this week. That knock at the door is so painful. We must keep these families in our prayers."
Crane played guitar, singing Christian and patriotic songs. The crowd sang along.
John Russell walked over to the nearby Englewood Veterans Memorial on the shore of Lemon Bay. He stood at the pole of the American flag and tapped it 13 times in memory of the service members who died.
"We have to trust in the Lord," Crane said. "We know God made the ultimate sacrifice in giving us Jesus. Our soldiers sacrifice themselves and their safety so we can have freedom. They are the example of what love thy neighbor is when they put their lives in danger to preserve the life of others."
Robertson asked if she could sing a song to the crowd who said the prayer for her nephew's safety.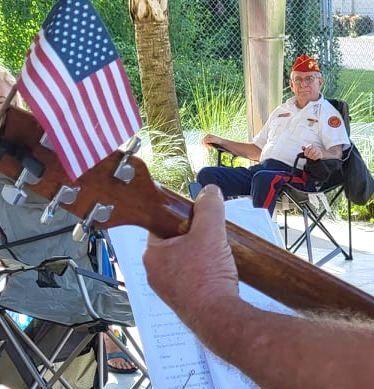 Trina Koehler came forward and said she has many relatives who served in the military. She's afraid for all of the members of the military who are suffering.
"I ask the Lord to lift them up, please take the PTSD and the suicidal thoughts of these soldiers," she prayed. "Please God, you are the only one who can take away the pain that comes straight from Hell. You God are the healer who heals. Please place a hedge of protection around these men and women. Help them Lord."
Rich Betrosian, a longtime member of the VFW Post 8302 and chaplain, teared up as he prayed.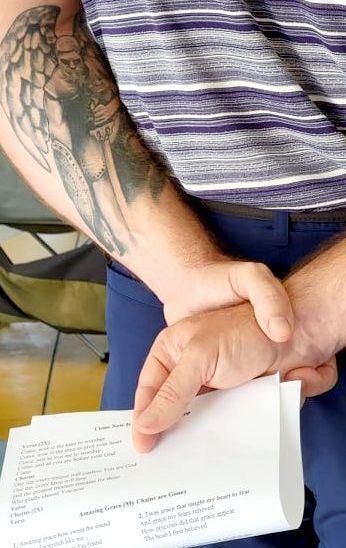 Smith asked everyone to walk to the set of flag poles at the Veterans Memorial. Each flag represents a military branch. All were tattered, and the American flag had stuck to the pole next to it. With the faded flags blowing in the breeze, the people in the group put their hands across their chests as Senior Master Sgt. Pete Rosa, retired from the U.S. Air Force Band, played taps on his bugle.
Englewood Fire Department Chief Kevin Easton joined the crowd at the end of the ceremony. He said firefighters were on their way with a ladder truck and would untie the twisted flag and remove all of them.
A member of the Englewood VFW left the service to get new flags to replace the old ones.
"You see, God works in us for His glory and honor," Rosa said. "Veterans need more recognition for their sacrifices. And we need to keep them and their families in our prayers."