ENGLEWOOD —  Michael Stipp sat in the same barber chair in Englewood, just as his dad did 39 years ago.
While the 43-year-old declined a piece of the celebratory anniversary cake at Irving's Barber Shop Tuesday, he shared stories about visiting Englewood as a child.
"My grandpa drove us to this barber shop in his old Corvair," said Stipp, who is with Allure Boat Rentals in Englewood. "He would whistle while he got his hair cut. All these years later, I still enjoy coming here. I live close and the barbers are very nice here.
"I tried cutting my own hair during this pandemic, but I missed a bunch of spots."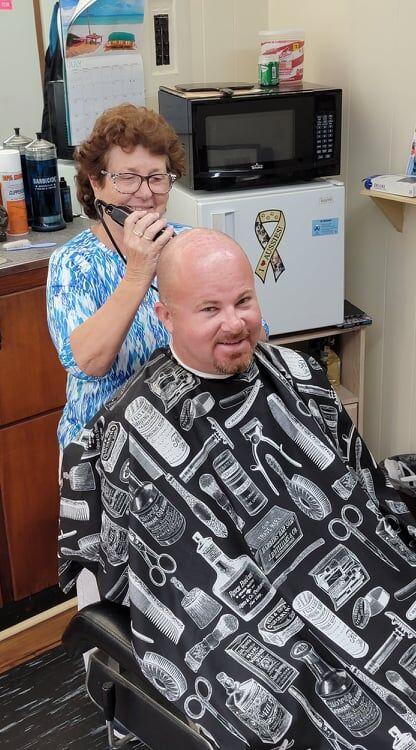 This week, Irving's Barber Shop, 560 S. McCall Road, celebrates its 65th anniversary in Englewood.
"The barbershop was built by Merle Irving himself," said longtime barber Brenda Kaler. "He was a builder before attending a Jacksonville barber college in 1955. He died in the 1990s. His daughters Kris Boyden and Kathy Irving own it. They are a wonderful family and treat us like family."
Irving had to mix his own concrete because there were no close-by concrete plants at the time.
Today, the tiny barber shop — which still has an antique chair, vintage photos of Irving and his family and the same chairs from decades ago in the small waiting area — is off the beaten path. However, the shop stays busy with two barbers. They were only closed for eight weeks during the early months of the pandemic.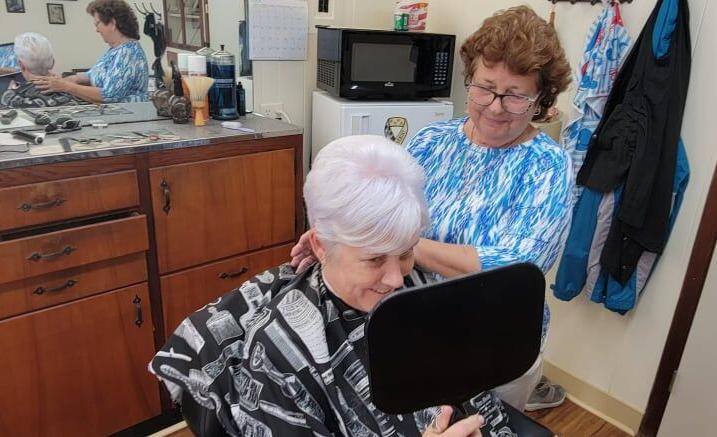 "This used to be the main drag through Englewood years ago," said Vicki Kaar, speaking of South McCall Road, which passes a few yards from the store's front door. Years after Irving's first opened, the state of Florida moved State Road 776 a few blocks east to Indiana Avenue, and the traffic flow changed.
Kaar has been a barber for decades.
Years ago, Kaar said, there were no female barbers in Englewood. She had a hard time getting a job.
"I said if they won't hire me, I will open my own barber shop," she said. She did.
"It was near the Sportsman's Pub. I would bring a six pack of beer and my customers would split them. I did it for a long time until some undesirables came along and wouldn't leave. I called the cops and the person complained that there was still beer left in my cooler," she said.
Kaar and Kaler met at the pub. The two ended up working opposite days at Irving's for several years now.
"When I started, there were men who didn't want a female barber and I never took offense to it," Kaler said of her nearly 10 years at Irvings. "I went to school to be a barber at age 42. I was a bartender. I always wanted to cut hair. It's my favorite job. Things have changed. I have male customers who only want their hair cut by a female barber.
"When I worked at another barber shop in Englewood, I would close at noon, turn on the game and only cut hair for my working customers who couldn't get there during the week," she said.
Photographs at Irving's show Merle with a pair of hedge shears playfully cutting Englewood resident "Uncle" Bill Hickey's beard during the Pioneer Days Beard Contest. There's another old-time photo with Merle cutting the hair of "Clarence," the dummy owned by ventriloquist the Rev. Byron P. Richardson.   
Merle was also civic-minded. He visited home-bound resident's and cut their hair. He did the same at hospitals or nursing homes.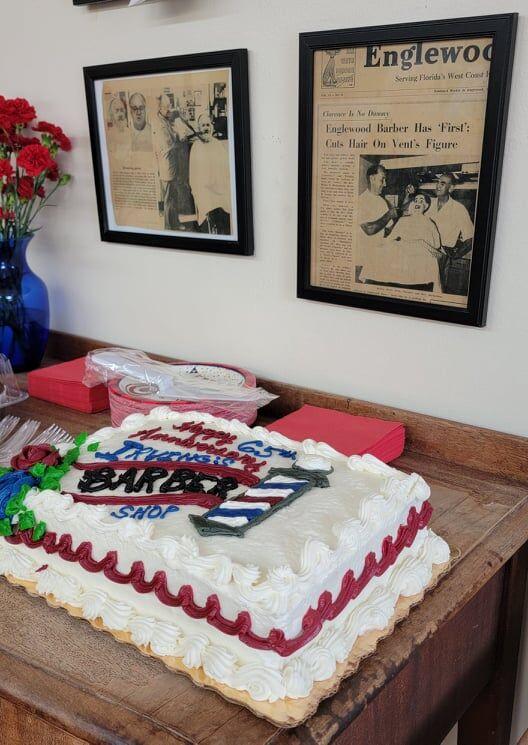 Much like in the past, there's no direct phone number at the shop because there are no appointments necessary, they only take walk-ins.
"We are very old-school here," Kaler said. "We don't do colors, perms, styling or other services. We cut hair."
The shop is giving away cake and cupcakes this week to celebrate.