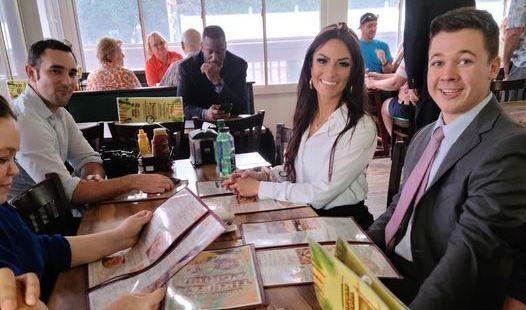 ENGLEWOOD — The weekend following his acquittal on several felony charges in Kenosha, Wisconsin, Kyle Rittenhouse was spotted around Englewood.
Over the weekend, Rittenhouse visited a restaurant in Placida after taping segments with Fox news commentator Tucker Carlson, who lives in Boca Grande on Gasparilla Island.
A photo of Rittenhouse at Smokin Jerry's at Gasparilla Marina in Placida was shared hundred of times on social media, including from Republican lawmakers Florida Sen. Joe Gruiters and Sarasota County Commissioner Christian Ziegler, who added a message to Rittenhouse, "Welcome to the free state of Florida sir!"
Ziegler told The Daily Sun Monday what he meant by his comment.
"I love his (Rittenhouse's) tourism dollars being spent at restaurants in our backyard, and that Florida appreciates the concept of self-defense because we appreciate freedom and law and order," Ziegler said.
Rittenhouse gave the "Tucker Carlson Tonight" show host exclusive interviews after being acquitted of five charges last week, including killing two people. The show was set to air 8 p.m. Monday.
The high-profile murder trial showed jurors videos of then 17-year-old Rittenhouse, an Illinois resident, shooting two people and injuring another on Aug. 25, 2020, during a riot in Kenosha, Wisconsin, following a police-involved shooting of Jacob Blake, a Black man.
Rittenhouse said he brought a semi-automatic rifle to the protest in Kenosha to protect a car dealership from being vandalized and to give medical aid. He shot Joseph Rosenbaum four times, killing him. He also shot Anthony Huber in the chest, killing him. He shot Gaige Grosskreutz in the right arm. Grosskreutz lost part of his arm, but lived. Rittenhouse said he shot the men in self-defense.
After three and a half days of deliberation, the jury found Rittenhouse not guilty on the five charges. That night Tucker Carlson spoke about the jury's decision on his show. He called it a "significant day in the recent history of the country."
"Jurors were under pressure and the fear (of violence depending on the verdict)," he said. "It would take enormous moral courage for any juror to ignore the treats and follow the evidence to its logical conclusion. So much courage at times we doubted it was even possible in a country that's publicized as ours is today.
"The jury affirmed what was obvious from the very beginning he acted in self defense, it was a wonderful moment," Carlson said on his show. "Anyone who believes in impartial justice was vindicated."
Dressed in a suit and tie, Rittenhouse shared his story in a sit-down interview in Florida with Carlson. Fox showed some of the clips from the interviews during news shows and talk shows on its network and on its website.
"I tell everybody there what happened," Rittenhouse told Carlson. "I had to do it I was attacked. I was dizzy, I vomiting, I couldn't breathe."
Rittenhouse said it wasn't him on trial in Wisconsin, but "self-defense" and had nothing to do with race.
"This case, it never had anything to do with race. It had to do with the right to self-defense. I'm not a racist person. I support the BLM (Black Lives Matter) movement. I support peacefully protesting," he said.
Rittenhouse said he believes there needs to be change in the judicial process because "there's a lot of prosecutorial misconduct."
"Not just in my case, but in other cases where the prosecution can take advantage of somebody like that," said the now 18-year-old.
Rittenhouse will also be appearing in a "Tucker Carlson Originals" documentary on Fox Nation set to premiere in December. The documentary will include additional portions of the interview as well as exclusive behind-the-scenes access to Rittenhouse and his defense team.
Rittenhouse said he believes the jury came to the correct verdict and that everything went well.
"It's been a rough journey, but we made it through it. We made it through the hard part," he said.
Kyle's mother Wendy was interviewed on Fox after the verdict. She said her son was "definitely remorseful."
"He was asked if he would do it again," she told Fox News. "No, he would never go down there."
A Fox News executive recently said the network didn't pay Rittenhouse's family for any special access, footage rights or legal fees during the murder trial or after his acquittal, after it was announced that he would speak to Tucker Carlson.
The comment came after Rittenhouse's trial attorney, Mark Richards, said a Fox documentary crew was embedded with Rittenhouse's team against his wishes. Richards told the Associated Press on Saturday that he didn't think the filming was appropriate and that he had tossed the crew out of meetings several times.
David Hancock, a spokesman for the Rittenhouse family, said payment by Fox "was never offered and it was never asked for and it was never discussed."
In choosing Fox, Rittenhouse's family is putting the story before an audience most likely to be supportive. Conservatives paid his $2 million bail after his arrest last year. A website devoted to defending Rittenhouse and raising money for him greets visitors with a quote attributed to James Monroe: "the right of self-defense never ceases."
Carlson was chosen to conduct the first post-trial interview with Rittenhouse because he "was honest. At the very beginning he saw what was happening and he pointed out that Kyle was defending himself," Hancock said.
Associated Press contributed to this story.