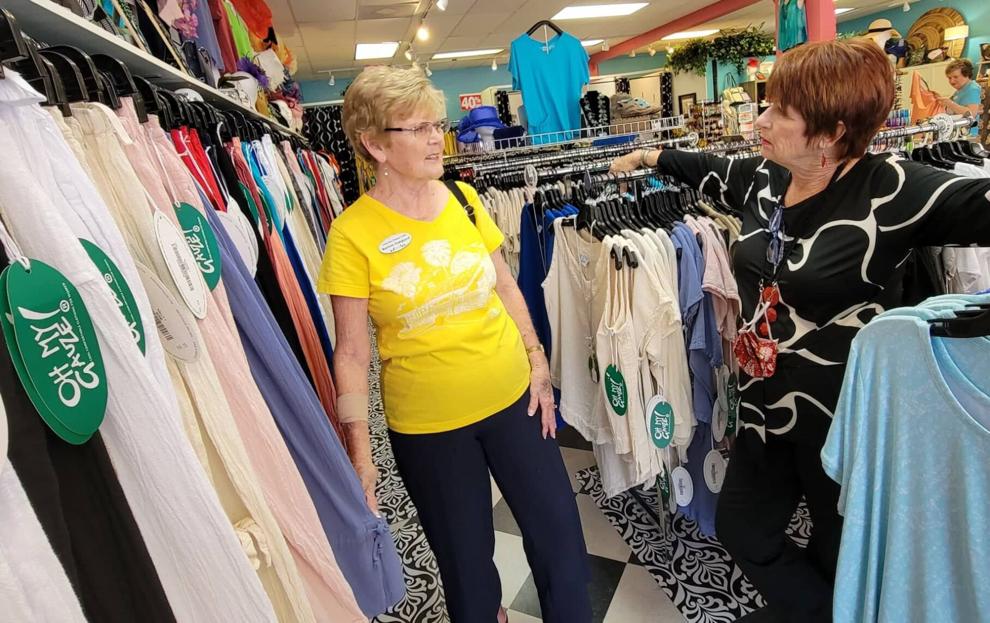 ENGLEWOOD — Sue Selfridge-Booth kicked off her Christmas shopping after spotting blouses by a Michigan designer at Sister's boutique on West Dearborn Street.
"I bought them for my daughter who lives in Michigan," said Selfridge-Booth while shopping in a pack with fellow Lemon Bay Woman's Club members Tuesday morning.
"This is really fun to shop in a group," she said.
It was a concerted effort by the members of the Woman's Club to support the merchants on West Dearborn, who have been hit hard by the COVID-19 pandemic and the beginning of streetscaping construction on some parts of the street.
Arlene Bechtold, owner of Sisters, appreciated the business.
"Some of these lovely ladies haven't been inside my store before; it was great meeting them," Bechtold said. "I have cruise-wear, causal clothing and lines that are cozy and fun."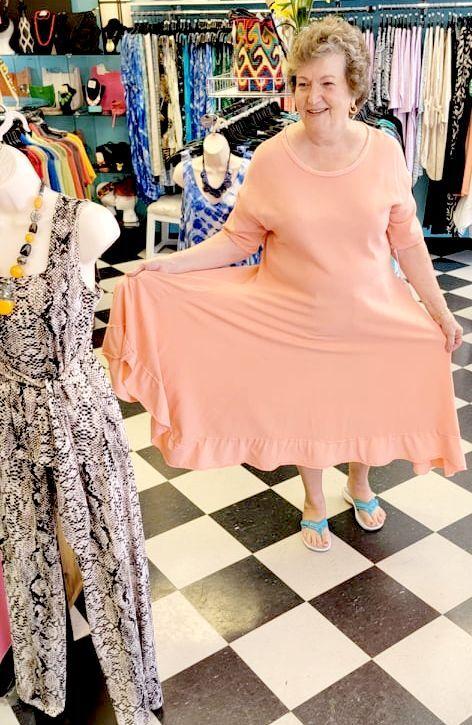 Nearby, member Patricia Vollmar tried on peach and blue dresses at Ivy's on Dearborn Street.
Ivy's owner Karen Tyree, who this summer celebrated 12 years in business in Englewood, showed off some lines of clothing that are exclusive to her store. She sells Oh My Gauze! Escape by Habitat Clothing, Zen Knits, La Mer Luxe, Pineapples and more.
"It was Patricia's great idea to have us all come out and support the businesses along Dearborn Street during the construction," Selfridge-Booth said. "Some of these businesses have to be struggling, and we want to see them thrive during this time."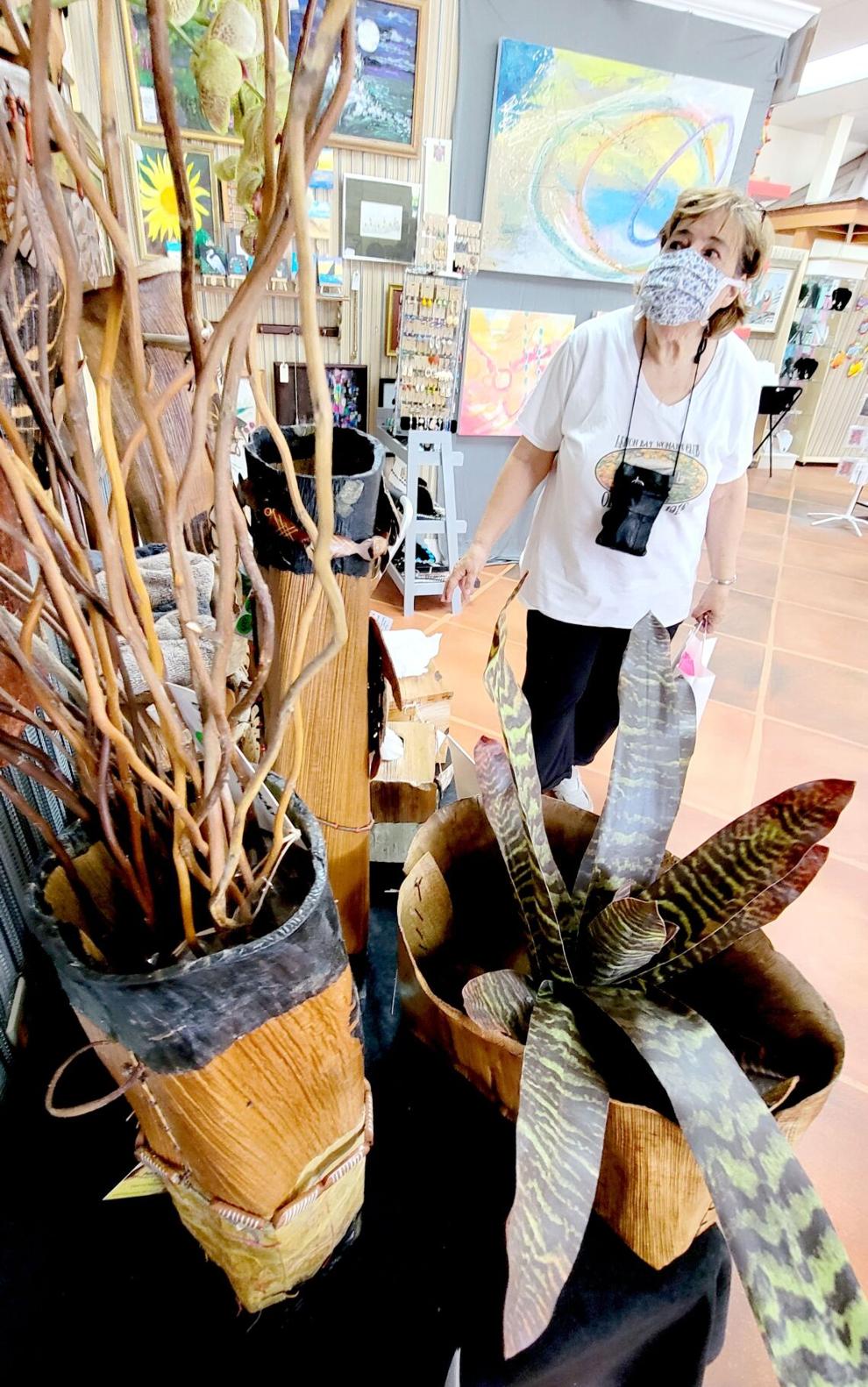 Longtime member Barbara Trumble checked out one-of-a-kind art creations from the Arts Alliance of Lemon Bay, including work by Patti Kraft who creates art from palm fronds pieces.
Another longtime member, Sherrie Cook, said it's important to shop locally.
"We have received lots of gift certificates from businesses along Dearborn Street for our fashion shows and other fundraisers," Cook said. "This is a great way for us to say thank you for everything they've done for us."
While at lunch on Dearborn Street, some in the group discussed the fashion show in 2022 and others talked about volunteering at the upcoming annual Christmas Bazaar, which is set for 9 a.m. to 2 p.m. on Nov. 12 and 13 at their historic clubhouse, 51 N. Maple St., Englewood.
"There are so many one-of-a-kind gifts we are selling at the bazaar," said member Carol Tedder. "We have stocking stuffers, cards, ornaments, shells, wreaths and many craft items."
There is a scholarship raffle dawning on Nov. 13. Tickets are two for $5.
"We really want to give three $1,000 scholarships to Lemon Bay High School seniors in 2022," Tedder said. "We were able to do it this year. COVID-19 has been a challenge. We had about 100 members. We hope to gain more since we lost some during the pandemic."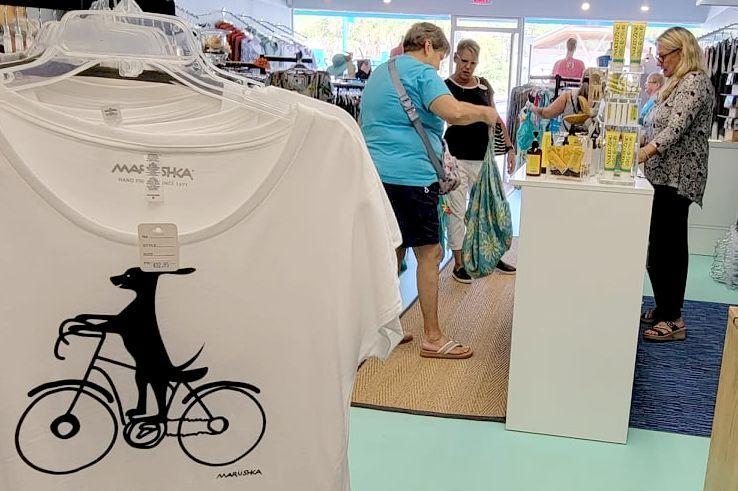 Brad Pike, owner of nearby Off The Wave, saw some loyal customers and met a few new ones.
"I'm pretty excited that some members of the Lemon Bay Woman's Club bought tickets to an upcoming fashion show fundraiser on Nov. 13 for the Literacy Center for Dyslexia," he said. "The Woman's Club has a bazaar in the afternoon and will join us in the evening. It's really how well Englewood works together."