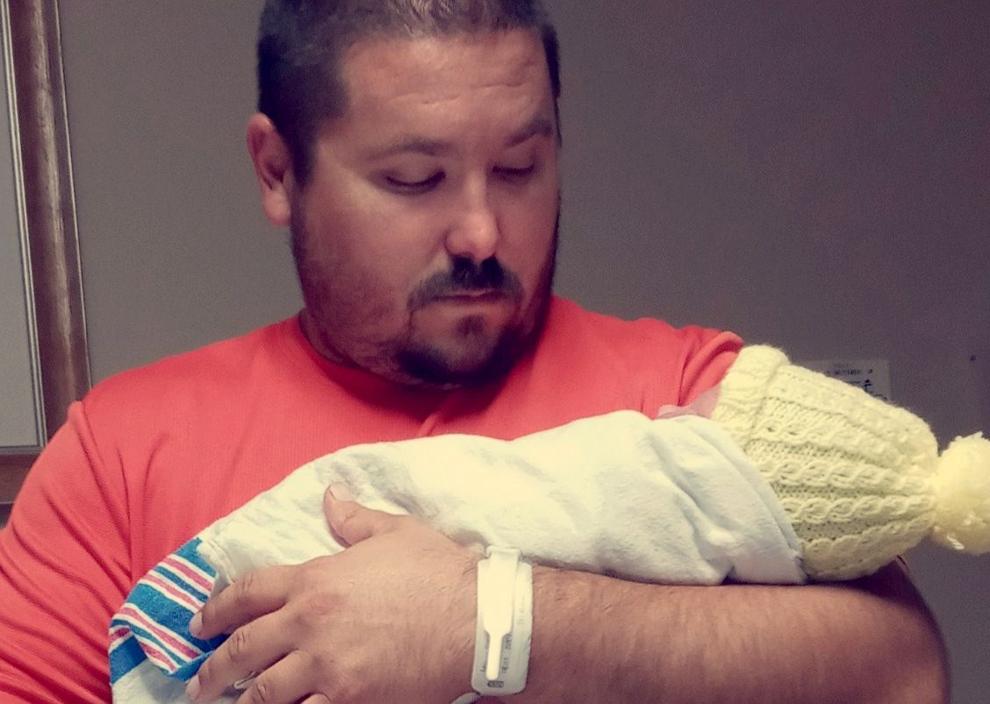 ENGLEWOOD — By the grace of God, Candace Dove says her husband Andrew is alive — but it's going to be a long recovery after he fell 25 feet from a ladder while trimming trees.
Andrew Dove, 34, suffered a broken back and internal bleeding when he fell while working this week. He is at Lee Memorial Hospital.
His wife Candace is devastated. The stay-at-home mom told her children Cheyenne, 10, Savannah, 7, Wyatt, 5, Olivia, 4, Andy, 3, and Elliot, 3 weeks, their dad wasn't coming home for a while.
Andrew was on a ladder Monday morning trimming a tree when a branch broke and hit him. He fell off the ladder, as reported in The Daily Sun. Because of his serious injuries, he was airlifted to Fort Myers.
"After X-rays and a CT scan, he is currently waiting for more testing," Candace said. "This is a hard time for us. Andrew is all the way in Fort Myers. It takes over an hour to get there."
Three weeks ago, the couple welcomed baby Elliot into the family. Candace says it's hard to be away from him for a long period. She can't take him to the hospital due to COVID-19 restrictions. The couple has a nonverbal son, Wyatt, who is on the autistic spectrum and doesn't comprehend why his parents aren't home.
"Our other children, including the 3-year-old, understand when somebody says mommy and daddy will be home soon, where Wyatt does not understand," she said. "In a few weeks, we're going to have four going to school this year. It's going to be challenging because this will be happening as we work to get Andrew up and walking.
"He may have to learn to walk again."
As the owner of Dove's Tree Care and Landscape in Englewood for 10 years, Andrew only has one other employee.
Candace said her husband prides himself on doing the work himself because he loves his customers. Now, she's afraid the family won't be able to pay the bills on time.
Concerned the family will be in jeopardy if too many bills lapse, Candace launched a GoFundMe account asking for $5,000. So far less than $1,000 has been raised.
"I'm not really sure how to ask for help," she said. "We're not usually the ones to receive the help as much as we are the ones to give the help. I know Andrew is very stressed right now, bills don't stop when you're hurt. I've been a stay-at-home mom for about four years now. Andrew takes care of our bills so I can be home full-time with our six beautiful children."
Candace says she's trying to stay calm and take one step at a time and prays for her husband of nine years.
"I have to be level headed for Andrew and our children," she said. "We are extremely thankful and blessed to have Andrew still with us. My heart dropped when I heard, 'Ma'am, your husband fell and there's an ambulance here.' The thought of losing him scared the breath out of me. I thought, 'how could I tell out children their dad passed?' Thankfully, I didn't have to."
Andrew's recovery time is expected to be two months or more.
"This will be a very difficult time for us being Andrew is our only provider," Candace said. "Unlike myself, Andrew is sitting in the ICU, in pain, broken and scraped up. The only thing on his mind is our bills. How is he going to keep the water running, electric on, food on the table, etc. for his family."