NORTH PORT — A North Port man remained in jail on charges that he stabbed another man several times, causing "deep lacerations" to the victim's face, head and back, according to reports released Tuesday.
Elexander Rashad Clarke, 28, of the 3800 block of South Salford Blvd., is charged with aggravated assault with a deadly weapon.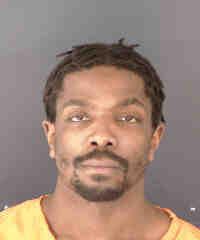 Clarke and another man were fighting in a driveway around 5 p.m. Sunday, police reported. The address and the victim's name were redacted from the report.
The victim was taken by helicopter Sunday to Sarasota Memorial's trauma center at its main campus in Sarasota. He was still in critical condition Tuesday, police said.
Clarke was arrested on the 3600 block of Tonkin Drive after a search that involved a helicopter just after midnight Monday. He was booked into the Sarasota County Jail, and was still there Tuesday night in lieu of $15,000 bond.
Police said they were called to Sarasota Memorial Hospital's North Port emergency room where a stabbing victim had walked into the hospital at 5:15 p.m. Sunday.
Detective Brian Chippendale learned the man had been stabbed multiple times and that Clarke had "fled the scene in his vehicle, a black 2015 Chrysler sedan." Police later found it abandoned on Tonkin Drive.
A witness, identified as Debbie Brown-Reid, told police she drove up to a home to see Clarke and the victim arguing in the driveway. The argument had been going on all weekend, she said.
She also described how the victim picked up Clarke and threw him down, then did it again.
The second time, Clarke had appeared to have hit his head on the driveway, she said.
But Clarke got up and began stabbing the victim. Clarke smashed into her car, trying to leave in his Chrysler.
Brown-Reid tried to call 911, but the call didn't go through. She wrapped the victim in a blanket and took him to the ER.
Clarke later turned himself into police who were searching for him. He said he was arguing with the victim and the two ran at each other. He said he didn't know what happened and may have been knocked unconscious, Chippendale's report shows.
He said he remembered stabbing the other man, with a "small dagger" that was in the front pocket of his pants. He usually keeps it in a sheath on his belt, he said.
Clarke told the detective he feared for his life. He also said "he messed up by stabbing" the other man and that he "messed up tonight." He said he knew he was in trouble, which is why he ran and hid in some woods, the report shows.
He said he went back to his house "and went inside to have a drink." When he heard the helicopter searching for him, "he decided to start walking until he met up with police."