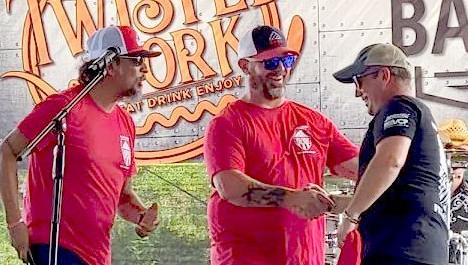 This story is part of a Thanksgiving series recognizing those who do something special to give back to the community.
Nathan Sheppard randomly met veterans and active military and asked about their service. After a few minutes, he presented them with a folded flag, a handshake and a thank you.
At 21, Sheppard joined the Navy as a damage controlman where he served 10 years combined active and reserve. He later became a firefighter and then a corrections officer. He met lots of veterans along the way.
In 2015, he began giving flags out of appreciation for veterans. By 2019, his friends convinced him to start a nonprofit so others throughout the U.S. could show compassion and respect, raise awareness and honor veterans.
Today there are Operation Fly Our Flag chapters in North Carolina, Washington state, Virginia and most recently in Florida.
"I never dreamed it would grow so big, but now I really want to see chapters in all 50 states," Sheppard, of North Carolina, said recently while visiting the Twisted Fork in Port Charlotte for a veterans appreciation event hosted by the Florida OFOF chapter.
Sheppard thanked Alex Hidalgo, a retired Army telecom/crypto equipment technician veteran from Fort Myers, who started the Florida chapter. Next, Sheppard welcomed Chad Evener and thanked him for becoming a "presenter" for the Florida chapter.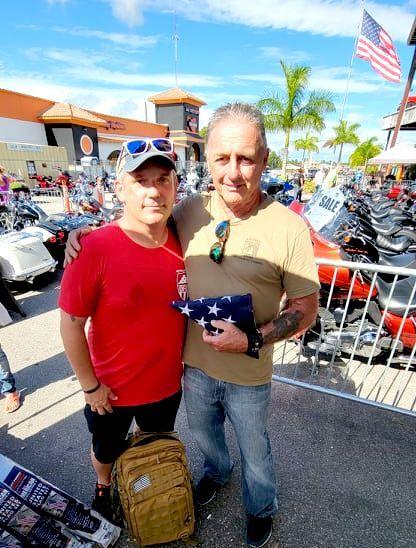 Evener served six years in the Navy, from August 1998 to August 2004. While on active duty, he was an electronics technician. He began his service at SIMA Norfolk VA as a member of the Mid-Atlantic Regional Calibration Center and later transferred to the USS Dwight D. Eisenhower (CVN 69). Onboard, he was an EHF satellite communication technician where he worked in T.V., telephone shop and worked in the telecommunications field.
Today, the North Port resident uses his knowledge and experience from the Navy as a construction specialist for Comcast where he manages projects in building new and re-building existing cable infrastructure.
Evener, and his wife, Kimberly volunteer annually for Wreaths Across America and do charity runs for Stop Soldier Suicide. He enjoys meeting service members and first responders and hearing their stories.
"Doing Wreaths Across America honors the lost veterans, but I wanted to do something that would thank veterans for their service," Evener said. "I learned about Operation Fly Our Flag and I wanted to be a part of hit and share it locally. When you give a veteran a folded flag it's special. Usually when this is done it's because the veteran or first responder has passed away. We want them to know their service matters and thank them for their dedication to our country."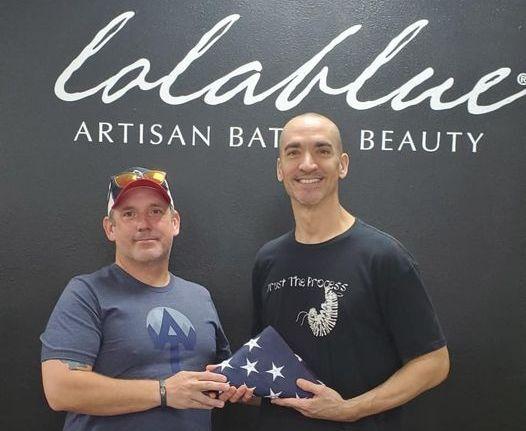 The group recently met in the Englewood Home Depot after the store donated the grand prize for raffle items for the event. The convoy rode to the Twisted Fork to celebrate the new Florida chapter and honoring local veterans.
Nels Matson of Bradenton joined the group at the Twisted Fork. He was there to talk about his upcoming cross-county run to honor the last wish of Navy SEAL Chris Campbell.
Beginning Aug. 30, Matson will attempt to break the World Record for the fastest run across America from San Francisco City Hall to New York City Hall in less than 42 days.
"Operation Fly Our Flag is the flag sponsor and onsite support for Nels during his run," Evener said.
Matson, 39, is friends with Chris' sister Cindy. Campbell was awarded for helping more than 100 Afghan women and children to safety. Chris was a SO1 (SEAL) killed in the Afghanistan #Extortion17 crash on Aug. 6, 2011.
Matson will attempt to run a record-breaking pace of 72 miles per day for "Project Campbell's Call" to raise awareness for the Call to Action that Chris Campbell left behind.
Matson trains at the Nathan Benderson Park in Sarasota.
"I never served in the military, but after hearing my friend Cindy Campbell's story about her brother, I wanted to do what I could to raise awareness for veterans," he said. "Cindy continues Chris's legacy by sharing her voice through her blog and advocating for life-saving programs and services offered to our post 9/11 veterans. Actions, not empty words, are the heartbeat of good deeds and the only way to have a positive impact in the life of someone who might be suffering."
In his will, Chris Campbell hoped 100,000 people would donate to the Wounded Warrior Project/WWP — an organization that provides life-saving services and programs to post 9/11 wounded service members. So far more than 31,000 people donated to WWP in Chris' memory.
"What Nels is doing is incredible," Evener said. "We are proud to be a part of the Project Campbell's Calls. We hope he sets the record and the Wounded Warrior Project gets recognition and veterans are helped through this worthy project."
For more information on Operation Fly Our Flag, visit www.operationfof.org or reach out on Facebook at Operation Fly Our Flag — OFOF.