This story is part of a Thanksgiving week series recognizing those people who do something special to give back to the community.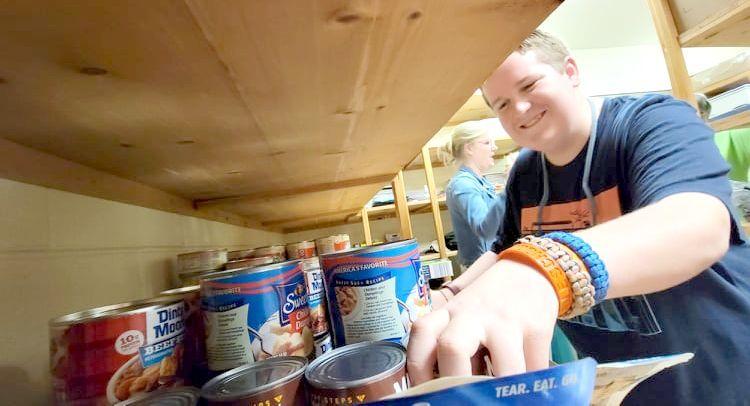 ENGLEWOOD — It made sense. If students in elementary schools took home backpacks with food, wouldn't these same kids still be hungry when they get to middle school?
Unlike at the elementary school, however, there's no backpack program or school pantry for middle schoolers in Englewood.
That all changed recently when and the Rotary Club of Englewood joined forces with the Interact Club and created a food pantry at L.A. Ainger Middle School.
Fifteen-year-old Patrick Kloss said he wanted to take the food pantry to the next level. He didn't want anyone who needed food to be embarrassed, he just didn't want to see them go hungry.
"I know it's hard for some students here, but they should never worry about food — especially on the weekends," he said. "Setting up a school pantry is a nice thing to do, but it serves a real purpose. They have backpacks for kids at Vineland Elementary School. I thought it was important to have one here too."
Rotary Club of Englewood President Traci Hamill recently met Interact President Patrick and Jeffrey Harvey, L.A. Ainger Middle School principal, at the school with a carload of food donations.
"Patrick was a RotaKid (Rotary sponsored program for elementary school students) at Vineland Elementary School where he was very active," Hamill said. "It made sense that he and the members of Interact would want to start something that was needed at the middle school."
Hearing about the food pantry, the nearby Rotonda West Woman's Club pledged to help stock the shelves at the new pantry through community food drives.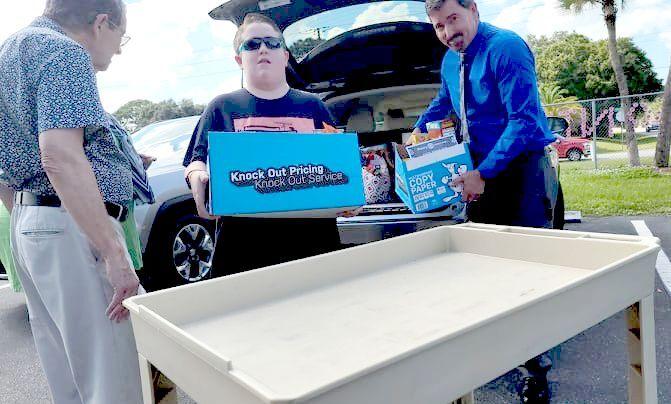 Harvey said he's proud of Interact members like Patrick who is on student council, works the concession stand, volunteers at volleyball games and does community clean ups. He volunteers five to seven hours a week. He also helped with a Halloween party for children with disabilities at the elementary school. And, he wakes up at 4 a.m. and starts his day at Lemon Bay High School where his mom works, before heading over to L.A. Ainger Middle School.
"Patrick earned the Principal's Award for having high character and being an all around great kid," Harvey said. "I'm glad the students wanted to do a pantry to help each other."
Donations of nonperishable foods (pop-top cans or pouches), peanut butter, jelly, soups, juice boxes and snacks are welcome at L.A. Ainger Middle School, 245 Cougar Way, Rotonda West, during school hours. School social worker Alyssa Short and teachers Susan James and Carolyn Costello are helping students in need receive the food anytime it's needed.
Ken Brennen, a longtime Rotary member, said he's impressed with the eighth grader.
"Patrick was very active last year during the pandemic, he didn't let anything stop him," Brennen said. "He's also in the Cub Scouts. He's got a good heart. He's a good person.
"I wouldn't be surprised if he wanted to start a food pantry at the (Lemon Bay) high school once he gets there. I really think he will make a great ambassador to the Interact Club," he said.