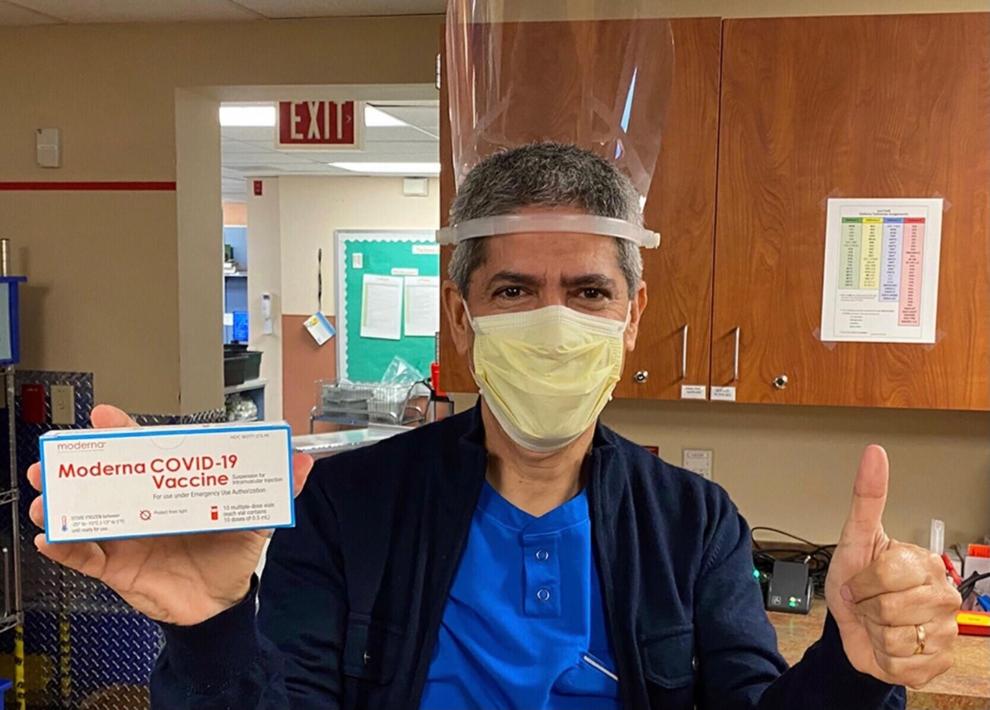 Florida is seeing a surge of new COVID-19 cases. The state reports one in five new cases in the United States. The Florida Department of Health on Friday announced 45,449 new cases of COVID-19 since July 9. That's nearly double the amount of new cases statewide from one week ago.
With new cases statewide, The Daily Sun reached out to Dr. Manuel Gordillo, infectious disease specialist at Sarasota Memorial Hospital to ask questions about what's causing the spread of new cases and if it's happening locally.
Are you seeing new cases at Sarasota Memorial Hospital?
Yes. Three weeks ago, we had three patients. Now we have an upwards of 30. We had two in the Intensive Care Unit and now we have seven. Florida has an explosion of new cases.
Are you seeing patients with the new Delta variant?
Yes. The vast majority of the patents have the Delta variant. The UK variant was 50% more contagious as the COVID-19 virus and this one is two times more contagious than the UK variant. It is spreading more quickly to people who are unvaccinated. It's going to find the unvaccinated targets. This is becoming an epidemic of the unvaccinated.
Are you seeing breakthrough cases of those who are vaccinated still getting the virus and can you pass it on to others?
The Delta variant is more transmissible. Other factors are the vaccination rate in a community and behavior. Once there's more mobility in a community and people get into crowded environments it's a perfect recipe for the virus to spread. People who are vaccinated have less virus and in some cases 1,000 times less. The less virus in one's system, the less contagious you are to others.
What's so different about the Delta variant?
Delta is a very fit strain of the virus. Once it gets to a community, it outdoes all of the other viruses like the UK variant and the Brazilian/Indian strain. In Florida, all three variants were competing and now Delta is dominant. It's more transmissible and what we are seeing.
Is it frustrating to deal with something you believe is preventable now that there's a vaccine to help prevent the spread of COVID-19?
Yes, because we have the tools to protect people. We have to divert others at the hospital because of those with COVID. Sometimes the people without the virus can't get their tests or have to wait longer at the hospital because of the COVID patients. This infection was preventable. It could prevent patients from going to the hospital or dying.
I don't know if it's a biological thing where their brain is conspiracy-prone. There's a group of people out there who refuse to get vaccinated no matter what you do. They are vaccine hostile. We know there are 30% of people who haven't been vaccinated. We know 20% won't do it so we need to work on that other 10%.
Who are we seeing in the hospital with COVID and what's the demographic?
Since January, SMH had six people hospitalized who were vaccinated and the rest were unvaccinated. We saw a larger number of older people die, especially in the beginning.
Young people think they are going to get it anyway so what would you tell them about this virus?
The disease isn't a personal issue. If you are young and healthy, you may not get a severe illness. But you can pass it on to someone who isn't as lucky and they can get sick.
Who wants to be the one who gives this disease to other people? We need to think about the entire community and not just an individual person's health.
Young people can still have substantial loss of taste for weeks, get headaches, can't breathe, have chronic fatigue and foggy brain from the virus. To me the value isn't just preventing hospitalization and deaths. There's other problems the vaccine will prevent on you and your loved ones.
What is the key to stopping the spread?
Not getting the vaccine prolongs the pandemic. It gives the virus more time to create a new variant.