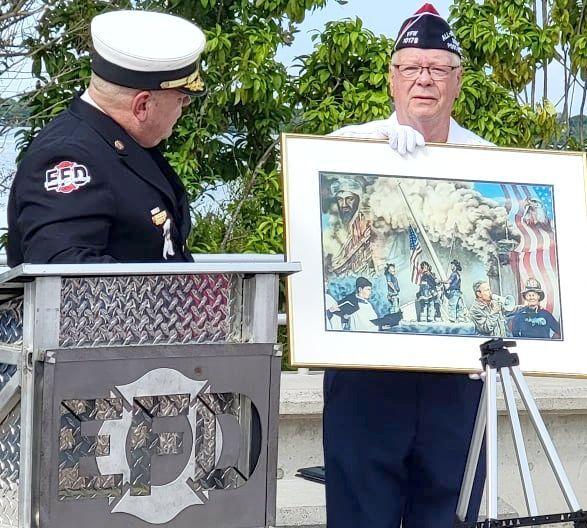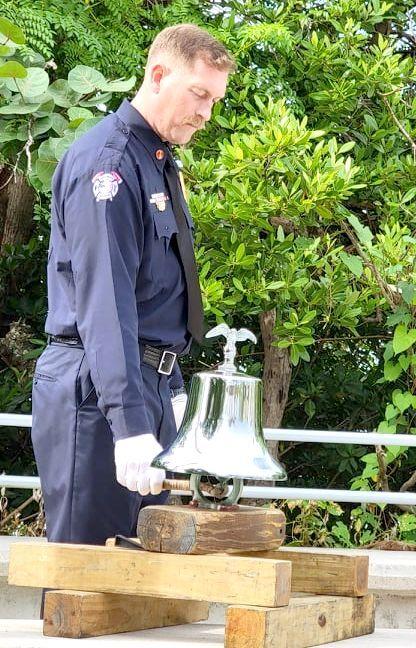 ENGLEWOOD — When he arrived to the mass grave site at the World Trade Center in 2002, Jonathan Hile felt the weight of every soul lost in the mangled wreckage.
The Louisville, Kentucky firefighter worked at the site day and night for several days. Hile said he saw so much that it's still hard to comprehend.
However, firefighters, he said, don't fear — they take action.
At times Hile choked up as he shared his experiences from working the pile to a crowd of about 300 on Saturday at a 9/11 ceremony by the Englewood Fire Department, Englewood CRA and VFW Post 10178 at the Englewood Veterans Memorial on Dearborn Street.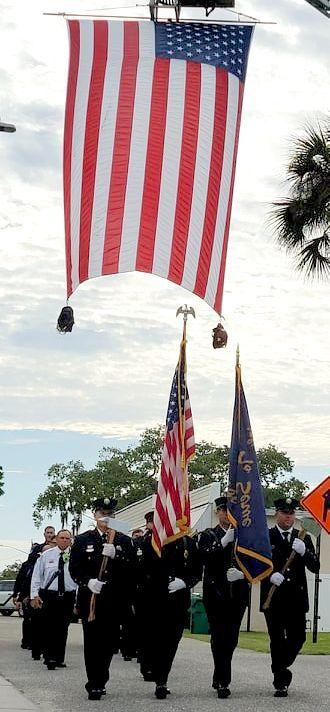 "Any time they found remains, they shut down the site," Hile said. "They (search crews) would bring a stretcher basket down along with an American flag as a crew carried it out. They rang the bell and it pierced your soul. It was one of the loudest silences that happened every time. From that time on, I felt no greater love than in my life."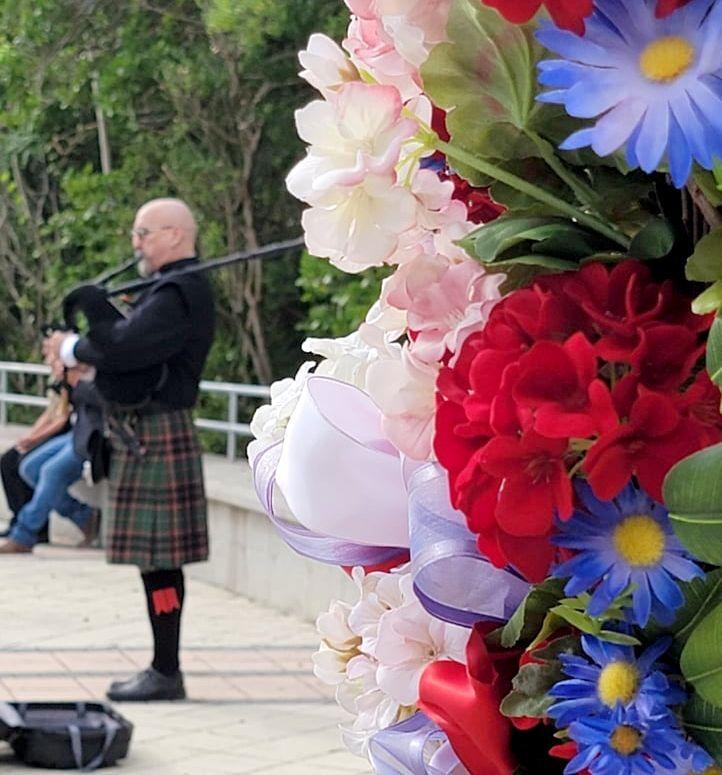 Hile, who also lost five good friends after a plastics fire in Louisville, was the guest speaker at the ceremony, which included David Doersch playing the bagpipe, a tolling of the bells (5-5-5-5 at the time the South Tower fell and again when the North Tower fell), taps and "Amazing Grace" played in memory of the fallen.
"After Sept. 11, we learned new vocabulary words after that, who remembers terror threat levels and the colors associated with them," he asked the crowd. "We learned a science word, anthrax … The Department of Homeland Security was created. There are now air marshals and we can only have a 3.4 ounce bottle of shampoo when we travel on a plane."
Hile's son John, a Lemon Bay High School freshmen in the JROTC, held his father's fire helmet as he spoke.
"Moving forward, think on these things," Jonathan Hile said. "Respect that you have today. Cherish what you have. Maybe don't speed. Think, smile, hug a kid. Often tell those you love you do. Just because you have on a uniform doesn't mean you can't express how you feel. If today was your last day on Earth, what would you do differently? I challenge you all to do it. Write it down and that is how you should live each day. Act with kindness, compassion and service in love for one another."
Englewood Fire Department Chief Kevin Easton told the group he was part of the SWAT detail as an EMT in 2001 when then-President George W. Bush was in Sarasota the morning of Sept. 11. He said after the first jets hit the World Trade Center, there was a lot of confusion with the Secret Service running all over the campus at Emma E. Booker Elementary School where the president was listening to children read.
Easton went back to work and watched the rest of the tragic events unfold.
Easton said Sept. 11 should now be a day where others should give back and serve.
"In service, we can find resilience," he said.
He said the next generation needs to know what happened on Sept. 11, 2001, so they, too, don't forget.
At the American Legion Post 113 in Rotonda, that was the same message shared by Cmdr. Jerry Faught and Leroy "Buster" Furman. While a memorial ceremony in Charlotte County was postponed due to COVID-19, members of the American Legion held their own service to honor the fallen on Sept. 11.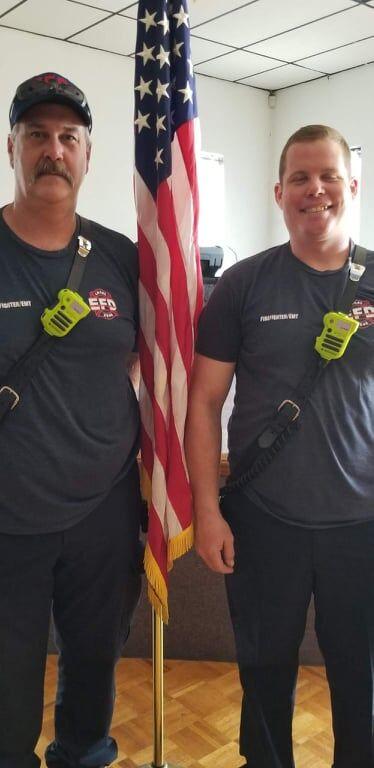 "We must never forget," Furman told the crowd at the beginning of the short ceremony which was followed by a complimentary lunch for first responders. A few Englewood Fire Department firefighters visited the post and were thanked for their service.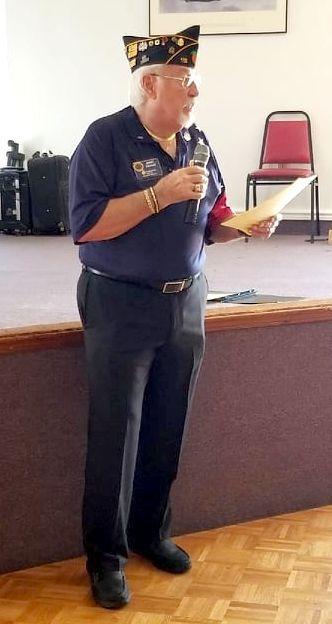 Over at the AmVets Post 777 in Englewood, a ceremony included representatives of the post, ladies auxiliary, Sons of AmVets and AmVets Riders.
"I think everyone in our country was shocked that terrorism could happen here in our country," said AmVets Cmdr. Bill Bond, a retired Air Force veteran. "This day brought home the fact that our country was no longer exempt from having to deal with terrorism within our own borders. It was a wake-up call for all of us."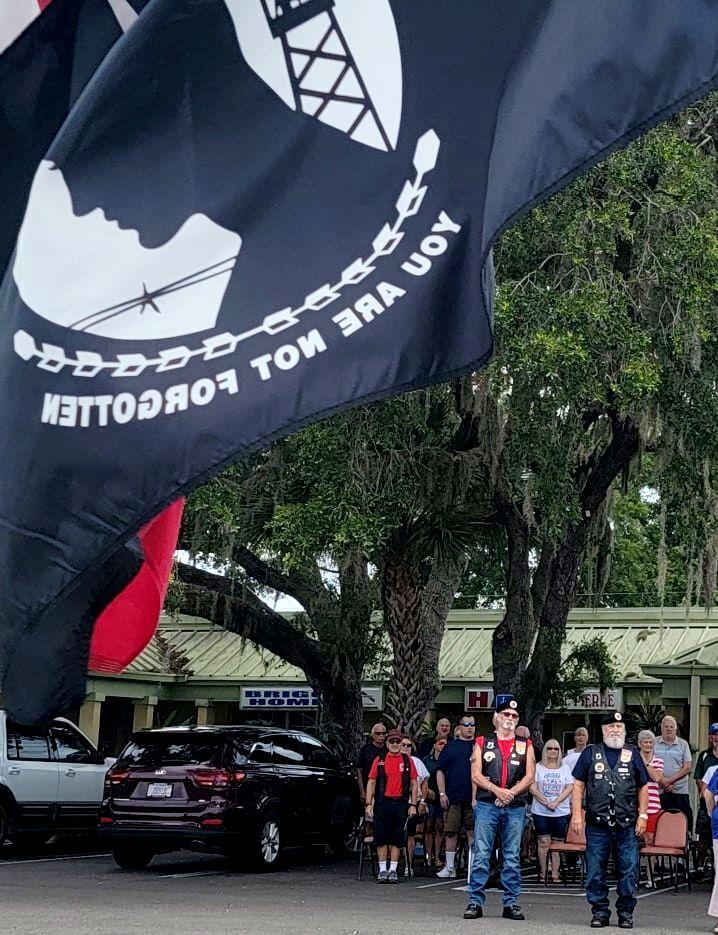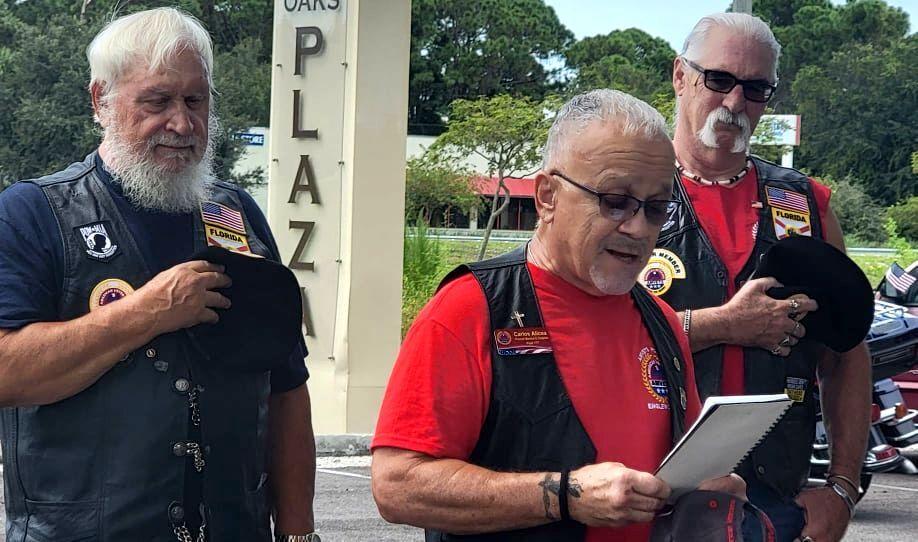 Linda Weber went to all three services in Englewood on Saturday. She worked in Washington and remembers that day well. She knew about 10 who were killed when one of the jetliners struck the Pentagon.
"I saw smoke from Pentagon," she said. "I like so many others had no idea what happened. They wouldn't let me on the base to go to work. That building smoldered for four days. There's not as much coverage on the Pentagon as New York."
Weber said something many didn't know about the Pentagon is the area where the plane hit was fortified to withstand an attack. It was done after the Oklahoma City bombing.
"There's a memorial at the Pentagon now. It's worth seeing," she said. "There's a lot of stories out there about that day. There are also a lot of 'God moments.' Some people were saved because they were late getting to work and weren't in those buildings. Because part of the Pentagon was under construction there were far fewer people in there than there normally would have been when the plane hit it that day."