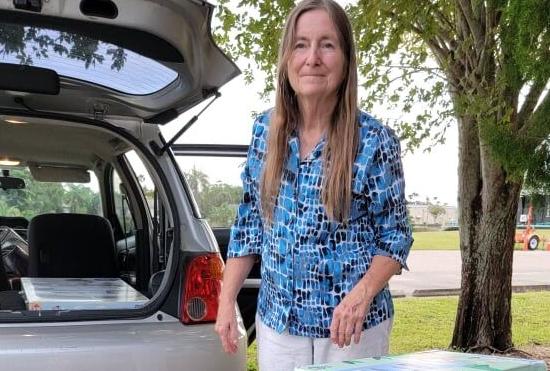 Susan Blount was horrified when she learned her pregnant daughter was on life support after being hospitalized for four days with COVID-19.
Doctors delivered Katy Blount Brodowsky's baby boy via C-section prematurely in September at Sarasota Memorial Hospital.
Not due until November, he weighed four pounds.
Brodowsky, 35, and her husband, James Brodowsky, were planning a baby shower in October.
Instead Katy Blount Brodowsky and her baby, Charles, remain at the Sarasota Memorial Hospital.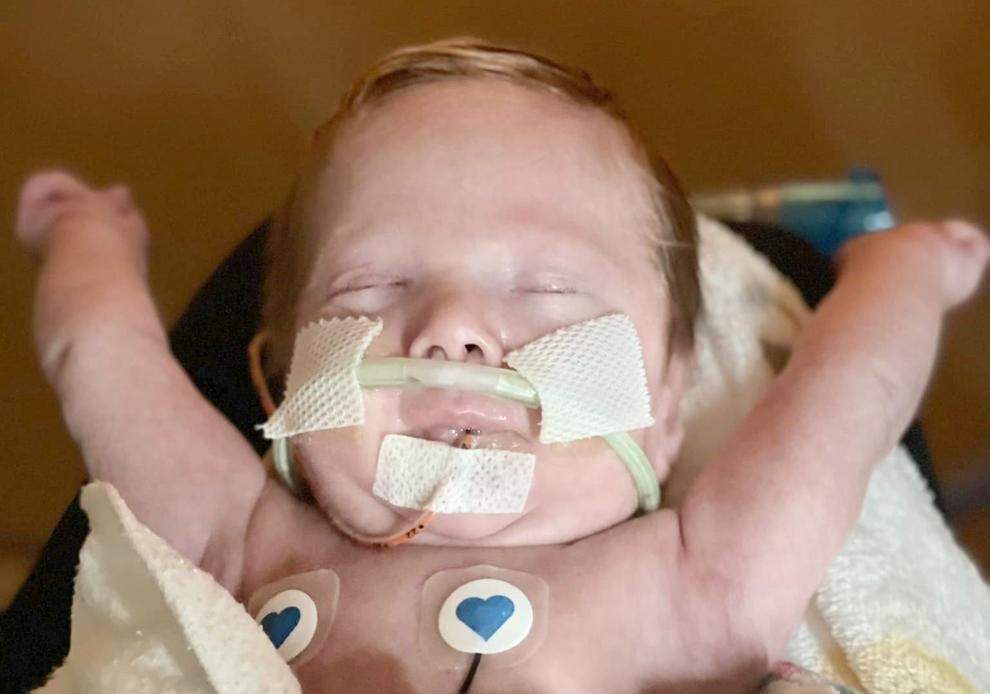 Susan Blount said an army of "prayer warriors" from Abundant Life in Englewood, where the couple attends, others at 100 Church in North Port, along with others in Arcadia and around the country are praying daily for Brodowsky, who was hospitalized Aug. 24.
Her oxygen levels dropped and she was put on a ventilator four days after being admitted to the hospital.
Brodowsky was comatose for weeks.
"The prayers are working," Blount said. "She is finally off the ventilator and talking with some assistance."
She was on a vent for about a month and, during it, suffered from pneumonia. She may need rehab after she is released from the hospital.
"We're looking at a couple weeks still until she can come home," her mother said.
Blount said the baby also has a few more weeks before he's released from the hospital.
"He's now 5 pounds, 5 ounces and growing just fine," she said. "Katy has diabetes which is why she didn't get vaccinated. She was scared. She didn't want to hurt the baby."
Blount believes her daughter wouldn't have gotten so sick if she had access to monoclonals in August when she was exposed to COVID-19.
"I want more people to know about monoclonal antibodies work for people who have been exposed to COVID-19 patients," she said. "I'm telling all of my friends...I want people to know that there is help out there."
Blount has spoken to members of her Bible study and wants to speak to hospital officials about "antiviral medicines and topical treatments."
"There are too many people around me who are getting sick. They needed to know about this early treatment," she said.
HOSPITAL COMBATS COVID-19
Dr. Felice Baron, Sarasota Memorial's Maternal fetal medicine specialist, said the number of pregnant patients hospitalized with COVID-19 skyrocketed in recent months after the delta variant hit.
In mid-August, 39 unvaccinated pregnant women with COVID-19 were admitted to the hospital, with 10 in the ICU and seven on ventilators.
"What we've seen is an increase in pregnant women coming to the emergency room with COVID-19, high fevers, pneumonia, respiratory distress and their babies not moving much," Baron said.
She said pregnant woman, especially ones who are Black or Hispanic, are at greater risk for severe COVID-19.
"It's a balancing act of aggressively treating mom, giving her supportive care, giving oxygen and needing to watch the baby very closely," Baron said. "With COVID, there's a possibility that even as mom gets better, the baby still may be going into distress."
Pregnancy creates changes in the body — including a strained immune system. Compared to non-pregnant women, those who are pregnant or were recently pregnant and have COVID-19 are "more likely to require hospitalization, supplemental oxygen, intensive care or a ventilator for life-saving intervention."
Pregnant women with COVID-19 are at a higher risk for poor pregnancy outcomes, including delivering baby pre-term — earlier than 37 weeks — or pregnancy loss, Baron said.
"There's something about COVID infection, like inflammation, that affects the placenta," Baron said. "The placentas are really taking a hit, and the babies are getting stressed, sometimes going into distress. The placenta attaches mom to her unborn baby and supplies the baby with oxygen and nutrients in utero."
Getting vaccinated during pregnancy can protect a mother and child as antibodies are passed along through the umbilical cord, according to the CDC.
"Reports found antibodies in the breast milk of breastfeeding women who received mRNA COVID-19 vaccines," Baron said.
Pregnant women are encouraged to get one of the mRNA vaccines, Pfizer or Moderna, if they are concerned about the rare risk of thrombosis with thrombocytopenia syndrome that may happen after a J&J vaccination.
Pregnant women who get COVID-19 should find out if they qualify for outpatient monoclonal antibody infusion treatment which must be administered within 10 days of symptom onset.
Blount believes her daughter would've been a candidate for the antibodies, but ended up being hospitalized. Sarasota Memorial offers monoclonal antibody infusion treatments. The FDA-authorized treatment is given by infusion for 30 minutes, and followed by a one-hour onsite observation period.
Monoclonal antibodies help boost the body's immune system, decrease the risk of developing pneumonia and severe disease by 70-to-80%, Baron said.
"The monoclonal antibody treatment can keep you out of the hospital and can prevent your baby from potentially being an emergency C-section and ending up in the NICU," Baron said. "It can prevent you from getting admitted to the adult ICU."
She and her husband lost a baby three years ago. They were excited to have a new baby on the way.
Now they are scrambling to figure out how to make thinks work.
Friends, family and the Kiwanis Club of North Port and the Olde World Restaurant employees and customers helped Brodowsky with new baby items, gas cards for her husband to travel to the hospital, baby furniture, clothing, and with diapers when the baby comes home.
"We don't even want to think about the medical bills," Blount said. "We are taking it one day at a time. Everyday that Katy is awake and breathing on her own is a good day."
A GoFundMe page was created for Katy Blount Brodowsky and her husband, James, with a goal of $10,000. It is tinyurl.com/4zjfa6rp.