Kenny Clark spent two days stringing 11,000 lights in two giant live oak trees in his yard, in hopes families will come out and see his home this month.
Clark, 40, lives in Woodland Estates, a little-known, tight-knit neighborhood bordering North Port Estates in North Port. Visitors to his home must cross from the Estates, off Tropicare Boulevard, onto Woodland Boulevard to see the light display. Down the short bumpy road, a 14-foot-tall wooden Santa is the first sign that guests reached the house with more than 80,000 lights.
Clark and his wife, Shannon, their son Keaton, 13 and daughter, McKenna, 10, all pitch in before Halloween adding lights to the trees, the fence line, roof and grounds of their home on five and a half acres. This year they even bought a hydraulic lift so they could safely add more lights to the display.
"Each year it seems like we add a bit more," said Ken Clark, a semi-retired mechanic. "My wife really wanted us to get it going. So we kind of got crazy and the kids love it.
"We bought out LED lights at the Home Depots at Jacaranda in Venice, Englewood, North Port, Port Charlotte and Fort Myers," he said. "Believe it or not, finding different colors like purple and orange were hard to find. It took almost 15,000 lights to do the 630-foot fence line. We switched to LED to make it a lot easier to plug in."
The family moved to the Woodlands five years ago. Prior to that they heavily decorated their property at Chamberlain and Hillsborough boulevards in Port Charlotte. Visitors came from all over to see the couple's light display.
Now, there are 105 net lights that cover the roof, 85 boxes of net lights including some covering pine trees in what Clark calls his "little slice of heaven" in his yard on Woodland Boulevard.
"A lot of them are hand-wrapped," he said. "We spent a couple thousand dollars on it, but we have a blast doing it. It's so much work. My son and I do diagrams on where everything goes."
Now the Clark's encourage short visits to their home for holiday sightseeing and selfies with the giant wooden Santa holding a fish at the front gate of the property.
THIS SANTA'S FROM ENGLEWOOD
Painted on Santa's foot is "In Memory of John and Barbara Bass."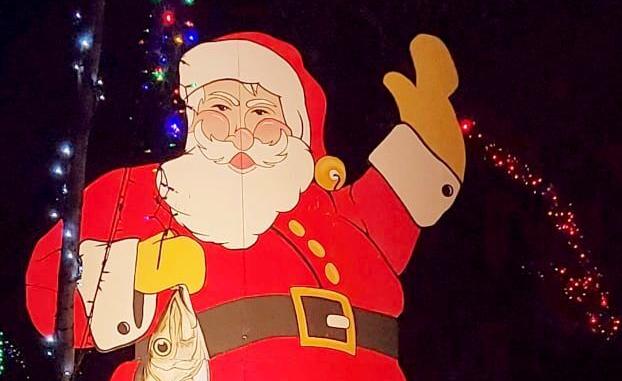 The Santa is owned by Clark's neighbors, John and Kathy Bass who were longtime Englewood residents. The Santa was made by Bernie Rennings, a sign painter, and his friend, John F. Bass III.
"It was a tradition to put Santa up on the seawall in Englewood," said John Bass, who now lives in the Woodlands. Many who visited Englewood in Decembers past may have noticed the jolly Santa, fishing on the shore of Lemon Bay as they drove over the Gottfried Creek Bridge.
"After my dad's death, I continued on trying to keep him up there on the seawall. As time went along, people tried to do things to him to keep him going. My sister tried to put him up at her house on the other end of The Point Comfort Road for a while, and that didn't quite work out. He was moved to North Port."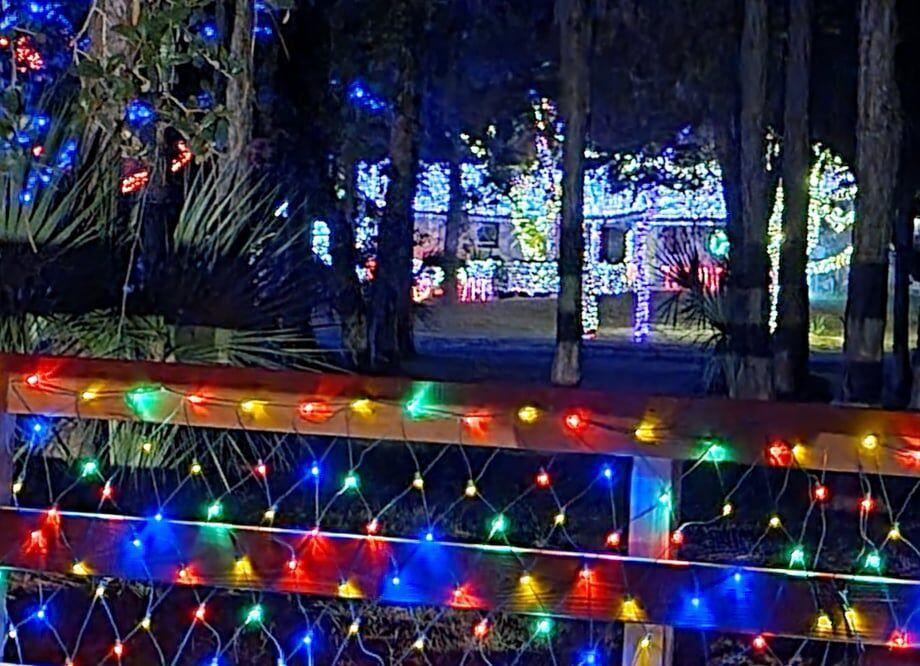 Bass said he's going to keep adding more to the Santa display in the Woodland Estates.
"He needs Mrs. Claus and maybe Mr. Grinch," Bass said. "I have a good friend who is an artist who works with Peace River Church put him all back together so she will be making the Grinch and Mrs. Claus hopefully by next year."
The best time to go is between 6 to 11 p.m.
"I tell the neighbors that it's four weeks of heavier traffic than normal, but I think it's worth it," Clark said. "It's a nice way to give a little joy during the holidays."