ENGLEWOOD — The good news is sun-worshipers can enjoy near-perfect days on Gulf beaches.
Just be a little cautious.
Besides clear skies, the daily Mote Marine Laboratory beach condition reports show slight respiratory irritations were reported only on North Jetty Beach in Nokomis on Friday. Other area beaches did not hear from anyone complaining about coughing or other respiratory irritations.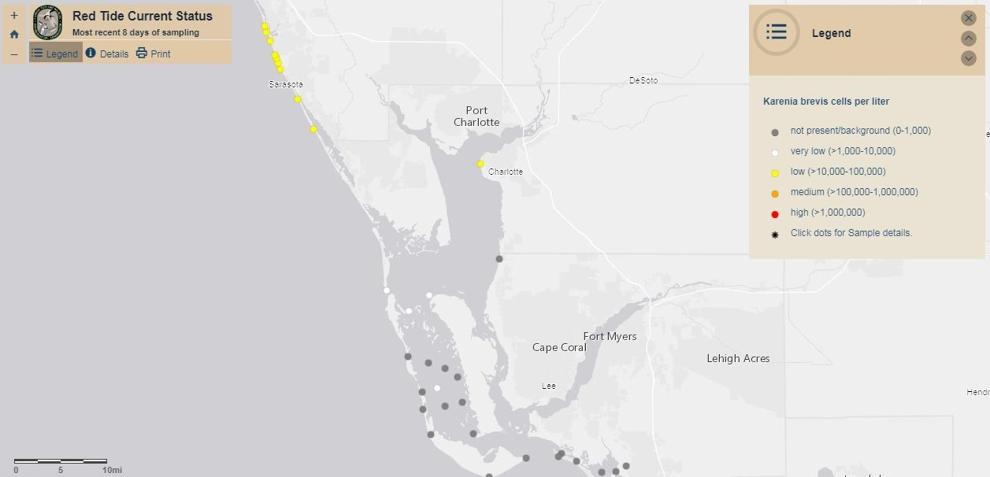 Those symptoms are fairly reliable signs that the toxins from the red tide algae are airborne.
The Florida Fish and Wildlife Conservation Commission reported Friday that in the last eight days, low concentrations — up to 100,000 cells per liter of water — have been showing up in the Gulf of Mexico from Nokomis southward to Blind Pass Beach on Manasota Key.
A sample taken at Boca Grande Pass turned up a very low concentration.
The interactive map on habforecast.gcoos.org attempts to offer within 24 hours the chances of feeling the effects of red tide at Gulf Beaches. The map is updated every three hours.
The map Friday afternoon cautioned that beachgoers could face moderate or low chances of feeling the effects of red tide today, especially in the afternoon.
The red tide algae, Karina brevis, is natural to the Gulf of Mexico in concentrations of fewer than 1,000 cells per liter of water.
But if the concentrations of red tide blooms exceed 100,000 cells per liter of water, humans can experience scratchy throats, coughing, respiratory and other ailments triggered by the toxins. Higher concentrations can kill fish and other marine life.
To learn more about red tide, visit myfwc.com.