PLACIDA — Opening a bakery in the summer in Placida during a pandemic was the best test of strength for a mom-and-pop business.
"I wanted to open in the summer. There was no false sense of security of how the business would operate year round," said Darel Albin, who owns Sassy Tarts Bakery with his wife Stephanie Brocardi-Albin.
One year later, the couple celebrated a ribbon cutting with the Englewood Chamber and guests for the expansion of their business, 5855 Placida Road.
They are adding taking over two units near Sassy Tarts and adding Nico B's (named after their 9-year-old son who loves pizza) and The Hideaway Wine Bar and Tapas.
They hope to open the new additions by October. There will be a pizza oven and prepared hot and cold dishes, including chicken and beef. In the tapas bar, they plan on selling wine and adding to their jelly, jams, Sassy Tart T-shirts and more.
"I hope it works out because we already have orders for Thanskgiving pot pies, which have a whole meal inside of them," Brocardi-Albin said.
"We have been blessed since January. What was amazing is we open at 7 a.m. and during the height of the season, we had people lining up around the building at 6 a.m. to get in. For us, it was either do or die. It's worked well. We have customers who come here everyday."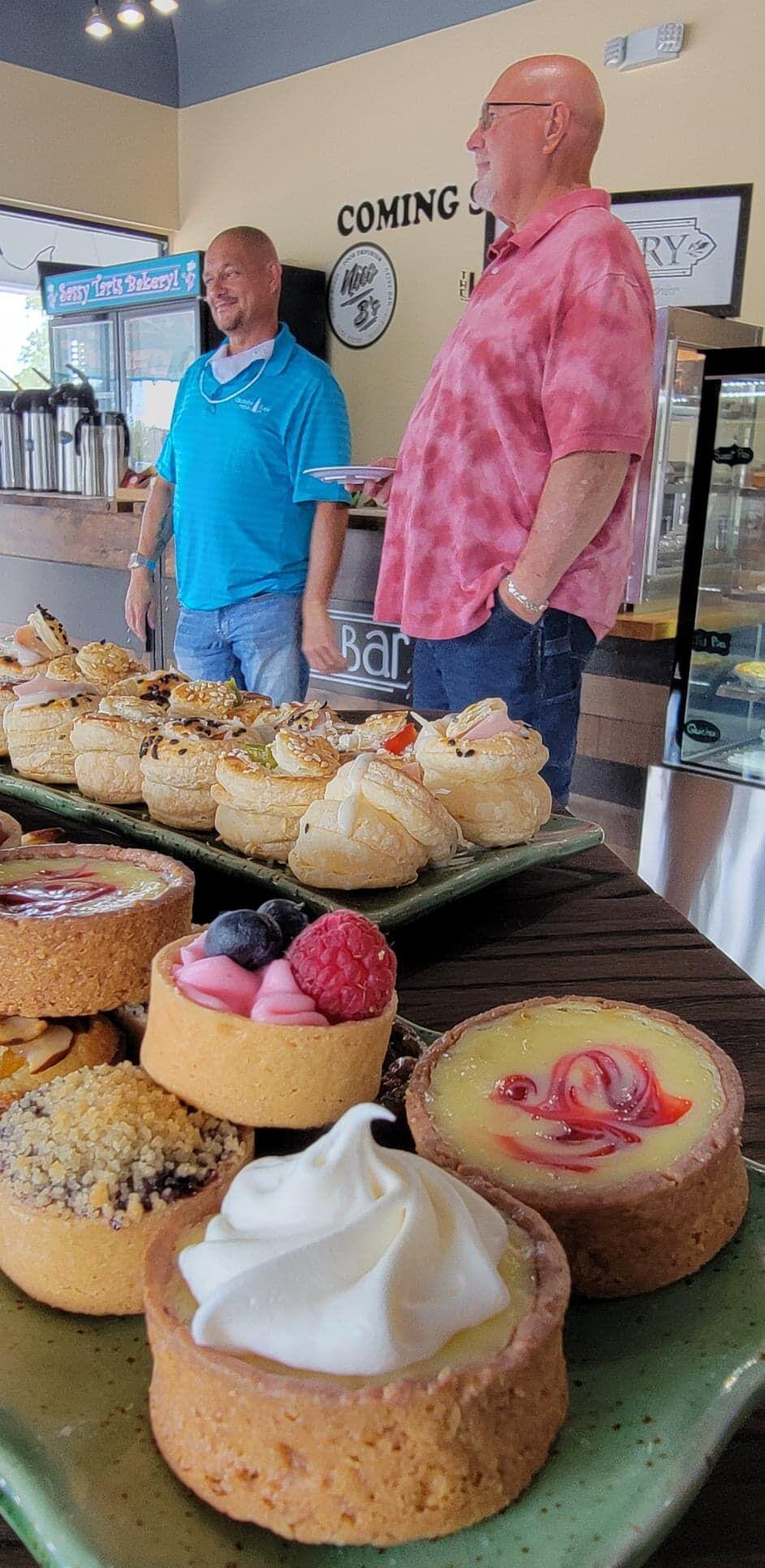 On weekends, the couple has a breakfast 8 a.m. to noon outside on the terrace. The bakery gives leftover items to the pantry at nearby St. Frances of Assisi Catholic Church.
Brocardi-Albin said the potpies and quiche are among the best-sellers, but they also sell plenty of tarts, key lime and harvest apple pies and beef burgundy.
Brocardi-Albin was born and raised in France. She moved here in 1981 and became an American citizen in 2007. She said her parents, Paula and Jean-Pierre and brother Jean-Louis, all work at Sassy Tarts.
"We take our citizenship very seriously," she said, adding her parents became citizens in 2013. "We make pies with the American flag for July 4. My husband is an Army veteran. He served for 11 years. We love this country."
Brocardi-Albin said her parents owned a restaurant in France. She has cooked her whole life, including when she lived in Chicago and California.
When the couple isn't in the bakery, they go to local farmers markets in Englewood, Venice, West Villages and Boca Grande as another way to connect with customers.
"We look forward to expanding our business," Brocardi-Albin said. "Our customers seem to like us, too. They came in with T-shirts and asked us if we could add our logo to them because we couldn't make the shirts fast enough. My shirt says head tart. My husband wears a shirt that says I love Sassy Tarts. I am a sassy tart."