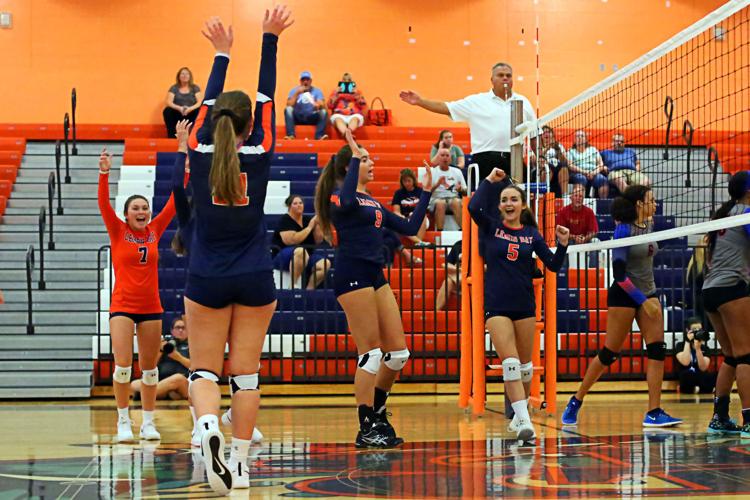 ENGLEWOOD – Tuesday's District 7A-10 volleyball match between Lemon Bay and Cape Coral had a tropical feel to it.
But while Lemon Bay fans wore their Hawaiian shirts and lais, the home teams' match was not a stroll through paradise as the Seahawks wouldn't go away.
In the end, with the help of some monster serving from Hannah Krzysiak, the Manta Rays prevailed 3-0 (25-21, 25-19, 25-19) in the first of three home matches on consecutive nights.
Krzysiak led the way for Lemon Bay (4-3, 2-1) with seven kills, 11 digs and three aces. Most important she served up 12 points, many of them in the first game to give her team a cushion they would need.
Krzysiak said she knew Cape was going to have trouble with her serve. Yet they were able to keep it close.
"I guess it's the spin of the ball and it's hard to maintain a good throw with it. But its fun to keep the game going on serve," Krzysiak said. "I think we got tired toward the end, but when we picked up our defense, we got some kills down."
Krzysiak served up an early 8-0 run in the first set that seemed to break the game open early until Cape Coral sneaked their way back into it with a long 6-0 run of its own with Sedona Scott serving.
Lemon Bay pulled away late, but the Seahawks (4-5, 0-3) dodged four set points before finally losing.
It was much of the same in the second set as Lemon Bay's Trinity Angelo blew the set open to make it 21-8. Again, Cape rallied too little too late with a 7-0 run, but the Manta Rays held on.
The final set was more see-saw until the Manta Rays slowly pulled away. There were no splashy runs, but it was enough to close out Cape.
"Krzysiak is one of our best servers. If we have a bunch of her we'll be happy," Lemon Bay Coach Pat Auer said. "Our girls weren't use to their height with the blocking. Most of the teams we play are shorter. We adjusted to it. Once we got a good pass and set the hitters did really well."
Caroline Hill led with 11 kids and added eight digs along with Leanna Kelly. Chloe Browder had 14 assists and Hailey Brown had 13 for Lemon Bay.
Cape stayed winless in district it was led by Emma Roy's nine kills. Gerda Tauraite had 12 digs and Scott 12 assists.
"We did great on defense and blocking. On serve receive we struggled because they had tough servers," said Cape Coral coach Cody Dunn. "We always work on it because it's one of the toughest parts of the game."