ENGLEWOOD — Sarasota County has hired a contractor to install sidewalks, parking spaces, streetscaping and landscaping on West Dearborn Street, and work can begin as early as this month.
Sarasota County commissioners voted Tuesday to contract with Wright Construction Group of Fort Myers to do the project, which could take up to one year, according to the contract.
Wright Construction bid $7.7 million for the job, which includes new decorative sidewalks, lighting, signs, pedestrian gathering areas, new on-street parking and a gateway sign. Wright was the lowest of three bids.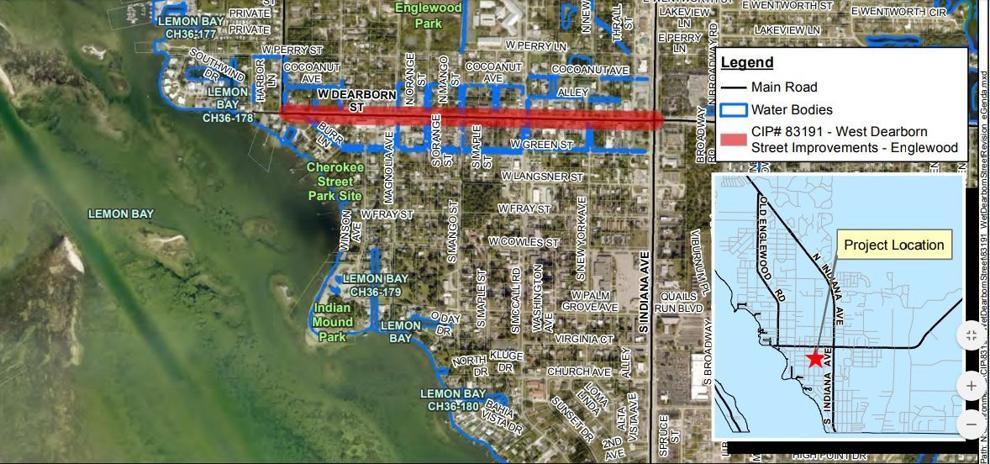 The company has done similar projects, working on street improvements to downtown Bonita Springs and Eighth Avenue in Naples, both in Collier County.
Kimley Horn, the engineering firm supervising the project, reported that both of those jobs were completed on time and satisfactorily, with positive reviews from those who had hired the firm. The Bonita Springs project was larger than the West Dearborn work, and the Naples project was about the same scope, the engineers report states.
While work can start right away, the company has 45 days to begin.
County officials have been planning this project for more than two years. It was discussed multiple times at meetings of the Englewood Community Redevelopment Agency board, before the board went on hiatus due to the COVID-19 pandemic last year. The CRA board is scheduled to resume meeting at 1 p.m. June 14 at Lemon Bay Park in Englewood.
Other projects moving forward are stormwater drainage improvements for South McCall Road, as well as some streetscaping near the West Dearborn intersection. County staff is working on getting easements from private property owners for the drainage work, according to county documents.
Another long-term project is improvements to the county-owned Dearborn Plaza on the 300 block of West Dearborn Street. The county plans a permanent bandshell, pervious concrete walkways, permanent restrooms, a Dumpster area and lighting. Bids went out April 14, and will close May 19. Staff members anticipate the Sarasota County Commission will have a contract by July 13 for approval.