You probably came to Florida to enjoy the sun, sand and surf, as well as the palm trees, the flowers, the wildlife, and the year-around accessibility to an outdoor paradise. So why not incorporate those elements into your home's interior décor so you can enjoy that tropical oasis all the time?
We consulted some local experts about the latest and most popular choices for creating your perfect Florida-feel home.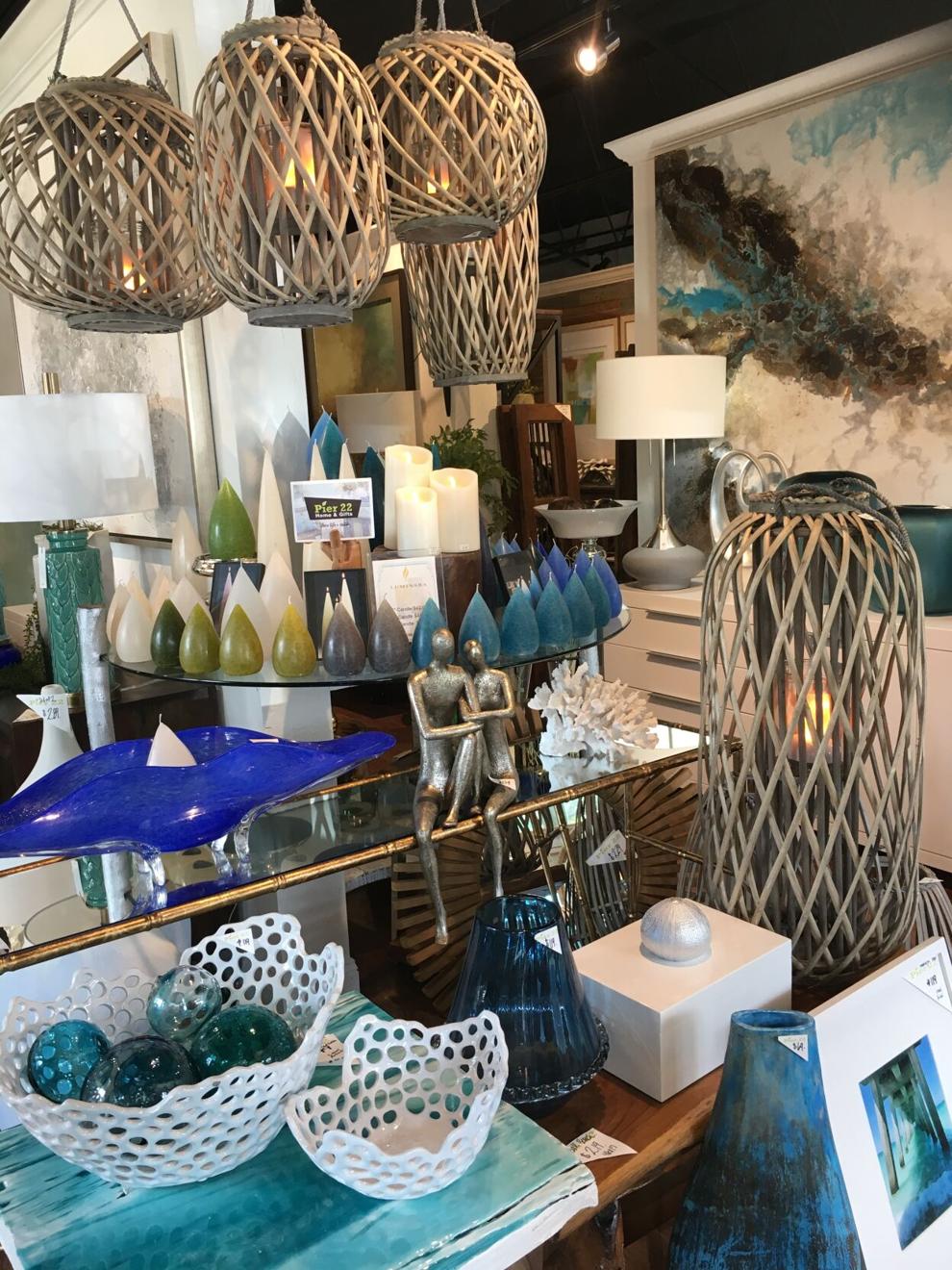 THE PERFECT BACKDROP
Blue and teal paint colors allow you to enjoy the soothing tones of the ocean and the sky, while green tones remind us of the natural beauty growing all around us. Or, you can start with a white, light grey or beige neutral background to make your space feel open and bright and allow you to incorporate more accent colors like deep navy blue, sunshine yellow, coral, or bright sunset orange.
Add some drama, beauty and dimension with a wall mural showing an ocean scene or a dramatic sunset vista. Or incorporate a wallpaper accent wall featuring some palm fronds or banana leaves.
Flooring in beige tones mimic the sandy shores. One of the most popular and practical for Florida homes is tile, available in smooth or textured finishes and many styles and shapes. One trending style is a weathered wood-look tile, which incorporates white, beige and grey tones. You also can choose a lighter-toned hardwood or laminate flooring, a stained concrete finish, or a lighter neutral carpet.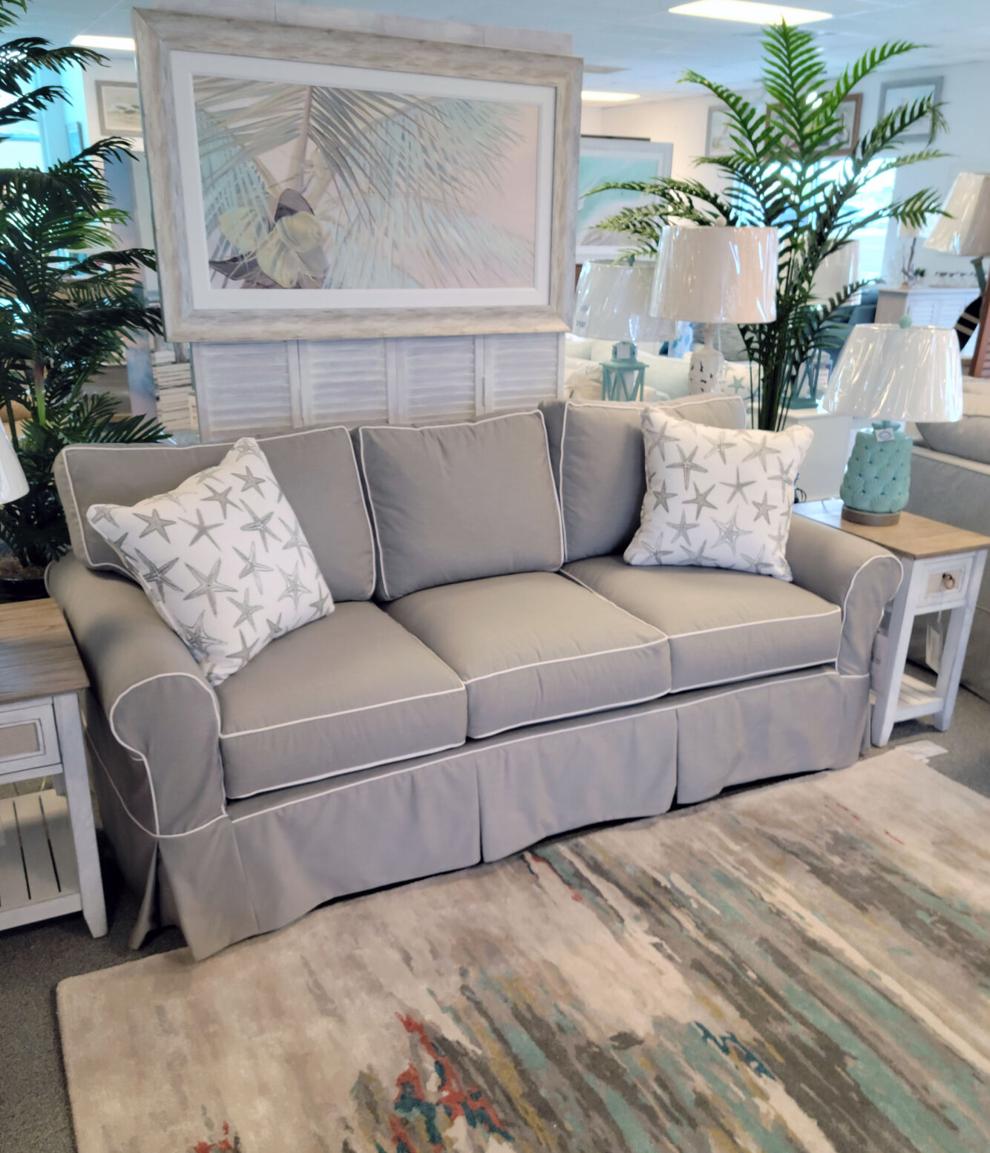 Area rugs warm up the space with textures like woven grass, a neutral "sisal look", vibrant colors, or colorful or muted images of local flora and fauna, ocean waves, or other flowing and abstract patterns. Indoor/outdoor rugs are a terrific choice, and synthetic materials are more durable and easier to keep clean, and even have a great "feel, texture, and even reflectivity" in their fibers.
BLOCK THE SUN
Add some privacy and sun-control to your windows with white or light neutral-toned shades, blinds, or plantation shutters. Or match their tones to your paint colors so they will blend in and create a more open feel.
Cabinetry in a tropical-themed design is usually light-toned or weathered wood, or painted white in simple Shaker style, beadboard, or even a barndoor style.
Consider ceiling fans in a rattan, wicker or woven-grass look for a "cool" tropical vibe.
RELAX AND UNWIND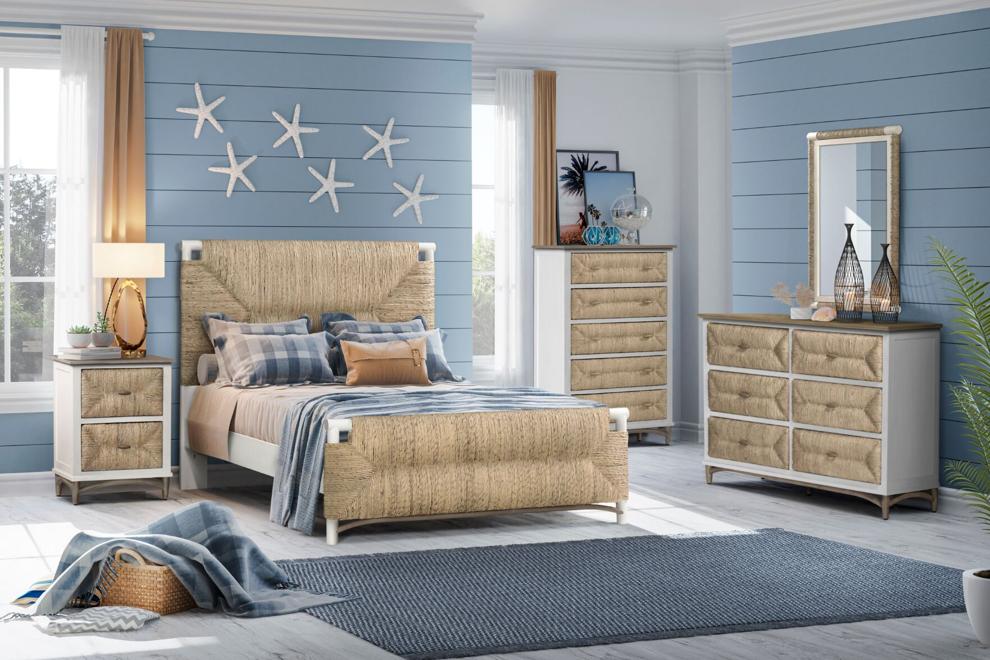 Make yourself comfortable with upholstered seating that allows you to lay back, put your feet up, and chill out.
Artificial fabrics like polyester, Sunbrella, Crypton or other "performance fabrics" are more practical and easier to clean than natural cottons and linen, but can have the same texture and look. Neutral colors are most popular right now, since simpler design styles are trending, but ottomans, soft throws and pillows can "add layers" to your room with pops of color like turquoise, orange, yellow or other floral or "beachy" tones.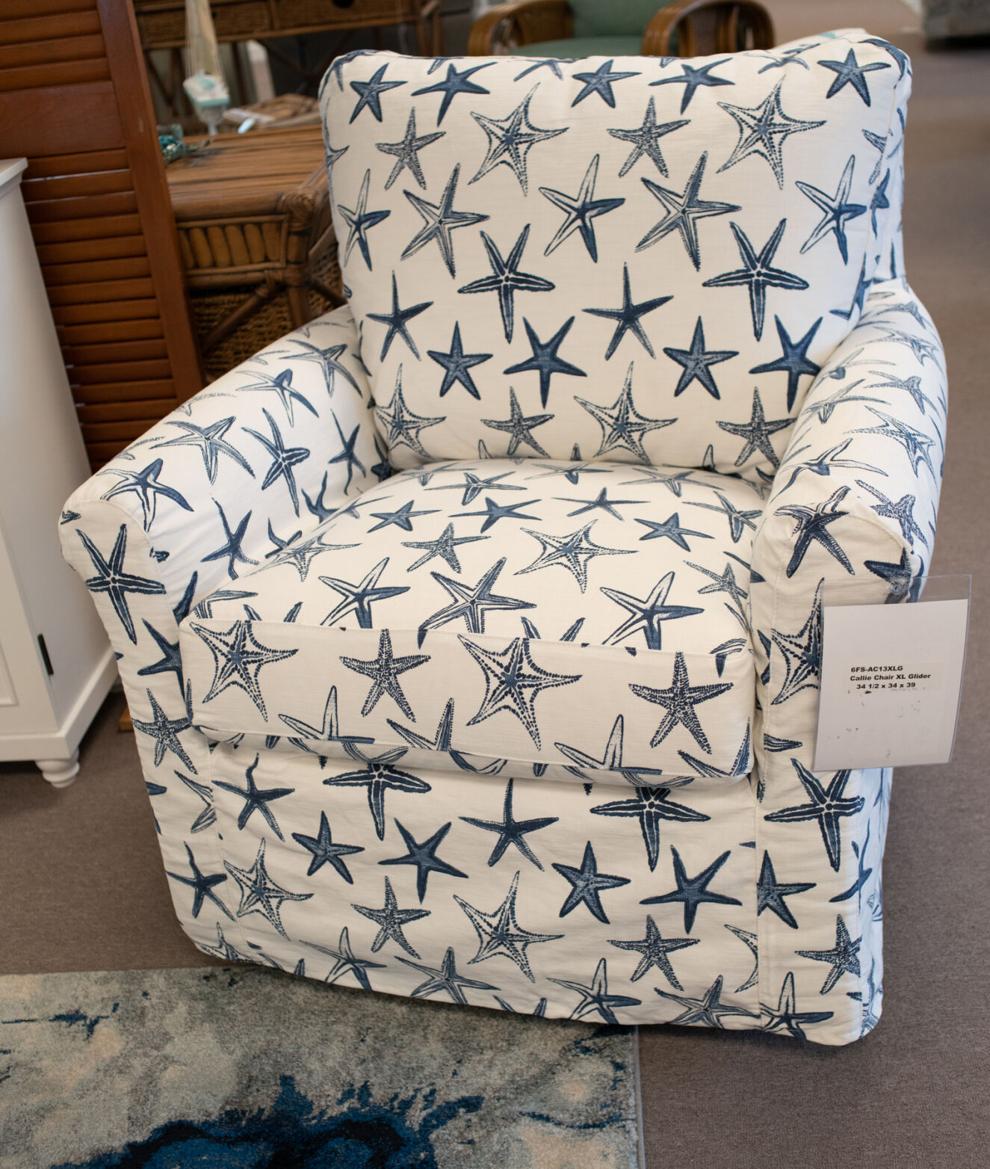 You can also "have some fun" with tropical patterns on your accent chairs, ottomans, pillows or curtains. How about starfish, sand dollars, palm trees, coral, or turtles?
CONSIDER SLIPCOVERS
Most of our local suppliers said that slipcovers are once again a very popular way to change out, freshen up, or add some practicality and easy care aspects to your upholstered pieces.
Most storage cabinets, tables, bedroom sets, desks, and other furniture pieces that fit into the tropical design theme are white, light wood, light grey tones, or a weathered wood look. Some include textural elements of natural woven grasses or shutter doors or panels.
IMPROVE YOUR MOOD
Lighten things up with some woven-grass hanging light fixtures or lampshades, or popular white and natural linen shades. Lamp bases can remain simple or have a nautical-themed look with clear or blue glass, white ceramic, or brass with natural rope ties. Maybe consider some seashell, dolphin, or starfish shapes, or even a lighthouse design.
Large elegant glass lamps are trending locally. You can also add some "ambience lighting" with candles, and remote-controlled LED lighting.
INVITE FAVORITE "FRIENDS"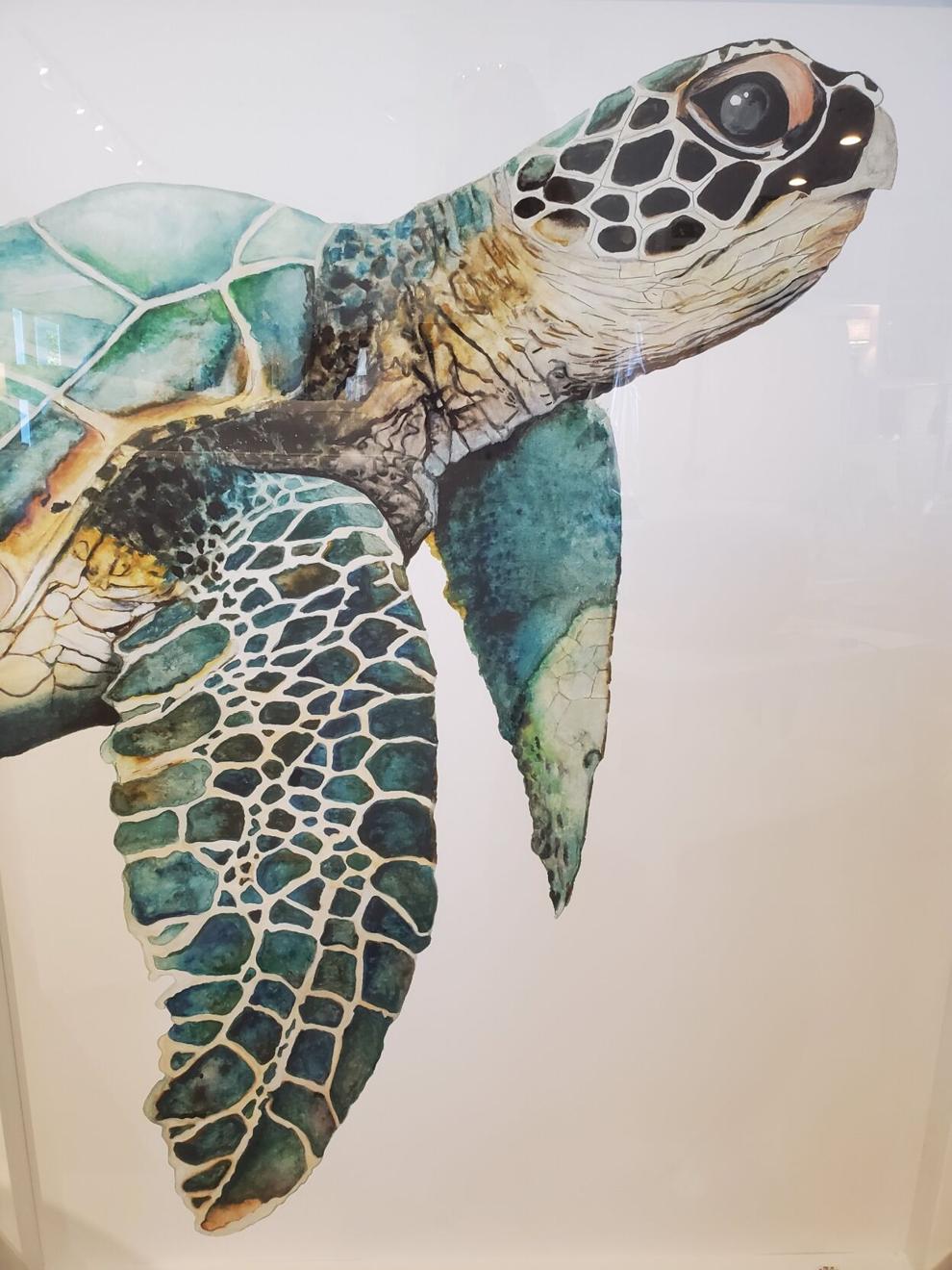 Do you love birds, palm trees, flora and fauna, boats, fish, seashells, sand dollars, or mermaids? You can bring them into your tropical décor with art and accessories that feature the local wildlife and scenery.
Latitude, longitude and directional signs are also popular indoors and outdoors. According to our local merchants, they offer a huge variety of hand-painted or printed wall art that "reflect the ocean themes" and sunsets, as well as ceramic, wood, and metal sculptures and accessories that will brighten up your spaces. "Large bold art is flying out the door!" Many of these artistic creations are resourced from local or Florida artists.
Gold, silver and brass accents add to the "glam", and you will likely want to add some live greenery, or even some artificial plants to help the natural, calming feel "grow".
Palm trees swayin', waves washing up on the seashore, and sunsets glowing add the perfect tropical touch.