Because every daughter deserves to have her elderly father in her home during tough times. Because all healthcare workers should be lifted up during a pandemic. Because every bicycle shop needs sliding electric doors.
The coronavirus pandemic has fostered several horrendous consequences. We've endured a recession, with mass unemployment; and some Americans have lashed out in bouts of social unrest.
Through it all, residents of Venice have persevered. While many businesses have suffered, others—ironically—have prospered.
Employees of nonprofit organizations that were not considered essential by the government started working from home, forcing flexible administrators and boards of directors to adjust their business models—ironically at a time when their services were considered essential by a community of residents suffering from the economic downturn.
Masked doctors and nurses replaced our theatrical superheroes.
(With irony, paradoxes and metaphors to write about, even English majors have been productive during the pandemic.)
The 60,000 people who live in Venice and surrounding communities were tested. They plowed through the worst of it during the summer, losing jobs and being separated from their loved ones, "touching" hands through nursing home glass. They endured lifestyle changes, wearing masks, social distancing and following the arrows on the floor at Publix. Through it all, the residents of Venice tested "positive."
Positivity walls: It didn't take long for the positivity walls constructed at five Venice-area locations to start sprouting statements of unity, silliness and smiles.
A day after the walls were installed in and around the city, Venice resident Anita Riska was inscribing a small note and tying it to the wood.
"It's nice to be kind," she said, noting that's what her saying stated on a small piece of blue paper.
Among the other sayings by Day Two: Love; Kindness to All; Breathe — It will be OK; Appreciate the things you have; Joy & Positive Thoughts; Blue Lives Matter; Buckeyes National Champs; Be the change you want in others!; Never Give Up; Love Living in Paradise; Love your beaches, hug your family, smile big, life is good!; and Hug your dog today.
Residents and visitors glanced at the walls, which were a joint project between the Venice Area Chamber of Commerce and area businesses and governments, at Venice Beach Pavilion and at Centennial Park along Venice Avenue.
Centennial Park, 200 E. Venice Avenue, Venice
Venice Beach Pavilion, 101 The Esplanade, Venice
SKY Family YMCA, 701 Center Road, Venice
Laurel Civic Center, 509 Collins Road, Nokomis
Frances T. Bourne Jacaranda Public Library, 4141 Woodmere Park Boulevard, South Venice.
The Chamber is asking the community to contribute to the positivity walls.
Residents and visitors alike are invited to leave positive messages, wishes or words of encouragement to share with the community. To participate, complimentary supplies can be found attached to each wall. Each wall will have a box of tags, markers and zip ties.
Social distancing: A small group of women who saw the pandemic as an opportunity to get together to discuss what's going on in their lives. They meet—social distancing—weekly at West Blalock Park. No one is asking them to wear masks. No waitresses are trying to get them to make room for the next customers in line. The only distraction is airplanes flying overhead from nearby Venice Municipal Airport.
One of the participants is Chris Mickiewicz of Englewood, a Sarasota County Schools substitute teacher.
"We are getting together more regularly," Mickiewicz said. "We picked a day and we show up. There's not much planning involved. We have a nice time. We talk about spiritual things, family things, what to do to get through" challenges.
Mickiewicz said her son and his fiancée (Max and Chelsea) live in San Francisco but work remotely, so they came home to Southwest Florida for more than two months earlier in the pandemic.
"It was really great to have them around, even though they were working," Mickiewicz said. The wedding is set for February 2021, she said, "but they may have something smaller, here, earlier."
Group member Lois Gillett of Venice, retired from Nielsen Media Research, loves the group.
"I started it. Didn't I start it?" she asked herself. "Because I missed my friends. As long as we socially distance in a big circle, we can keep in touch with our friends."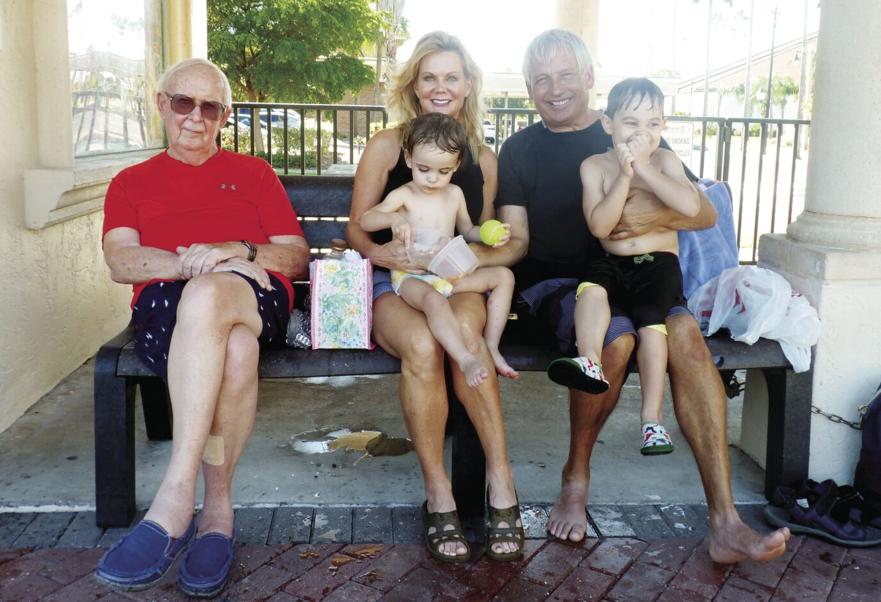 Reconnecting: When the pandemic began, Venice resident Patricia Dove made an important decision that transformed several lives.
"I had to get my father (James Dove) from South Carolina and now he's living with us and it's been a very positive experience," Dove said.
Nonprofit organizations thrive
Virtual fitness: When the pandemic began, Jane Martin, the SKY Family YMCA association director of health innovations, said the organization wanted to continue to serve the community with regard to healthy living. Staff began offering free virtual fitness classes to members and non-members alike.
"It really helped us keep our connection with the community and keep them active," Martin said.
Normally an active person, Sandy Winn described her forced sedentary life at the beginning of the pandemic as "difficult."
"Then the YMCA started the virtual classes," she said in an email. "Boy that was a life saver for me. I started doing the Silver Sneaker and Zumba Gold classes and it was so great to interact with others, even though we weren't physically together. I was finally able to start some kind of routine again."
Appointment shopping: The Twig, a nonprofit organization that provides free clothing and shoes for foster children, previously opened its doors to all comers on Saturdays. Usually 70-80 kids and their foster parents showed up. As the pandemic began, staff members created a new business model.
At first they asked families to pick up packages of pre-requested items, like curbside pickup at a local restaurant. As the economy opened up more they began allowing families to make private appointments to come in alone and check out the merchandise, the personalized service rivaling a fancy dress shop or haberdashery.
Appointment shopping resulted in two siblings who have different foster parents seeing each other at the office and being able to spend time together.
"What we found is having these appointments ended up being really nice because we are able to connect so personally with the children," said Nicole Britton, director of development and a foster mom herself. The Twig also mailed out coloring books and other items foster families appreciated when everyone was staying home.
A hybrid business model—appointments and general shopping—is in the Twig's future.
Finding a home: The Marrero family—mom and five children—were living in hotels for three months until they finally ran out of money. Family Promise of South Sarasota County helped the mom pay moving costs to get the family out of a hotel and into a house provided by another source. After the family slept its first night there on the floor, Family Promise provided air mattresses and blankets until they could get their furniture out of storage.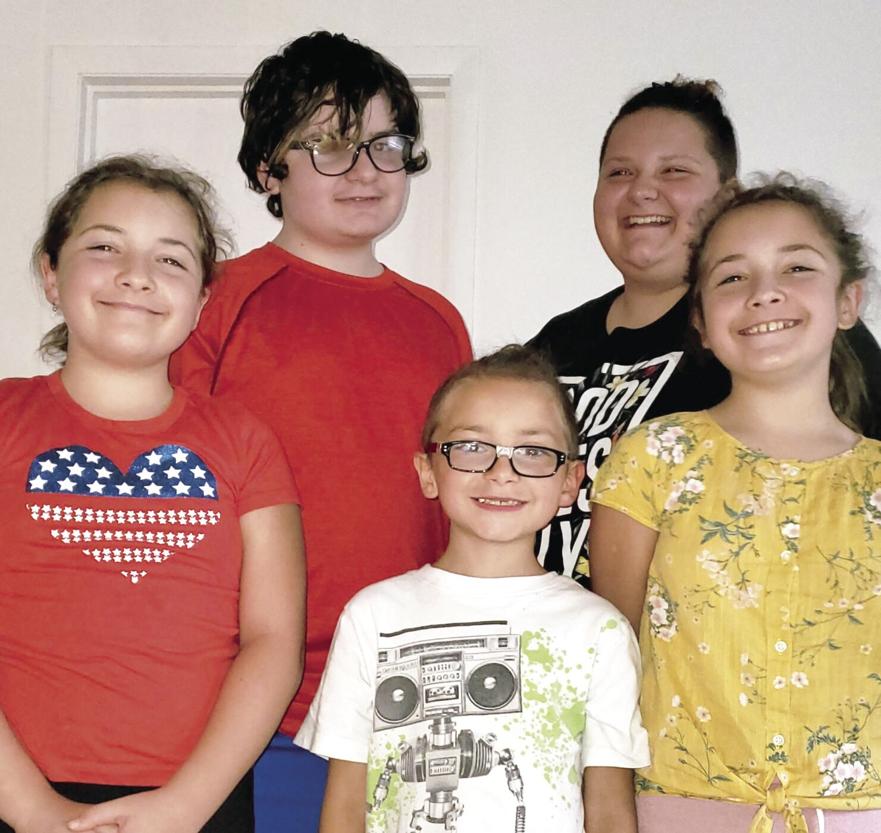 Family Promise changed its business model after the pandemic began. Previously, homeless families resided in 13 area churches. The pandemic made that impossible. Now they live in hotels and an unpublicized shelter. They hope to return to churches in a hybrid business model.
Because of the pandemic, Family Promise no longer is a state Department of Children and Families "access site," where families apply for food stamps or Medicare benefits. But now staff meets with clients virtually to provide a prevention and diversion program. Meetings with caseworkers are now happening on the phone and via email. Jennifer Fagenbaum, the agency's executive director, said it's a more efficient way to do business, but she laments the eliminated face-to-face interaction—it's good for relationship building.
"It's shifted us into a virtual world for everything that we're doing," Fagenbaum said, "with a little bit of a learning curve." When they found that some families had computer access but no printers, Family Promise started providing forms as PDFs that can be filled out electronically.
"We were hesitant to move forward, in some ways," she said. "This made us do it. Now we realize that it's pretty beneficial and we probably should have been doing some of those things prior to this."
Recognizing a need: When the pandemic began, Brian Loebker, a Realtor with Michael Saunders & Company, and his girlfriend, Brandy Coffey, operating principal of Keller Williams Island Life Estate & The Coffey Group Fine Homes International, stepped up. They founded Feed A Healthcare Hero, a nonprofit that fed healthcare workers. Loebker announced "final stats" on a website.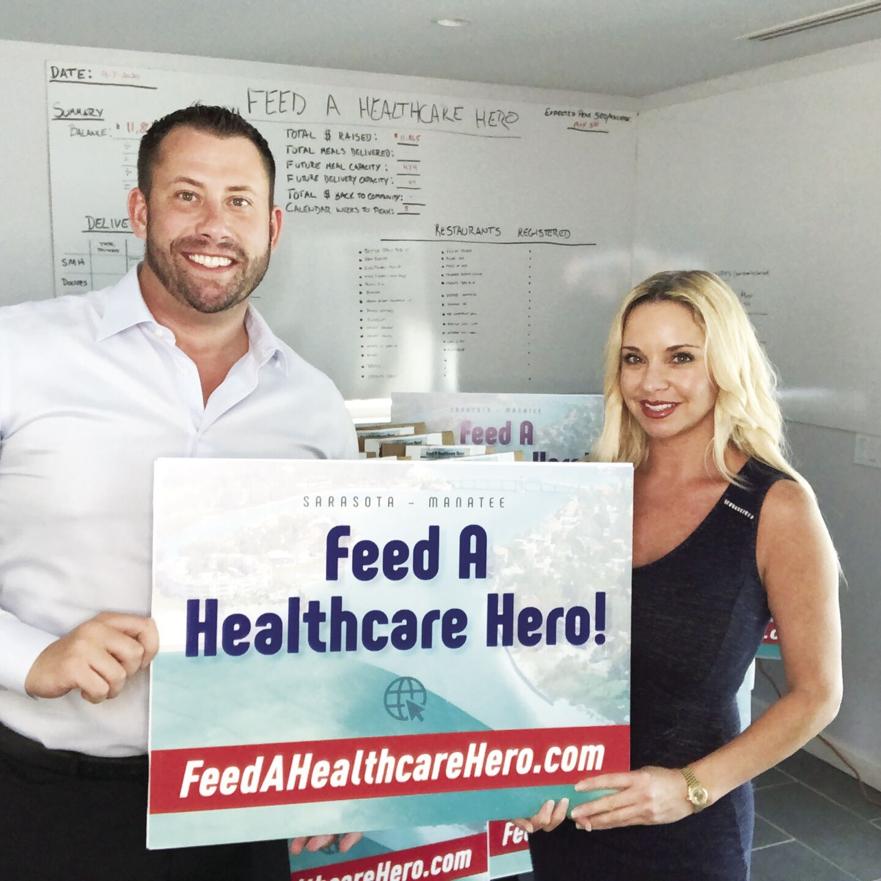 In 38 days, the community donated $31,000 (364 donations) to purchase more than 1,800 meals (118 deliveries) from 83 local restaurants. Those meals were donated to 63 healthcare facilities and first responder agencies. More than 160 of the volunteers work in real estate.
Interest rates draw interest: Real estate is hot again in Southwest Florida and nationally. With a pandemic and high unemployment, Realtors would have been excused if they predicted no one would want to buy a house this year, especially if they could not walk inside. But that doesn't appear to be what happened.
August pending home sales continued to move upward, marking four uninterrupted months of positive contract activity, according to the National Association of Realtors. Each of the four major U.S. regions included in the report had both month-over-month and year-over-year increases in pending home sales transactions. So what's going on here?
"It's actually quite robust at the moment," Bebe Teichman, a Realtor with Sunkissed Realty, said of the market. "I attribute that to low interest rates. It's some of the lowest rates in my lifetime. A lot of people who are living in urban areas want to move to Florida and are working toward suburban life. The kinds of properties that they are interested in now accommodate a home office and a place to home school their children. It's a different type of lifestyle."
Teichman said clients don't mention the coronavirus. But their move away from urban areas—where people live closer together—makes the pandemic a likely contributing factor.
Teichman said the current trends include people buying homes without stepping inside them first. Many are already familiar with the Venice community. Realtors were already taking phones and electronic tablets to homes—to photograph and videotape them—before the pandemic, but now those devices are more important than ever.
New location: Did the pandemic make some of us healthier? Bicycle sales are on a roll. Sales are up. That means inventory is down. Buildings are being bought.
Bicycles International owner Wesley Culpepper said sales increased after the pandemic began.
By the end of July, he said, the bicycle industry "as a whole" sold what it would normally sell in a calendar year. From a business perspective, "It was great until we ran out of inventory. Now we can't get them fast enough to fulfill (orders)."
With sales inflated by the pandemic, Culpepper decided to purchase the nearby Goodwill bookstore, which had closed. Bicycles International will move into that building, increasing the business's footprint by almost 4,000 square feet (from about 6,000 to about 10,000).
"We were using every square inch of this (old) building and we've got 15 employees here," he said. "Sometimes we end up on top of each other, working."
Culpepper said the new location will include "a little bit more of everything," but the extra space will be dedicated to the service department. The move might have occurred without the pandemic, but "not as easily," he said.
The change that customers won't notice until they walk outside, carrying a new bike, is that the front doors will be electric and will slide sideways.
Get outdoors: When the state closed down, Eric Cook said, Governor Ron DeSantis said people should go "fishing, hunting, hiking, biking, backpacking, get outdoors."
Florida listened. Cook, owner of Cooks Sportland, said business has been good since the pandemic began. "Well, we're an outdoor store," he said. "Fishing is one of our number-one departments. A lot of places were out of business, not working. They needed to go do something and fishing has been tremendous. It's been great. It's up considerably."
Cook added that supply chains have been disrupted during the pandemic. "The trouble is getting merchandise," he said. "You can't get enough to sell … even fishing tackle. People have free time and it's hard to keep up."
Because of the social unrest that has occurred in several areas of the country, ammunition sales have also increased, Cook said.
"The firearms created a spike," Cook said. "A lot of people want to protect themselves. It's been phenomenal, the sales of ammunition and firearms. The demand is tremendous."
Good time to remodel: The pandemic offered MRT Lawn and Garden Center an ideal time to complete its remodeling project at its garden center in Venice, including the addition of Ace Hardware to the store.
Go today and you will see a slew of additional products, everything from air filters, plumbing fixtures and electrical equipment to paint, coolers and grills. They also plan to expand their e-commerce offerings.
"We're in the process of launching a fully online version of our entire store," said Justin Taylor, vice president and chief operating officer of the family business. "It's going to have every single item that we sell."
Their goal is to offer free one- to two-hour delivery within a five-mile radius of the store. (That means hiring drivers.)
"Technologically it's a huge undertaking," he said.
Earlier in the year, Taylor wrote that "as soon as online retailers can figure out how to efficiently ship plants for free two-day shipping, the industry will be forever changed."
Venice Gondolier Editor Scott Lawson contributed to this story.