Suddenly there's music. It's a sweet guitar riff, a Southern Rock cover of The Allman Brothers Band. The background players provide a clean balance of rhythm, bass and drums.
The music washes over you like the warm Friday air at the Nav-A-Gator Bar & Grill in DeSoto County. A man with a cigarette alongside the outdoor stage is mouthing lyrics to the song. Music can bookmark the history of our lives. The man smiles and sways, puffing away.
But who is this guitarist? You see just three men on stage, one at a drumkit, the other two strumming rhythm and bass notes. The guitarplayer is missing. The trio in the bandshell wear sunglasses as the boiling sun disappears.
Then the top of a head, someone strolling among the patrons at picnic tables. Cameraphones pop out. A dog wags its tail as a boy with long flowing hair stops, riffs for seconds on a wireless guitar and moves on. The big dog's head is about even with his shoulders. The others on stage jam away. The place has a circus-like feel.
The boy walks a figure-eight circuit among the tables, pauses for a "guitar face" pose, then heads back to the stage and completes the 10-minute "Midnight Rider" with his bandmates.
These patrons have witnessed something out of the ordinary, something generational, maybe.
Meet The Champ Jaxon Band, led by its namesake 10-year-old blues/Southern Rock guitarist.
Following a brief pause, the band gathers itself ... and slides into Jimi Hendrix's "Hey Joe." You wonder whether Champ Jaxon, who between sets plays videogames backstage, has an idea this classic song is about a man shooting his woman and running off to Mexico. Champ's voice, still a child's, and his playing outshine the darkness of the blues' lyrics.
"Awesome … that was incredible," says Denise Yavorosky, a Massachusetts visitor at the Nav-A-Gator hearing The Champ Jaxon Band for the first time.
JUST A "SPONGE" 
Jackson Champ Winkler, of Punta Gorda, got introduced to music by his parents, Nate and Ivey. The trio in 2014 had attended a Southern Rock festival in rural Florida, 3-year-old Champ strumming away on an air guitar, having the time of his very young life, says his father, a former US Marine and the band's rhythm guitarist. "And off he went," Nate says, referring to his son's leap into music.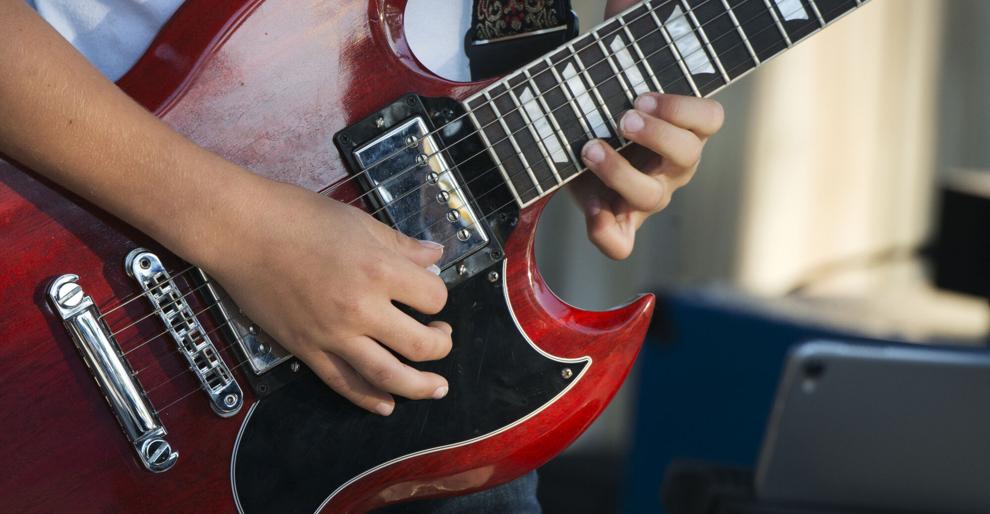 Scroll forward a handful of years to an open mic session in Cape Coral, Champ had by then absorbed guitar lessons at the Rock Box in North Port, biweekly virtual lessons with Scott Sharrard, current guitarist for Little Feat and former guitarist and musical director for the late Gregg Allman's band, his dad says, plus endless practice, his fingers trained and coordinating themselves much like athletes drill their legs for speed.
"He's just a sponge," Nate says.
That Cape Coral performance helped in forming The Champ Jaxon Band, a play on his name. Bandmates include veteran drummer Brent Adam and bassist Nick Rosado. Nate is the band's rhythm player, its maestro/road manager. Its first gig was a brewpub on March 8, 2019.
The band in the last year has performed about fifty paid gigs, gaining a fan following at each stopover. There are gigs scheduled this summer for Macon, Georgia, The Allman Brothers Band's adopted hometown, and Nashville. Members hope these performances open up a world of possibilities.
Enthusiasm for the band gets so spirited, in fact, that after a recent gig a fan rushed Champ and "grabbed him like a teddy bear," says Adam, the drummer.
"Please put him down," Adam says he told the woman. "He's not a stuffed animal … you shouldn't be touching other people's kids."
Champ, Adam adds, "looked at me and started laughing. We all watch over him, no one gets too close."
BEST BAND FAMILY
The band arrives hours before their afternoon showtime at the Nav-A-Gator.  Nate Winkler and Brent Adam assemble drums, guitars, wires, rugs and electronics in the bandshell, which provides just enough room for each member to wander inside his own circle. There's an iPad for Champ, which he uses for the occasion lapse on the lyrics. Even though he mostly closes his eyes and bends strings with what his heart is saying.
After making final touches, Nate races off to grab his son, who's home doing schoolwork.
He returns a shirt while later with his son and Ivey.
Champ is wearing rainbow Crocs and his light-colored hair is long and loose.  . The hair is not an affect, but it has caused some bullying, which his parents quickly nipped in the bud.
He has been coached to answer media questions, but he is approachable. He answers easily and with some depth.  Not the typical "yup" and "uh-huh" some kids use to shield themselves. Afterwards, he wanders off to a cubbyhole to play on a tablet, doing kid things before strolling onstage, barefoot.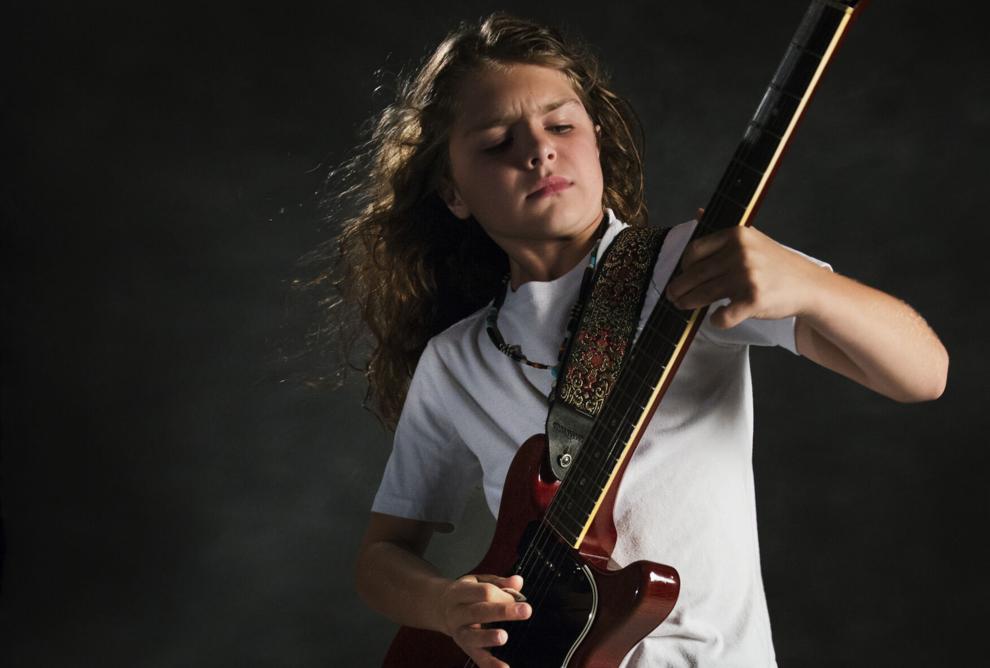 "Check one, two, check one two," he says into the microphone. Ringside are his grandparents, JC and Barbara Winkler, who attend most of the band's gigs.
A few electrified strums and beating of drums, and The Champ Jaxon Band launches into its first 45-minute set, which will include mostly cover songs but also "No Time for Hate," Champ's lyrical take on bullying.
"Tonight he's a rockstar," Nate Winkler says of his son, "and tomorrow he has a list of chores … take out the trash, pick up the dog poop."
Forty-five minutes into The Champ Jaxon Band's set, the group breaks for fifteen minutes. Champ has shed his Gibson SG, paid for with gig proceeds, and heads offstage, where he'll pick up on another round of the videogame Minecraft.
Adam, whose father is a former road manager for the 1980s band Cheap Trick, clearly adores Champ. And not just for his playing skills.
"This is the best band family I could ask for," he says. "Champ makes you wish you could pre-pick your kids. And the most important part is (him) having fun. It has been amazing."
ABOUT JACKSON CHAMP WINKLER
Born:  New Bedford, Massachusetts, moved to Florida in 2013
Parents: Nate and Ivey Winkler
Bills himself as: A singer, songwriter, guitarist and "old soul with a new perspective."
He plays: A 1959 Gibson Les Paul Special and a 2018 Gibson SG Standard
Training: Began studying guitar at age 6, but played air guitar at 3. He currently receives weekly guitar and vocal instruction at the Rock Box Music School in North Port. He also takes remote lessons from Scott Sharrard, newest member of Little Feat and formerly of the late Gregg Allman's solo band.
Debut performance: At age 7, he sang a song at a youth talent showcase in May 2018
First featured gig: Big Storm Brewing in Cape Coral in March 2019 at age eight.
Proud member of: the Lone Hawk Hat family, which includes Sheryl Crow, Chris Robinson, Charlie Starr, Marcus King, and other esteemed entertainers.
His band mates: His father, Nate Winkler, on rhythm guitar and backup vocals, Brent Adam on drums and Nick Rosado on bass guitar.