Holiday treats are much better when you make them yourself and then share them with friends and family. Here are some that are easy to make and suit any special occasion.
PERFECT PUFFS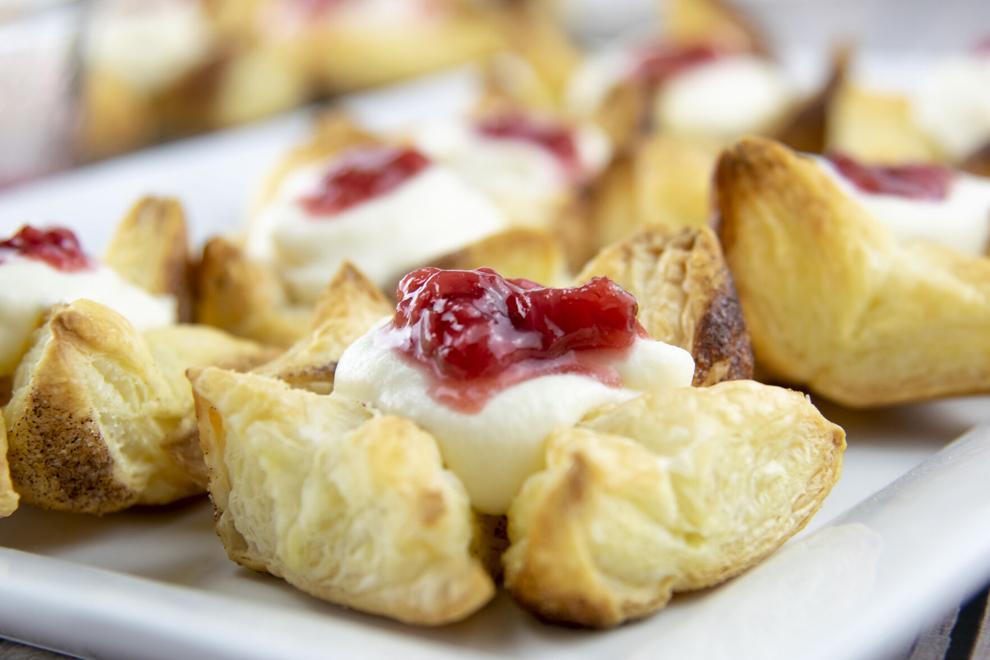 Perfect for a party or simply indulging yourself, these addictive pastry puffs make it hard to stop at one.
Easy to assemble with these step-by-step instructions, the ricotta mixture and fresh strawberry compote are dynamic together and provide a generous touch of sweetness.
RICOTTA PUFF PASTRIES WITH STRAWBERRY COMPOTE
½ cup, plus 1 tablespoon, heavy cream
½ cup granulated sugar, divided
1 tablespoon ground cinnamon
1 package fresh strawberries, hulled and sliced
½ cup homemade, part-skim or whole milk ricotta cheese
½ teaspoon vanilla extract
Cut both puff pastry sheets into nine squares. Make slit in corner of each square toward middle of pastry. Fold corners to other corners to create pinwheel shape. Brush pastry with 1 tablespoon heavy cream. Combine ¼ cup granulated sugar and ground cinnamon then sprinkle on each puff pastry.
Bake 12-15 minutes until pastry is golden brown and raised.
In medium saucepan on medium to high heat, pour in remaining granulated sugar and water. Once sugar is dissolved, pour in fresh strawberries. Bring mixture to boil then simmer 10-15 minutes, stirring occasionally, until strawberries are broken apart and semi-thick sauce is created. Let chill in refrigerator 2 hours. To chill faster, put in freezer 45 minutes.
In medium bowl, using mixer, whip heavy cream until stiff peaks form. Set aside. In separate medium bowl, combine ricotta cheese, powdered sugar and vanilla extract. Mix until fluffy. Return whipped cream to ricotta mixture and whip 1-2 minutes until mixture is light and fluffy.
Spoon ricotta cream into center of each puff pastry pinwheel. Spoon strawberry compote in middle of ricotta mixture.
Recipe adapted from Milk Means More
DIPPED STRAWBERRIES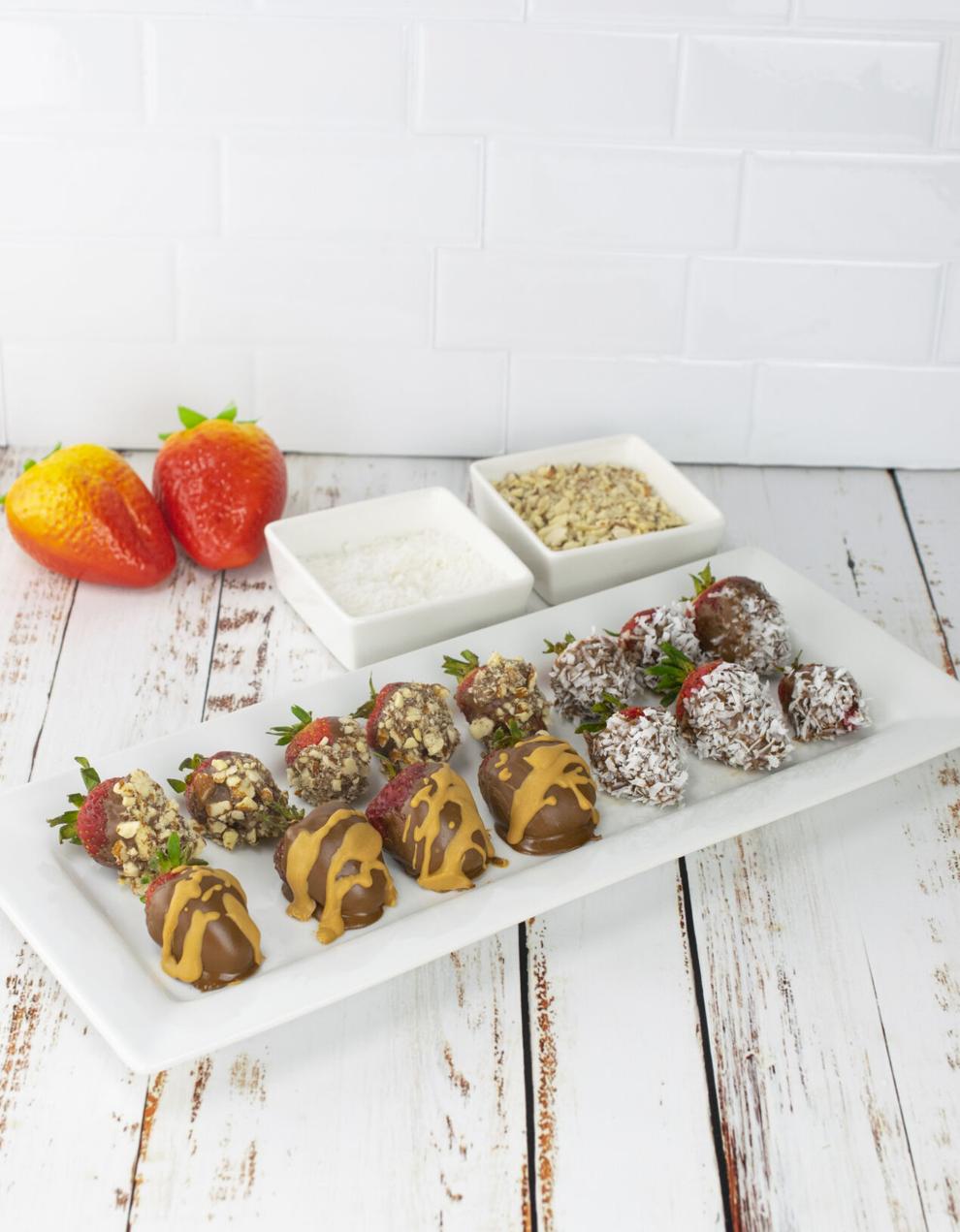 When you are craving something sweet, small and delicious, these Chocolate Coated Strawberry Treats hit the spot.
The recipe begins with fresh strawberries and ends with a drizzle of mouthwatering peanut butter sauce. This is a great recipe for little ones looking to help out in the kitchen. These strawberries are fun to dip and even more enjoyable to devour.
They also are easy to transport from place to place and don't leave a huge mess behind to clean up afterwards.
The best part is you can be creative and dip these strawberries into a number of your favorite ingredients you already have in your pantry at home. This includes, sprinkles, small candies, white chocolate drizzle and different kinds of nuts. The possibilities are endless.
CHOCOLATE COATED STRAWBERRY TREATS 
1 ¼ baking chocolate chips
½ baking peanut butter chips
3 tablespoons coconut oil, divided
1 pound fresh strawberries
In saucepan, add baking chocolate chips and two tablespoons of coconut oil. Melt on low to medium heat and whisk until smooth.
In a small bowl, add baking peanut butter chips and 1 tablespoon of coconut oil. Microwave in 30 second intervals until melted. Whisk together until smooth.
Line a baking sheet with parchment paper.
Dip all strawberries into melted chocolate. Then, dip ⅓ in coconut, ⅓ in almonds and 1/3 just chocolate and lay on tray.
Drizzle the melted peanut butter over the plain chocolate strawberries.
Put in the fridge for at least 30 minutes or until strawberry treats are chilled.
TRANSFORMED CRACKERS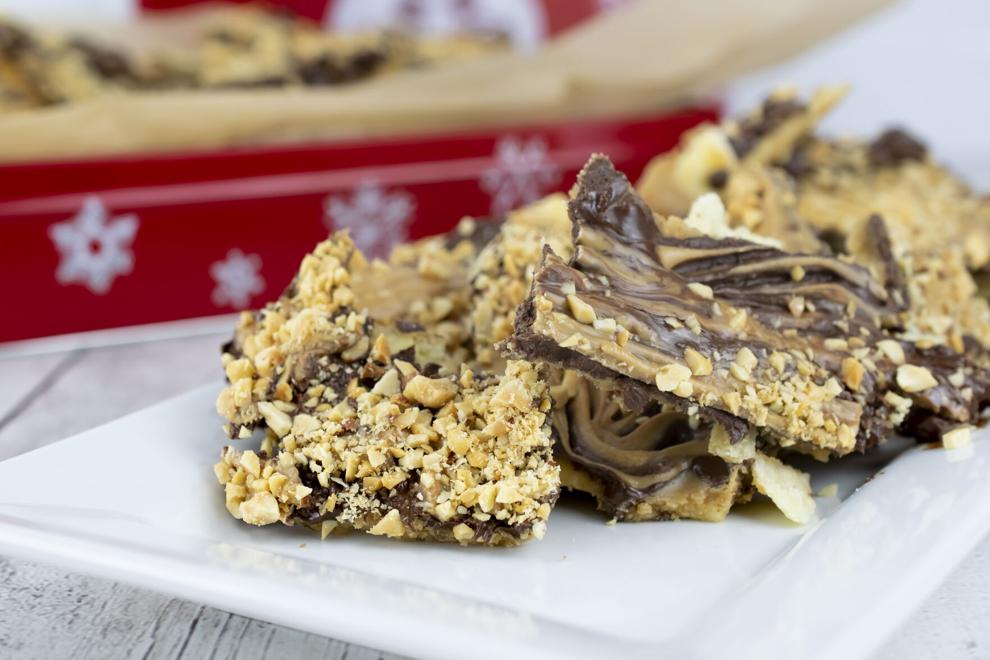 Among the decorations, gifts and gatherings of loved ones, there's perhaps nothing quite like family favorite foods that call to mind the joy of the holidays. Whether your loved ones relish building gingerbread houses or dining on an all-in feast, looking forward to annual traditions is part of what makes the season so special.
This year, you can add to the fun with a new annual activity by creating a delightful dessert with the help of little ones and adults alike. With an easy recipe like Peanut Butter Saltine Candy that calls for just a handful of ingredients, you can get the whole family involved in the kitchen.
Ask your little helpers to measure out ingredients while a grownup prepares the pan and uses the stove. Once the base is finished baking, call the kids back to sprinkle chocolate chips and peanut butter chips over the top.
After your candy creation is cooled, just break it into pieces meant to be shared with the entire family.
PEANUT SALTINE CANDY
Nonstick cooking spray (butter flavor)
1 sleeve (4 ounces) regular saltine crackers
¾ cup creamy peanut butter
2 cups milk chocolate chips
½ cup peanut butter chips
½ cup rough chopped, dry roasted peanuts
Preheat oven to 400 F. Line 10-by-15-by-1-inch pan with aluminum foil. Spray foil with nonstick cooking spray then lay saltines flat in single layer on prepared pan. Set aside.
In heavy duty, 1-quart saucepan over medium heat, combine butter, peanut butter and sugar. Stir constantly until butter and sugar are melted, bringing mixture to boil. Boil 3 minutes, stirring frequently. Pour cooked mixture over saltines and bake 5 minutes.
Remove from oven and sprinkle chocolate chips over saltines. Let cool 3 minutes then spread melted chocolate completely over saltines.
Sprinkle peanut butter chips evenly over chocolate. Return pan to oven 1 minute to soften chips. Pull pointed tines of fork through softened peanut butter chips to partially cover chocolate. Sprinkle chopped peanuts on top, gently pressing into candy.
Let cool on rack about 15 minutes then place in freezer 3 minutes. Remove from freezer and break into pieces. Store in airtight container.
CRUNCHY SHOWSTOPPERS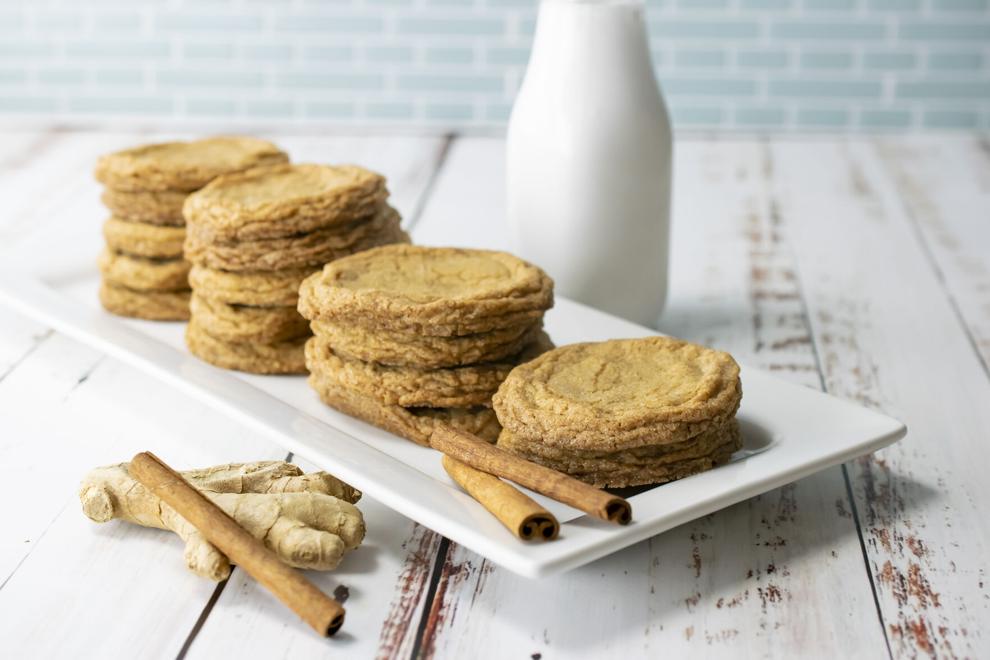 Sweet treats are a favorite food, especially when they have a unique or unusual twist that makes them stand out from the crowd like these Fresh Ginger Cookies.
They are sweet and sugary with the perfect amount of ginger. Baked until golden brown, this dessert is a showstopper for family events and celebrations alike. Even the little ones will love to munch on this sweet treat with an appealing flavor.
From parties to picnics, these cookies can be a hit. They are simple to make, don't take much time to bake and are unique enough to bring along to nearly any occasion. 
FRESH GINGER COOKIES
1 ½ teaspoons baking soda
1 ½ teaspoons ground ginger
1 teaspoon ground cinnamon
¾ cup salted butter, softened
1 cup, plus 3 tablespoons, sugar, divided
¼ cup grated fresh ginger
In medium bowl, whisk flour, baking soda, ground ginger, cinnamon and salt. Set aside.
In stand mixer, beat butter, 1 cup sugar and brown sugar until fluffy. Add egg and fresh ginger; beat until combined. Gradually add dry ingredients to mixer until combined.
In small bowl, add remaining sugar. Using spoon, portion out dough, roll into balls then roll in sugar. Arrange balls on baking sheet at least 1 inch apart.
Bake 14 minutes, or until edges are golden brown. Transfer cookies to cooling rack and cool completely.