Vinita Jones' marble kitchen island was littered with pencils, jars of Mod Podge sealer, a tack hammer, pliers, Rubbermaid tubs, a glue gun, natural stuff from magnolia leaves to seashells, and hand-painted cardboard flamingos.
With cozy chatter flying fast as their fingers, the Punta Gorda Garden Club team members busied themselves with different craft projects.
Some had been club members for 25 years; others, for only a year or so. Even so, they all seemed to have known one another for decades. One pair were mother and daughter.
Jones fitted decoupaged pictures of Christmas puppies into bleached oyster shells. Sandy Bruglio, painter of flamingos, debated the aptness of pine cones versus seashells. Nancy French deftly rolled, stamped and trimmed faux gingerbread men.
Mary Yeomans, grinder of shells, driller of holes and hammer expert, explained the meditative black-and-white Zentangle dodecahedron ornaments that she and Dorrit Tompkins had inked. Her sprays of gray-green palm leaves plaited into "boondoggles" were all-natural cousins to summer-camp lanyards.
The 90-year-old hands of Yeomans' mother, Molly Reifeis, hovered delicately over a wreath form as she hot-glued mussel shells.
In a garage in another part of town, project chair Elaine LaWell and her five-woman team were dressing a life-size palm-husk gardener in pink gingham, apron and rubber boots, and covering a chicken-wire reindeer with palm-frond hide.
CRAFTS AND CAMARADERIE
"Even if you don't know how to do something, somebody will show you," Bruglio said. "I used to think, if you went to garden club, it'd be a bunch of old ladies sitting around a pot of mums. That's exactly what it's not!"
These gardeners, who spend most of their daylight hours outdoors tending to  plants and landscaping, use their creative skills for a special December fundraiser.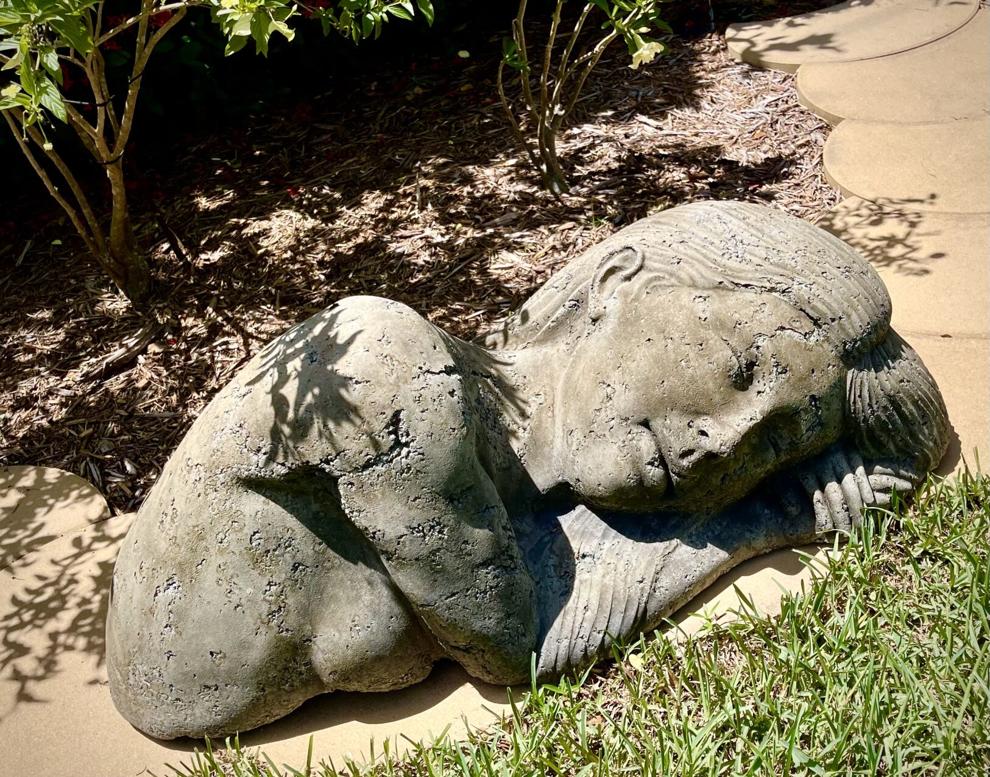 This year club members are transforming six area gardens into magical places for the Holly Days Tour Dec. 3 and 4. In past years, hundreds of visitors have visited decked out homes. This time, they will enjoy gardens decorated to represent different themes.
This year's overall tour theme is "I'm Dreaming of a ... Christmas," with the blank filled in. Teams will bring to life "Classic Car," "Whimsical," "Fantasy," "Shabby Chic" and "Enchanted Tropical" Christmases.
EMPHASIS ON TRADITION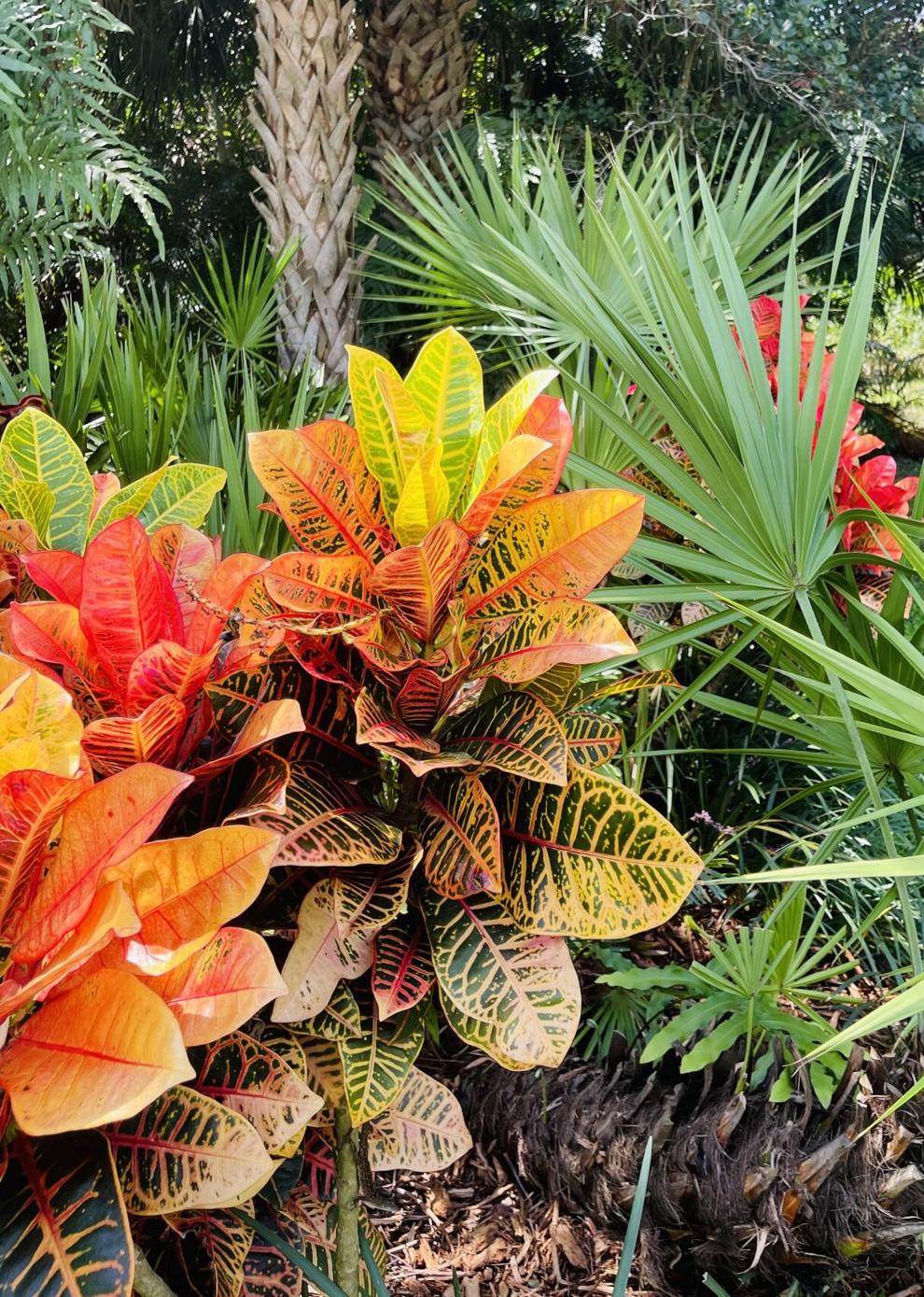 Jones' team is creating a "Traditional Country" Christmas. Her sand oak-shaded acre full of bromeliads and crotons, carved out of what had been a 160-acre cattle ranch off Harborview Road, will become even more of a showplace.
As Vinita put it, "A lot of the emphasis this year will be on the gardens themselves. We've chosen them because they're all interesting and a little different from the usual gardens in the area."
Joyce Stanley has in three years amassed scores of bromeliads, succulents and a dozen staghorn ferns in her Deep Creek yard. "Mine will be more a path through a labeled, shaded garden than decorations."
PALMERS COLLECT PALMS
Master Gardener Nancy Palmer's 2½-lot property in Punta Gorda Isles is a big 25-year-old garden full of bromeliads and orchids, which Jones described as "absolutely spectacular."
"It's a personal collection with a lot of meaning for me," Palmer said. "I'm quite attached to my mango trees. We have two large oaks. And because we are 'Palmers,' we have quite a collection of different palms."
CLASSIC TOUCH
Nancy Knaus' husband contributed to her classic Christmas vignettes with a collection of antique cars which he'll showcase and label throughout their spacious 1.2-acre water view property.
STARFISH AND SNOWFLAKES
Claudia Chopp's sprawling Riverside Drive site has 2 acres of lawn and fruit trees, with a small area reserved for succulent and shade gardens. She plans to hang lights in the shaded area, with overhead palm-frond angels and a cascading fantasia of starfish and snowflakes.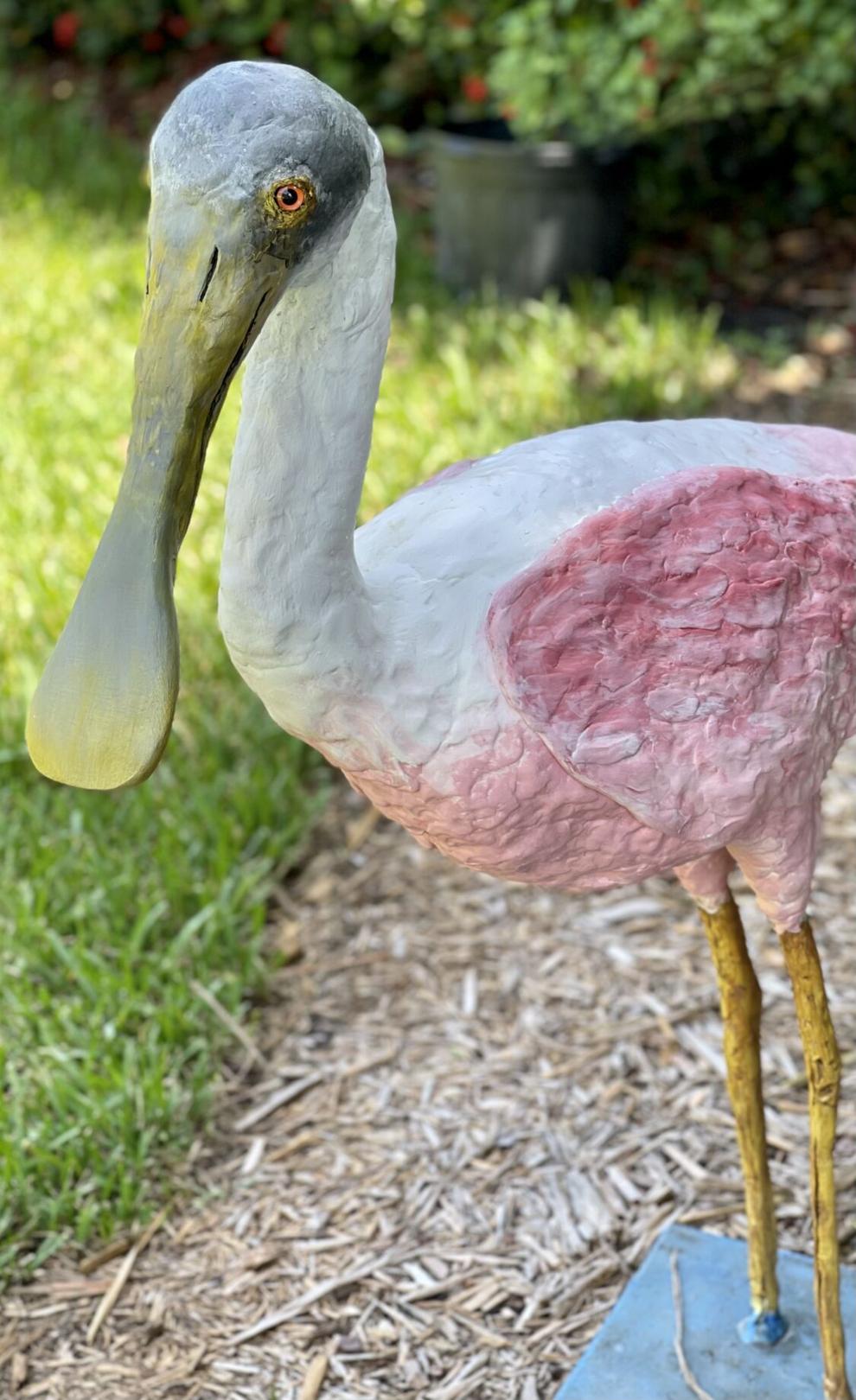 WHIMSICAL YARD ART
The sculpture-garden setting of Elaine LaWell's historic overlay neo-Victorian constantly surprises visitors with whimsical pieces of yard art. There are a painted roseate spoonbill with a real wooden spoon for its bill, a napping hypertufa maiden named "Karma," and a 7-foot-tall EnviroArt sculpture made of recycled metal by Sarasota artist David Wilson. Elaine plans to add Christmas vignettes and salvaged chandeliers for the tour.
FOCUS ON GARDENS
After a one-year hiatus, COVID-19 compelled the club to move the tour outside for socially distanced open-air safety. The biggest threat might be rain.
"Still, we're trying to stick with the traditions that have always made the Home Tour so popular," LaWell said.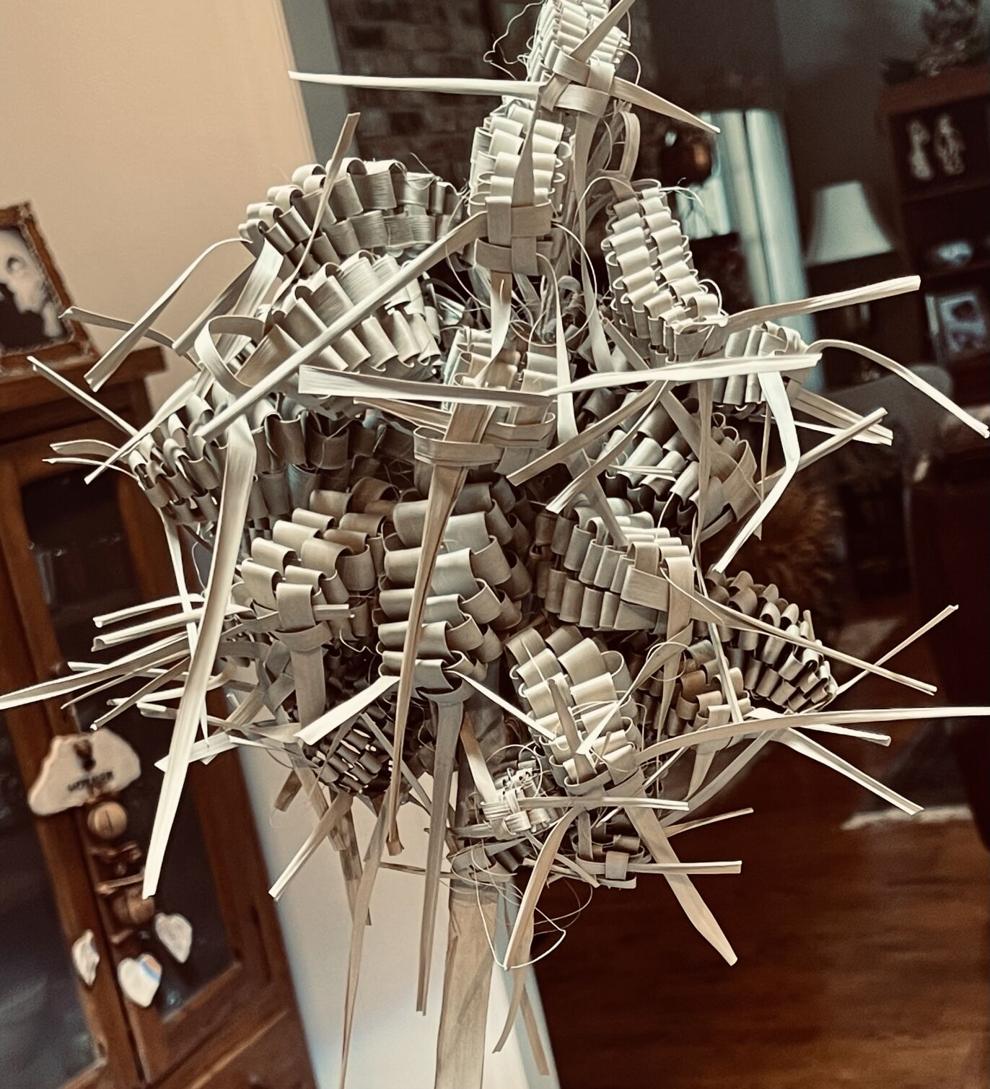 A big draw is the holiday sale of gardeners' creations made of natural materials. At select sites visitors may purchase special poinsettias, visit little onsite shops and pick up goodie bags filled with homemade cookies.
One of this year's chairs, Cindy Dorety, said, "Past decorations have been so good that everyone wanted to buy them, so we continue to have them for sale. They make wonderful gifts."
Holiday tour history
In the early years of the Punta Gorda Garden Club, members hosted a variety of home and garden tours, but once started, the Home Tour found a special place in the community. The club's best-known event began in 1992, when club members made Christmas wreaths for eight homes as part of Punta Gorda's centennial.
After public acclaim, the club hosted a Home Tour the following year and has continued every year since on the first weekend of December.
The Holly Days Home Tour became a shining star of the citywide holiday celebration, opening residents' homes for season and attracting nearly 2,000 visitors the last time it was hosted. Members, working in teams, designed around one overarching theme and used mostly local fresh and dried natural materials to decorate four Punta Gorda historic district and historic overlay homes—whose owners had to make themselves scarce during touring hours.
The tour has since evolved into the nonprofit's main fundraiser, which in 2019 provided over $12,000 in donations to local organizations involved in fields related to the club's goals. Among them were the Peace River Botanical & Sculpture Gardens, Peace River Wildlife Center, ECHO Global Farm, Keep Charlotte Beautiful, and Avon Park Correctional Institute Garden Therapy Program.
Scholarships are also awarded to college-bound Charlotte County students who will study environmental science, horticulture, landscape design and other subjects related to club goals. The last home tour earned $24,000 for aspiring students.
Only once before last year's COVID cancellation has the club's Holly Days Home Tour paused for disaster. In 2004, after Hurricane Charley had damaged or demolished so many homes and gardens in the community, the club instead held a garden market offering plants and trees to help homeowners recoup their losses.
2021 Garden Tour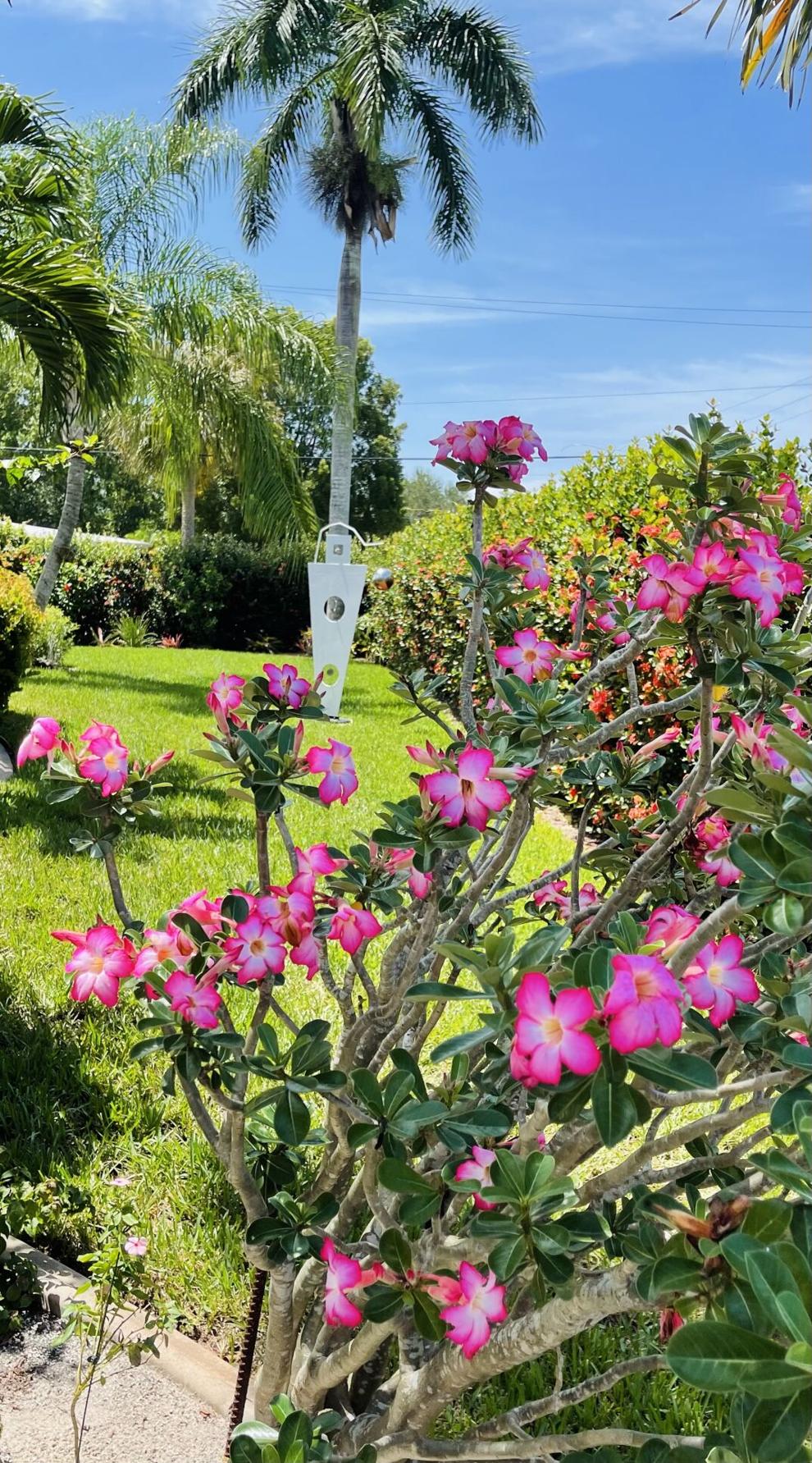 Classic Car Christmas (Nancy Knaus), 538 Peeples Drive, Punta Gorda
Enchanted Tropical Christmas (Nancy Palmer), 2704 Hibiscus Court, Punta Gorda Isles
Fantasy Christmas (Claudia Chopp), 5000 Riverside Drive, Punta Gorda
Shabby Chic Christmas (Elaine LaWell), 433 West Ann Street, Punta Gorda
Traditional Country Christmas (Vinita Jones), 1425 Amelia Avenue, Charlotte Harbor
Whimsical Christmas (Joyce Stanley), 285 Seasons Drive, Deep Creek
10 a.m. to 5 p.m Friday and Saturday, Dec. 3-4, rain or shine. Ticket donation of $20 may be paid at the gardens or in advance through the club treasurer.
About the Punta Gorda Garden Club
The Punta Gorda Garden Club helps maintain the gardens at Punta Gorda Woman's Club, Punta Gorda Library, History Park, Laishley Park, Hector House Plaza, Peace River Botanical & Sculpture Gardens, Blanchard House Museum, and many Habitat for Humanity homes.
The club's most recent effort is Punta Gorda in Bloom—a partnership with TEAM Punta Gorda, Punta Gorda Chamber of Commerce and Punta Gorda Isles Green Thumbs in the America in Bloom project, where Punta Gorda is one of seven communities competing in an online national video contest.