In these difficult times, it's easy to get stressed out, feel depressed or become physically challenged. So where can you go, and what can you do, to improve your physical and mental wellbeing?
We explored a few local facilities that focus on therapies designed specifically to help you achieve those goals.
Get up out of your recliner, step out of your "comfort zone" and try something different. You'll be surprised at the benefits!
The first option many of us think about when we want to de-stress is massage therapy.
The Yoga Sanctuary in Punta Gorda offers multiple integrative personalized massage options, including Swedish massage (gentle, full body), deep tissue massage, Thai massage (combines gentle stretches, breathing practices, acupressure, and soothing rocking), neuromuscular therapy and several others.
Owner Jennifer French highly recommends subtle, hands-on styles like their craniosacral therapy during this stressful time.
"It's gentle, non-invasive and light-touch techniques release tension and allow the body to fully relax and de-stress," she said.
An Ayurvedic technique called Marma Chikitsa therapy applies gentle pressure to the body's vital energy points, also calming the mind and reducing stress and tensions.
In Englewood, the 20 West Organic Spa can also help you relax with their customized and couples massage techniques or Ukrainian massage as well as several types of facials that include face, neck, shoulder and arm massages applied with a body buffer rotating device that supplies stress relief and relaxation.
According to their receptionist, Jenna Frank, the owner "is very committed to the health and wellness of the community."
Finally, Port Charlotte's newly opened holistic wellness spa, Fusion Studios, also offers some massage therapy options using organic lotions, oils and CBD oil to compliment their many appropriate stress management treatments and classes.
Contrary to popular belief, yoga is not a hippie, new age, spiritual practice. It combines meditative benefits with physical exercise. In fact, the word yoga means "yoke or bind," creating "union." And practicing yoga is not just for the young and very agile individual.
"It's accessible and slow. Anyone can do it—all shapes, sizes and ages," French said. The Yoga Sanctuary's goal is to make yoga accessible to the entire community.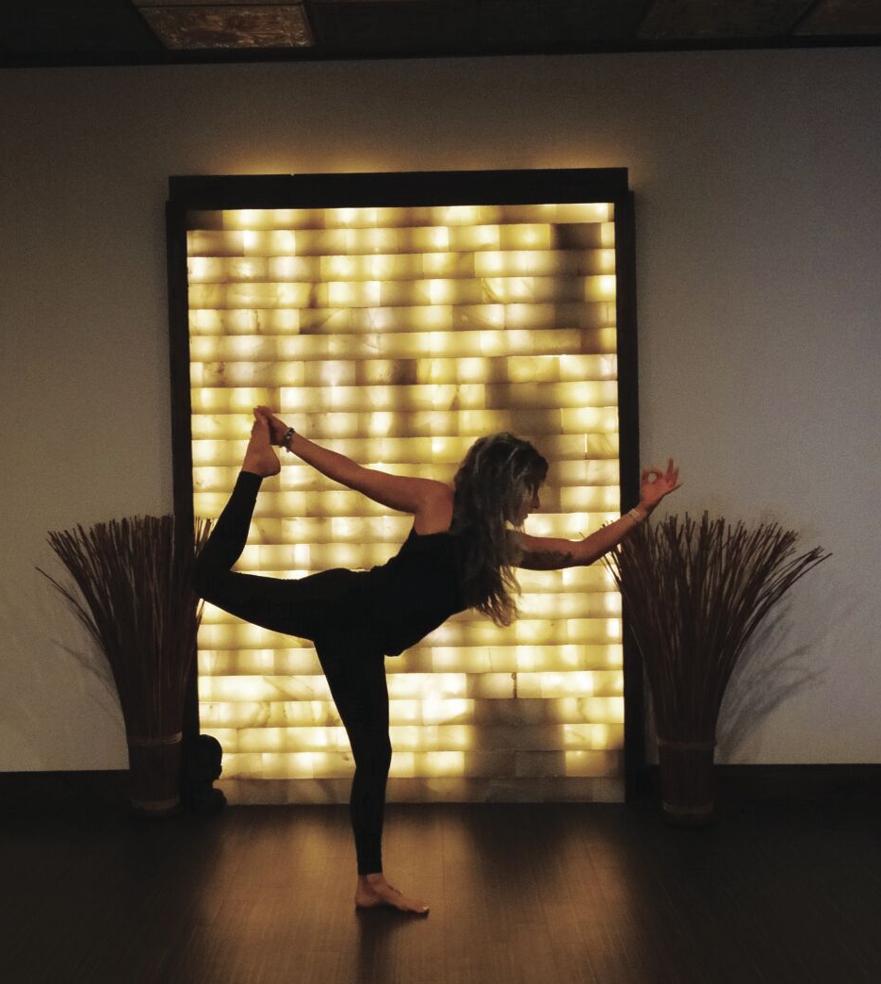 Fusion Studios is contributing to that effort with gentle vinyasa flow classes (nothing too advanced) and hot yoga with infrared panels in their new Zen-atmosphere facility with Himalayan salt walls.
Owner Kelly Crossett said, "People are so happy when they leave here."
There are many different types of yoga. While some are designed to awaken the body and leave you energized, most incorporate simple poses and gentle flowing movements that connect the mind and body, promote serenity and improve movement, leaving you relaxed, rejuvenated and restored. You can improve your balance and coordination, tone all your muscles, gain some strength, improve your concentration, decrease cholesterol and blood pressure, create deeper self-awareness and, yes, alleviated your stress and anxiety.
And you don't even have to leave your house to try it out! During the pandemic, The Yoga Sanctuary began allowing access to members via Zoom sessions, with easy access from anywhere. Many participate more often than previously and have really appreciated the benefits even more.
While Jack Andreas' wife enjoyed yoga at Fusion Studios, he was dealing with physical issues following a devastating bicycle accident and was skeptical about doing any holistic treatments. But Crossett convinced him to try their sensory deprivation float therapy twice a week.
"I'm so glad she did. (Now) I hate to miss it," Andreas said, "The pain is gone. I play golf four times a week, and I'm 70 to 80 percent better with my hand arthritis."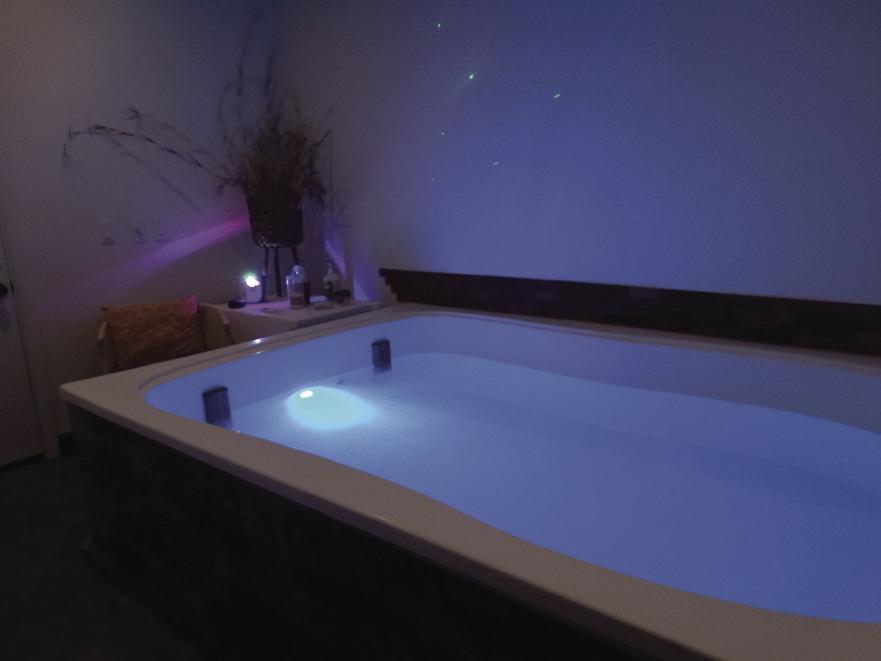 According to Crossett, adding 1,000 pounds of Epsom salt + magnesium sulfate in the water tank creates a zero-gravity, no pressure, safe and comfortable floating experience that she described as their "most amazing de-stress treatment." It is also known for reducing anxiety, heightening cognitive function and creativity, improving blood flow and sleep, minimizing pain and muscle stiffness, leaving your skin smooth and rejuvenated, supporting a healthy immune system, adjusting blood glucose levels, keeping the heartbeat steady and the bones strong and even managing PTSD for veterans like Andreas. 
The tank room offers mood lighting and soothing music, if desired, and a large enough tank for individuals, couples or friends floats.
Another amazing natural treatment they offer is salt (halo) therapy, where a halogenerator crushes 100 percent pure dry salt into micro-ionized particles and disperses it into the air in the private "salt room." The negative ions stimulate airway linings, helping with mucus clearance, improving immune response, alleviating some symptoms of chronic respiratory conditions, increasing effectiveness of and reducing dependence on medications, clearing up a variety of skin conditions, improving energy and mental acuity, stabilizing mood and sleep patterns reducing headaches, lethargy and depression as well as stress.
While sitting in the salt room, you can relax, play music, have a drink or read a book.
Combining treatments add to the possible benefits.
Karen Gallagher, a trained expert in Clinical Herbal Medicine and teacher of Integrative Health & Nutrition at Florida Gulf Coast University, knows how beneficial these therapies are. She was "thrilled" to finally have some alternative medicine options like this come to our area.
She does half-hour salt therapy treatments combined with one hour of deprivation floats. "It's rejuvenating, healing and boosts the immune system," Gallagher said. "And you can close your eyes and lose yourself.
Both The Yoga Sanctuary and 20 West Organic Spa offer a simple, natural and safe Japanese alternative technique called Reiki, or energy healing. Since Reiki energy can affect one on physical, emotional, mental and spiritual levels, treatment can restore balance and vitality, reduce stress, promote healing, manage symptoms and improve general wellbeing.
Practitioners gently place their hands lightly above or on specific areas of the body for 2-5 minutes to transmit subtle energy through the hands into the human energy system until they feel that the energy has stopped flowing.
20 West also offers raindrop therapy to be added to your massage. A selection of immune-enhancing essential oils are dropped from about 6 inches onto the spine and then lightly massaged in with pressing, tapping or compression techniques. This will increase immunity, help with pain and reduce stress.
"If you want something extra special, treat yourself to a raindrop massage," Dee C. commented.
Or, how about trying TuiNa, a traditional Chinese medicinal technique that is like acupuncture, but with no needles.
Another option, body wraps involve a sea salt body scrub with moisturizer, and a rinse, before you lie down on an infrared heated therapy "blanket" while a therapist applies an organic seaweed/water mixture and massages it over your entire body. Then you're wrapped in a foil blanket and given a seaweed mask facial and a neck, head, shoulder and upper back massage, and unwrapped. After your shower, you receive one last massage. Very relaxing!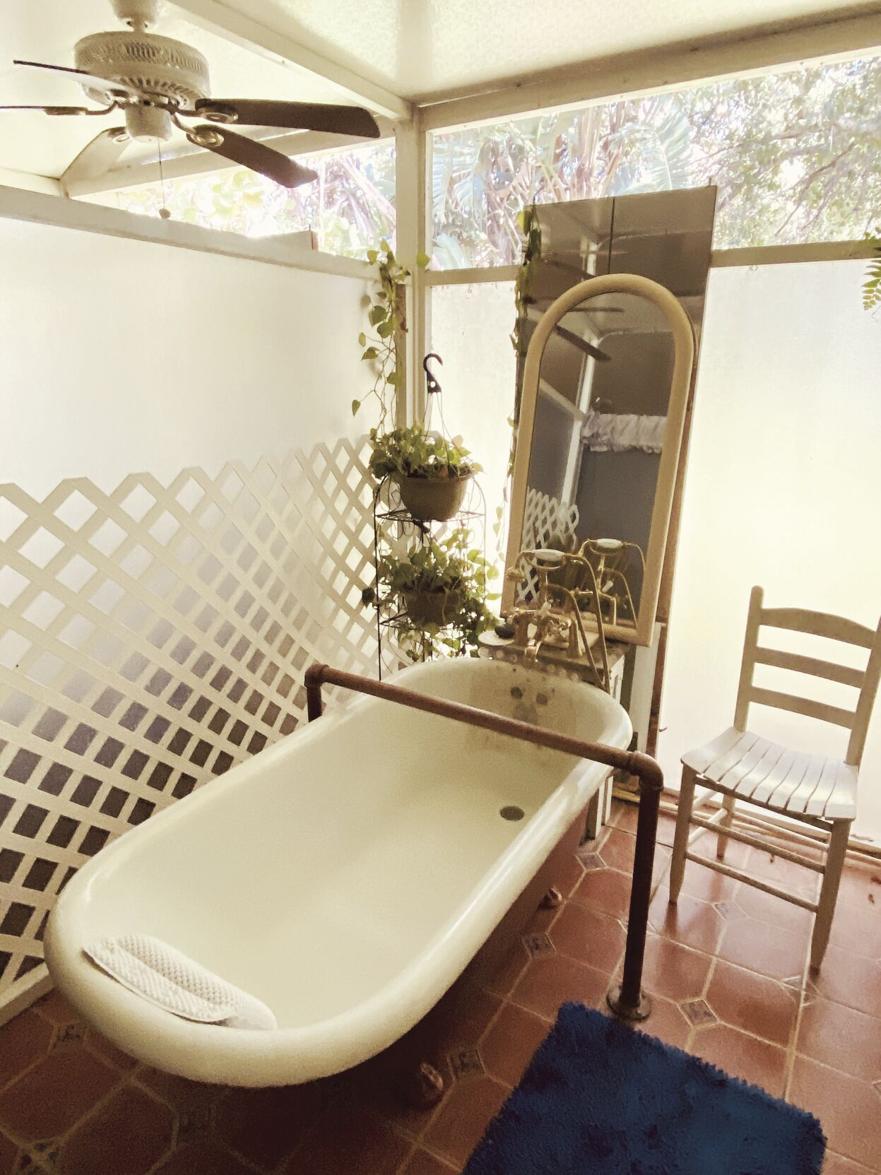 20 West's clay bath is also very popular—very relaxing and detoxifying. Stroll into their Garden Room and step into one of the deep soaking tubs filled with all natural magnetic clay. Or enjoy a soak on the outdoor lanai and listen to the birds.
Susan B. from Venice commented, "Pure relaxation! My sister and I had a girls day at 20 West Spa…The clay bath was so relaxing out on the lanai with the birds singing and music playing. We followed our bath by an incredible massage and salt scrub…very Zen."
Whatever your choice is and wherever you experience it, remember to relax, breathe and de-stress!