"I can remember the exact day, when I was four, that I first put pencil to paper," said Laura Pommier, recalling how she copied something her dad had drawn and did it well.
It sparked something creative inside her that she has continued to nuture throughout her life.
Recently, the Port Charlotte artist completed the first murals in the City of Northport. "Blooms" graces the Wellen Park Welcome Center, and  "First 1000 Days" is on the wall of Quality TV Sales on the Trail.
Pommier has a Bachelor of Fine Arts from Murray State University and a Master's in Painting from Indiana State University. Her artwork has been in countless exhibitions and won awards. When she moved to Florida, collaborating on several design ideas with her daughter encouraged her to continue her studio work.
Pommier builds each of her paintings around parts of a narrative that is important to her.  "It's a sweet spot when you do what you want, and what the buying public likes."
She's "trying to paint a feeling, to capture a mood or thought." She said her work evolves as she paints and as an avid reader, she often is inspired by a passage or insight that helps her compose her next project.
Pommier calls her innate talent her "language in art."
"Everyone has their own personal expression of art. I don't think I could explain to others how I could do it, because I cannot explain it to myself how I do it, I just do."
Pommier's style is to paint realistic pictures from life. She rarely paints from a photograph, as some photorealistic painters do. Considering herself more of a contemporary artist, she starts out analytically as she thinks about the project.
Over the years, she has developed her own technique of handling the paint and applying it to the canvas. "Most students like to paint with heavier paints, but I like to show them the values of many layers of paint and applying them."
A typical piece takes about a month to complete, as she "figures things out" as she goes. Her favorite medium is oils, but she also uses chalk, charcoal, pencil, and of course, acrylics for the murals. Pommier creates digital art for her own preliminary composition work but does not use it exclusively for her painting as do others.
WHY TEACHING MATTERS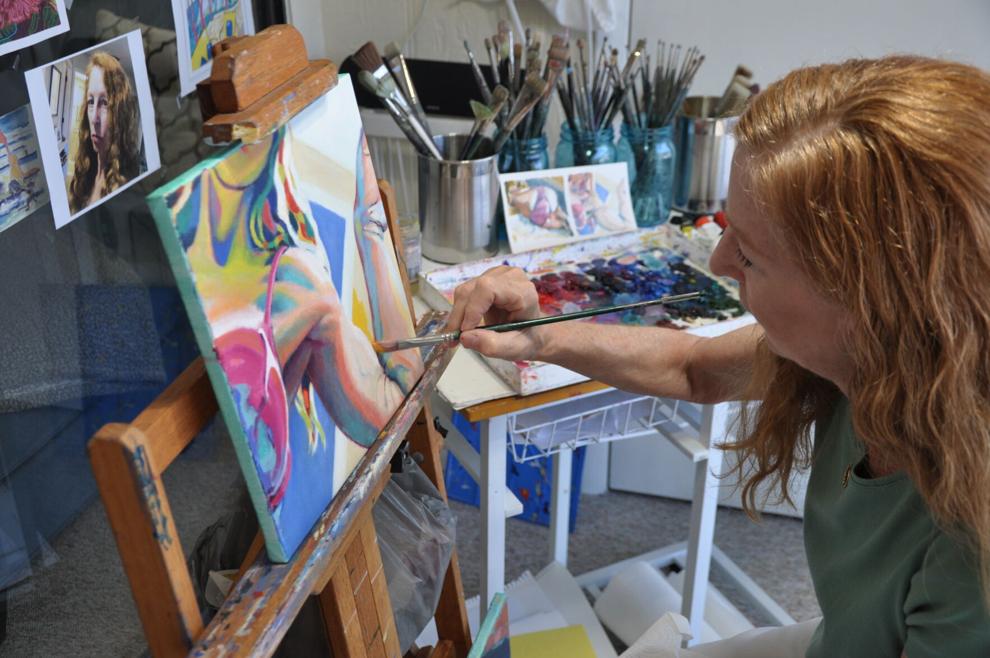 Her love of teaching art comes from her college days. "When I went to art school, that was the typical career path of art school. You went to art school, then you went to teach."
While in Indiana, she taught at an art center near the university. "I want to encourage every artist that what they bring to the table is important."
She currently teaches at the Visual Art Center in Punta Gorda and the North Port Art Center, offering classes in person and online classes. She leads discussions on color palettes, composition, and more.
Her Zoom classes are international of scope. Students gather online from Prince Edward Island, several other areas in Canada, Minnesota, and local students from Charlotte and Sarasota counties.
"I try to show them a path to get outside the box, to explore original concepts such as how light and dark work, and how volume factors into the picture. I want them to take what they can from me and then do what they can."
She builds on each person's strengths and helps people understand the different ways art can be incorporated into their lives.
"Art can be a part of your life that is not work, not play. Although it might be playful, it is more a kind of sanctuary," she said. "You'll find that with art, you will grow. You put yourself in an awesome realm, and you can put everything else aside. That's when they can find they can do some splendid work, because they set everything aside, and something comes out they did not know was there.
Those who work with Pommier understand and appreciate the impact she has with students.
"Laura is one of the most patient teachers I have ever seen," said Dee Dee Gozion, Executive Director of the Northport Art Center. "She excels at helping the newcomer by explaining the details in a very humble manner. She is a joy to watch and work with." 
Pommier's  favorite words of encouragement are "Do what you love!  Let that be your guide, because you will enjoy painting so much more if you do what you love."  
THE MURAL PROCESS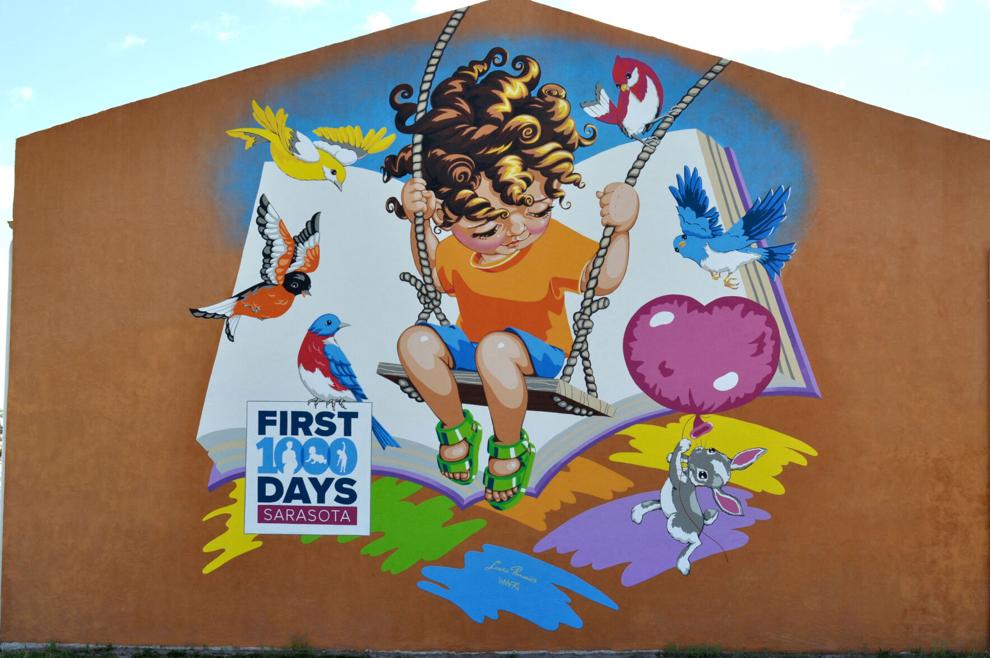 Creating larger-than-life images is a multi-step process.
"I start with several sketches to draw together all of my ideas," Laura Pommier said while flipping through many drawings. "There are ideas that flow, and I simply begin. I look for examples of distinct features all around me, including the internet, and then I bring them all together."
In her 1000 Days mural, the young child was her complete creation, but she looked around for samples of birds and other elements that might get included in the piece. For example, the sandals pictured were styled after a pair of shoes she bought for her granddaughter. 
With preliminary sketches in hand, she projects the images onto the wall or side of a building and uses chalk to draw the outines.  Armed with pre-selected paints, brushes, and a bucket truck, she begins her work.
"The time a mural takes for completion varies because of several things. Client changes and difficulty in rendering the portions of the image may always be a factor."
Florida weather also come into play. "Wind is my biggest enemy. You can imagine what wind can do to a container of paint." 
Once the line drawings are on the wall, she follows her scale model and starts working on the project.
"I want to know exactly what I am going to do," Pommier said.  "I don't want to have to be thinking at that point, I just want to be painting." 
She has several projects in the works, including a donor wall for a non-profit and a bright and cheerful mural designed for the pool at her complex.
 Awakening your hidden artist
To attend a class with Laura Pommier, contact the North Port Art Center (www.northportartcenter.org) or the Visual Art Center in Punta Gorda (https://visualartcenter.org). Pommier's website, laurapommier.com, also lists virtual, in person, and hybrid classes.