More than 10 years ago, when local Port Charlotte resident Rick Andersen was inspired by his young grandson's active imagination to write a poem about it, he had no idea it would lead to something greater.
In January 2020, he shared it with a friend. "Once she read it, she said 'This isn't a poem; this is a children's book'! I then contacted another friend I knew at Maat Publishing, which is a company in the Northeast where I'm originally from," Andersen said.
Andersen then began writing and illustrating "The Fairy Trap" along with another children's book called "A Child's Eyes."
"I sent both manuscripts for 'The Fairy Trap' and 'A Child's Eyes' at the same time to the publisher in January and received an approved copy of The Fairy Trap in August [of 2020]," he said. "Initially, they held off on 'A Child's Eyes' — they weren't sold on it yet even though that's the one I have a deeper connection to personally." 
THE INSPIRATION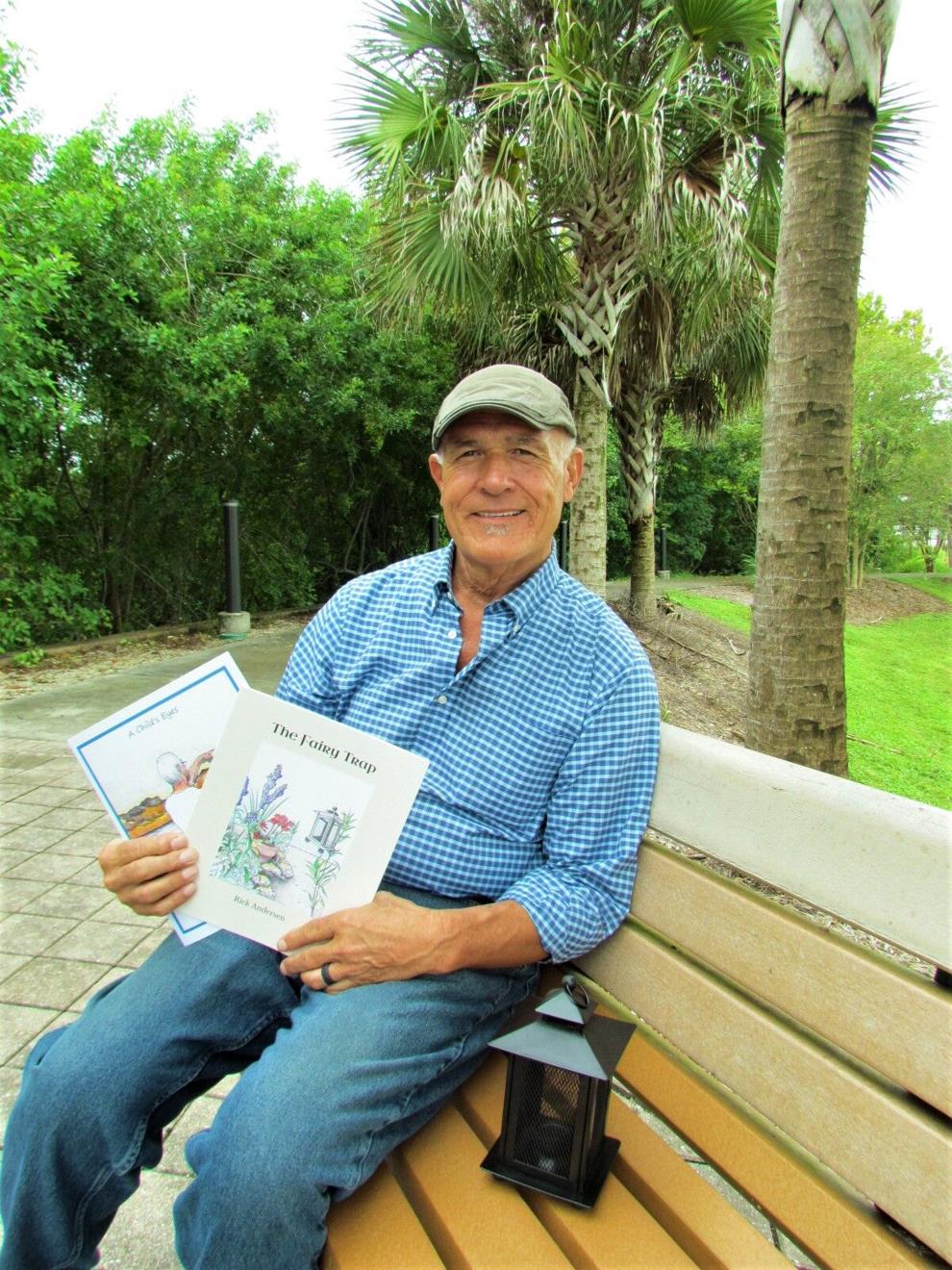 "The Fairy Trap" is the true story about Andersen's grandson who liked to sit in their garden and play pretend.
"When he was six years old, he was sitting out there looking at a cast iron lantern we have and he asked me 'What's this Pop?'"
Andersen was about to inform him when his grandson offered an awe-inspiring observation. "He told me, 'It looks like a Fairy Trap'."
Being one to always encourage his grandson's creative musings, he asked him," 'Oh yeah? What do you think we should use for bait?'" The answer both delighted and inspired him — "He told me, 'A child's laugh'." 
Andersen regularly gets up at two or three in the morning to sit and have what he refers to as introspective time. "Lots of creativity and short poems have come out of that time." 
RAISING GRANDSONS
Andersen, 64, has no concrete plans for retirement. About 17 years ago, he and his wife, Stacey Andersen, became guardians of and responsible for their two young grandsons who are just 13 months apart. The Andersens still work full-time to support their household.
They certainly aren't alone. According to the United States Census Bureau, a  139,542 grandparents in Florida are estimated to be responsible for their grandchildren, with 3,791 of them estimated in Sarasota and Charlotte counties.  Many other cases aren't documented. The need is so great locally that Children First — a program of Head Start — regularly hosts free monthly educational kinship care classes where caregivers can be supported and make connections with others in their community.
Andersen says raising his grandchildren has certainly helped to inspire his creativity. "It has just hit the switch on my own childhood imagination and memories. It put me right back to thinking as a young boy would think,"  raising his own awareness of how children view the world. 
HIS OTHER BOOK
Prior to moving to Florida over 20 years ago, Andersen grew up in a small rural town of Cumberland, Maine tucked away in the farm pasture landscape 10 miles north of Portland. For this reason, Andersen has a particular fondness for "A Child's Eyes.
"Because of its geographical location," he explained. "It reminds me of the shoreline of Maine and the time I would spend with my own grandmother" — who, as a young boy, he called Nonnie.
"We would have adventures all day. I was always amazed at her knowledge of plants. She was quite the gardener … I remember I never really looked at her as an adult. She was so full of adventure that it felt like I was playing with another child. That's influenced me with my own grandchildren and I know that's how they look at me too."
The grandson who inspired "The Fairy Trap" is now 17 years old and he's given his approval of the book along with Andersen's other four grandchildren. "They absolutely loved it," Andersen said, "but they did ask me — 'Why aren't there more pictures, Pop?'" He told them he wanted children to use their own imaginations while being read the book.
"Being the illustrator of my own books, I found it quite overwhelming how much I would need to draw in order to fill a whole book. And it doesn't help that I'm very particular with my illustrations," he said with a laugh.
He's taken the grandchildren's commentary on how he can improve and sought out artistic assistance for the next set of books he plans to publish. "I've collaborated with a friend of mine who is a local art teacher at a school and I plan to include her student's artwork as the illustrations."
MORE IN THE WORKS
Andersen already has three other children's book manuscripts with final touches needed to send off to the publisher — including the sequel to "The Fairy Trap" called "The Return."
He says all of his books reflect how he interacts with his grandchildren.
"These are really not meant to be children's books. They are meant to be family books. Ones where the adult can immerse themselves in the story, add inflection in their voice and take themselves back to their own childhood. It's intended for the caregiver to read to their kids and really make an adventure out of it."
SUPPORT GROUPS
Children First, a program of Head Start, offers Kinship Care support groups for Grandparents raising Grandchildren and other Relative Caregivers
North County (Sarasota): 7 p.m. the second Tuesday of each month,  (via Zoom)
South County (Venice/North Port): 7 p.m. the third Tuesday of each month, (via Zoom)