"Three men walk into a former bar!"
It's not a variation on the old joke. It's what's happened many Saturdays for many years at Wee Blew Inn. After opening in 1980 as a bar, Wee Blew Inn became a diner two years later and has served customers for 40 years.
Technically, the bar is gone, except that a countertop—a staple among diners throughout the country—remains an inviting place. Rock and roll plays at a low volume overhead, and they still serve beer and wine.
Sitting in a booth with a window view, eating lunch, are friends Andy Hagberg, a former resident of Venice who does window tinting, Bryan Wildasin, a Venice resident who does car upholstery and boat canvas work, and Skip Halback, a resident of Venice who works at PGT Industries as a fleet mechanic. They've been friends for 30 years.
Hagberg has been patronizing Wee Blew Inn for about 25 years. On this day he ordered a small BLT. "The food is good," he said. "It's a good atmosphere. Good people. They are consistent. They've always maintained a pretty even keel as far as the formula goes for everything."
At a time when restaurants have about a 60 percent chance of failing in their first year, many of the ones that survive are diners that follow a formula.
How long has Wildasin (chicken finger basket) been patronizing Wee Blew Inn?
"My son is 40-something so at least that (many years)," he said. "We brought Joe in here when he was in diapers.
"The hospitality is the main thing. The food is good and the prices are right."
Halback (cheeseburger and well-done French fries) has been a Wee Blew Inn customer since it was a bar and is "pretty much a resident" on Saturdays. He also comes on fish fry Fridays. "I love this place," he said. "This is my hangout."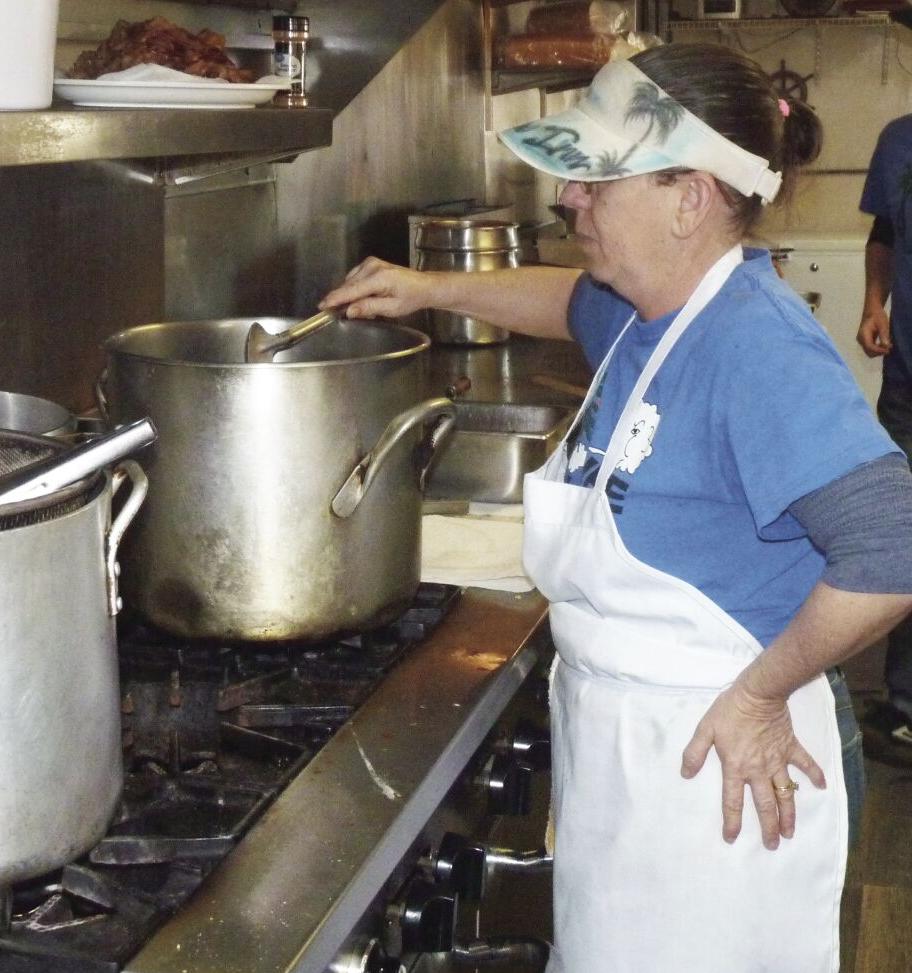 What makes a diner a diner? Local diner proprietors have different reactions to the question. Lucky Dog Diner owner Joy Hoch points to the history of her business and some eclectic cuisine. Wee Blew Inn owner Debbie Gartley says the difference between a diner and a restaurant is "friendliness, family; you have customers who come in daily. Some of them come in two or three times a day."
Gartley, a native Floridian, started working at Wee Blew Inn in 1980 after years as a dining room manager at Red Lobster. For the first two years, Wee Blew Inn served beer and wine from 11 a.m.-8 p.m. Then it became a diner, serving lunch and dinner. As the establishment evolved, so did Gartley. She waitressed until she bought the business from Bonnie and Harold Rich in 1998. Now she feeds the children and grandchildren of some of her early customers.
"I like restaurant work," she said. "I like my people. They're like my family. They've been coming as long as I've been working here."
Gartley, 72, and some of her longtime customers are so familiar that they engage in playful jabbing. But her artful jawing is wrapped in affection, like the Philly Deluxe on the menu (chicken or steak), and it's served like the Friday fish special (All You Want!).
"If Gartley wants a character reference," Hagberg quipped, "She's an awesome character."
Gartley has 12 employees. Among them, daughter Tonya McDaniels is a cook who comes in at 4:30 a.m. to get the diner ready for customers. Mother and daughter have worked together since 1999. A son-in-law cooks and a grandson busses tables on Friday nights.
"Three women vacation in a Venice villa!"
Again, no joke. Not even an alliteration exercise. Angela Anderson invited her friends Dana Joiner and Judy Conklin to come down from Northeast Florida to celebrate Joiner's 50th birthday.
"My best friend chose (Venice)," Joiner said. They were drawn into Lucky Dog because of the brightly painted exterior.
"The orange and blue drew us in," said Joiner, a resident of Gainesville. "Quirky! Like an old diner."
Hoch says it's a Key West theme and describes it as "artsy-fartsy" and "beachy."
On a sunny Wednesday, the women ate outside.
Conklin, who lives in Lake City, says getting to come to Venice during the pandemic was a joy. She had been in town only 30 minutes when the trio chose Lucky Dog for lunch.
"The sign is what caught my eye," she said.
Conklin had never been to Venice until this trip but already sounds like a snowbird. "I can have two houses," she deadpanned. "I could wake up (in Venice) every morning hearing the ocean, having a cup of coffee outside, going to my favorite local restaurant for brunch, walking downtown, going to shops, grabbing something at the grocery store, going home and grilling it and then taking a stroll on the beach before I go to bed."
A little piece of history
Lucky Dog first opened 68 years ago. Thinking it was "a diamond in the rough," Hoch bought it with her now ex-husband Greg in 2013.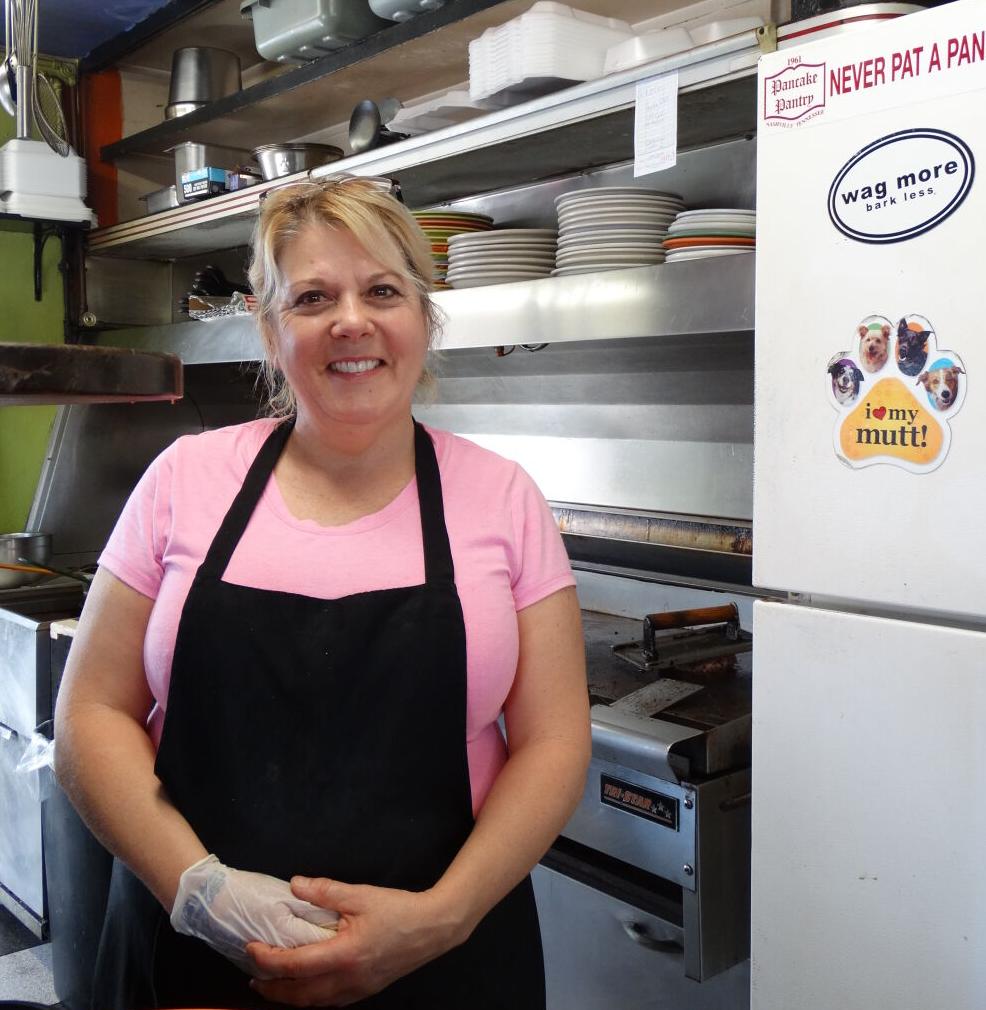 The previous owner—a dog lover—had it almost five years and renamed the establishment "Lucky Dog." The name has caused branding issues for Hoch. It is not, she strenuously states, a hot dog stand.
"It's been a struggle because of what people wanted it to be," she said.
Over the years the Lucky Dog menu has featured five different eggs Benedicts dishes, craft omelets, half-pound burgers (hand-pattied daily), a Reuben with almost six ounces of Maine lobster, lasagna, shrimp tacos and a fish Reuben, among other items. Everything is homemade. Hoch says anyone who is not in a hurry will enjoy her menu.
Her fish tacos were featured on the website of the popular Food Network show "Diners, Drive-Ins and Dives," hosted by Guy Fieri. Now customers come to Lucky Dog from Brazil, Canada, Germany, Italy, Russia and other faraway places, asking about Fieri, who did not come to Venice during the promotion.
"When they come here, they want to go to the Lucky Dog," Hoch said of vacationing customers. "And if they want to feed their family on a budget and not break the bank, they're going to go to the Lucky Dog."
Hoch says it's a good feeling when customers come up to here and say, "Remember me? I came here last year."
Memories are made at Lucky Dog. Hoch remembers the first beer she sold, after getting a liquor license. Her customers were a couple from Ohio and it was a Bud Light on Fish Taco Friday.
"I think it's a hidden secret," Hoch said of her diner. "We do have our locals and they do bring their friends that enjoy it, but it's been a struggle because of the name."
Changing the history of the diner's name would cause a new set of problems. But Hoch has no problem with the history of the structure, which sits in front of Venice Regional Bayfront Health.
Featuring countertop dining, Lucky Dog, Hoch says, is one of the original Valentine diners. These small, narrow, prefabricated, mail order structures were produced after the Great Depression. (Lucky Dog, manufactured in the Northeast, may be the last one standing in Florida, Hoch said.) The diner's location on U.S. Highway 41 Business was a prime spot for attracting hungry motorists before the interstate system was constructed.
Hoch, a native of Cape Cod, is Portuguese and Italian and cooks food from both countries. Now 55, she honed her craft at The Keys Fishery in Marathon in the Florida Keys, where she lived for 14 years.
But her menu also offers diner-style food such as burgers, French fries, onion rings and milk shakes, because "that's what people want."
Among Hoch's regulars is Rocky Reid, an environmental tech with the city of Venice who patronizes Lucky Dog once or twice a week.
"She's like an adopted sister," Reid said of Hoch. "She's got the best burgers I know, and she's got the best tacos. The food is pretty dang good.
"Wee Blew also is a great place to eat," added Reid, a 21-year Venice resident. "I eat there on occasion. The owners over there are excellent. They're patient and they definitely give you a (large) portion amount, like they give here at Lucky Dog."