Imagine life as a small-town celebrity—simultaneously in two small cities.
That's the role Maestro Troy Quinn composed for himself.
Quinn has two "second homes." He conducts the Owensboro Symphony in Kentucky as well as The Venice Symphony. When he needs a break from small-town life, Quinn heads home to Los Angeles, where he is on the music faculty at the University of Southern California.
"I'm trying to hit all the spots," Quinn said in an interview outside Café Venice in January, with a great view of tourists and shoppers creating the sounds of Venice Avenue.
Quinn, who previously served as music director of the Juneau Symphony in Alaska, read about the Venice opening, and the Connecticut native applied despite having no connections to Sarasota County.
He first came to the attention of many area music fans in a community announcement in the Venice Gondolier on May 2, 2018. Quinn would be the guest conductor of the Symphony for two performances at the Venice Performing Arts Center.
During his "audition" trip, Quinn became enamored with Southwest Florida. Venice quickly adopted him as well. The community liked what it heard and saw in those performances. Following a two-year vetting process, the Symphony's Board of Trustees signed Quinn to a five-year contract in 2018. The contract has been extended through 2028.
Quinn, 37, was tapped to serve as the organization's music director and conductor. He is the fifth to serve as conductor in the organization's 47-year history.
Quinn prevailed in a search that started with 164 applicants and ended with seven finalists, each of whom conducted concerts in the Symphony's 2017-18 "Finding Maestro" season.
"There are talented people here," Quinn said of his colleagues in the Symphony. "It's a great place for growth. That's why I'm here."
Quinn began his path to instrumental conductor/music director as a singer in grade school. But his early career goal was to be a weatherman.
On a blue-sky day in early January, with a few clouds overhead, and a slight breeze, with "a hint of spring in the air," Quinn said, he explained how he made the harmonious transition from meteorology to music. At age 13 he went to the Hollywood Bowl and watched John Williams conduct a concert.
"That's the coolest thing in the world. I want to do that," Quinn told himself. "Of course I didn't even read music at that point."
Like the weather, Quinn changed course quickly. He attended Providence College, where he received an award for superior achievement in the music field. He earned his master's degree in opera from the Manhattan School of Music and completed his doctorate in conducting in 2014 at USC, where he was named the outstanding doctoral graduate of his class.
Quinn says he "did all of my degrees to figure out I really wanted to be an orchestral conductor.
"My story is kind of unorthodox. I'm late to the game (for formal music training). I wanted to be a weatherman. Music was always a great hobby but not a vocation for me."
Quinn may have lacked formal musical training as a youth but "I had that ear and I had that desire." He would record video trailers for the movies coming out. He specifically remembers pretend-conducting music from the trailer for Forest Gump until he fell asleep.
Watching moments like this, Quinn says, his parents realized he was destined to be a conductor.
Living in Southern California during and after college, Quinn has been exposed to the world of Hollywood. He has worked extensively in the television and recording industry, having made appearances on such hit T.V. shows as Fox's GLEE, NBC's The Voice and The Tonight Show with Jay Leno, while recording on films such as The Call of the Wild and Indiana Jones and the Kingdom of the Crystal Skull.
He also has worked with recording artists such as the Rolling Stones, Jennifer Hudson and Barry Manilow.
"I like to be a chameleon," Quinn said. "I like the anomaly of being able to conduct a (Gustav) Mahler symphony and being able to conduct cartoons and a movie. And sing on TV commercials."
Earning a PhD in any field is an arduous task. It takes years of study. Many people with doctorates go into their academic programs fully intending to teach after graduation. "Dr. Troy Quinn" says he hadn't intended to be a university professor, but he's proud to be the first generation in his Irish-Sicilian family to go to college.
Since the coronavirus pandemic began in March of last year, life has been off key for organizations such as the Symphony; its board decided to postpone the 2020-21 concert season till fall 2021. Quinn says his organization is working hard to achieve a certain degree of normalcy.
As the number of people who receive vaccines continues to go up, the likelihood of the VPAC opening to packed houses increases. Quinn said his primary focus has been the pandemic.
"What's on my mind right now is how we can get live music back to the masses," he said. "With everything going on in the world, we need it now more than ever."
Quinn believes the Symphony is poised to come out of the pandemic strong in a region where there are several symphony orchestras just 40 minutes apart along the coast.
"Certainly we've been dealt a big blow with COVID," he said. "The Venice Symphony is in a very advantageous position, unlike most orchestras, which are in precarious positions. We are on the up and up. We are growing exponentially. We had 16 of 17 concerts (in the 2019-20 season) sold out. Our budget is expanding and we have a great team, so it was almost like we had the legs cut out from under us when this all happened."
Quinn was in town in January to tape the third of four virtual concerts the Symphony scheduled.
"We've been able to get creative in doing our digital concerts—which so many orchestras are doing—but also taking it to another level and making this sort of an interactive experience," he said. "Just getting up close and personal to the musicians and to me, and to bring the music right into everybody's homes."
Producing a video recording of a live concert is "a lot more involved and work than a live concert, where the magic of live music … happens," Quinn said. "But there is such a cry for this right now. A cultural institution like the Symphony in this area needs to remain strong."
Meanwhile, "We are surviving, and not just surviving, we are ready to thrive."
Regardless of the duration of the pandemic, Symphony board chair Debbi Benedict is bullish on the organization's future.
"The symphony board has recently worked on a long-range plan and we have several initiatives to growing our programming," she wrote in an email. "We are so fortunate to have such a charismatic and forward-thinking music director/conductor in Troy that we want to be sure to utilize his immense talents."
One of those initiatives is to expand the Symphony Youth Orchestra. "The love of music starts at an early age and we want to ensure that the youth in our area have the chance to fully experience the love of music and set the foundation for their future," she said. "We would also like to expand our family offerings."
Christine Kasten, president and CEO of the Symphony, noted that the organization has grown from being a community orchestra that performed at a local church—and was managed from a volunteer administrator's kitchen table—to one now that is fully professional.
"We've been on a true trajectory in the last couple of years," she said. Growth can be credited to the state-of-the-art VPAC, the patron base and Quinn.
Like the others, Kasten is eager to resume normal concert operations. For now, the free online concerts, underwritten by the Gulf Coast Community Foundation, are striking a sweet note with the board, the musicians and the community.
"The most important thing, too, is trying to provide opportunities for our musicians," she said. "If they are not being able to perform in large groups and with big audiences, how can we create avenues for them to perform on a smaller scale?"
Because of rules against large groups congregating, the entire symphony has not performed together since before the pandemic. The four concerts online now feature different ensembles performing chamber music: Brilliant Brass and Percussion; Strings Unhinged; Safe at Home for the Holidays (several chamber ensembles) and The Venice Symphony: Resound, Resilience (several chamber ensembles).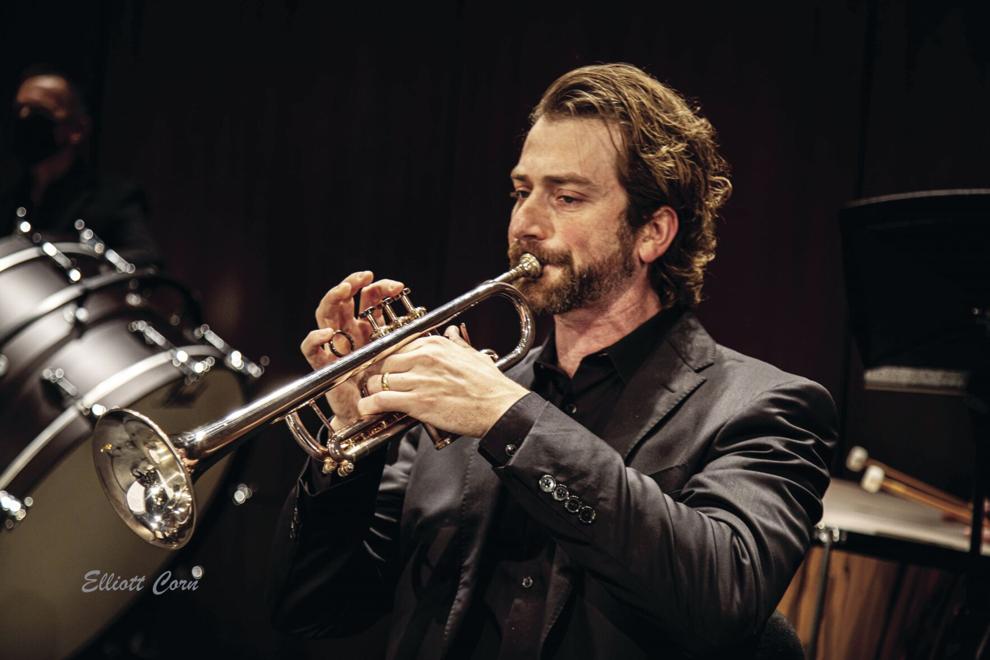 Aaron Romm, principal trumpet, is one of those musicians Kasten is looking out for. He participated in multiple virtual concerts. Romm and his colleagues eagerly anticipate their first opportunity for the entire orchestra to play together since the pandemic began. The next opportunity for The Venice Symphony musicians to perform together is a "Patriotic Pops" concert scheduled to take place May 29 at CoolToday Park in Wellen Park.
This would be "a big opportunity for the orchestra to start fresh after some time off," Romm said.
Pandemic or not, music will persevere. Quinn says he's lucky to be in a position to provide it.
"All of these things that are happening—the COVID, these insurrections, the political divisiveness—music has been a beacon of hope in these dark times … I know for two hours, somebody may come into the concert hall whose soul is weary, whose been through a divorce, a death, a surgery, and for a couple of hours we can bring them to a paradise that's worth a lot more than money."