Nothing makes historical events more real than talking to the people who experienced them.
Learning their stories not only creates more meaningful lessons, but museum exhibits and documents have more significance.
This year Punta Gorda's Military Heritage Museum added a four-week summer History Academy camp to engage students in grades 4-8. 
Museum director Gary Butler worked with Donna Dunakey, Curriculum and Instruction Specialist with Charlotte County Public Schools, and various veterans groups to develop an interactive program that would get students excited about learning U.S. history. 
It included tours of military equipment, scavenger hunts, arts and crafts projects. competitive games, virtual reality experiences, flight simulators, film making and conversations with veterans.
In fact, campers cited on surveys that the interactions with veterans — who ranged from recruiters to Congressional Medal of Honor recipients — were their favorite part of the program.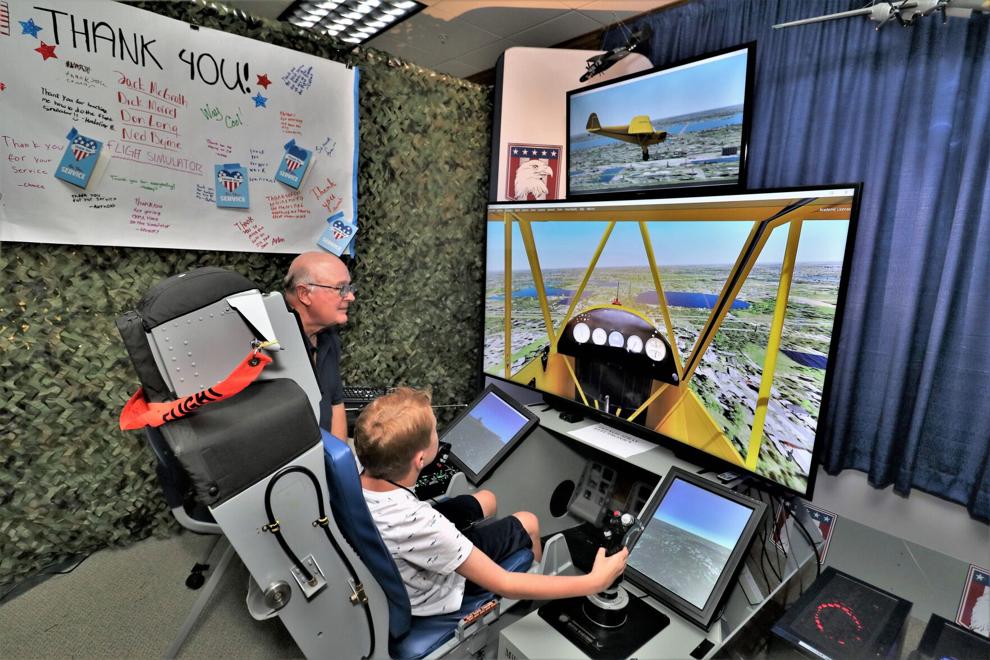 U.S. Coast Guard Veteran Jack McGrath previously ran a Coast Guard Heritage Museum. When he moved to Florida he became a volunteer at the Punta Gorda museum and was involved in the camp program. "It's great for them to learn history and they're having some fun as well."
"I got involved because I understand the importance of this generation getting involved with previous generations to understand the sacrifices they made for our country," said museum tour guide and lead camp teacher Matina Pulliam. She also teaches high school social studies for the school district. 
Charlotte County Schools tech expert Christine Carboni instructed campers  in a weekly iPad project.
Participants could attend for as many weeks as they desired. Each week had different themes and activities.
WEEK 1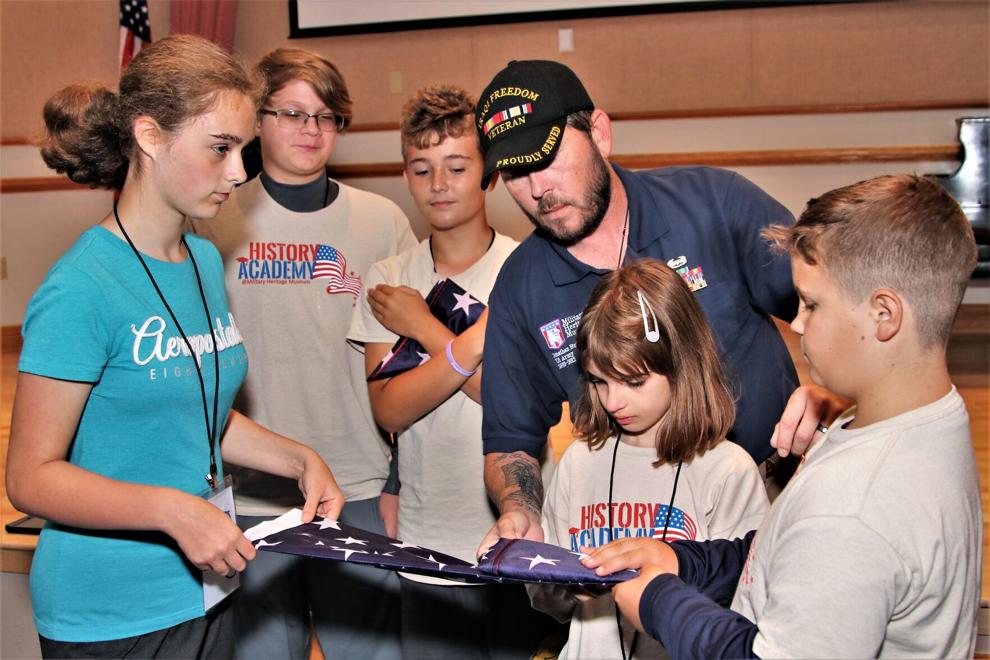 The first week was Celebrate America.
Costumed campers created a human timeline of American War. They made flag pins and Uncle Sam related items.
They learned about patriotism, the founding of our country, what it means to be a free country, the flag, the Revolutionary War, the Declaration of Independence and other original documents, Butler said.
Campers also were visited by costumed impersonators of American icons like Ben Franklin, Molly Pitcher, Martha Washington, Betsy Ross, Thomas Jefferson, Lady Liberty, and Abraham Lincoln.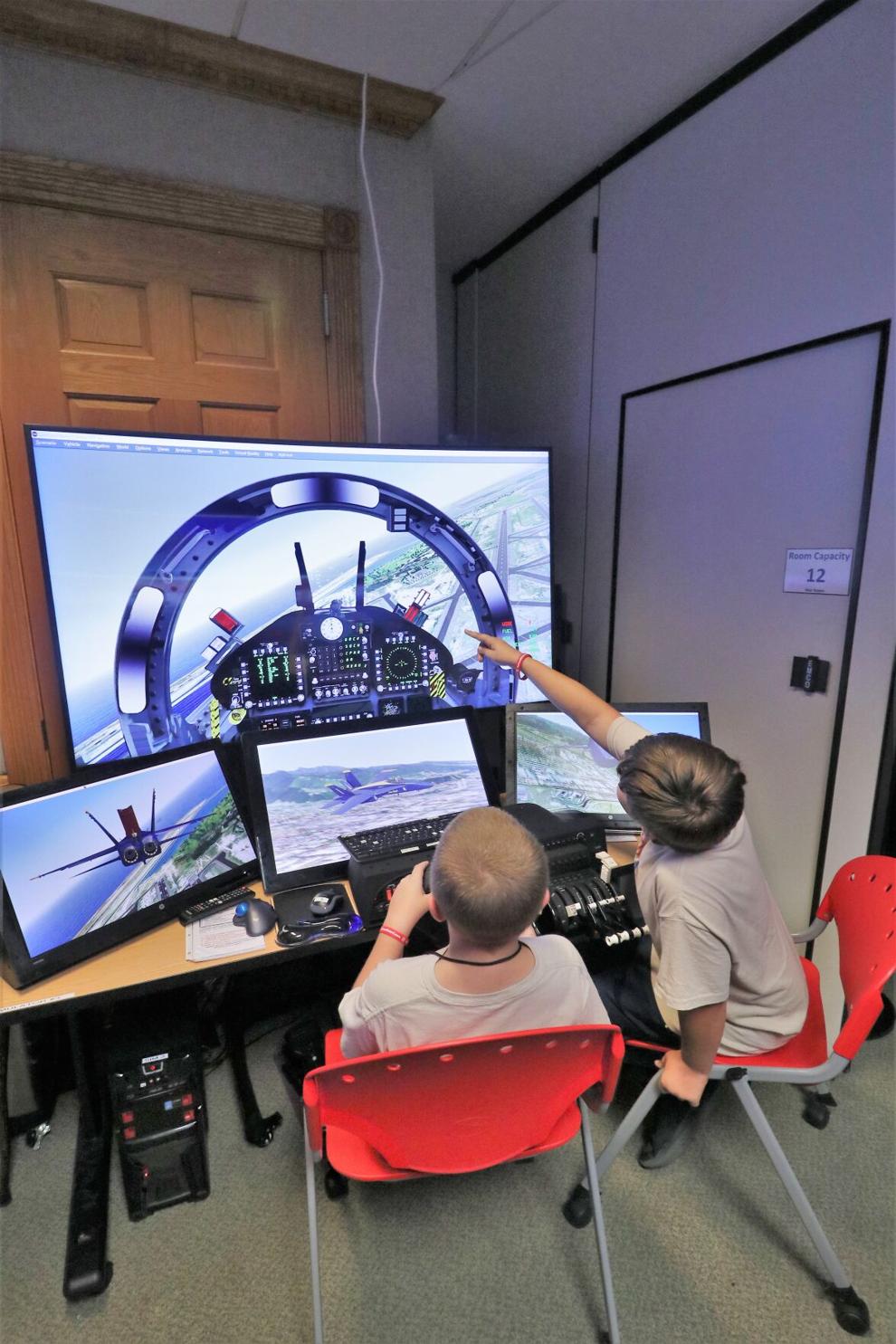 "I like hearing about ancient stuff and the American flag," said camper Maddie Lane.
Training included three virtual reality experieces such as aviation history from the Wright brothers to bombers and fighters in WWI and WWII;  flight simulators where they learn to fly various aircraft from Piper Cubs to F22 jets; and being thrown into a situation such as a parachute jump, space walk, search and rescue, or snow storm.
Don Long, a U.S. Air Force and commercial pilot who participated in the camp, said the flight simulators allow campers to fly local, national, and international flights and land in 20,000 airports. The software "Prepare", created by Lockhead, is used by the Air Force for basic training.
Camper David Walker said one of his most enjoyable virtual experiences was landing a single engine amphibious aircraft on the Peace River. He also flew a fighter jet.  "I went upside down and recovered, and did loop-de-loops!"
WEEK 2
The second week focused on The Fight for Independence.
Campers participated in Marines' military training (including marching), Mock Trials questioning "Was Great Britain Right to Tax the Colonists?" and "Should the states secede from Great Britain?", and a game entitled "Mission U.S.: Crown or Colony". Virtual reality took them to Fort McKinley, and they studied George Washington's story.
They also engaged in an Autopsy of War Project, which questioned a specific war's cause (heart), significant leaders and accomplishments (head), alliances (ribs), political structures (spine), types of weapons (hands), significant battles (legs), plus treaties that ended the war (pen).
WEEK 3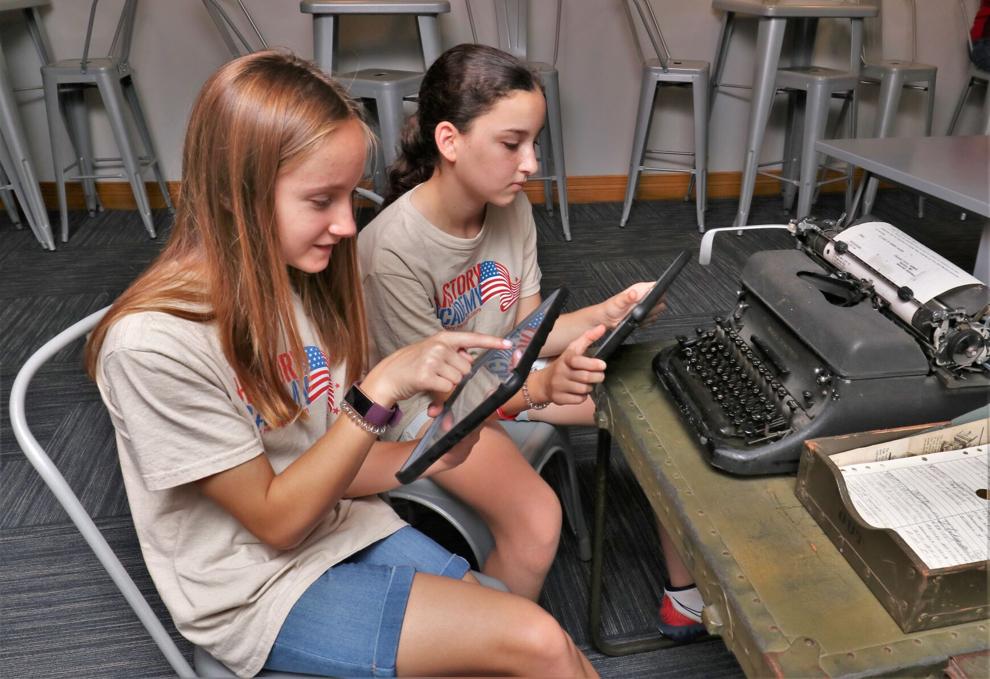 The third week was about Great American Heroes and focused on veterans  and presentations about the Civil War, Vietnam War, and Desert Storm.
Campers learned about about women and Blacks in the military as well as the Congressional Medal of Honor. A scavenger hunt focused on the Tuskegee Airmen and the local Bailey Brothers.
WEEK 4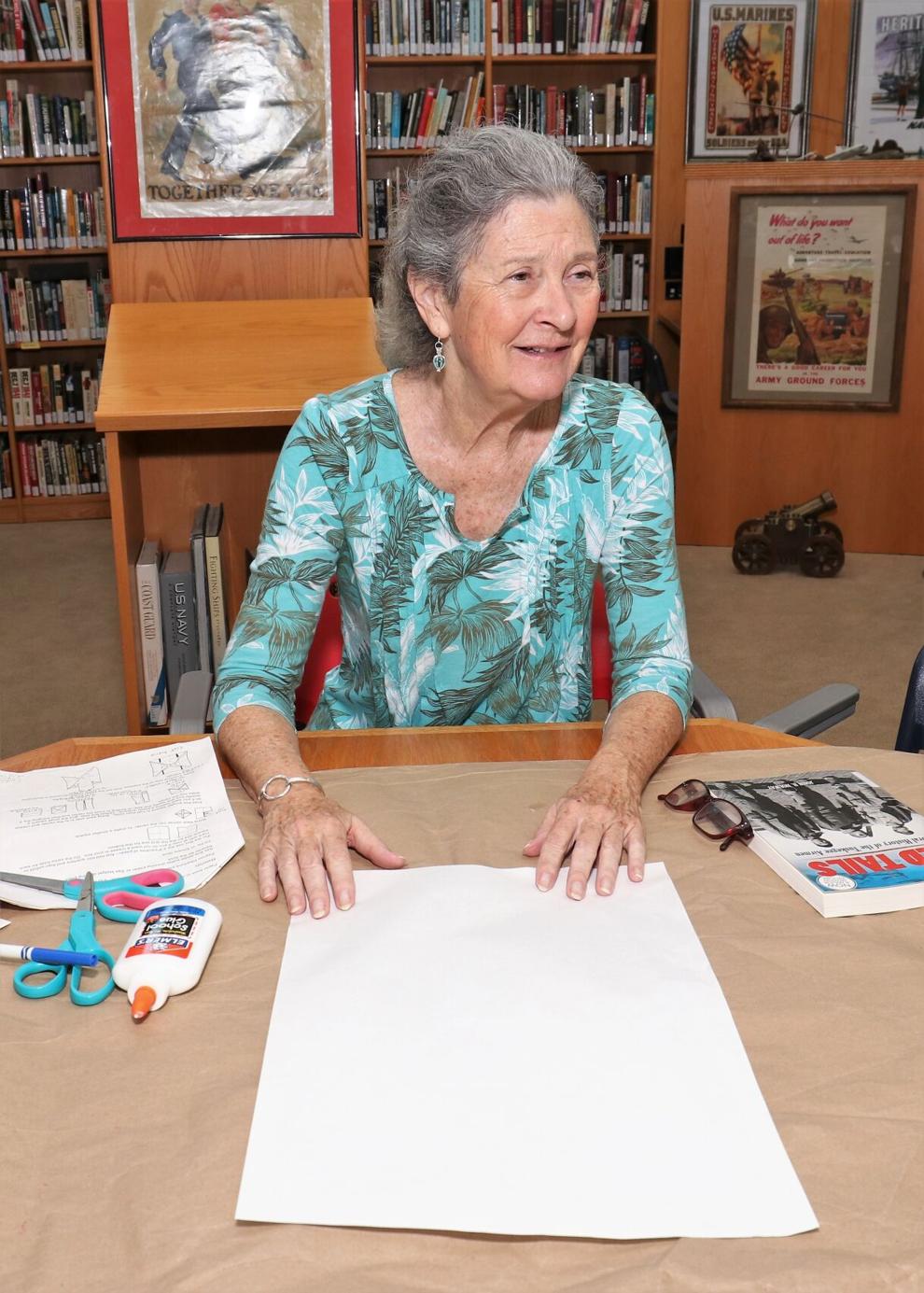 The last week was about Events that Changed America.
Campers participated in missions including World War I Simulations, D-Day Stations, the Cuban Missile Crisis, and a September 11 Interactive Timeline. There also was special presentation by Vietnam War Veteran and Congressional Medal of Honor Recipient Melvin Morris and Navy Veteran Gary Harrell, who's also the son of a Congressional Medal of Honor Recipient.
PLANNING FUTURE CAMPS
Dunakey and Butler have received many positive comments about the inaugural History Academy from campers, parents, volunteers and veterans.  
They will look at how they can provide multiple programs for different age groups. They're planning to continue half day learning experiences for youth and parents one Saturday a month, and hope to expand the History Academy program next summer.
"We're going to keep the excitement up all year." Dunakey said.
ABOUT THE MUSEUM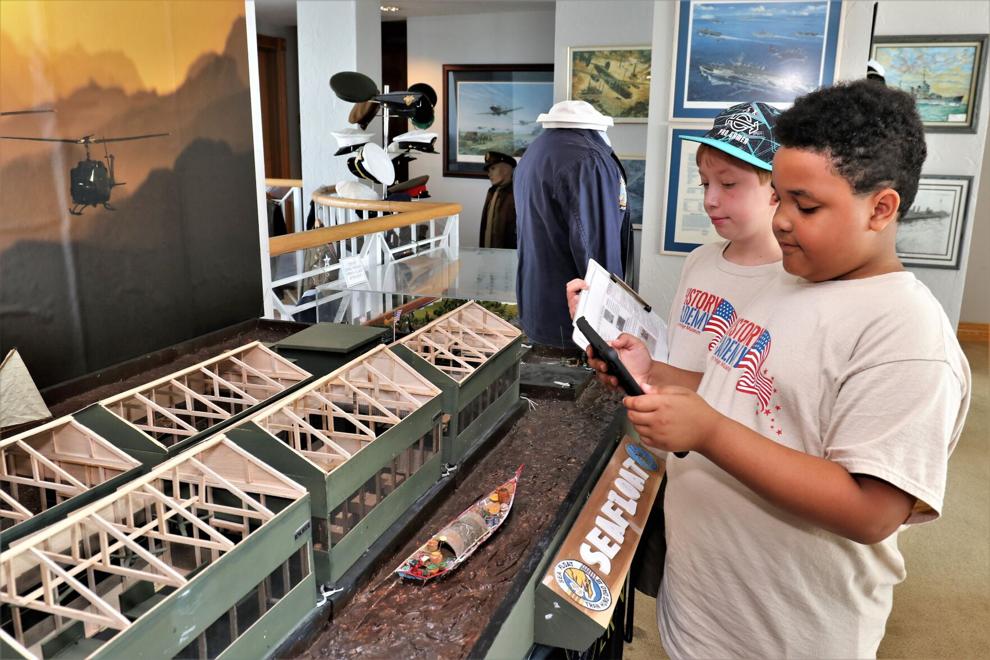 Punta Gorda's Military Heritage Museum has been sharing the stories of the brave men and women who have served our country from the Revolutionary War to recent conflicts since they opened on December 7, 2001.
Originally located at Fisherman's Village, it moved to a nearby 17,000 square foot building in 2019 to better honor our military with unique galleries displaying 30,000 historic artifacts, graphics, video, realistic dioramas, and touch screens; simulations and virtual reality experiences; a Hall of Heroes with a Medal of Honor exhibit; a War Room; Virtual Shooting Range; Kid's Discovery Zone; a Ship's Store selling military-themed gear and souvenirs; and a library providing access to over 5,000 books, plus documents, newspapers, videos, military heritage databases, and computer-interactive activities.
But it's more than a museum. It includes the state-of-the-art Gulf Theater that provides a 247 seat venue for live performances, as well as films, lectures, meetings, and documentaries focusing on United States history and heritage. Event attendees also have access to indoor and outdoor seating for gatherings of up to 100 guests, a set-up kitchen, and other amenities.
It also helps provide human services to veterans by working with, sponsoring, and hosting several Veterans' organizations.
Because it's a nonprofit, education-centered institution, staff members work with local schools and other organizations to offer history and STEM-based interactive learning experiences to children and college students as well as  anyone wanting to explore our history.