The third time is charming.
The Venice Art Center's third temporary public art project is a collection of magical mermaids and seahorses.
FantaSea Venice follows in the wake of Pigs in Paradise and Sea Venice's sea turtles and dolphins.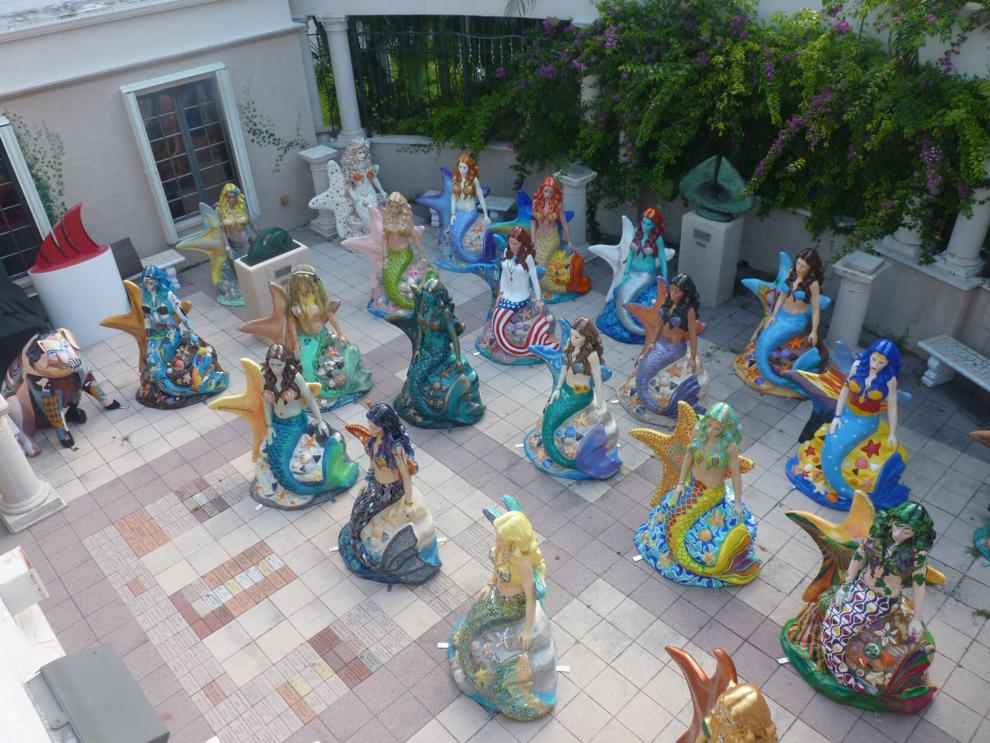 More than 45 selected artists envisioned and painted 30 seahorses and 22 mermaids that were sponsored financially by more than 40 area residents, businesses and organizations.
After being displayed for almost two years in locations throughout the city, most of the sculptures will be auctioned off to the public. Some will remain the property of with sponsors who donated money for them. at high levels this year.
The Venice Art Center staff, volunteer Mary Jo Floryjanski and others helped executive director Mary Moscatelli match artists and sponsors who had similar visions.
"(Business owner) James Griffith knew, 'I want a Wonder Woman (mermaid)'," Moscatelli said. "No one had done a Wonder Woman pattern, but I knew an artist who could (Chau Mai)."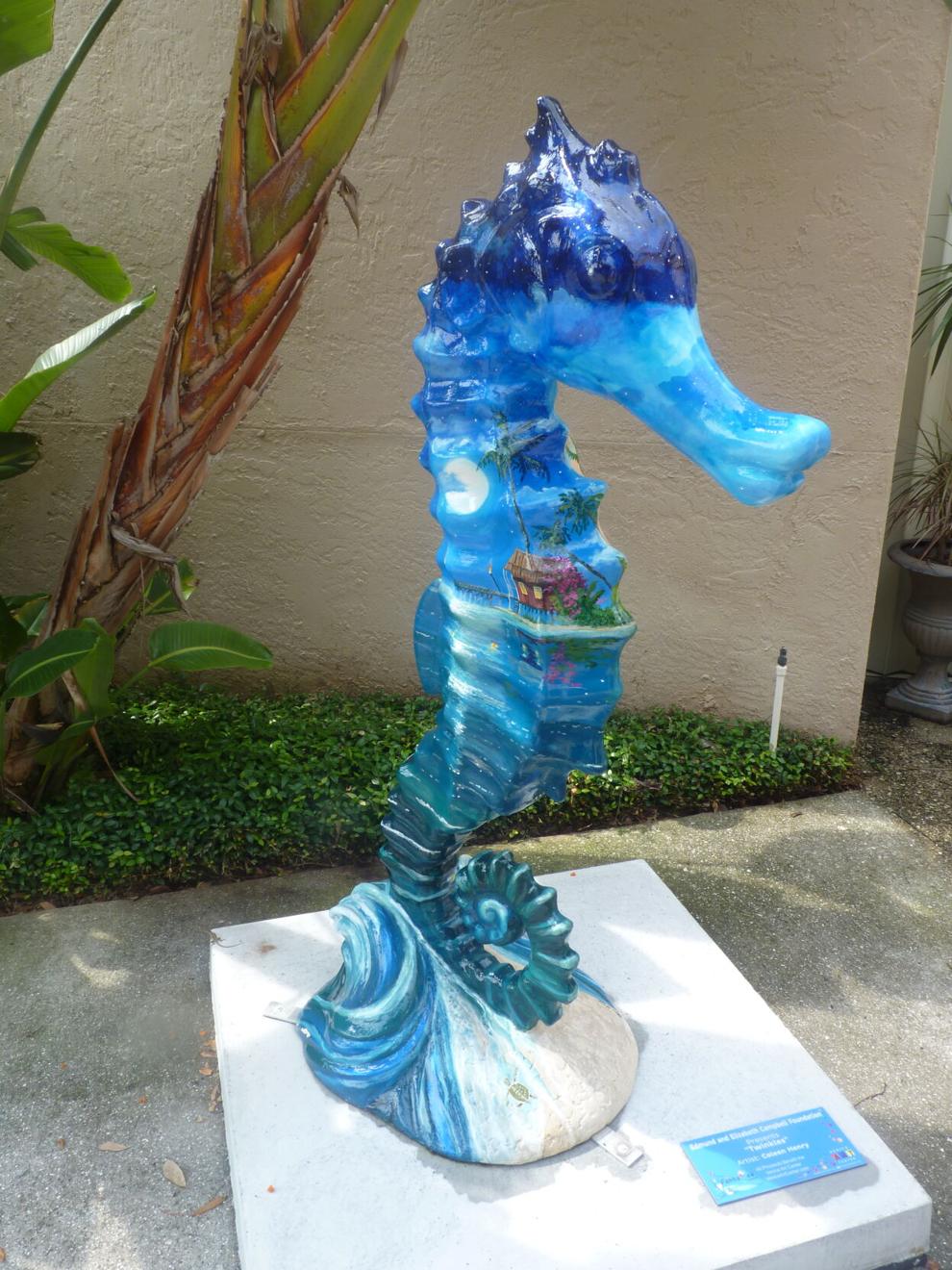 Sponsor: Edmund and Elizabeth Campbell Foundation
Location: The Venice Art Center
Coleen Henry, a muralist, has lived in Southwest Florida for more than 30 years. She painted a dolphin and a turtle in previous VAC fundraisers. "She's amazing," Venice Art Center executive director Mary Moscatelli said of Henry. "That is a beautiful seahorse." Henry paints both residential and commercial murals, including a sea and wildlife mural at Jacaranda Public Library and a Venice historical mural on the Venice Gondolier building along the Venetian Waterway. The foundation was an important early sponsor to this project. "He said, 'The town really needs this," Moscatelli said of sponsor Edmund Campbell.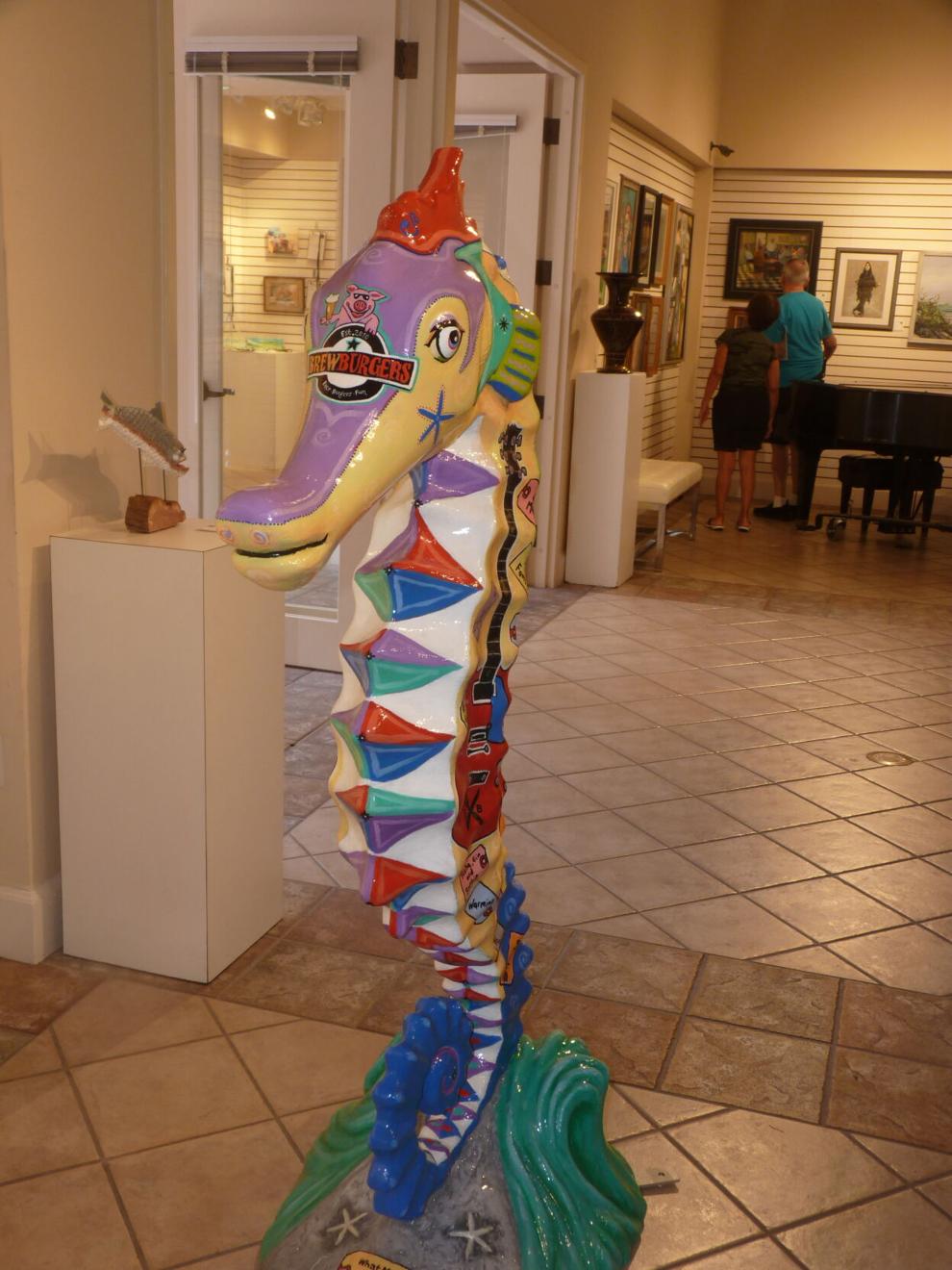 Artist: Raven Skye McDough
Location: Venice Area Chamber of Commerce
This sculpture was inspired by the Positivity Walls, a project coordinated last year by the Venice Area Chamber of Commerce in the face of COVID-19 malaise. Similar to the walls, Brewburgers owners Michael and Liz Bacon asked their staff, family and friends to propose some positivity tags, which adorn the seahorse. "B.B." is for Brewburgers, but the vision also was inspired by the music of B.B. King. Raven Skye McDough is a member of the VAC Board of Directors. "She is fabulous," said Mary Moscatelli, executive director of the Venice Art Center. "She does a lot of collage-style paintings."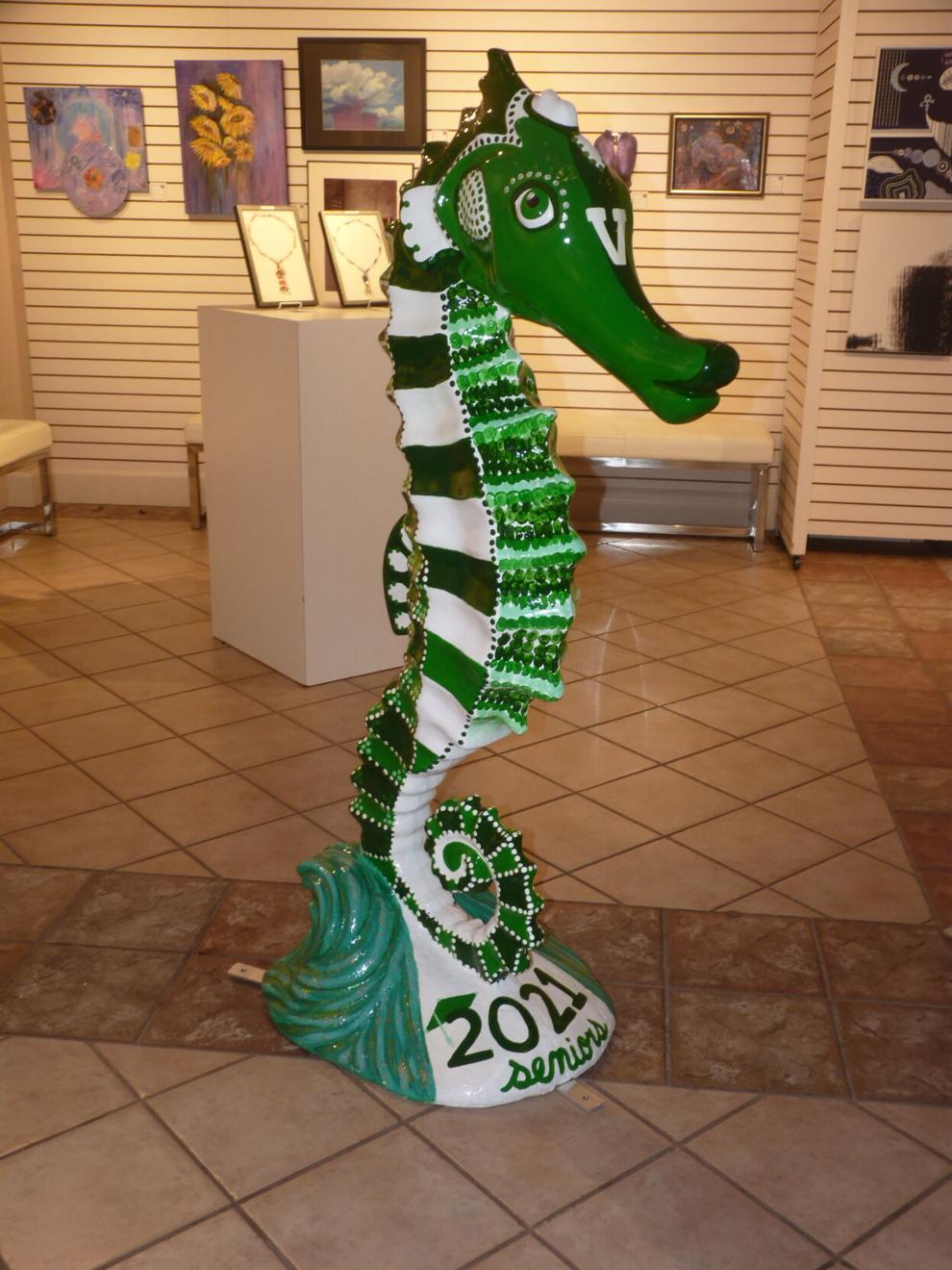 Veridian the Venice Indian
Artist: Gianna Rafaniello
Location: Venice High School
Glance quickly at this sculpture and you think you see splotches. The sculpture actually includes fingerprints of the members of the Venice High School Class of 2021. Gianna Rafaniello has been an intern/volunteer at the VAC. She worked with her teachers and VHS art classmates and came up with the design and completed the project. The Mcraes wanted to involve youth in their FantaSea Venice sponsorship. Rafaniello is a past winner in the VAC Online Student Exhibit and Contest. Her drawing "Billie" was an award-winner last year. But she began getting noticed for her artwork back in middle school.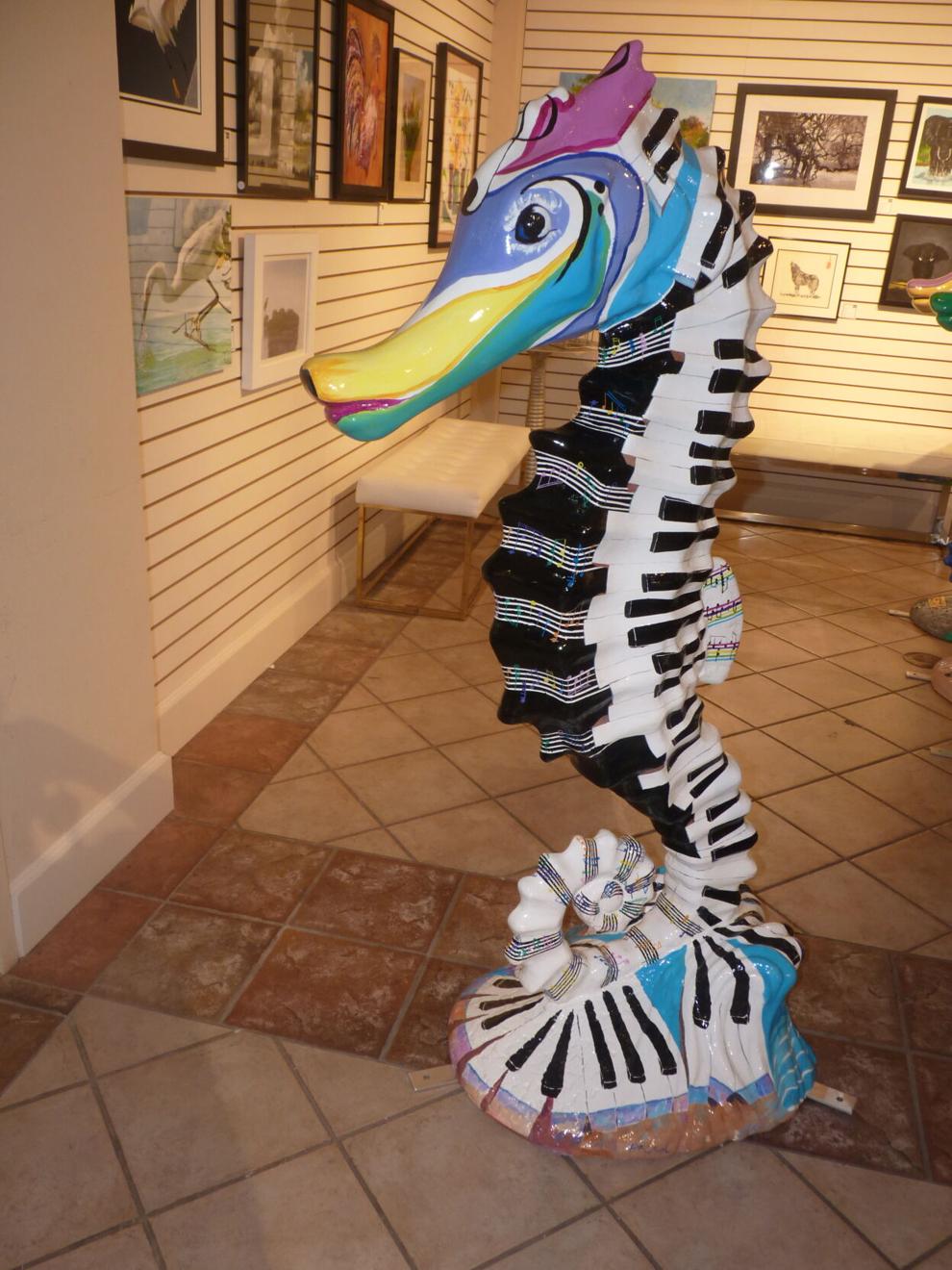 Artist: Heather McCullough
Sponsor: Barbara Freeman/Venice Symphony
Location: Venice Public Library
This is a keen example of matching an artist's vision with the ideal sponsor. When Venice Art Center executive director Mary Moscatelli saw McCullough's design proposal, "I thought, 'This has to be for the Symphony.' It's keyboards all the way down. It's meant for a musical performance type of sponsorship." Barbara Freeman supports both the VAC and the Symphony, so Moscatelli told her "This is a way to support two of your favorite nonprofits." McCullough is a retired physician who has taught at the VAC. A talented watercolorist, she painted four seahorses "in record time," Moscatelli said.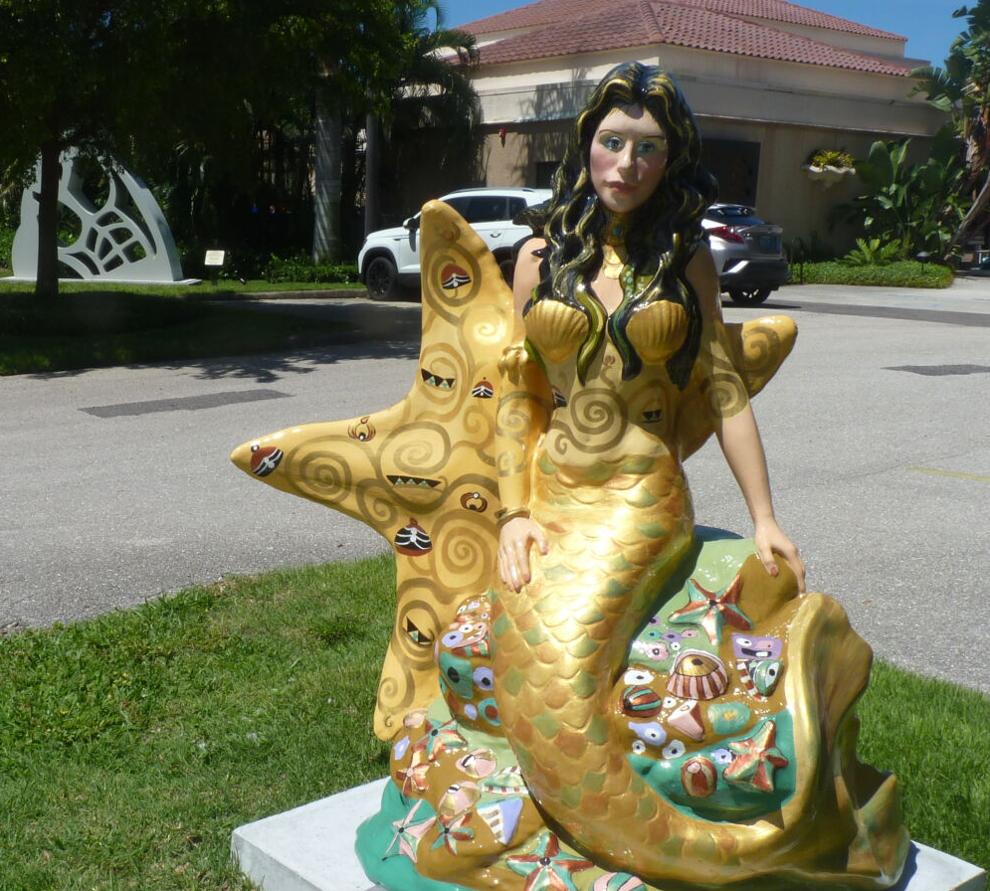 Sponsors: Ed and Debbie Campbell
Location: The Venice Art Center
Linda Larisch is an award-winning artist and an instructor, staff member and exhibition chairperson at the Venice Art Center. She painted in all three public art projects sponsored by the VAC. She painted a pig, a turtle and a dolphin in past years, Goldie in 2021. Goldie was inspired by the Viennese artist Gusav Klimt. Many of her patterns come directly from his paintings. Goldie's sponsors are longtime supporters of the VAC. The Campbells sponsored both Goldie and a seahorse named Seamore, the 1970s-themed seahorse painted by Michele Lamond.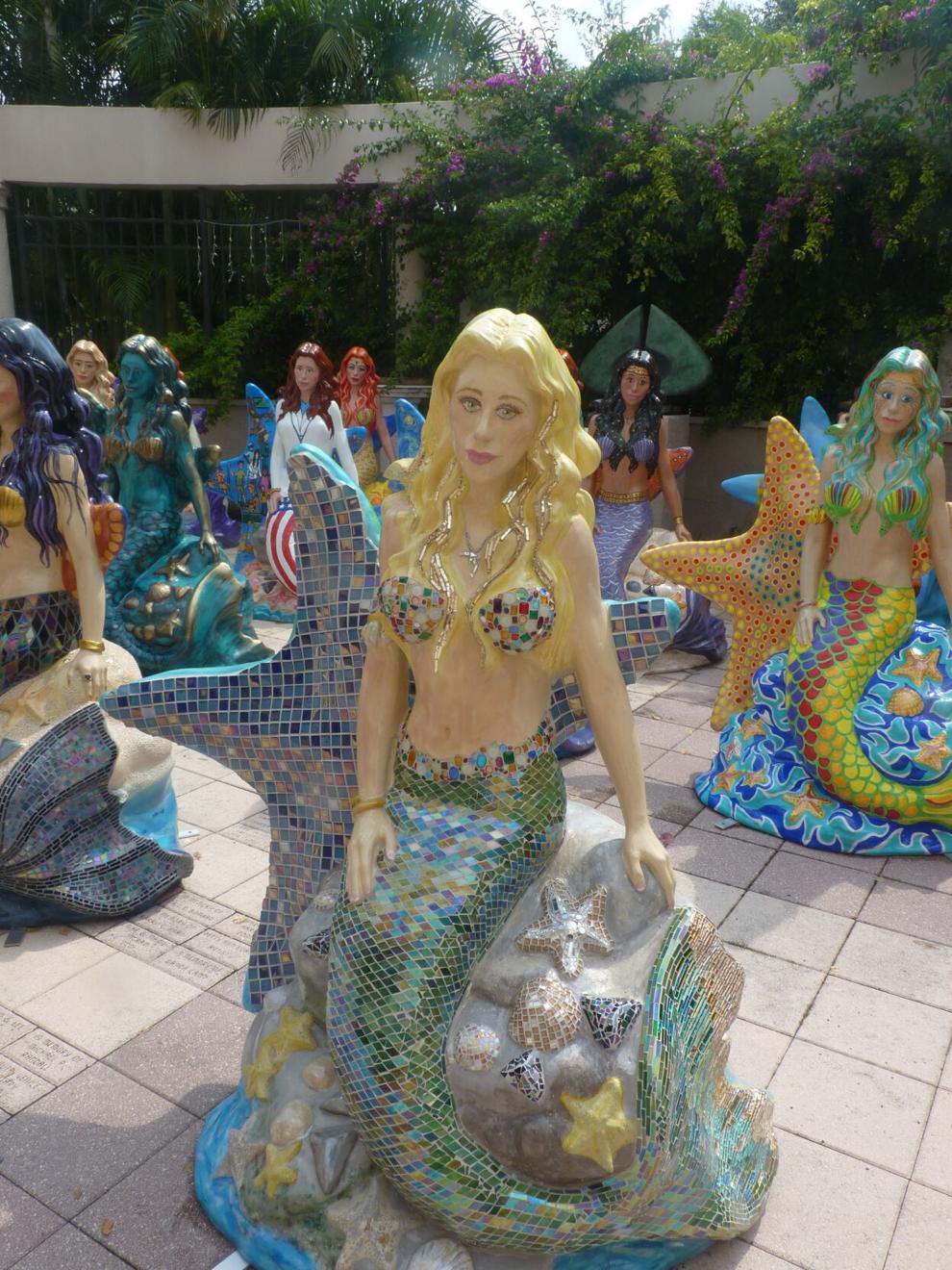 The Singing Mermaid of Venice
Artist: Maria Nell Ibbeken
Sponsors: Platinum Remax Realtors Deborah and Dick Miller
Location: Near Platinum Remax Realty
The mermaid is in Deborah's likeness and has the same necklace that she wears. She is a past Broadway performer so the names on the shows she performed in are painted on the mermaid's back. While other sculptures will be auctioned off after a certain period of time, the Millers' sponsorship level allows them to keep this one. "It's stunning. It's all small mosaic tile on the tail," Venice Art Center executive director Mary Moscatelli said of Ibbeken's work. "The artist was a perfectionist. It's beautifully done."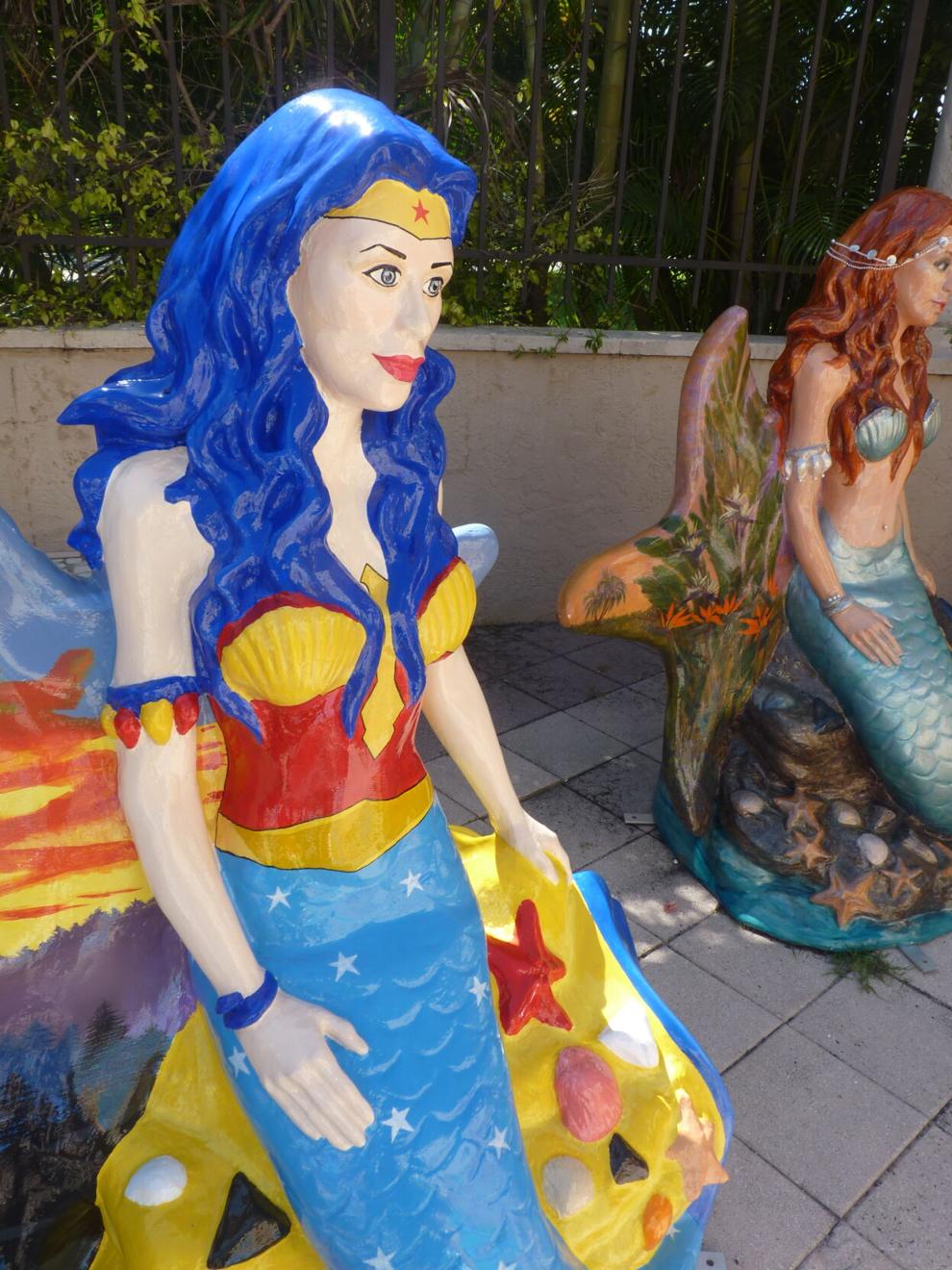 Sponsors: Boone, Boone and Boone law firm, James Griffith Salon.
Location: James Griffith Salon
Diana is named after Wonder Woman's alter ego, Diana Prince. Both the law firm and the salon sponsored pigs in the past. James and Christine Griffith are big fans of Wonder Woman," Venice Art Center executive director Moscatelli said. Moscatelli selected Chau Mai, a 2021 Venice High School graduate and native of Vietnam, to paint for them. A relatively new artist, she won several times in the VAC Online Student Exhibit and Contest. "(Chau) says that when she started painting that we gave her the encouragement to continue painting," Venice Art Center executive director Mary Moscatelli said.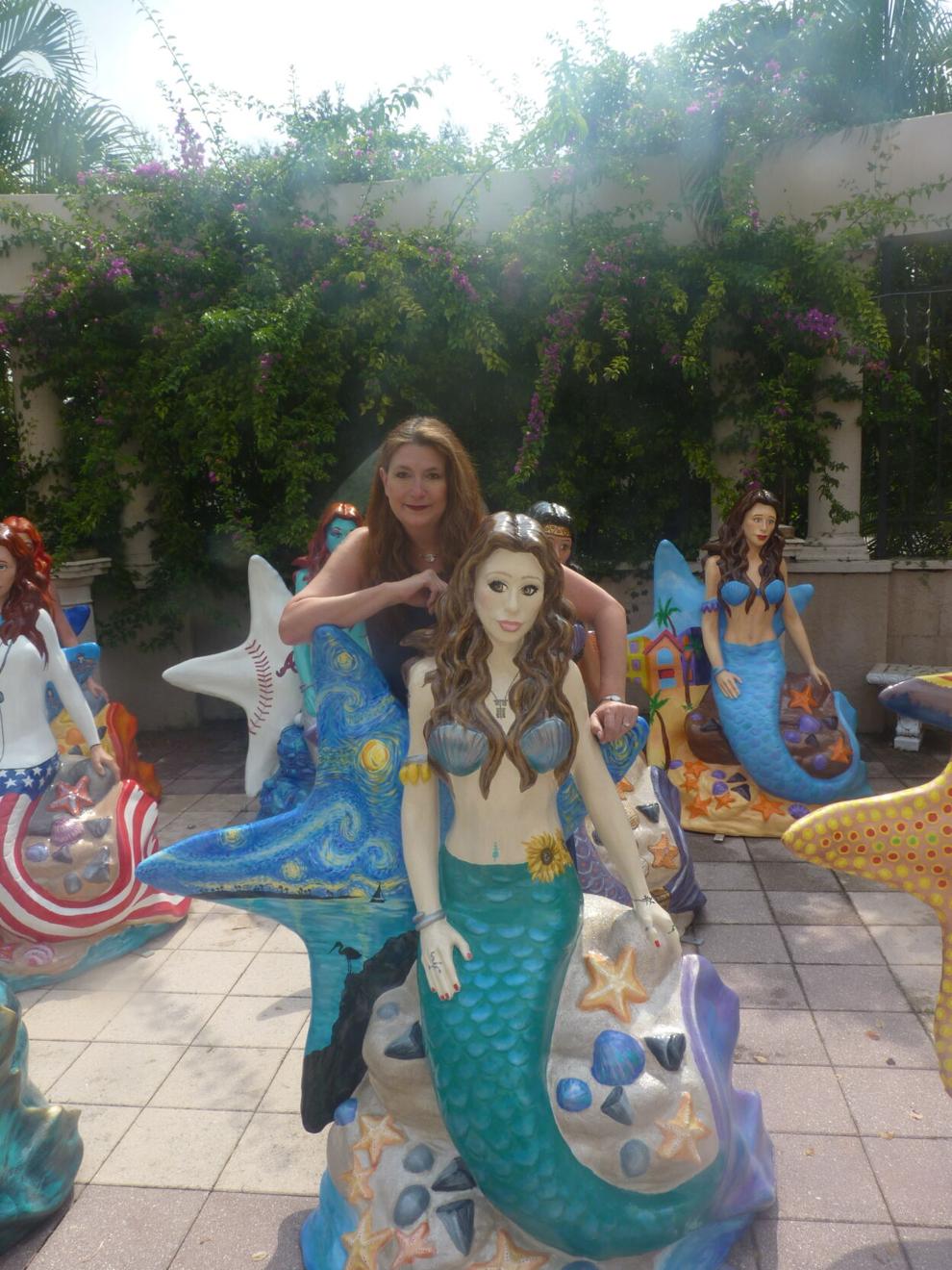 Mermaid sponsor Patrick Jaehne of PatrickAir is a longtime volunteer and sponsor of VAC shows and family fun days. VAC staff members joke that he has cooked more than 5,000 hot dogs at their events. Moscatelli, the VAC executive director, says she wanted to "do a piece of art that was recognizable and associated with an artist. Vincent van Gogh is one of the most recognizable artists and people love 'Starry Night'." Moscatelli's goal was to convey "Starry Night" at a Venice jetty. There is an ode to Moscatelli's daughter. A ring Moscatelli painted on the mermaid's finger resembles one Mila wears.