When Serenity Rimes comes home from school, she gets on her bike and rides around a neighborhood most kids would envy.
For six years Serenity has lived with her grandparents Kenneth and Patti Neider, at Oscar Scherer State Park. Kenneth is a park ranger at Don Pedro Island State Park in Englewood. He's one of five state park employees who live in homes at the 1,400-acre Oscar Scherer, surrounded by urban sprawl in Osprey. Some parks in the state have managers who live on site to manage operations 24/7.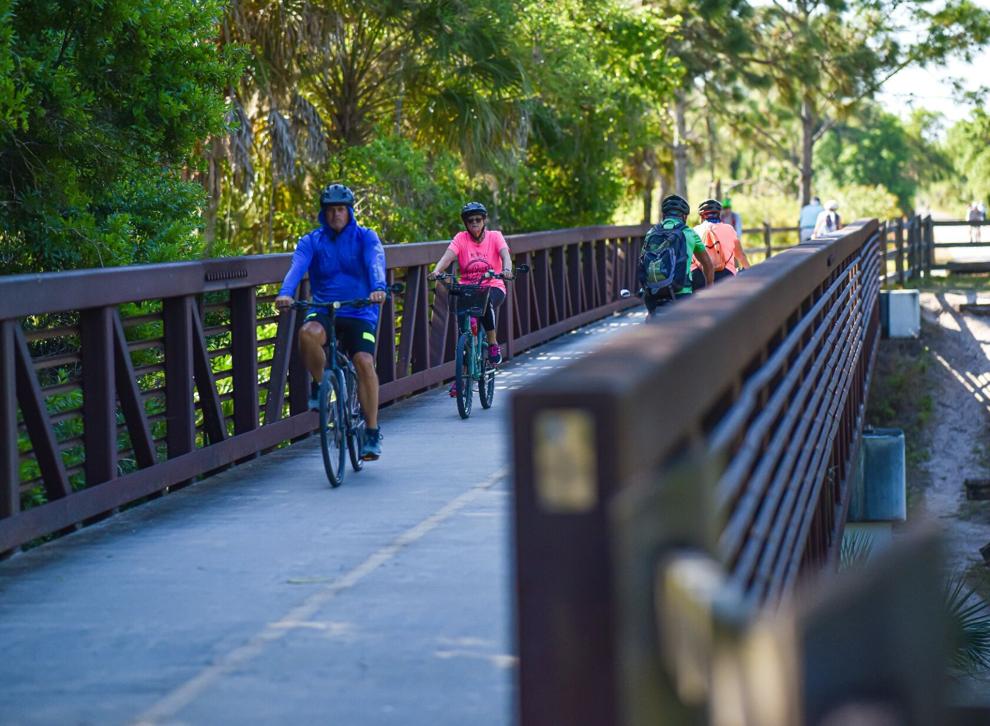 While many kids say, "There's nothing to do," Serenity has an abundance of choices. When she steps out into her backyard, the seventh grader at Laurel Nokomis School has access to 15 miles of trails (walking and biking), fishing, canoeing, kayaking, a nature center, Lake Osprey, picnic pavilions and a playground.
Pre-COVID, Serenity and her grandparents would go on canoe rides, tram rides and attend activities such as karaoke and game nights. Park staff even hosts a popular and scary, annual outdoor Halloween event. "Living out here, there's something going on every day," Kenneth Neider said on a windy Saturday in March.
And there are thousands of trees to climb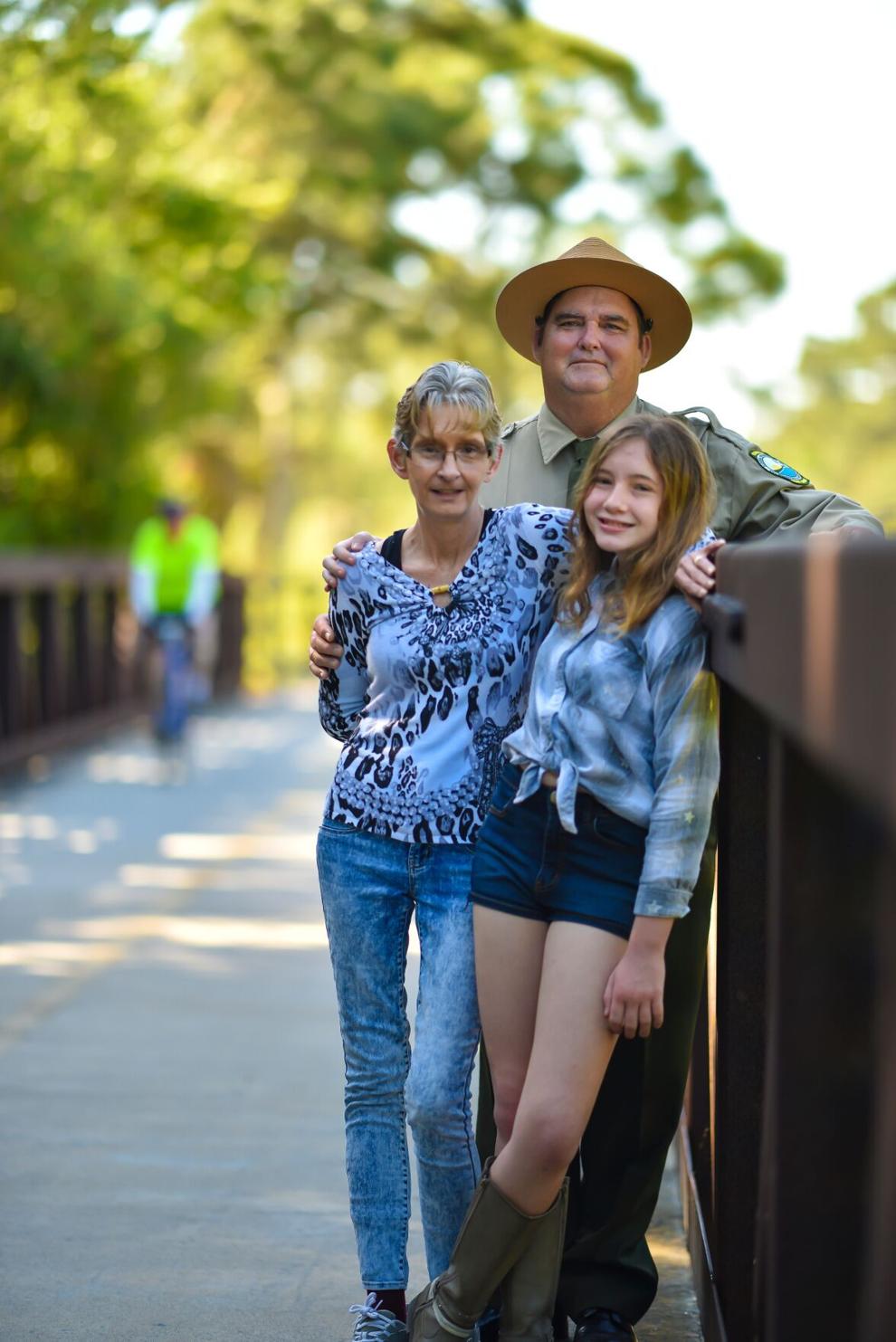 "I personally love living in the park," 12-year-old Serenity said, adding that she's explored virtually all accessible areas of the park.
"It's a lot of fun. You get to meet new people every day. It's a great place to make new friends, as a child, and not only that but you get to go out in nature and learn about the world."
Patti says Serenity can do schoolwork in the outdoors or at the nature center. They've taught her to wear a mask and they've encouraged her not to talk to strangers, although "I don't think she's ever met a stranger, yet."
In Serenity's backyard she sees a unique mixture of wildlife, from the small and cherished to the large and respected.
"I know a lot about the animals that live here," she said. "We had to do a science project (at school) not long ago about bobcats." Her presentation included a picture – photographed by Neider – of a bobcat she saw while walking home.
But the most interesting things she sees "has to be the alligators," she said. "I haven't seen any recently but there are some in the lake right now."
Staff closes Lake Osprey when a gator is seen in or near it. Gators considered to be a "nuisance" are removed. Serenity says she swims in the lake "all the time" and is not worried about gators. They can be found in any body of water in Florida.
"As long as you don't feed them or mess with them, they won't mess with you," she said.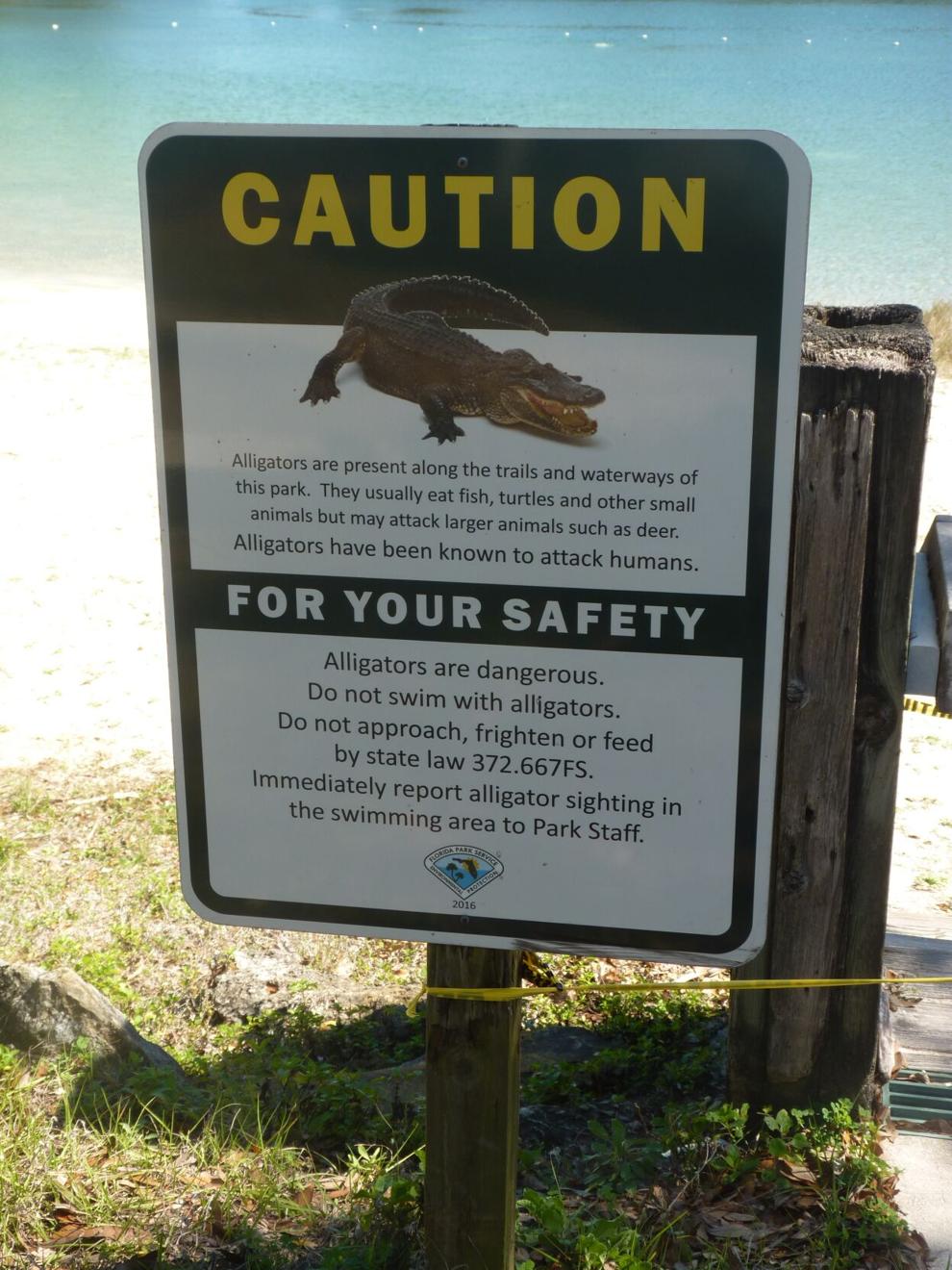 There are important park rules about animal encounters that all guests must heed. Serenity learned to respect wildlife early on and doles out advice like an experienced park ranger.
You don't want to go up to an animal and feed it, she said. If you feed a snapping turtle once a week and then you encounter it without food, "it thinks you are the food; it will bite you."
EASY ACCESS
If you enjoy visiting and comparing outdoor recreation venues in Sarasota County, the first thing you notice about Oscar Scherer State Park is that the entry road is asphalt, not sand, like the washboard "amusement ride" you encounter as you approach Snook Haven, a park of similar renowned off River Road owned by Sarasota County.
Oscar Scherer averages about 200,000 visitors every year. March is typically the busiest time of the year, coinciding with the appearance of cold fronts up North. The campground is booked up from November through March. Day-trippers also come out during that time. During the balmy summer months park manager Tony Clements encourages people to visit in the early morning or late afternoon. You'll see more wildlife and you can see the amazing images the sun creates through the trees.
As park officials seek to increase first-time and repeat visits, they focus on improving the experience for everyone, including children.
"You want to help people have a positive experience in the outdoors and that's going to help them have an appreciation for the outdoors," Clements said, explaining the state park system's philosophy. "Especially with our kids these days. "They're all about the electronics. So, we need to get them outside and get them to have that positive experience." 
Park rangers feel an obligation to provide recreational opportunities, he said, and to do so in a safe manner. For example, there are 10 different types of trails, which are well-marked and lined with benches. Some are handicap accessible. There's even a link to Sarasota County's 12.5-mile Legacy Trail, which connects to Venetian Waterway Park.
"Whether you are coming in for the first time and you are just looking to do a little hike, and get to know the park a little bit, or whether you come in here every day to walk your dog, or to walk one of the longer trails, we've got a little bit of something for everybody," Clements said. 
The park has has an adaptive canoe launch and more than a mile of navigable water, much of it in shade.
People often ask Clements what to do if they fall out of a canoe. "Stand up. The water is that shallow. You don't have to fight any currents."
UNINTENDED BREAK
The park was closed last year for about a month because of the pandemic. Staff used that time to do maintenance projects, primarily painting. Staff members continue to follow guidelines set by the state Department of Health and the Centers for Disease Control and Prevention.
The pandemic delayed or altered some popular programs. Clements said staff enjoys having school groups visit and is eager for that program to return. Meanwhile, they offer schools virtual hikes and other virtual programs.
Actual hikers can still get to Big Lake, which has an observation deck. Swimming is not allowed. Staff members hope a rookery there grows and thrives on a manmade island. Meanwhile, Lake Osprey is a popular place to cool off when it's hot outside.
The park has seen an increase in first-time visitors, both day-trippers and campers.
With recreational vehicles gaining popularity all across the country, travelers can claim one of Oscar Scherer's 104 campsites for various camping units.
The campsites feature privacy. You don't open up your camper and look over at your neighbor, Clements said. You're in a hardwood hammock with shade and a vegetative boundary.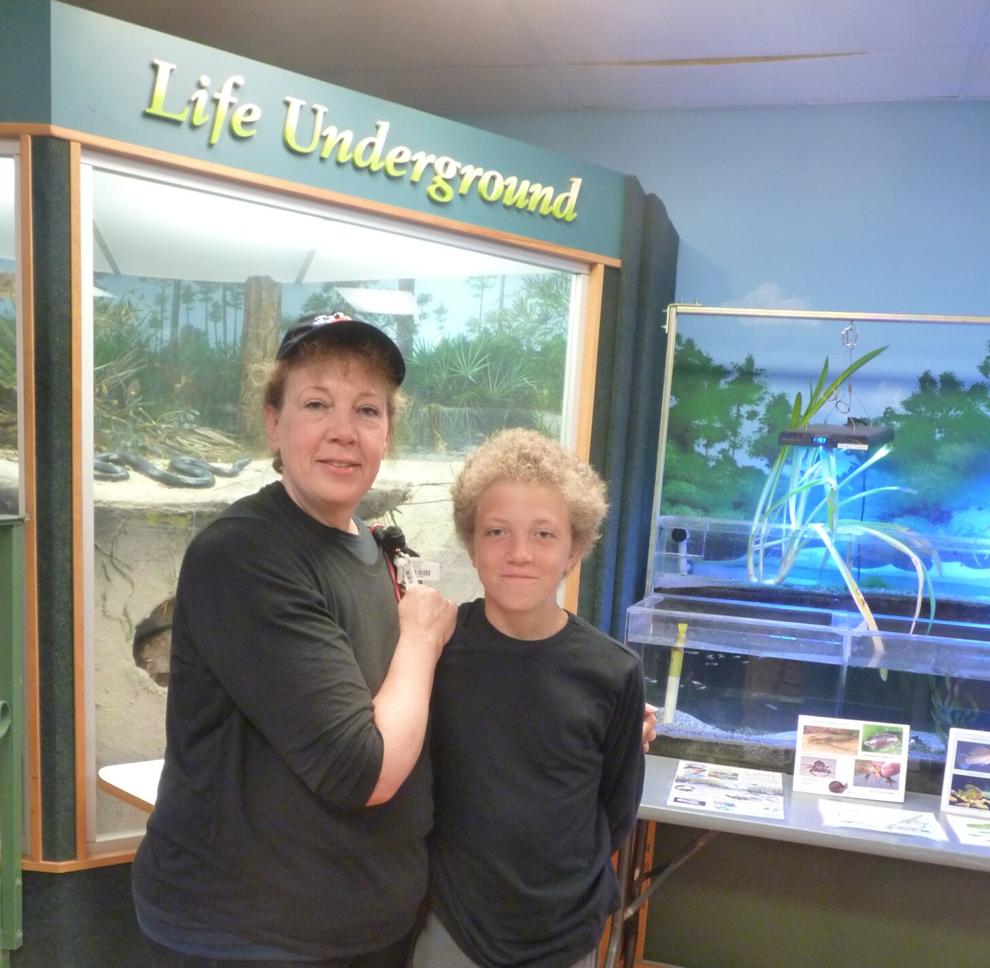 Tired of cold weather, Marlene White and her son Connell, 13, of Tennessee, recently camped at the state park for a couple of weeks. Marlene homeschools Connell, the youngest of her 10 kids. They took advantage of the amenities, including the nature center with its interpretive exhibits about plants and animals.
"We were here two years ago, and we really like this park," she said. "It's awesome. The trails. The environment, the tropical campground. Fishing. There are lizards everywhere."
A great way to start a day at Oscar Scherer is to visit the nature center, where volunteer Joel Robbins can answer questions about the exhibits or help you plan your day.
The bottom line at Oscar Scherer, Clements said, is when you "roll in that front gate, all of the troubles of your day just disappear. Then you are focusing on that thing that is inside all of us, that connection to nature that I think we all have. Oscar Scherer State Park provides a place for people to regain that connection or recharge your batteries."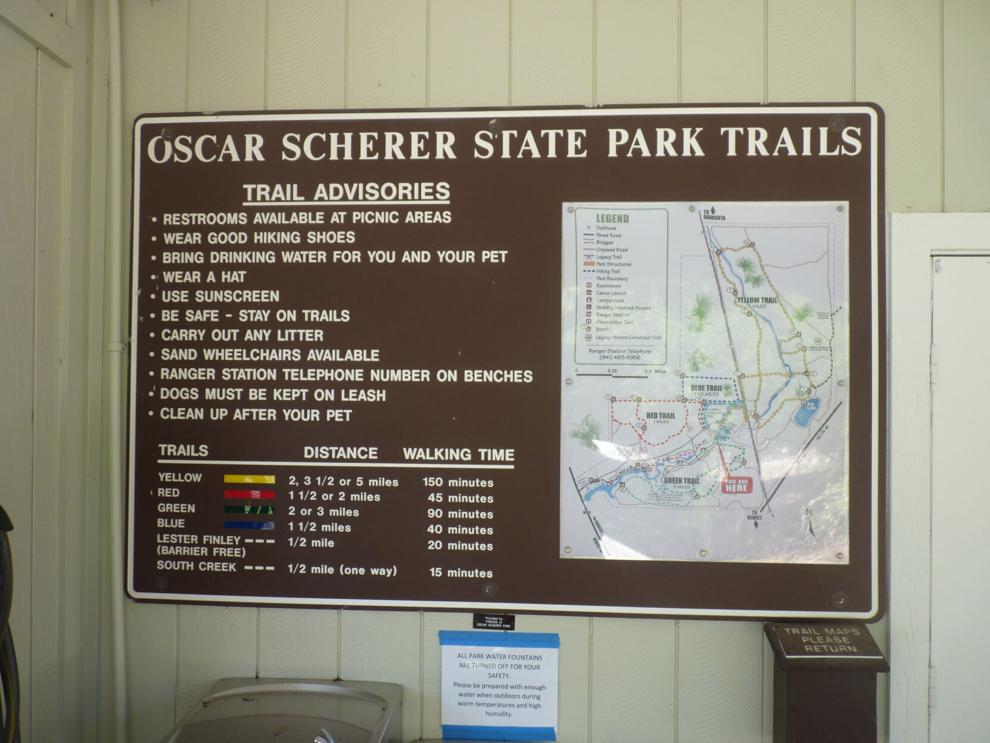 OSCAR SCHERER PARK
Day-trippers and RV campers have access to all of the amenities, and opportunities to see land and aquatic inhabitants such as American alligators, bobcats, foxes, gopher frogs, gopher tortoises, North American river otters, rabbits and at least 12 species of snakes. There also are enough scrubby flatwoods at the park for the Florida scrub-jay (federally designated as "threatened") to maintain a healthy population.
Hours: open 365 days a year, 8 a.m. until sundown.
Amenities: fire rings, grills, interpretive exhibits, nature center, picnic pavilions, benches, trails, playgrounds, lake, beach, canoe/kayak launch, shower station, pet-friendly, restrooms, visitor center
Things to do: hiking, walking/running, biking, birding, geo-seeking, rollerblading, fishing, camping (tents and RVs), snorkeling, swimming, canoeing/kayaking, tram tours, wildlife viewing, picnicking, weddings
Address: 1843 S Tamiami Trail, Osprey, FL 34229