Dead of winter, 2014: Tables outside the restaurants lining New York City's Mulberry Street were, as usual, set with linens and silverware, glowing with chimney candles, and adorned with baskets of plastic fruit.
It was all just a come-on to lure diners inside.
But renegade New York Times writer Andy Newman, his family and some friends went there on a dare that would become a story. On a 20-degree February night they called the restaurants' bluff and insisted on being served at one of the sidewalk tables.
"We were out to take alfresco dining to a new level," Newman wrote.
No heat lamps, no plastic yurt. Just a shivering, bundled-up dinner party, one of whom mumbled, "I'm starting to miss my mouth" as she gamely attempted to eat. It became the subtitle of Newman's ingenuous sendup.
Fast-forward nearly seven years.
Dec. 16, 2020: Chef Rocco Sacramone and three cooks toasted the city from an icy table on the sidewalk in front of Trattoria L'incontro in Queens.
"This is the first snowstorm of the year here," the chef reported on YouTube, of a nor'easter that would deliver the city its heaviest snowfall in a decade. "I would like to thank New York City for this beautiful night. As you can see, we're having an outdoor dinner. This is how we're going to be having outdoor dinner from here on."
This time it wasn't as much of a joke.
A whole new world of alfresco eating has risen in the wake of pandemic-related restrictions on enclosed indoor spaces. As soon as dining rooms closed to the public and, later, limited their seating in order to socially distance, owners began seeking outdoor space ... and quickly bore the added expense of equipment and infrastructure designed to handle the weather.
Cold-climate eateries put up igloos, yurts and domes to enclose and separate diners. Propane heaters went quickly out of stock. Parking lots and sidewalks were pressed into service.
According to OpenTable data as of Dec. 15, U.S. restaurants overall had 72% fewer than last year's seated diners. But Florida — with 100% seating and more outdoor-dining options — was down only about one-third.
This month — before high temps and afternoon storms — is the perfect time to enjoy local outdoor dining, some of it longstanding, much newborn.
The big peninsula that's Florida bristles with docks, piers and tiki huts. Restaurants from the Peace River and Charlotte Harbor all the way to the Englewood Gulf have long taken advantage of water views, boating and sunsets.
RIVIERA BAR & GRILL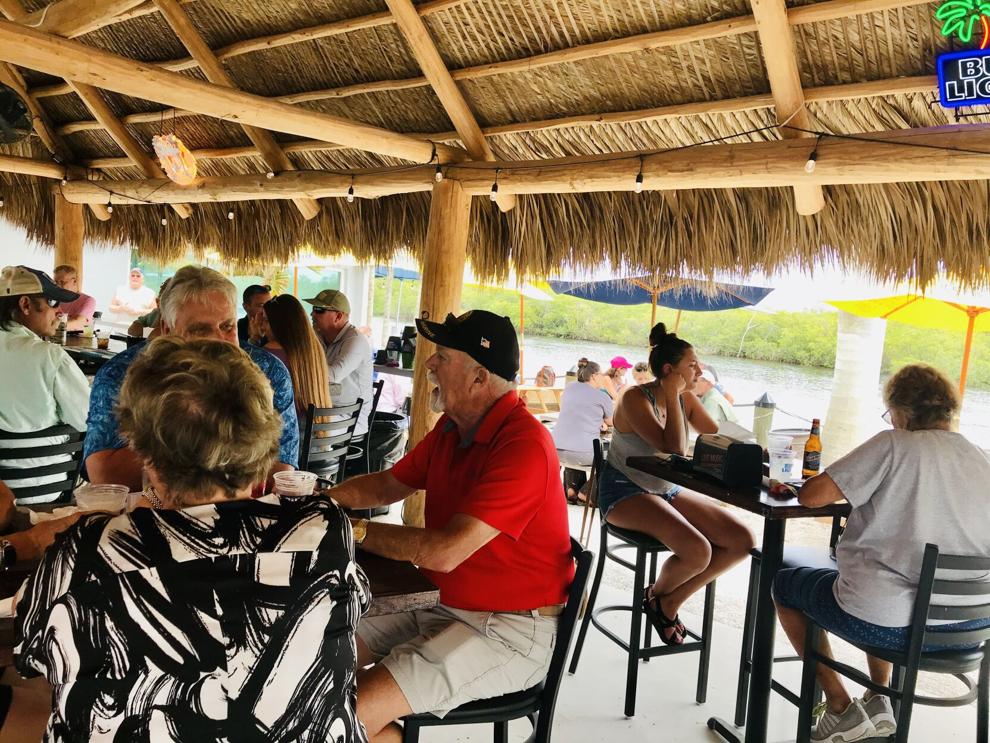 Early last year, three partners acquired a sprawling property that had called itself "The Newest Oldest Waterfront Restaurant in Punta Gorda."
Over the last half-century, it had been the Riviera Restaurant, Riviera Oyster Bar, Callaloo and Alligator Creek Bar & Grill. Whatever its name, it always had an eye-level panorama of pleasure-boat traffic and wildlife on Alligator Creek.
With Buckley's Pass now open, allowing easier access from PGI via Alligator Creek to Charlotte Harbor, the new partners saw the site as a goldmine boaters' stop. They agreed that their new restaurant should be called Riviera Bar & Grill, to honor its origins.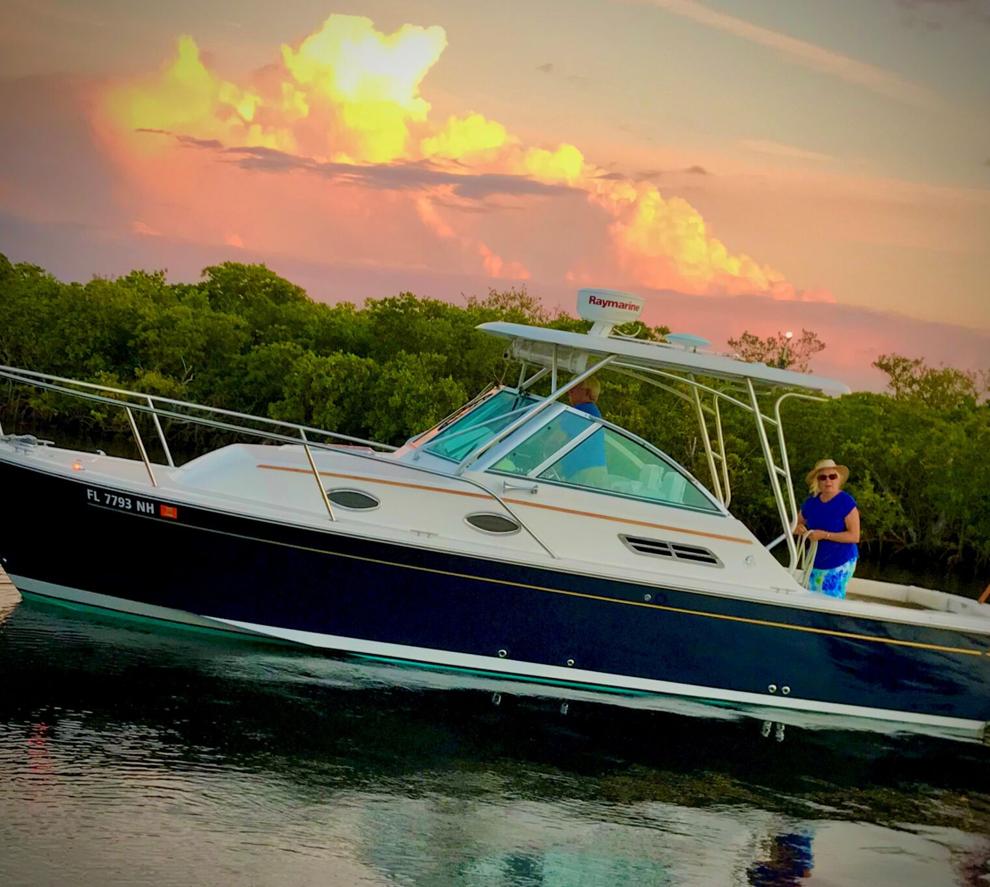 Ever since the new Riviera opened in late August to continuous sellout crowds, it's been busy building a whole new outdoors.
First came a beach with umbrella picnic tables, a 20-by-40-foot tiki hut and live-music weekends. An awning covers more tables lining the dock, where boaters pull up to park.
Co-owner Joe Pocklington said, "Now our outside seating fills up first, before the inside. People love the tiki hut. The neighbors have wanted one here for years." rivierabarandgrillpuntagorda.com
FARLOW'S ON THE WATER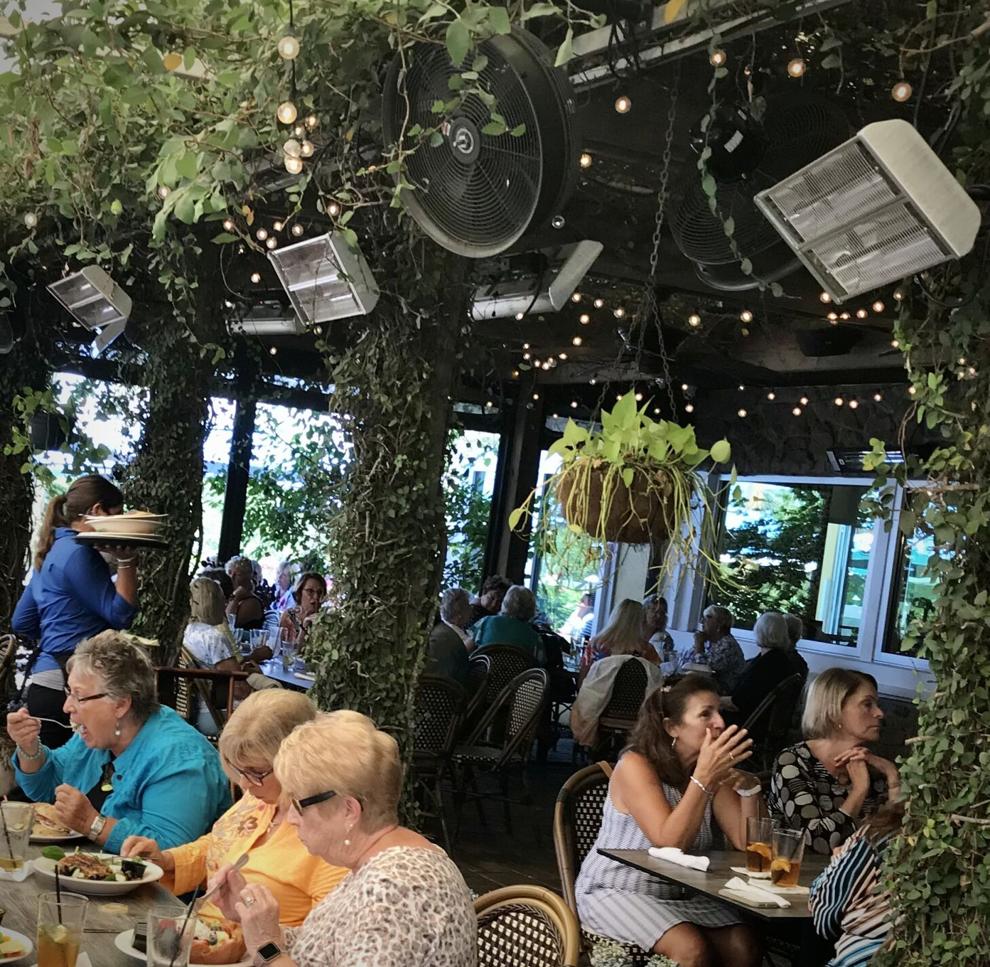 Blessed with a meandering creekfront botanical garden, Farlow's on the Water is among several Englewood restaurants that embrace outdoor dining.
Now it can also claim more outdoor than indoor seating.
It's hard to imagine any restaurant going to the lengths Farlow's has in making the outside feel just as comfortable as the in—regardless of the extremes of Florida weather.
Its outdoor pavilion is overhung with heat lamps and fans. Patterned electric roll-down screens provide translucent wind and sun shade. And this winter, when propane heaters became scarce, co-owner Laurie Farlow called on all her friends and acquaintances to help roll out enough for every open-air table.
"We've worked really hard to encourage people to dine out safely," she said. "Even when it was hot last summer, people wanted to be outside because they felt safer there.
"Last summer we bought misting fans, and we have large umbrellas that provide more shade. The fans made a huge difference. We had to install water tubing for every single fan in the restaurant. It was a big job, but worth it." www.farlowsonthewater.com
THE PIER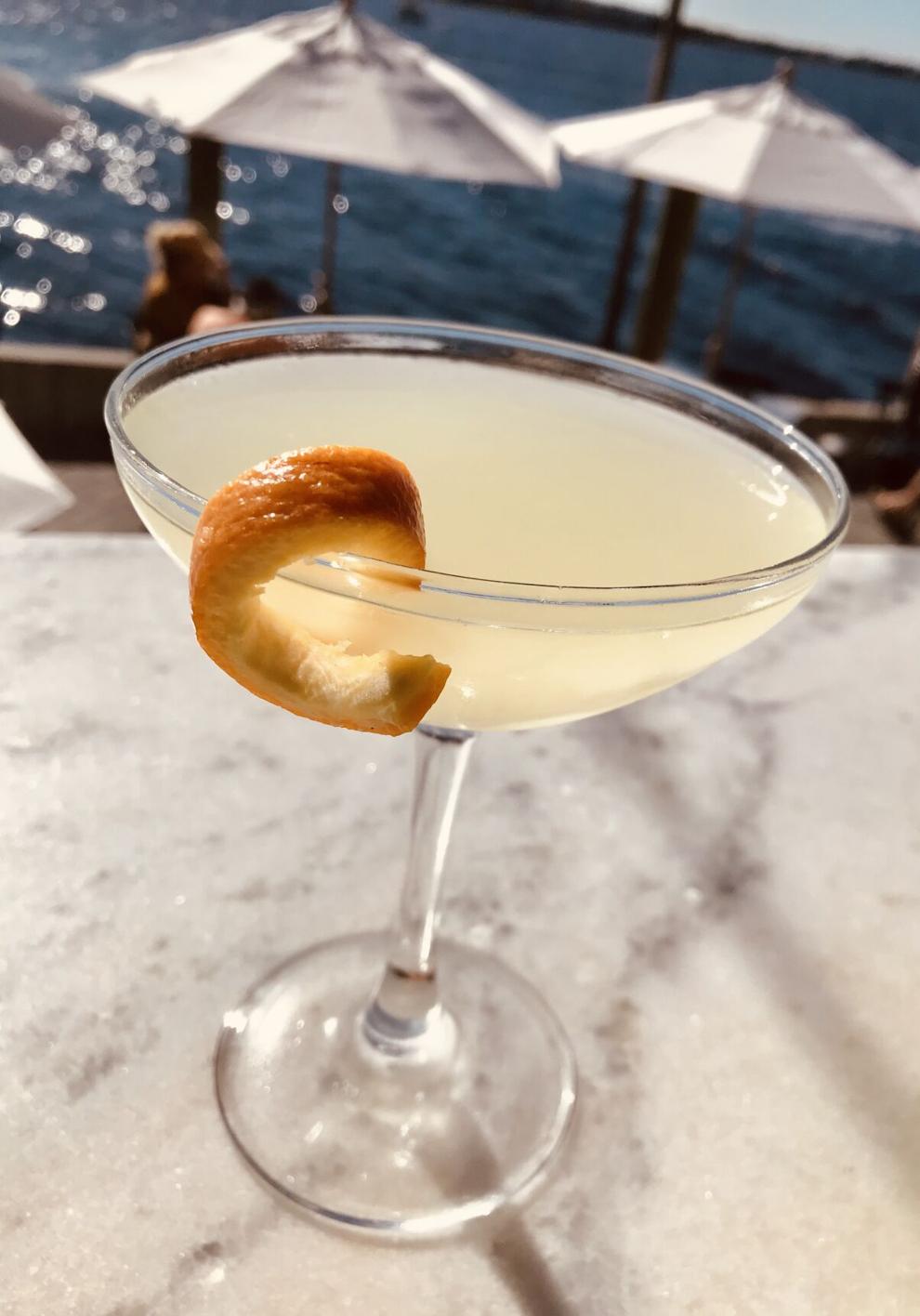 On the eve of the pandemic, Punta Gorda restaurateur Chris Evans opened his 228-seat The Pier at Fishermen's Village. It shut down three weeks later but has since bounced back as the successful sunset-facing waterfront destination it was intended to be. Nearly half its seats are on an outside deck, under giant parasols.
It took a humble virus to teach two new Punta Gorda restaurants a talent for turning inside out.
Evans and general manager Noah Copenhaver will soon open Turtle Bay Café, a fast-casual, counter-service concept unlike anything else in Fishermen's Village. Diners can sit down in the low-key café next to The Pier or grab-and-go.
On the drawing board since before lockdowns, Turtle Bay originally called for 10-foot sliding glass doors and HVAC. Given the pandemic, Evans pivoted smartly, turning what was meant to be inside, out.
Now with 310 completely open-air seats, the café will let customers place orders at the counter. A 50-foot-long, table-height bar will span the west side of the building without blocking the waterfront view, nor with windows to block the fresh air.
Wind off the water and sweltering summers? Turtle Bay will counter all that with portable heaters and drop-down shades. thepierpg.com
HARBOR SOCIAL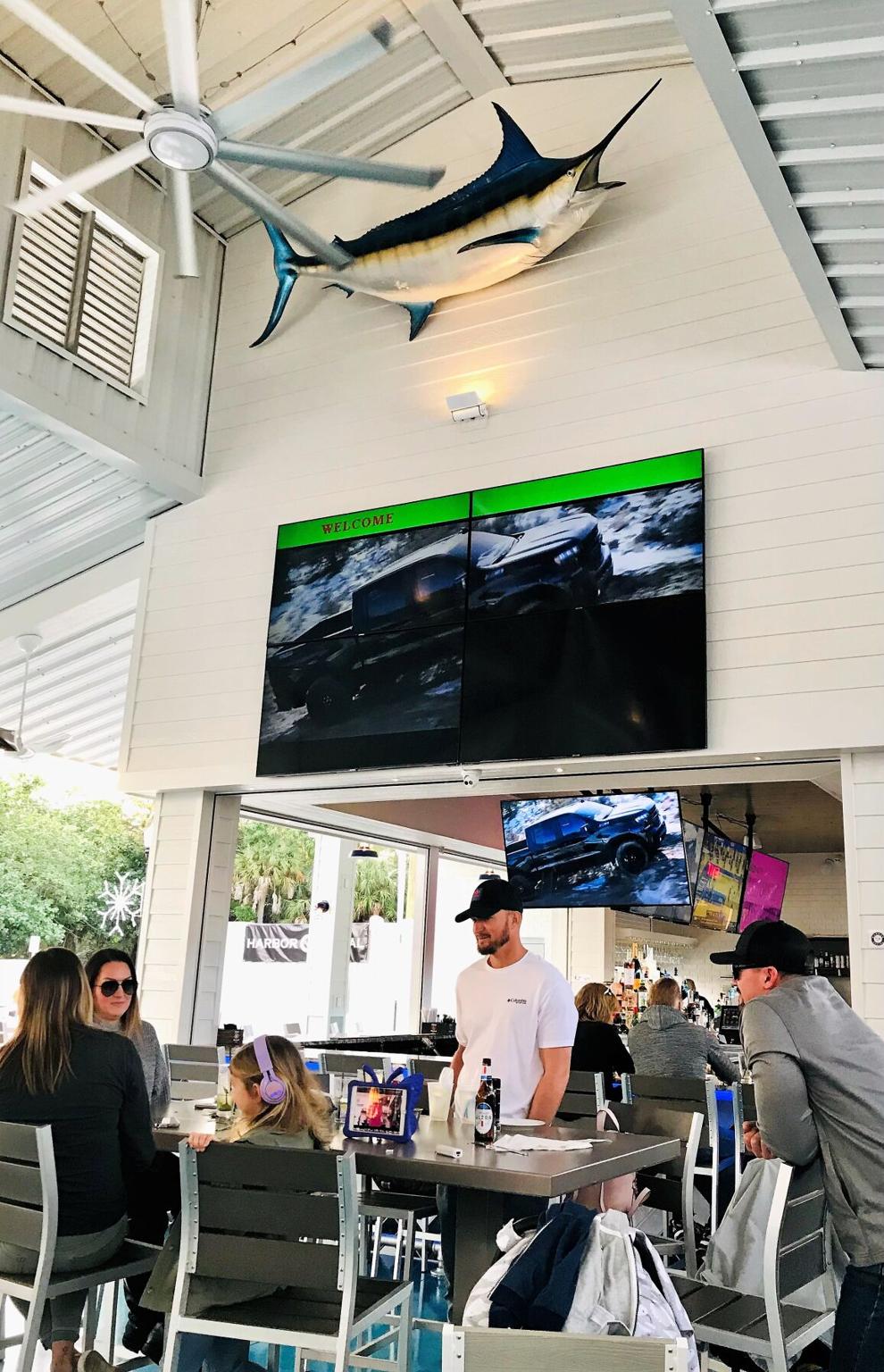 The owners didn't foresee COVID-19 when they blueprinted Marion Avenue's Harbor Social. But their vision for a wide-open barn with open air seating somehow anticipated Florida restaurants' new normal. While other places scrambled to add outdoor seating, they'd planned it before opening at the end of 2020.
Fire pits and heaters keep gatherings toasty on cold nights, though co-owner Jimmy Paquette admits those heaters gobble propane like fire eaters.
Now planning for a summer they've yet to experience, Harbor Social's owners and managers are brainstorming Cool Zone portable AC and dropdowns to block summer's sideways soakers. harborsocialpg.com
PERCH 360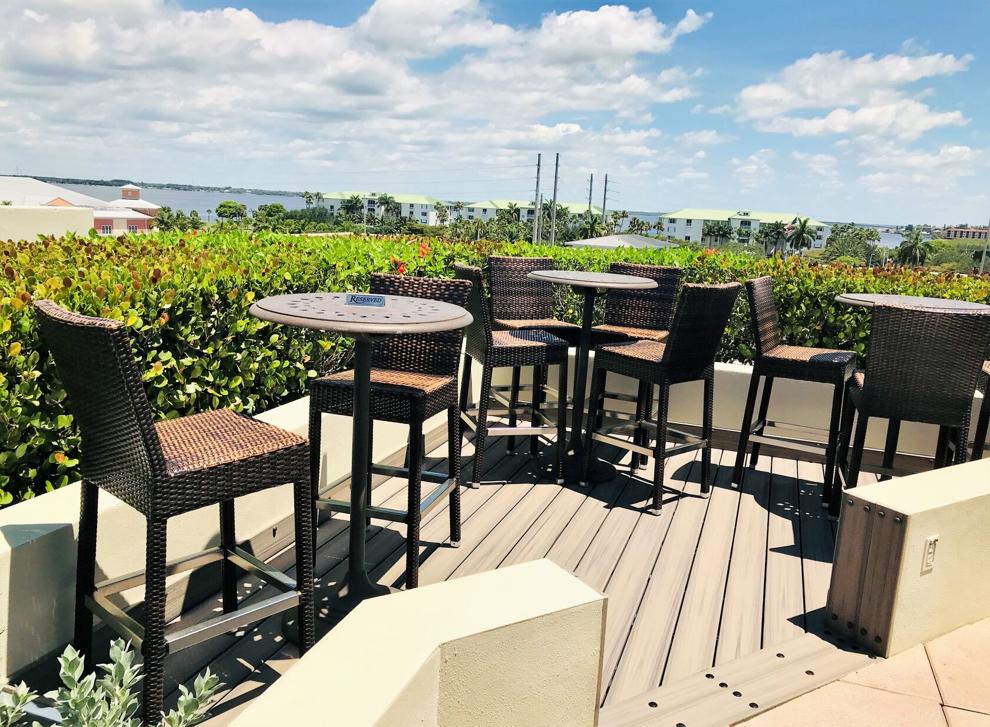 Another way to gain real estate, of course, is to go up.
Punta Gorda is by design a town with few high-rises. But the Wyvern Hotel's Perch 360, now with a new layout and more seating, already boasted the only rooftop alfresco dining in the area.
Thanks to owner Ketan Vora's ongoing commitment to growth, the hotel recently moved to do more outdoors.
In November its ground-level 88 Keys Florida began serving dinner at a new 30-seat patio. An awninged new entrance now connects the restaurant's piano bar with a string-lit open-air courtyard bordered with planters. www.perch360.com
TWISTED FORK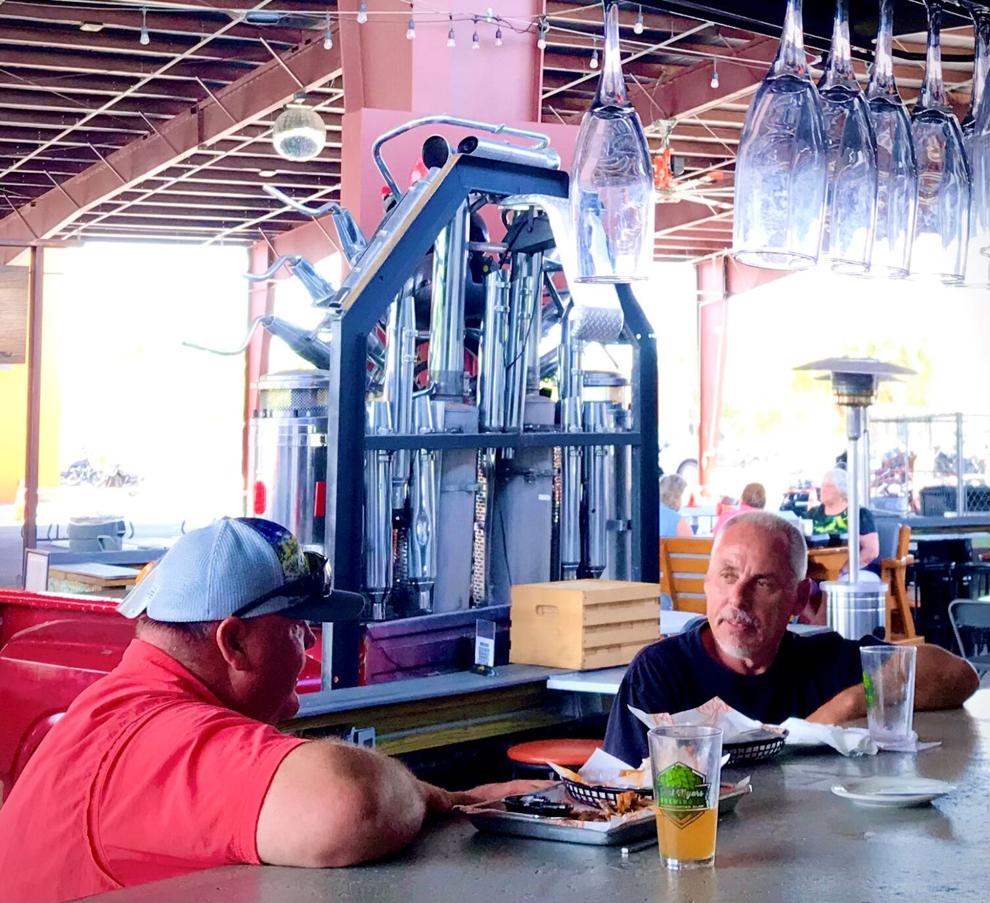 Bert Parsley, at Port Charlotte's new Twisted Fork at Bert's Black Widow Harley-Davidson, spoke for all 40 of the area's other brand-new restaurants when he said, "Who'd have thought we'd go through a global pandemic while trying to open this place?"
Still, social distancing isn't even an issue at The Fork, with 5,200 square feet indoors and 3,600 square feet of outdoor patio with garage doors and its own bar, plus a half-acre covered pavilion for car shows, bike nights and bands. twistedfork.net
PIONEERS PIZZA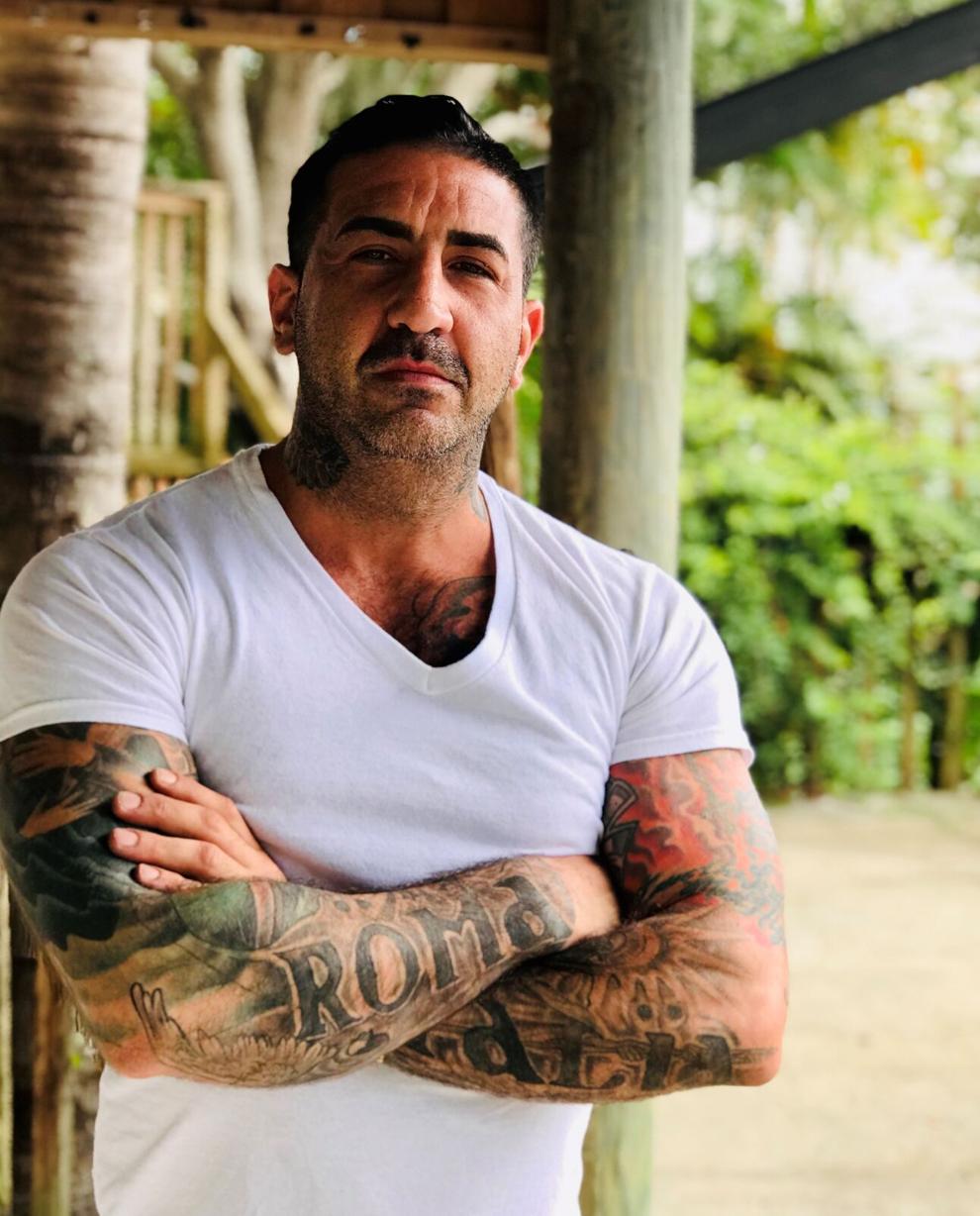 The Barone family always wanted to make something of the tiki bar that the old Coral Rock Café/Sport City had left behind when it closed in 2011. A pandemic 10 years later provided the perfect opportunity.
After doubling Pioneers Pizza's Port Charlotte dining area to hold a 50% crowd even at 25% capacity, owner Rick Barone built out a 30-person party room; 60-seat backyard tiki bar, deck and stage with live weekend music; and patio with outside tables and twinkling lights. www.orderpioneerpizza.com
NINO'S BAKERY & RESTAURANT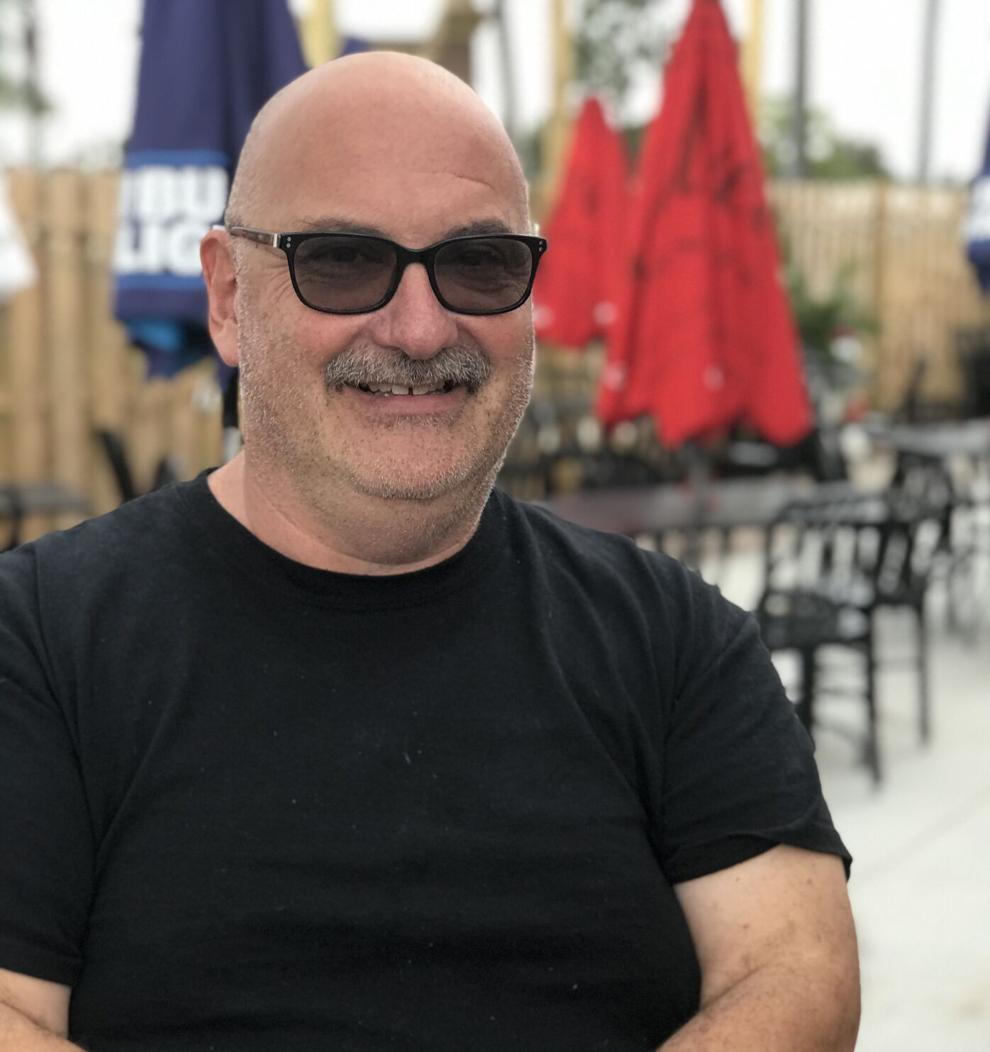 From the time he was a kid in Brooklyn, Will Levi had always wanted to put on a big show.
So his Nino's Bakery & Restaurant opened a new outdoor patio that lets him do that and more.
"My wife won't let me go out at night," he said, jokingly. "So I had to bring the party here. Now we can have a rock band outside and a Sinatra tribute inside. All on the same night."
According to Levi, "Even with socially distanced seating inside, we netted 50% more seats. After season, we'll screen the patio, adding a roof, ceiling fans and cooling system."
Of renovating mid-pandemic, he said, "If you do things when you have the opportunity, and you think outside the box, looking at what's coming, you're going to be set when a lot of restaurants won't be." ninosbakery.us