Did you know that the Charlotte County area—before it was even Charlotte County—was one of the leading suppliers of our nation's pineapples in the early 1900s?
Or that the first female superintendent of schools in the State of Florida was elected right here in Charlotte County in 1937?
How about that the Punta Gorda Airport was built by the US Army Air Corp as a training facility for pilots during WWII?
Or that Theodore Roosevelt once came to Punta Gorda to try his hand at catching a record-breaking giant manta ray?

There's much to be learned about our community's history. And to get started, all you need to do is take a stroll—more like several strolls—throughout the City of Punta Gorda and stare at some walls, where, thanks to the Punta Gorda Historic Mural Society, 31 murals will help tell you the story of Punta Gorda through art. Just make sure to have your smartphone with you.
Punta Gorda's Newest Murals
While on your strolls through history, you'll definitely want to check out the two newest murals: "Pages From Our Library's Past" and "Historic Punta Gorda Army Air Field."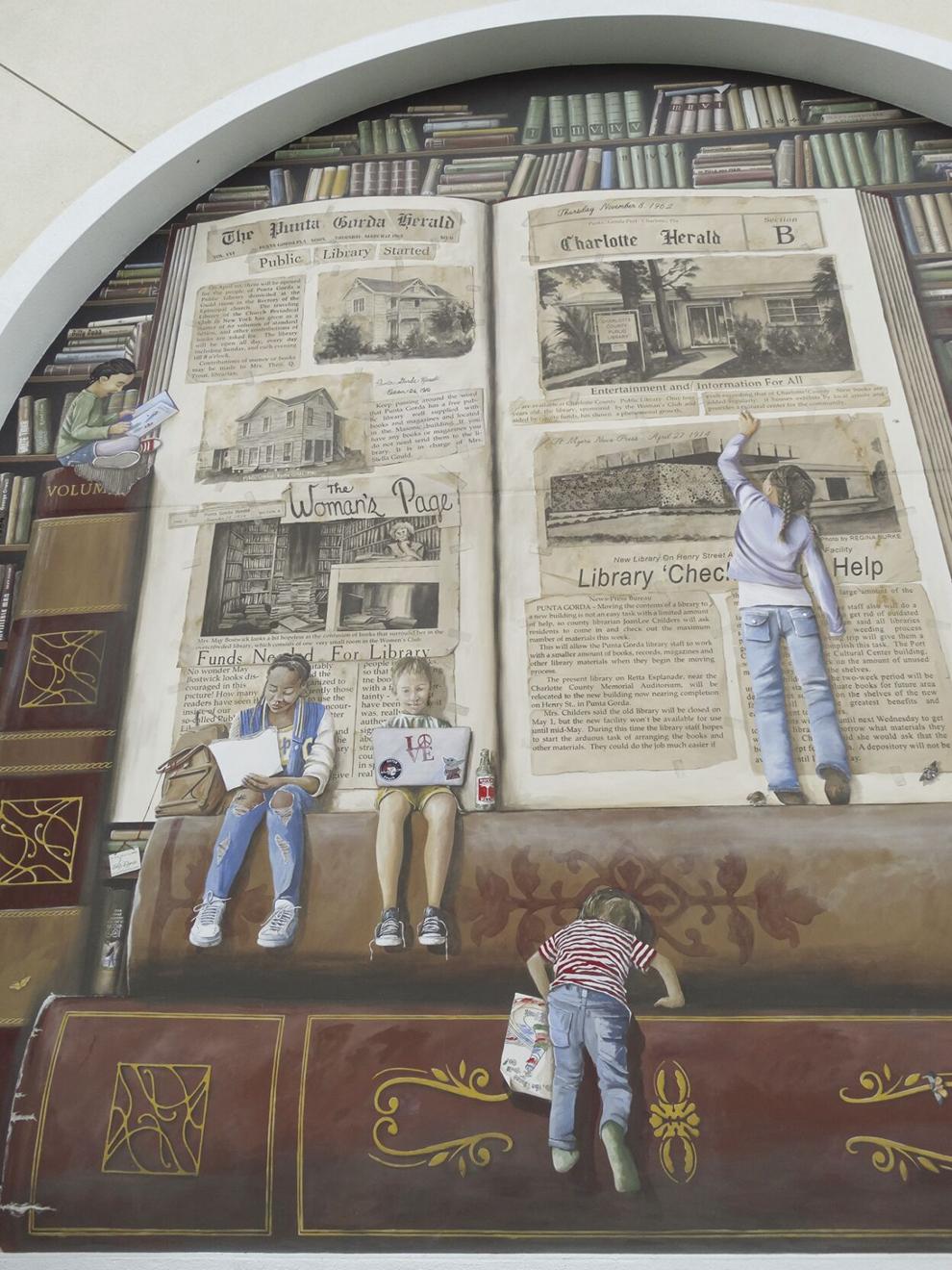 "Pages From Our Library's Past," painted by Skip Dyrda (his fourth in Punta Gorda), tells the story of Punta Gorda's library. Gaylord related that the society had been approached by Charlotte County as the new Punta Gorda Charlotte Library was being designed as there was a large, plain wall—perfect for a mural—abutting Shreve Street. "And it was obvious that the thing we wanted to capture was the history of our library," she explained. "We've had a library here since 1908." This is the library's sixth location.
Work began on the mural in February 2020 and took five months to finish, thanks in part to the pandemic. But the wait was worth it. "[Dyrda] basically created a scrapbook … That particular mural could handle a lot of detail," Gaylord said, "because you can walk right up to it and read it." He recreated old newspaper clippings that can actually be read. There are 275 books, 94 of which have legible titles painted on them … maybe you can find one of your favorites amongst them? The books are each painted to closely resemble the spine of the original published work. "He did a lot of research."
Perhaps the most inconspicuous detail, the various butterflies and moths on the mural all come from Charlotte Taylor's hand drawn workbook. Taylor, an entomologist, was the mother in law of Isaac Trabue, Punta Gorda's founder. Her daughter, Virginia Trabue, gave the work to someone upon her death and it eventually found its way to a yard sale, where it was purchased and shown to former State Representative and local historian Vernon Peeples, who immediately recognized it for what it was.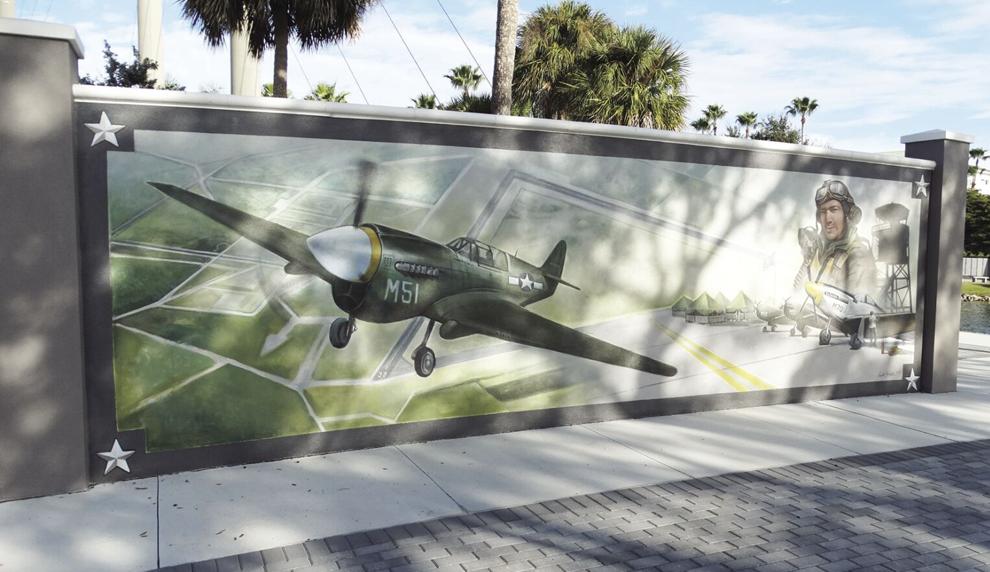 "Historic Punta Gorda Army Air Field," located at Veterans Park on Nesbit Street, was painted in just 12 days in December. The artist, Keith Goodson, is from Lake Placid where he has painted 19 of the town's 49 murals, and Gaylord explained that they had been wanting him to paint a mural in town for awhile.
The mural tells the history of the Punta Gorda Airport, which was built by the US Army Corp as a training grounds in 1943. By February 1944, 1,097 enlisted men and 44 officers had been assigned to the base along with 103 aircraft. The Punta Gorda Army Air Field was deactivated on September 1, 1945 and turned over to Charlotte County. It has been in use ever since. There had previously been a mural depicting this history at the airport itself, but it (and many other murals) were destroyed by Hurricane Charley. The Punta Gorda Historic Mural Society had always wanted to recreate the mural, but the rebuilt airport didn't offer the right kind of wall space for a mural.
When a new wall was constructed at Veterans Park, the society met with General Dick Carr of the Vietnam Wall of Southwest Florida (also located in Veterans Park) and Frank Desguin of the Charlotte County Historical Society to determine how to best represent our community's military history. Gaylord recalled, "Everyone agreed the biggest thing to happen in the armed forces in Punta Gorda was the building of the air field."
They didn't plan on doing two last year, but despite the pandemic, 2020 ended up being a very fruitful year for the society.
It was their 25th anniversary and several big fundraisers had been planned. Published in December 2019, their 25th anniversary book, Painting the Town: 25 Years of Murals, History and the Stories Discovered Along the Way, has "been selling like hotcakes," Gaylord said. And at their 25th anniversary reception in January, the society auctioned off all the physical renderings of the murals around town. "We had the first rendering and the second rendering [for all the murals] so we had over 50 of them," making it was a very successful fundraiser.
Once the pandemic hit, the society recognized that there were so many other nonprofits in the community that needed immediate funds, so when the 2020 Giving Challenge rolled around, they didn't make a big push for donations. But their supporters gave anyway. "The community is just so supportive of the mural society," Gaylord said. "I'm in awe of it. It's an amazing community."
As such, they found themselves with the funds needed for another mural. Then came the call from Goodson saying that he was available in December. Before you knew it, planning was underway for "Historic Punta Gorda Army Air Field."
Sales from their website shop, a partnership with Fine Art America, also help raise funds for new murals and mural renovations.