Some sharks never migrate. These ravenous creatures don't stray more than 100 miles from a central point. Others have been known to travel far away, from one ocean to another.
Protecting all sharks requires a worldwide effort from a panoply of researchers, who travel near and far to study them. One marine scientist ventured more than 8,000 miles to the Caribbean to do it.
A native of New Zealand, Demian Chapman grew up around water and loved it. Through his grandfathers, he also developed an interest in sharks. One grandfather was an electrician who enjoyed reading about them; the other was in the United States Navy during World War II. He told tales of seeing sharks in the Red Sea.
"He had a tattoo of a shark, based on seeing these sharks that scared him a little bit," Chapman said.
Those influences – his grandfathers, growing up on an island nation in the Pacific Ocean, 2,400 miles southwest of Australia – peaked Chapman's interest in sharks.
"When you are a child, I think the appeal (of sharks) is it's the monster that you hear about that's actually real," Chapman said. "The Wolfman was not real, even though it scared me, but (sharks are) real. As you mature you realize they're not monsters; they're just really, really interesting animals. I guess I just got hooked."
TAKING A CHANCE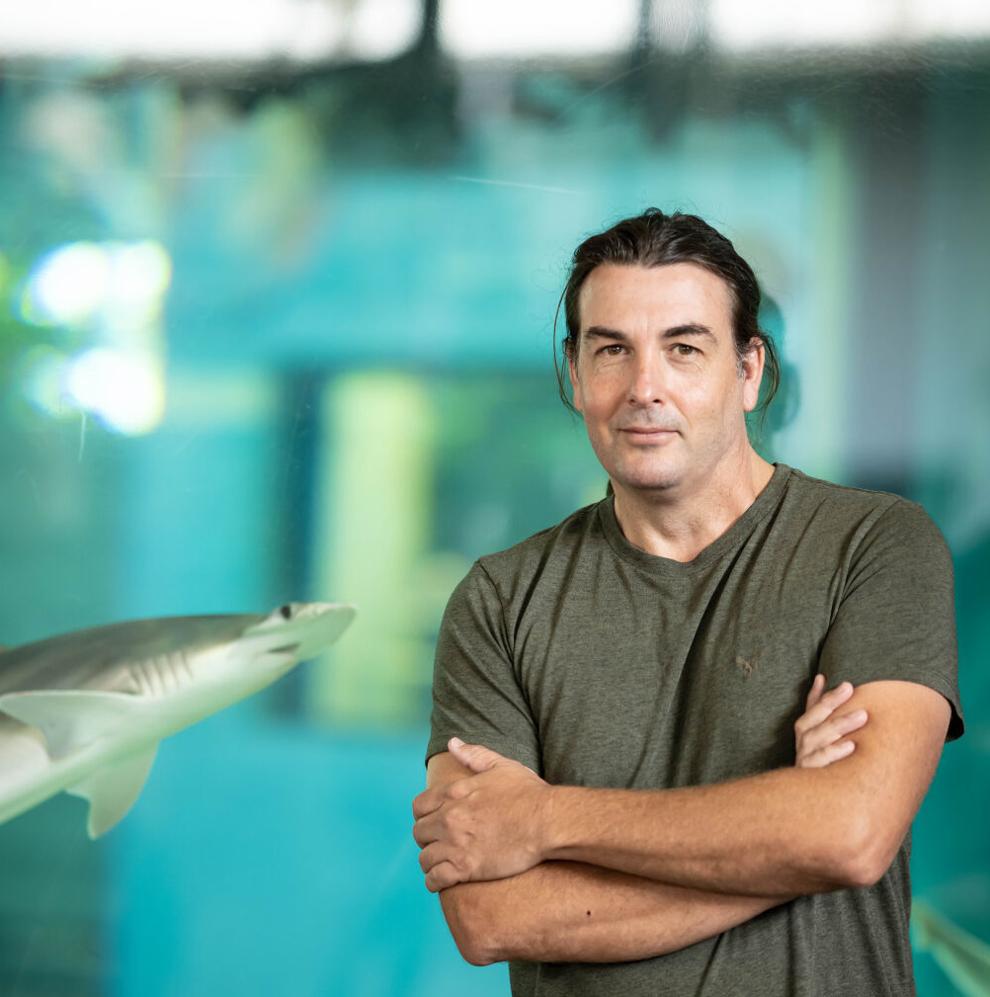 Chapman stayed true to his Kiwi roots and studied zoology and ecology at Victoria University in New Zealand. However, at the time there wasn't much shark research underway in his home country, and he wasn't confident that he'd be "lucky enough" to get to study sharks professionally.
So, he wrote to Samuel H. Gruber, an eminent shark researcher at the University of Miami, who had a field station in the Bahamas where – like an angler using chum to attract fish – Gruber recruited college students to help him with his research.
Chapman's letter impressed Gruber. Then Gruber's influence impressed Chapman. Chapman only planned to spend two months in the Bahamas, but ended up working three years there.
More than 20 years later, Chapman, 47, now attracts students to work with him. He recently was named senior scientist and director of the Center for Shark Research at Mote Marine Laboratory in Sarasota. A molecular ecologist by training, he also will manage the Sharks & Rays Conservation Research Program and hold the title of Perry W. Gilbert Chair in Shark Research.
Chapman began his Mote tenure May 3. The previous program manager, Robert Hueter, retired but remains involved with Mote as a senior scientist emeritus.
HOOKED ON SHARKS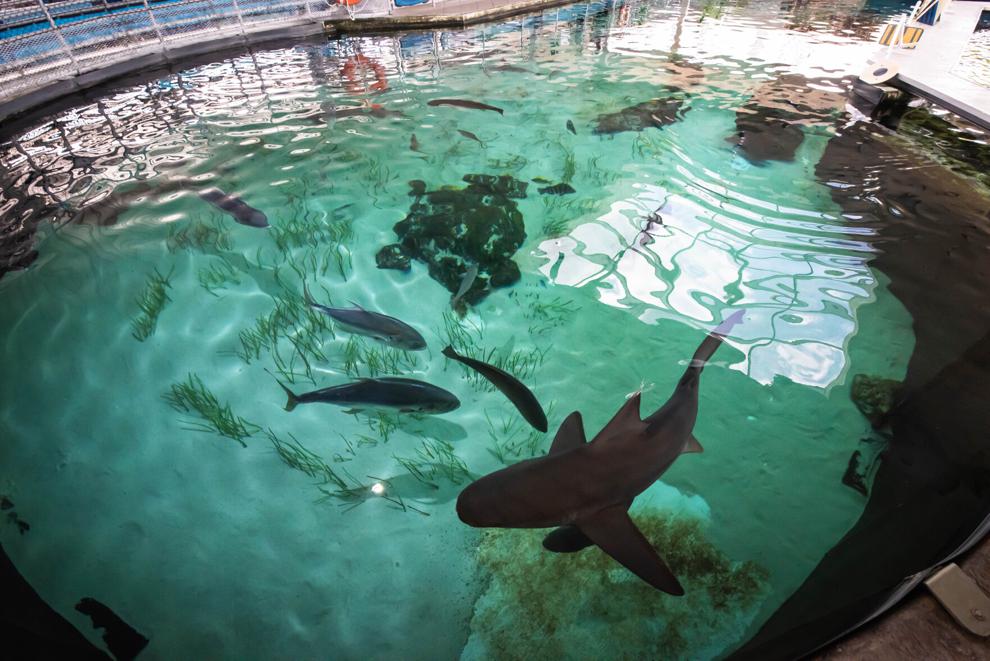 Initially Chapman was interested in how sharks "home back" to the place they were born, to give birth, and their reproductive biology, "but what really got me hooked on this career path was the realizatien that the ocean was running out of sharks, essentially because we are taking too many." His goal was to use his academic interests to improve conservation efforts "because that's what drives me."
Chapman comes to Mote from Florida International University in Miami, where he was an associate professor and the lead scientist for an international initiative, Global FinPrint, the world's largest-ever shark survey, which researchers founded in 2015. At Mote, he will build on the lessons learned from that project, as well as the legacy of Mote's longstanding shark program.
"Sharks are used by a wide variety of countries," including the United States, Chapman said. "Virtually every country that has a coast has at one time 'taken' sharks."
A prominent source of protein, sharks are taken for their meat. Shark fin soup is a Chinese delicacy. Their livers provide oil that has medicinal and other uses. Shark cartilage is used to treat wounds, plus arthritis and other illnesses.
Global FinPrint was made possible in part due to grants. Counting endangered species is one mission of a foundation of the late Microsoft co-founder and philanthropist Paul G. Allen. Several years ago, while counting elephants in Africa, the foundation reached out to Chapman about counting sharks.
"They just flew over and counted (the elephants)," Chapman said. "They wanted to do something similar for sharks."
COUNTING ON THE COASTS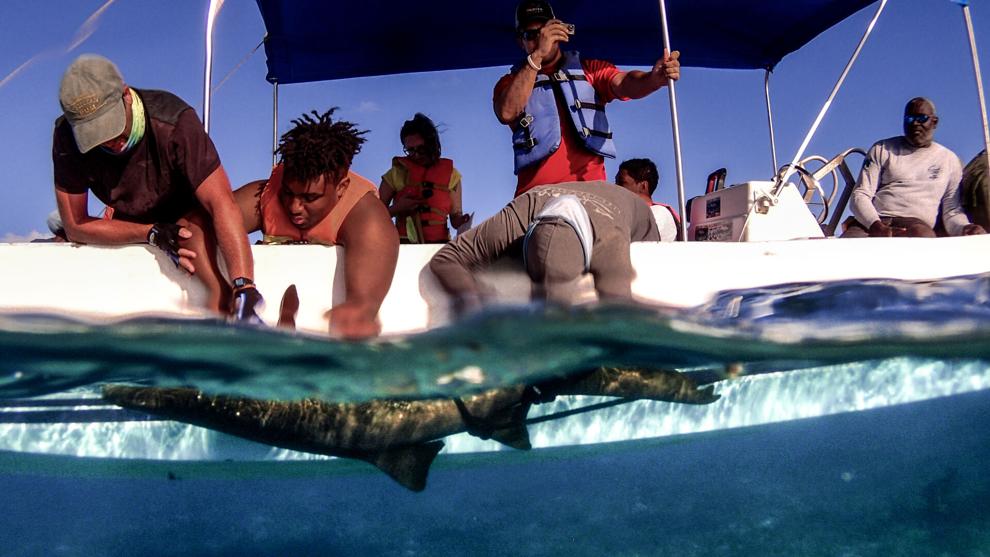 Counting sharks is a more arduous task. There are more than 500 species living in the sea. Researchers chose to count sharks who live in coral reefs in coastal environments because little is known about them.
Most people, when they change employers, bring their experience and expertise to the new job. Chapman brought all that plus Global FinPrint – and his scuba gear – to Mote.
Global FinPrint united researchers from around the world for the first time to study sharks, rays and other marine life on coral reefs, using 15,000 baited remote underwater video systems. They wanted to understand how sharks affect these vanishing ecosystems and to establish new conservation strategies.
Researchers put the cameras on the sea floor for an hour at a time. Analyzing nearly 20,000 hours of video, they determined the number of sharks swimming past per hour, as well as species diversity.
"We wanted to discover where are the last refuges of sharks around the world," Chapman said. "We know there is depletion of these kinds of sharks, but where are the last strongholds? And we wanted to know, if a place still had sharks, what were the local people doing that was favorable to that? Could you take those lessons and export them elsewhere, taking economics and culture into account so that we could get good outcomes in the future?"
Researchers found that sharks are "functionally extinct" on 20 percent of the 371 coral reefs studied in the Indian Ocean, the Pacific Ocean, the Coral Triangle – between the Pacific and the Indian – and the Western Atlantic Ocean, near 58 survey nations. (The 20 Western Atlantic Ocean locations included seven off the coast of Florida.)
Sharks were either not there or the numbers were so low they were no longer performing an ecological role. However, they did find places where sharks are still doing well "and it was really connected to what the local people were doing in terms of management."
Shark depletion is connected to various conditions, including supply and demand, insufficient regulations and human population, Chapman and 123 other scientists co-wrote in a July 22, 2020, article in the journal Nature.
"However, opportunities for the conservation of reef sharks remain: shark sanctuaries, closed areas, catch limits and an absence of gillnets and longlines were associated with a substantially higher relative abundance of reef sharks."
As the Global FinPrint website states, "there remain several areas where sharks are still relatively common. These 'reservoirs of hope' are places where sharks could spread out from to repopulate other areas if given the chance."
FINPRINT BLUEPRINT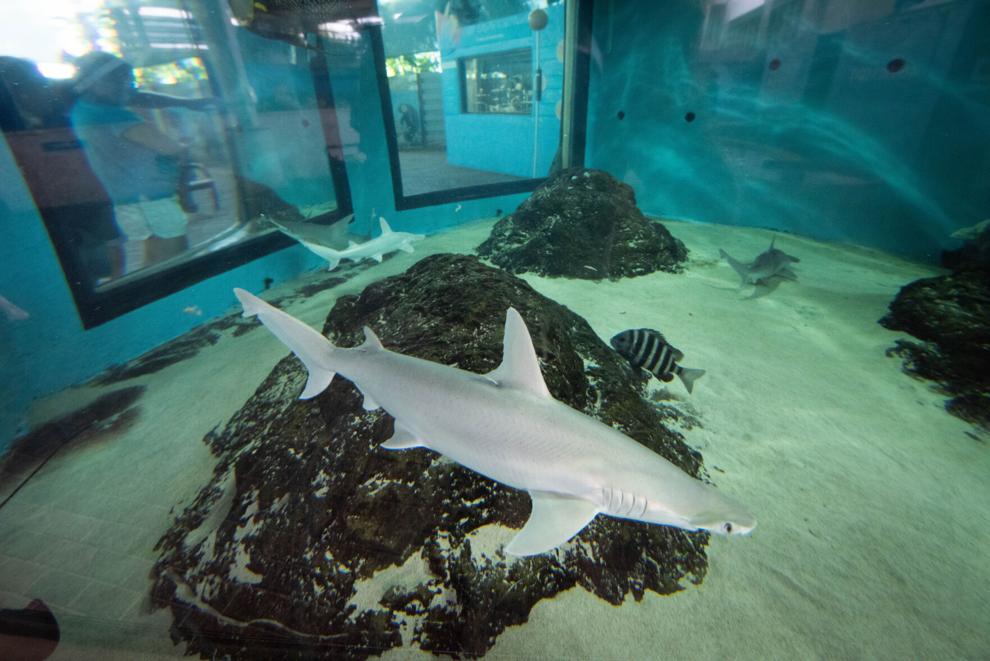 The next phase of this work – at Mote – will be to use FinPrint data and international partners "to strategically invest in and provide scientific support to grassroots organizations, local governments and fisherfolk in countries with high conservation potential for reef sharks," Chapman said. "The bottom line is they are down, but there is also hope."
What makes the project exciting, he said, is "we learned how passionate these people are about doing things in their countries to make it better. The goal will be to take funding and the scientific lessons that we've learned and working with these people … on shark management and conservation."
Some nations have banned shark fishing. Others allow fishing for sharks in a sustainable manner. They have measures in place that limit how much is caught or prohibit certain types of destructive fishing gear.
Researchers plan to go to countries that have depleted shark populations and work with local collaborators to let the countries see what works elsewhere and pick and choose what they want to do. For example, Belize, near the southern end of Mexico in Central America, had healthy shark populations in some parts of the Caribbean Sea and some places where sharks were "depleted."
Researchers gave Belizean officials the blueprint and now that country has banned certain fishing practices and they were planning to announce the creation of a 1,500-square-mile protected area. But what works in Belize may not work in nearby Guatemala; based on what's best for the sharks and the people.
'ADDRESS CHALLENGES'
A Mote executive says Chapman and Global FinPrint are welcome additions.
"At Mote, we seek to recruit and nurture the best and brightest minds in marine science and technology because excellence and innovation in marine research is the foundation of developing solutions for the grand challenges facing our oceans today and into the future," Michael P. Crosby, Mote president and CEO, said in a press release.
"In that vein, Demian not only brings a wealth of knowledge and expertise about the state of shark populations around the world, but also a framework from which Mote can both address challenges and build opportunities for the recovery and long-term conservation of these keystone ocean species around the world."
Moving from FIU to Mote is a big change for Chapman in that he now has fewer administrative tasks and he's not teaching. However, he is still affiliated with FIU, which allows him to maintain a working relationship with students – much as Gruber had in Miami a quarter-century ago – and he enjoys working with the next generation of shark researchers.
In addition to spending some time at fundraising dinners, and writing academic papers, Chapman will be out on the water, in the water or in his lab at Mote.
Chapman hopes his students – who hail from Columbia, Spain, the Bahamas, Maldives and other countries – "feel the history of this place" just as he did 20 years ago when he was a graduate student, working with then-Mote scientist James Gelsleichter.
Through the years, Chapman says, it was always in the back of his mind to one day return to Mote, which he feels has a family atmosphere and a tremendous history, including its founding in 1955 by Eugenie Clark, a marine biologist known as the "shark lady."
Chapman's current shark research teams tend to be dominated by women. Perhaps they, too, were inspired by Clark, who died in 2015 at age 92, he says.
"They are the ones – and others like them – who are really going to carry the ball forward, because sharks don't rebuild overnight," he said. "You have to put policies in place … make sure they are working and adjust as needed.
RECOGNITION FOR GLOBAL FINPRINT EFFORTS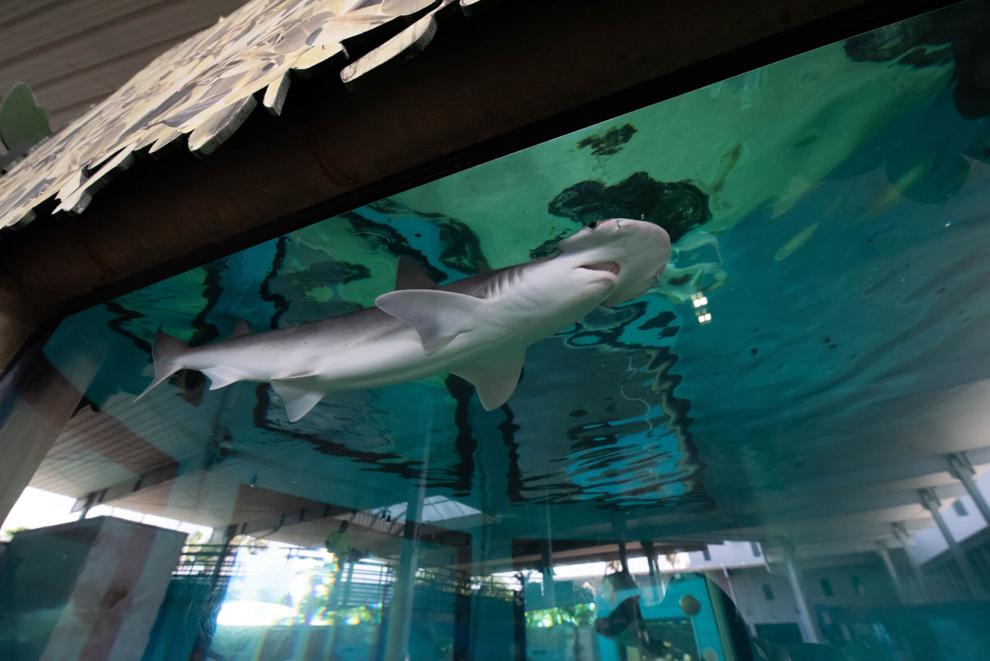 Microsoft co-founder Paul G. Allen, who died in 2018 at age 65, was an early supporter of Global FinPrint. But Global FinPrint lives on, funded by a variety of grants, project sponsors and foundations, including the Paul G. Allen Family Foundation.
In addition to the Allen foundation generating publicity for Global FinPrint, the Discovery Channel and British Broadcasting Corporation also got involved.
Demian Chapman's work with Global FinPrint is featured in the new Discovery+ documentary, "Endangered". Created by the BBC Natural History unit for Discovery, this show is narrated, and produced by Ellen DeGeneres, and features work around the world with endangered species such as gorillas, giraffes, lemurs and sharks.
In conjunction with the documentary, The Ellen DeGeneres Wildlife Fund launched its new Endangered campaign to raise funds for the animals featured in the film, including sharks.
For more information, visit globalfinprint.otg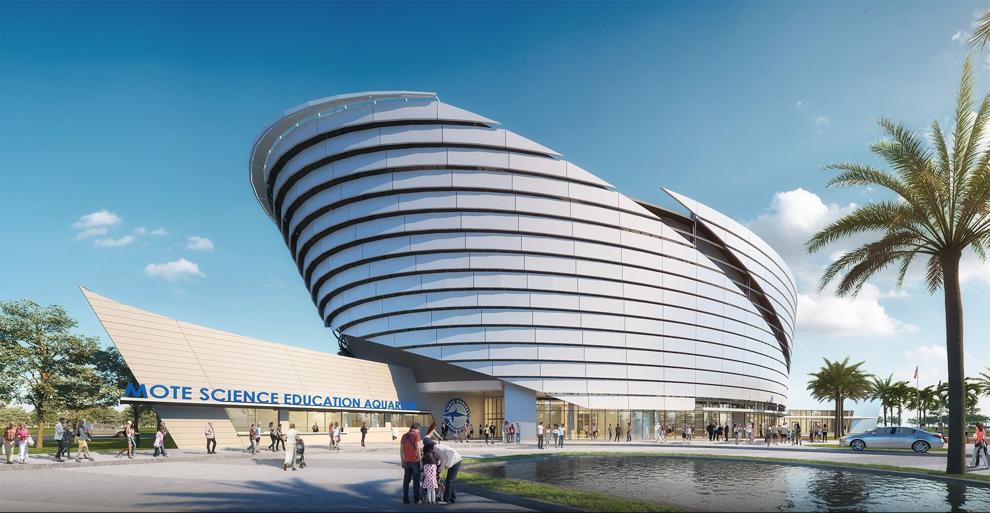 CONSTRUCTION UNDERWAY ON SCIENCE EDUCATION AQUARIUM
Mote Marine Laboratory & Aquarium is building the new Mote Science Education Aquarium at Nathan Benderson Park, a nexus location for both Sarasota and Manatee counties. 
The goal is to make Mote SEA an iconic facility for the entire Southwest Florida region, attracting 700,000 visitors per year as well as inspiring the next generation of marine scientists. Three state-of-the-art STEM teaching labs will bring marine science to life for thousands of school children, offered at no-cost to the Sarasota and Manatee County school districts.
"Something like this aquarium doesn't happen in a vacuum," Sam Seider, chair of the Mote Board of Trustees, said at the groundbreaking in November. "(It) is not possible without our Mote family, our very large and very generous Mote family. I hope you have a proper feeling of pride in what you've helped us become."
Michael P. Crosby, Mote's president and CEO, said that during the past 65 years, the organization has operated facilities at some of the most iconic areas in Florida including Charlotte Harbor, Siesta Key, City Island, the Florida Keys. "Our focus has long been to locate our sites where our research and our science education infrastructure can have optimal impact."
When completed, Mote SEA will be added to a roster of locations that currently includes City Island, four facilities in the Florida Keys and an east Sarasota County aquaculture facility.
Crosby also recognized another group showing support for Mote SEA: corporate sponsors.
Mote's first corporate sponsors with formal agreements were Benderson Development, Gold Coast Eagle Distributing, Ajax Paving, Caldwell Trust Company, CBIZ Insurance Services, Tervis, and Florida Power & Light.