Should old acquaintance be forgot …
...Something, something. We sing "Auld Lang Syne" on New Year's Eve, or we hum along, because it's a fine sentiment, remembering all the treasured moments and places and people from days gone by.
But let's face it, there are some acquaintances we'd dearly love to forget, along with those embarrassing, uncomfortable or otherwise unpleasant moments that make us wince or reprimand ourselves or get angry about over and over again, sometimes years after the fact. We know they're in the rear-view mirror, but we can still see them, feel them, and we wish they'll fade away once and for all.
New Year's Eve is all about looking forward. Wouldn't it be great if we could just rid ourselves, even if just symbolically, of all the gunk from the past year that weighs us down?
Leave it to the Times Square Alliance, hosts of arguably the most famous New Year's Eve celebration in the world, to come up a way to turn catharsis into a party.
Since 2007, which was the 100th anniversary of the first Times Square New Year's Eve ball drop, New Yorkers have been converging on Times Square at noon on Dec. 28 for Good Riddance Day, an informal holiday dedicated to ringing out the old, or rather, to shredding and in some cases smashing it.
HOLIDAY IN ITS OWN RIGHT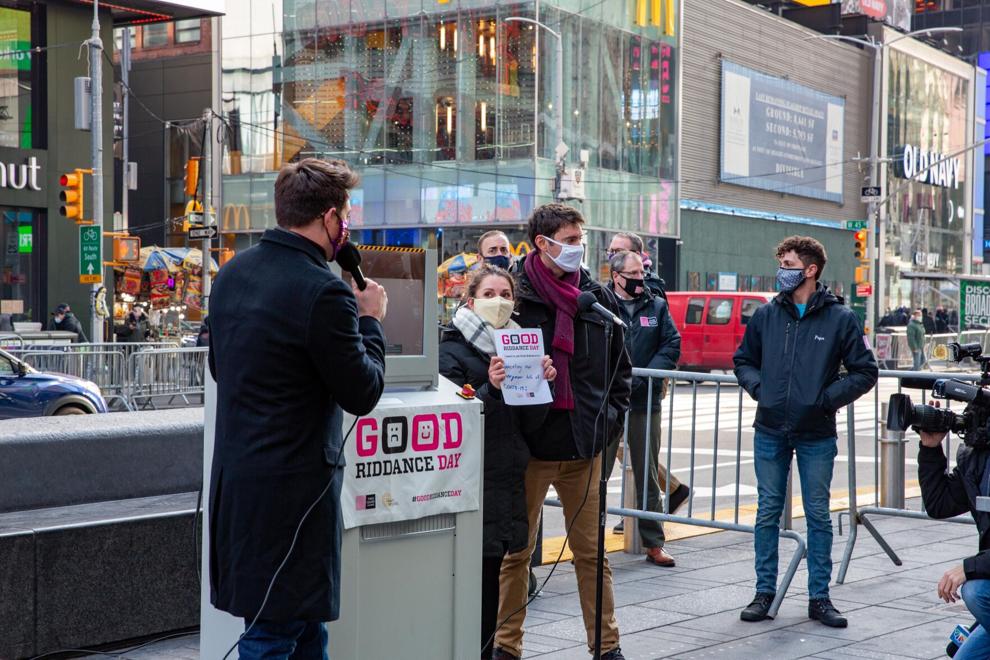 While not nearly the size of the New Year's Eve celebration, Good Riddance Day has become an informal holiday event in its own right, drawing crowds eager to share in a communal sense of celebration as they exorcize the psychological stresses and demons of their lives. In past years, people have said good riddance to bad jobs, bad dates, biases and bigotries. They've ejected minor annoyances and irritating societal trends. They've declared victory over illnesses and over ponderous medical bills.
According to the Times Square Alliance, the inspiration for Good Riddance Day came from a tradition called "Quema de las Muñecos," or "Burning of the Dolls," popular throughout much of Latin America. In places where the tradition is observed, people make dolls or in some cases life-size effigies. Then they place objects inside the dolls meant to represent whatever it is they want to purge. In places where effigies are used, faces may be attached so the entire effigy represents someone the user would like to be shed of. Politicians tend to be a perennial favorite.
On New Year's Eve, the dolls and effigies are burned in the street at midnight while the people celebrate. Quema de las Muñecos has fallen out of favor in many places, if not banned outright, over concerns about the dangers of that many fires burning in neighborhoods at once. Aside from the immediate danger, many municipalities cited the health hazard caused by all the smoke, not to mention the damage dozens of small fires can do to asphalt streets.
Of course, inviting thousands of New Yorkers to Times Square to feed a giant bonfire was a nonstarter. Shredding was an appropriate Midtown Manhattan alternative.
The alliance provides the slips of paper on which people can write down whatever it is they want to jettison from their mind and from their life. It can also be a celebration of something that has been overcome, with the shredding symbolically relegating that to the recycle bin of history.
Prior to shredding, many of the slips are posted on a good riddance bulletin board. Some people are invited on stage to proclaim themselves rid of the thing they are about to rid themselves of before they feed their slips into the shredder.
For some people a simple shredding won't suffice. Lending to the festive atmosphere, there are stations where those who bring physical objects are provided a sledgehammer so they can say good riddance with an exclamation point.
The Times Square Alliance took sort of a yin-yang approach to New Year's Eve wishes in 2007. Along with Good Riddance Day, the alliance also introduced the New Year's Eve Wishing Wall, where people can write their wishes for the new year on small pieces of paper and post them on an outdoor bulletin board during the month or so leading up to New Year's Eve. The scraps of paper are collected and are chopped up into confetti to be dropped when the clock hits midnight.
GOOD RIDDANCE TO COVID-19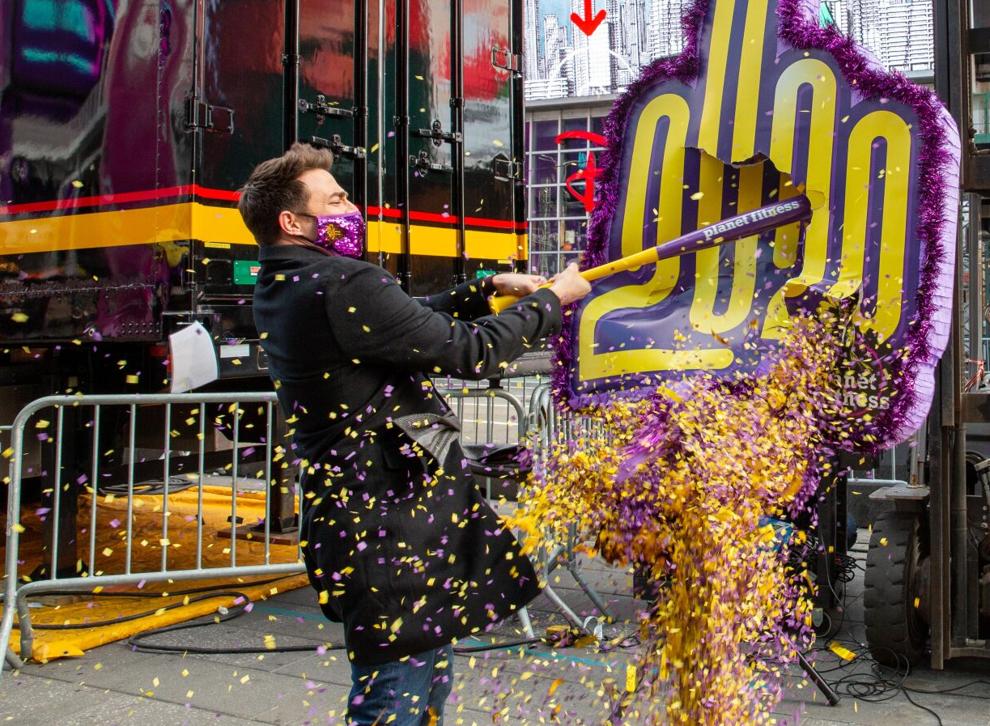 In a way, this year's Good Riddance Day will be a welcome act of saying good riddance to Covid restrictions. On Nov. 16, it was announced that crowds would be allowed to gather in Times Square for this year's New Year's Eve celebration, as well as Good Riddance Day.
If there was ever an entire year that people wanted to put behind them, it was 2020. But with the COVID-19 pandemic still in full force and restrictions on public gatherings in New York still firmly in place Good Riddance Day 2020 was largely a remote affair. Organizers did what they could to continue with the event. People could still submit the things they wanted to say good riddance to using the hashtag #GoodRiddanceDay. The submissions were printed out and shredded.
Good Riddance Day corporate sponsor Planet Fitness provided a bit of symbolic relief by supplying a large "2020" pinata to be publicly pummeled via streaming. The company also commissioned a national study to find out what people most wanted to leave behind at the end of 2020.
Aside from COVID-19, a given, the thing most people (65%) would have been happy to do without this time last year was political or election-related conversations. Almost as many, 62%, wanted to forget about the early-pandemic toilet paper crisis. About two in every five parents were over remote schooling.
A lot of people were tired of video chats. Interestingly, when broken down by generations, the younger the respondents, the more they wanted to leave them behind.
Just like New Year's resolutions, Good Riddance Day wishes aren't an exact science. 
You know what they say, you can't always get what you want. You can't always get what you don't want, either. But it's fun to think about, and a lot of the time that's enough.