This time of year we celebrate a lot! There are many special days, including major holidays such as Hanukkah, Kwanzaa, Christmas, Boxing Day, and New Year's Day.
Christmas traditionally has motivated people to add some glitz, bling and color to their homes. You can inspire feelings of hope and happiness during Christmas 2021 by creating some festive displays.
COLOR SCHEMES AND THEMES
Most of us want to include the standard red and green colors, but silver and gold are also a part of our holiday traditions. Silver helps bring that "snowy sparkle" into your theme (without the freezing cold temperatures!), and gold adds some warmth and elegance if you prefer a more glamorous theme.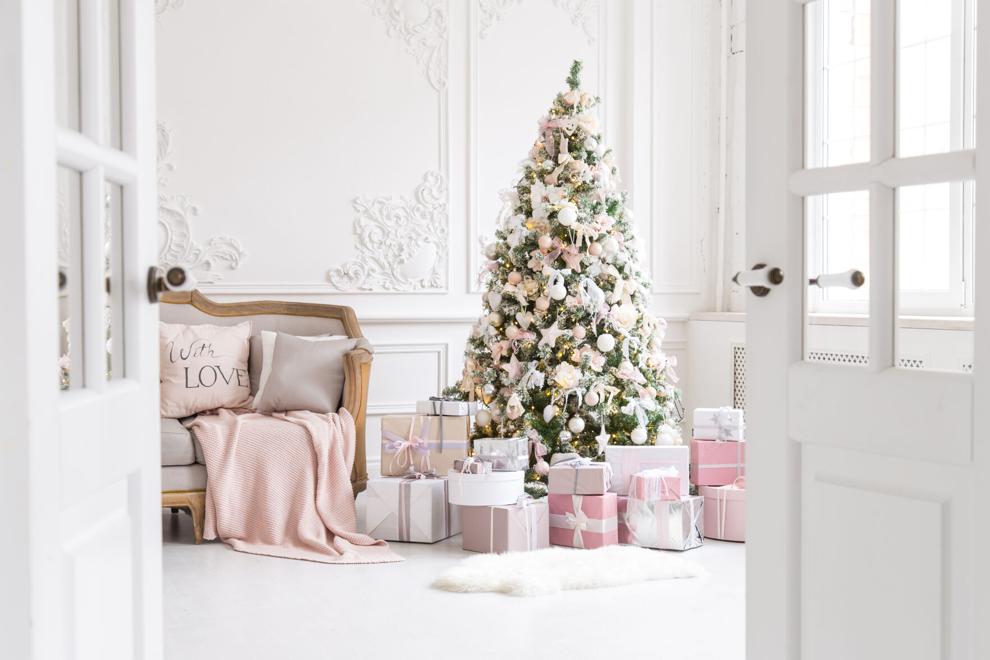 What colors go really well with metallics and help create some trendy Christmas magic? Turquoise is elegant, light and airy as well as luxurious. And pink embodies up-to-date chic glamour in a delicate way. Natural wood tones, farmhouse white, black and navy blue work well with most décor. And if you add some silver or gold to that blue, you can create a stunning "Blue Christmas" without the sad mood!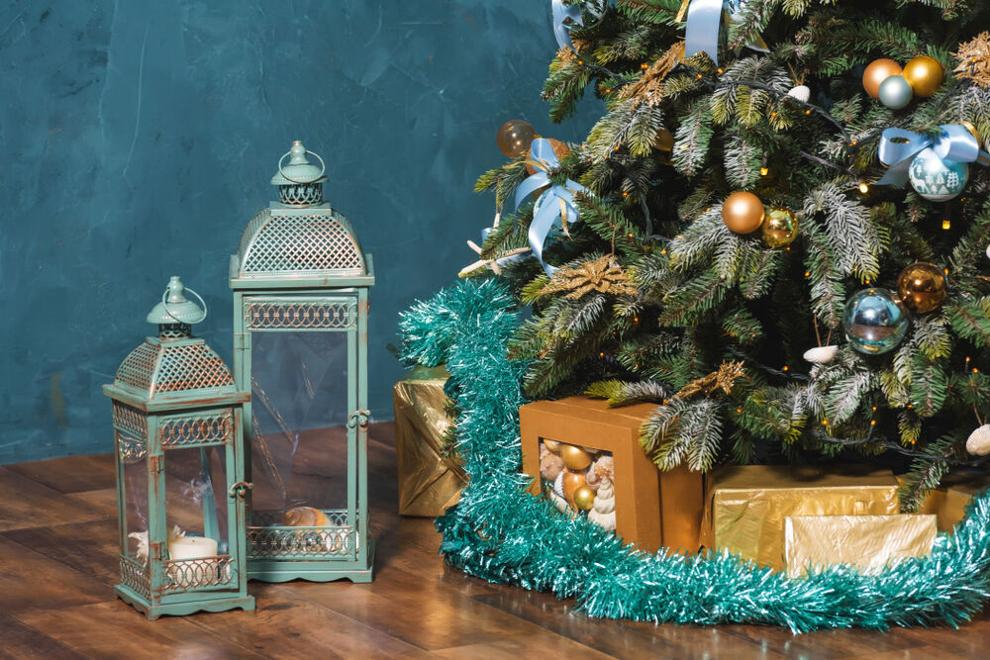 Earthy color palettes that include warm, muted, softer tones inspired by nature and raw materials go with the trends of artisanal, handmade decorations, gifts and dinnerware.
Gray stone and concrete surfaces create a stylish background for an urban chic theme with elegant figurines, vases, and metal candle holders along with fresh fir branches.
Christmas decor looks even more incredible with snow, so you can make your Christmas white, too, with snow-covered artificial greenery, faux snow, frosted pine cones, white berries, icicle ornaments, snowmen, and white ribbons, balls and throws. Add some sparkle with glitter and shiny surfaces to enhance your winter wonderland.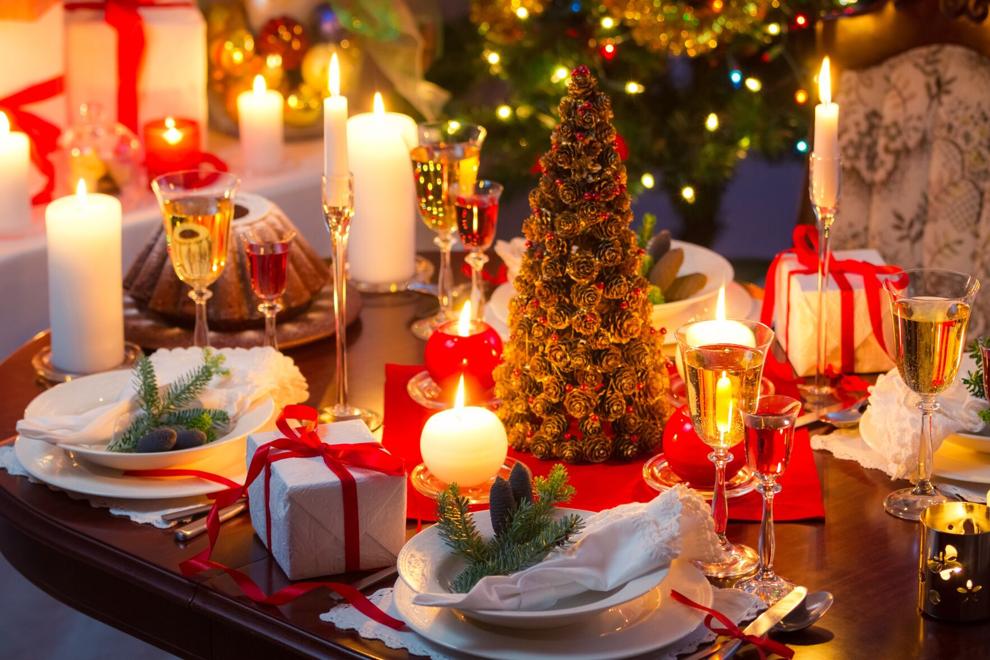 But don't abandon red entirely because Santa may not leave you a gift! Incorporate small red bows on wreaths, plants and pots, vases or jars, curtain rods, light fixtures, candleholders, or even furniture. Or add some red candles or red napkins to honor to tradition.
THE GOOD OLE' DAYS
Part of our holiday joy involves happy memories, and this year we definitely need to create a joyful and uplifting space that stimulates warmth and togetherness and helps us appreciate the simple comforts and family traditions. This year's trending holiday décor includes vintage nostalgia, so here are some some options to consider.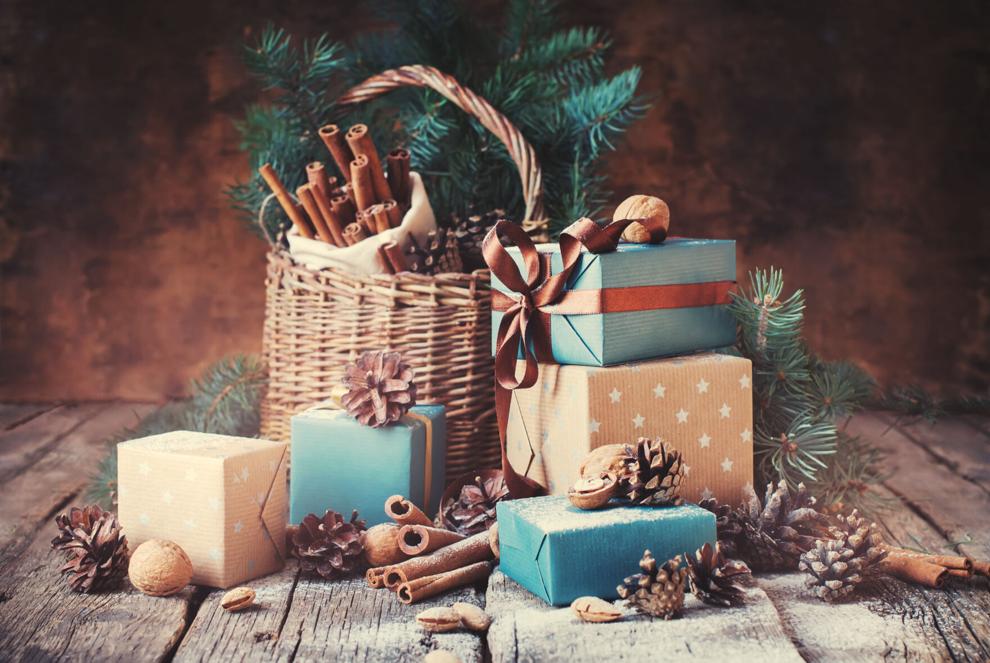 Incorporate some colorful tartan plaid flannel fabrics for pillows, Christmas tree skirts, throws, tablecloths, and ribbons for garlands, wreaths and gift wrapping.
Forget the sleigh, let's ride wheels! Many local retail stores and online markets are showing various versions of vintage 1950's red pickup trucks carrying Christmas trees and decorated with wreaths. Or how about a red vintage tractor driven by Santa? Your version could be small toys or models, embroidered or printed images on fabrics used for pillows or throws, or paintings on canvas, wood or glass. You may even find a 1950's travel trailer to enhance your trip back in time!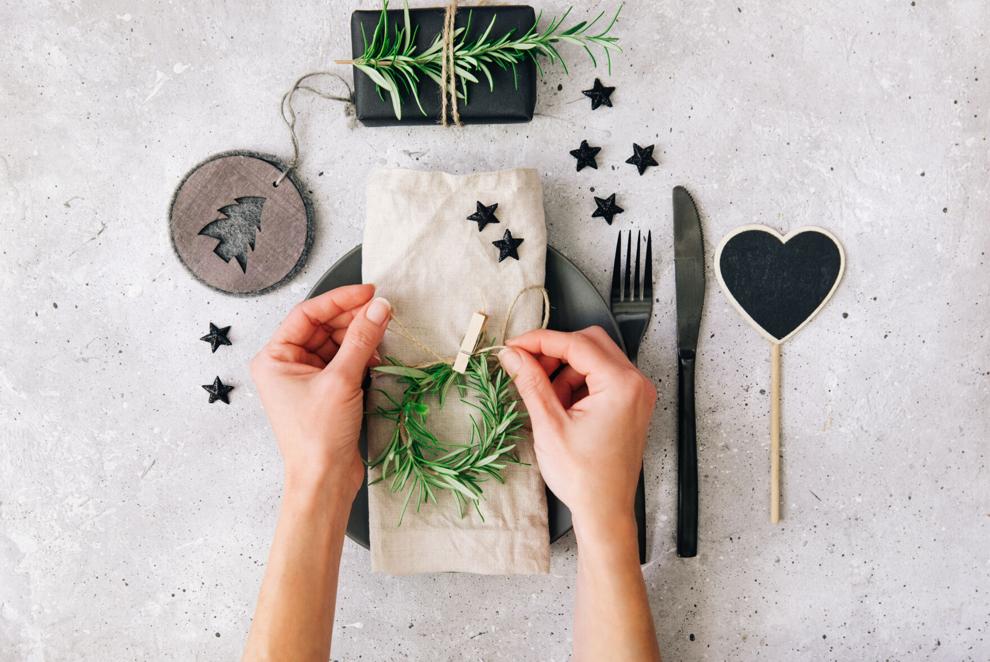 Other ways to be nostalgic include adding antique ornaments to your tree, along with some candy canes and tinsel. Frame some family photos of Christmas's past and display them on your tree, a shelf, or a table. Dust off  some family figurines. Add some collectibles to your garland, like tiny snow globes, gingerbread cookie ornaments, or handmade stars.
Old-fashioned glass jars and metal buckets make great rustic, nostalgic containers for greenery, small pine trees, pine cones, or even old cookie cutters. Or, wrap the base of your small tree with some burlap and tie it with twine. Add some farm animal accents to create a charming country theme. Using weathered and white-washed wood art and signage gives us that feeling of what Grandpa used to have.
COASTAL CHRISTMAS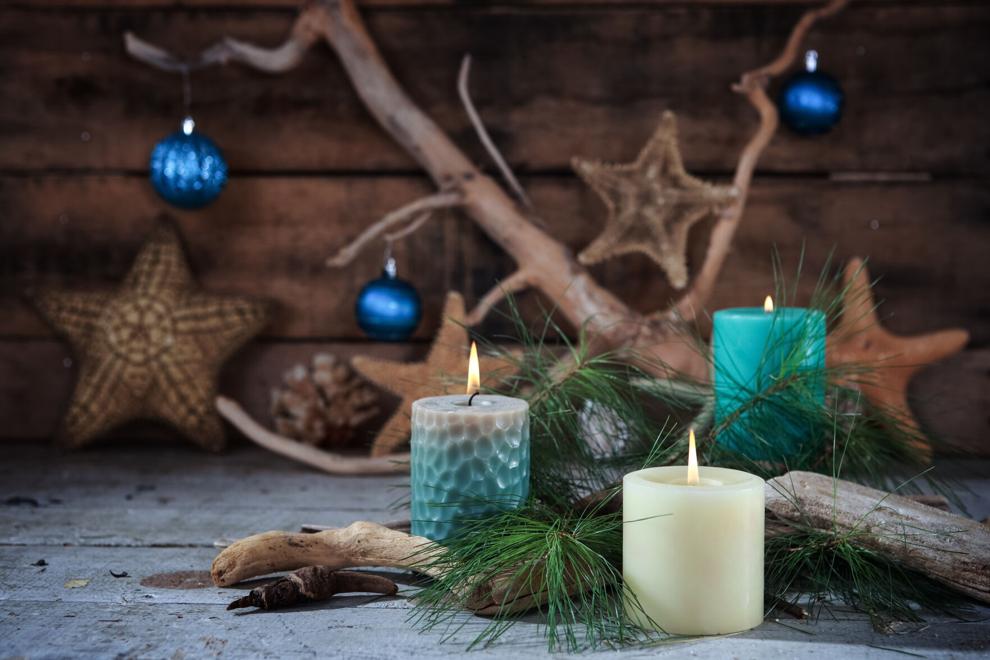 We're lucky to be spending Christmas by the coast, so let's bring Santa to the beach! Hang his hat on a starfish or seahorse, add an ornament or a printed image of him to a seaside painting you already have on your wall, add one to a glass container with sand on the bottom, or use a Santa figurine to "Deck the Hulls" of a model ship.
Create a special coastal welcome to wish your guests "Seas & Greetings" by adding a life-saver "wreath", embellished with shells, greenery and some rope to your front door. You can also use three different sizes of life-savers to build your own snowman to hang on the wall or stand up.
Hang some artificial snow-dusted garland decorated with turquoise, aqua and silver ornaments to add more Christmas cheer.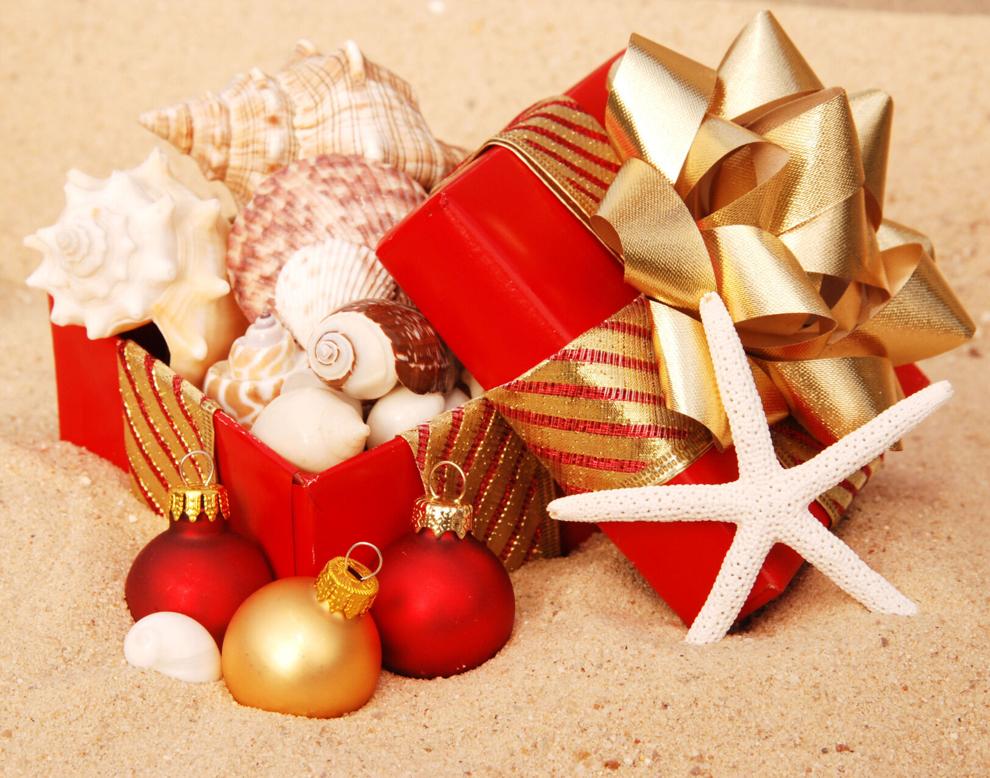 Use some coastal-themed beach towels to make some custom Christmas stockings, or make some from burlap, and hang them on a weathered wood board with anchor-shaped metal hooks. Or use them to make pillows.
Love seashells? Put some in a jar, with or without a sandy base, and decorate it with colorful and/or sparkly ribbon and a bow; use hot glue to cover small cone-shaped Styrofoam with various types and colors of shells to create tabletop trees; and string some shells together with twine to make a garland and add some faux or fresh evergreens and sparkling silver ribbon. Add some shells from windowpane oysters, also known as capiz shells. Their pearly white appearance helps them replicate the white Christmas snow while offering a warmer, softer feel.
Form a "Beachy Keen" Christmas tree with layers of driftwood and shell ornaments, mixed with classic glass ornaments and pine garland. You can also decorate your turquoise tinsel tree or a traditional evergreen tree with dark blue or turquoise ornaments, sparkling gold details, shells hung with twine, and sailboat, starfish and sea urchin ornaments.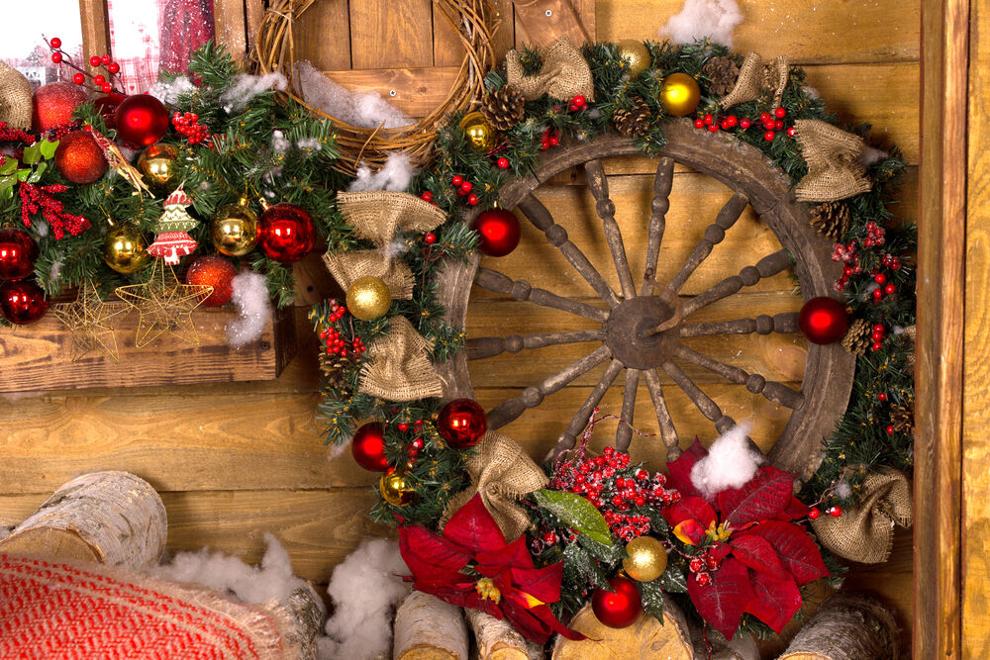 Want to recreate the beach in a bauble? Remove the cap from a large, clear glass or plastic ornament and poor in a layer of sand. Then drop in small seashells or some colorful seaglass. Replace the ornament's cap, add some ribbon, and add it to your tree or garland for a "Sandy & Bright" tradition.
GO GREEN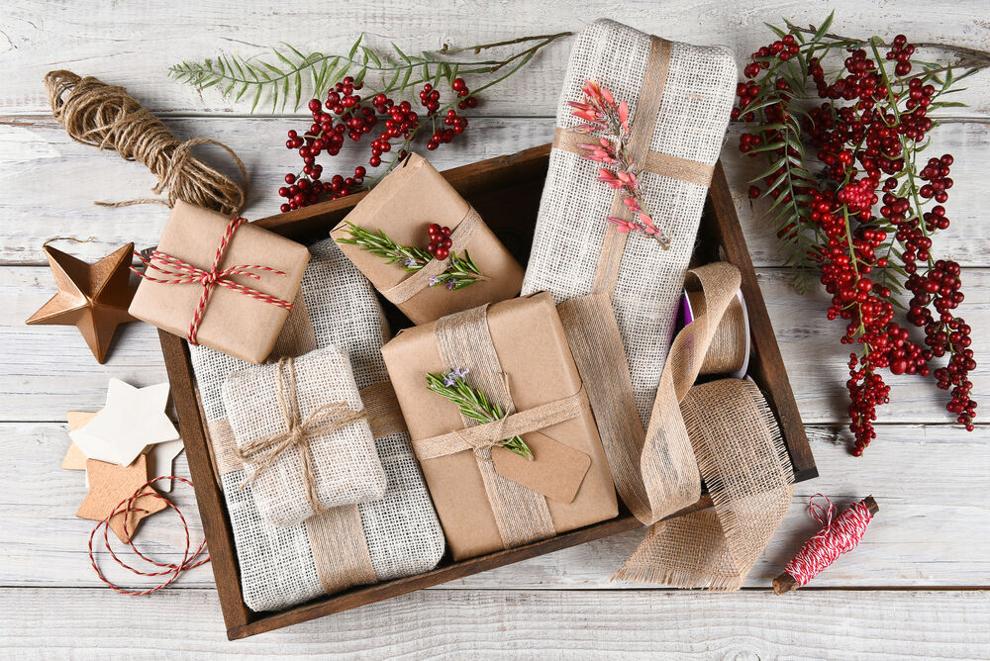 Use as many natural, eco-friendly and recycled or recyclable materials as possible.
Use cloth gift bags or wrap gifts with re-usable fabric instead of paper; enjoy a real evergreen wreath, garland or tree that can be mulched and use your worn-out colorful plaid flannel pajamas and sheets to make pillows and throws.
Scour Grandma's attic or local resale shops for décor items you can repurpose and enjoy; use recycled glassware and tableware for entertaining; recycle your cards or turn them into decorations; switch to LED Christmas lights and outdoor solar-powered lights to save electricity.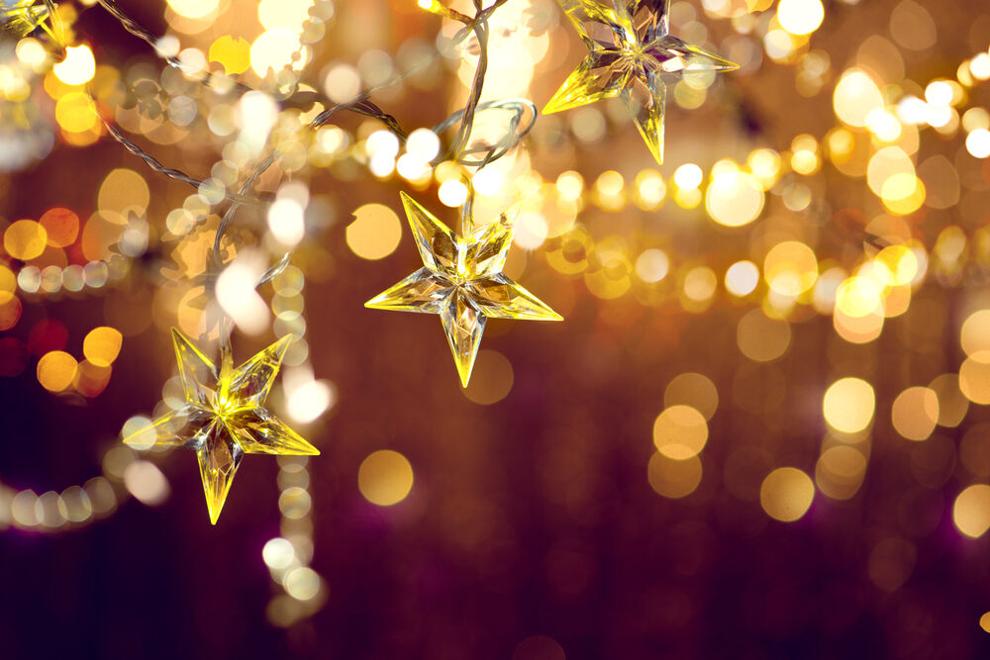 LED-lit twig Christmas trees are still popular, and you can use them all year; incorporate battery-powered re-usable candles; use plant-based glitter; shop for woven wicker trees and ornaments handcrafted from wood; use more nature-inspired elements like driftwood, twigs, birch, pine cones, red berries, holly and mistletoe. Decorate your tree with wooden beads and figurines made of clay or other natural materials. And don't forget those string of popcorn!
DIY TO SAVE SOME GREEN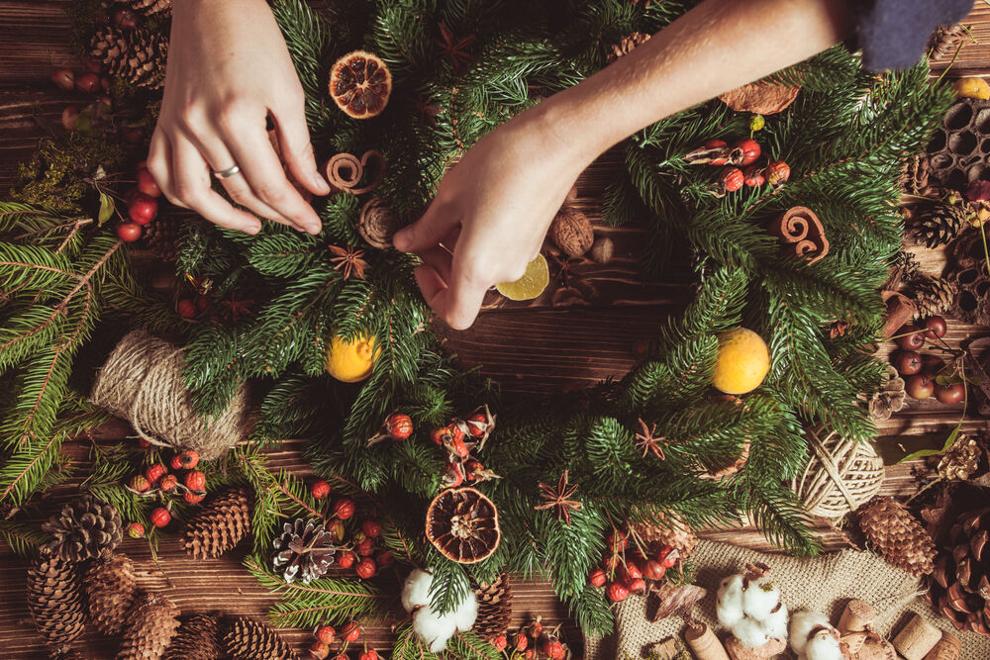 You can save the planet, but you can also save some money when you re-use old items. You can also create your own decorations that will be inexpensive.
Stack old greeting cards in the shape of a Christmas tree on the wall, or use them to add some color and pizzazz to tabletops or your tree. You can also tack rows of ribbon or string on the wall and hang old or new cards on them with paper clips or small clothespins.
To add to that rustic feel, use reclaimed/recycled palette wood to design some porch décor, like Santa, snowmen, elves, grinches, reindeer, snowflakes, stars, or angels. Or form some images of candles, Christmas trees, mangers, stockings, or farmhouse-rustic gift boxes you wrap with ribbons. Paint some art or signage on painted, stacked palette wood "canvases".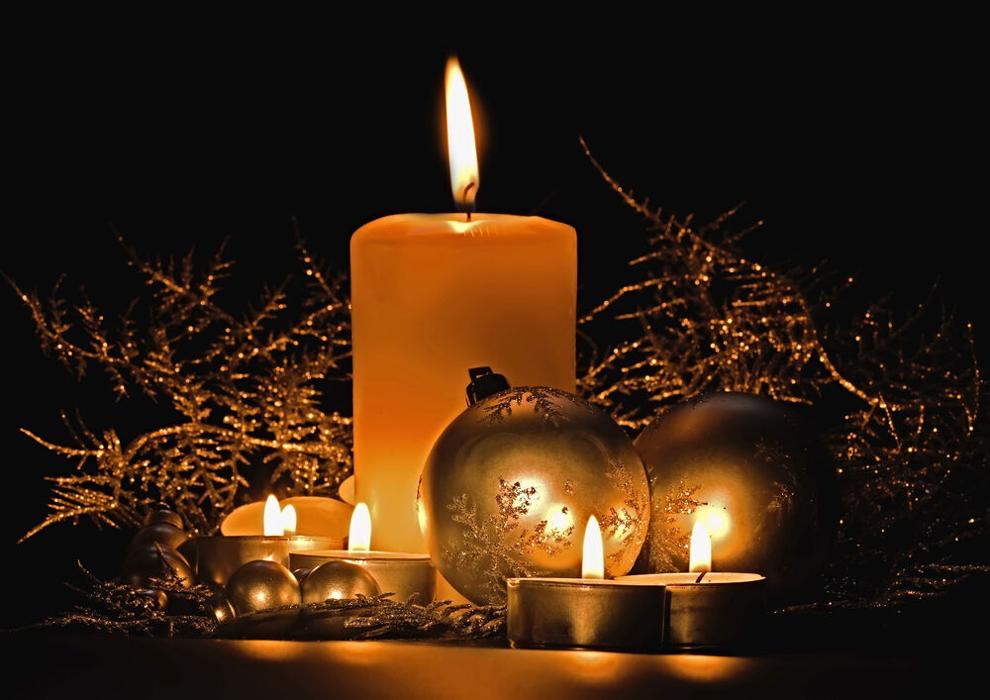 Build some re-useable cardboard gingerbread houses, and craft some snowflakes by folding and cutting white paper (Remember doing that when you were a child?). Have your kids or grandkids draw some pictures of snowmen, Christmas trees, or nativity scenes, or use your creative talents to draw or paint your own designs.
Make your own wreaths and garlands, adding whatever you may already have in your home or yard. Incorporate some paper, twine, dried or artificial plants, red berries, holly, mistletoe, old or handmade ornaments and ribbons, or even dried fruits like oranges, limes, or grapefruit. You also can cover a foam wreath with alternating bands of white and blue nylon rope and secure the ends with hot glue to replicate a life-saver for a coastal flair. Add a red burlap banner and use a white paint to add a holiday greeting like "Merry Beach-mas".
Decorate the bottom of your Christmas tree with a "skirt" made of corrugated paper, a hand-knitted blanket, passed down tablecloth, or a large old basin or can you cover with paint and glitter.
Use some old crockery, platters, dishes, and glassware to spruce up your countertops and tables (as well as to serve delightful food to your family!)
Use your imagination! You can have more of your budget left over for a big holiday meal or traveling to see family you missed visiting during the pandemic.