The year 2020 will be remembered for many things. The year we closed schools and businesses to study and work from home. The year we canceled vacations. The year we stayed home.
Well, for some of us at least. For others, it was the year of the RV.
According to the RV Industry Association, as of May, RV sales in some parts of the country were up 170 percent over the same time last year.
On June 2, Jim Cramer, host of "Mad Money" on CNBC, reported that after a plunge in March (along with the rest of the stock market) RV stocks have bounced back in the triple digits. "Camping ... is the perfect Covid vacation," he said. "You can still practice social distancing, especially if you've got an RV.
"One of these things lets you shelter in place and travel at the same time."
Making your Home on Wheels
For the uninitiated, the prospect of life on the road may seem daunting. There's a lot to consider and plan, not the least of which is actually purchasing the RV.
We consulted some experts.
Owning a recreational vehicle (RV) was always something Punta Gorda couple Garrett and Mary Jacqueline Atkinson wanted for their family.
Garrett works from home as a patent attorney and they have been homeschooling their children, Samara, 11, and Mitchell, 10, since 2017. That same year their Buick was totaled, and they decided to replace it with a Suburban with towing capacity. "The rest is history," Mary Jacqueline said with a laugh.
In January 2018, they attended the Florida RV Super Show at the State Fairgrounds in Tampa and bought a Riverside Retro 265RB off the floor. They named her Lucille.
Mary Jacqueline quickly turned Lucille into a cozy home on the road. She bought cute décor to make the interior feel homey and equipped it with everything the family would need for their day to day living: pots and pans, silverware, a full set of dishware (enough for themselves and any friends they might make along the way), toaster oven, coffee pot, Instant Pot, bedding and towels … even a second set of toiletries for each family member.
Every RV has different storage space, so you have to figure out what works for your family. Mary Jacqueline suggests visiting message boards to find specific suggestions for your make and model. Pinterest is also a wealth of information. "We found drawers that fit into our closets at the Container Store … for shoe storage, we hung our shoes on over-the-door coat racks."
The Atkinson family spent 2018 getting used to life on the road, taking weekend and week-long trips and one month-long journey. They decided their first major adventure would be the Mountain West during the summer of 2019.
They spent 10 weeks and four days on the road, traveling a total of 13,208 miles. From Florida they hit up Georgia, Tennessee (Cades Cove, Smoky Mountains National Park), Kentucky (Mammoth Cave), Missouri (Johnson's Shut-Ins, St. Louis), Arkansas, Oklahoma, Texas, New Mexico (Santa Fe, Chaco Canyon, Bandelier National Monument), Colorado (Pagosa Springs, Mesa Verde National Park, Estes Park, Rocky Mountain National Park), Utah (Monument Valley, Sundance, Moab, Arches National Park, Canyonlands National Park, Park City), Arizona (Antelope Canyon, Lake Powell), Wyoming (Grand Teton, Cheyenne Frontier Days), Montana (Yellowstone), South Dakota (Mt. Rushmore, Black Hills, Badlands National Park), Kansas, North Carolina (Cherokee) and Georgia again before heading home.
Once you decide where you want to go, Mary Jacqueline recommends using Google maps or an app like inRoute Route Planner (her personal favorite) to map out all the places you know you want to stop at on your trip. Once all the locations are marked with pins, you can identify the places with long stretches of road between them to find places to stop. She said that inRoute also lets you plan out day trips in driving distance from your various stops.
After your route is planned out, turn to sites like Trip Advisor to see how much time your fellow road warriors suggest spending in each location. Fair warning, it can take a lot of time to figure out what activities will or won't work for your group. Block out a number of days and nights at each stop and fit in what you can. You can't do it all! Once you have your basic schedule down, you can move on to more focused, daily planning. At least that's what the Atkinsons suggest. "We wanted to have an idea of what we were going to hit up each day," Mary Jacqueline said.
Don't overpack. "You can really only fit about two weeks of clothes," Mary Jacqueline said. "So plan accordingly." Be sure to check the weather averages in all the places you will be stopping, highs and lows, and pack accordingly. "We knew it would be chilly out west," Mary Jacqueline said, "but we still had to stop at Walmart at one location because we did not have enough cold weather clothes." It gets cold in the desert at night!
"Oh, and don't forget robes!" Mary Jacqueline exclaimed. "They're a must for walking to and from camp ground showers." Sure, your RV probably has a shower on board, but with limited grey water supplies on your rig, RV showers are limited and quick. "Camp ground showers are luxurious," Mary Jacqueline laughed "You can take a long shower there!"
The 5 Most Inconvenient Aspects of RV Living
1. Going to the bathroom. Because onboard bathrooms are so small, and most RVs aren't exactly spacious, "everyone can hear and smell and experience" the bathroom with you, Mary Jacqueline laughed.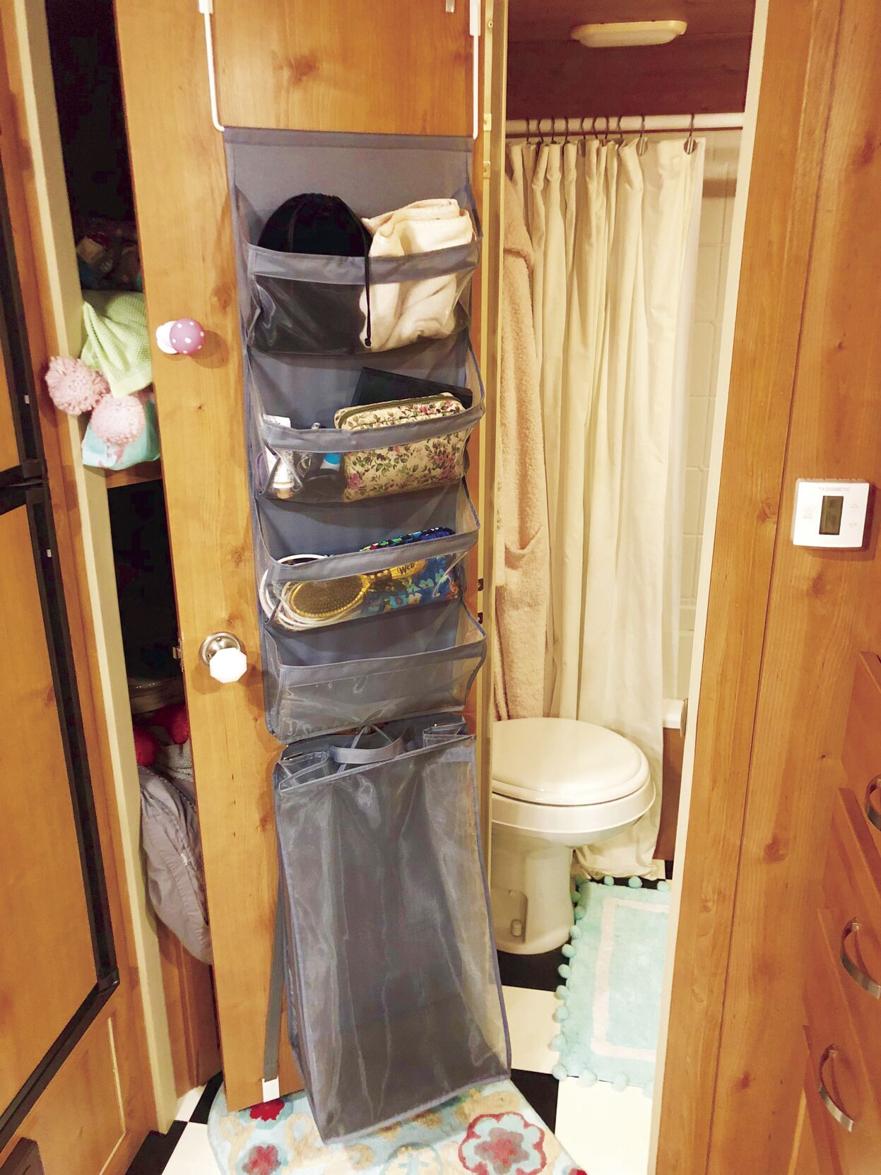 2. Privacy can be an issue. When you're traveling alone with your spouse or partner, that's one thing. But, "as an adult traveling with kids, being intimate" is definitely a struggle.
3. Forget about having consistent Wi-Fi access. Mary Jacqueline said that a Wi-Fi or cell phone booster is a must for any road trip, but even then, you can't always count on a signal.
"If you're in a national park, you're just not going to have service, period" she said. "There are no towers nearby." If you are just escaping from reality for a few days, this may mot be an issue. But, if you want to live and work on the road for several months as the Atkinson family did, careful planning is required.
"Garrett worked the whole time, all three months of our trip," she related. "That was definitely the most challenging aspect." If you require at least occasional access to Wi-Fi, be sure to plan your stops to be evenly distributed between civilization (public campgrounds) and true nature (national parks).
4. Grocery shopping and meal planning can be challenging, yet another reason to stagger your stops. A smaller fridge and precious little cabinet/pantry space means "you can really only get a few days worth of food at a time," Mary Jacqueline explained. She said Walmart pick-up was her saving grace, as she could do their shopping online and then order ahead for their next destination.
Efficient meal planning is key. Mary Jacqueline strongly suggests an Instant Pot, or any large capacity pressure cooker, to make meals large enough to ensure leftovers. You may associate camping with grilling out hamburgers and hot dogs, she said, "but if I made burgers, they would be gone in a day and then I have to cook again. So an Instant Pot is the way to go!"
5. Staying neat and organized. Cleaning isn't really the issue because can be done quickly in a small space. The challenge, Mary Jacqueline said, "is keeping things organized and easy to find and access."
The 5 Best Things about RV Living
1. Taking in the view. "Waking up in these awesome locations and looking out your window and seeing these amazing views" is the best, Mary Jacqueline said. During one particularly rough trip to Choco Canyon in New Mexico, the road was very poorly maintained and had lots of pot holes, not something you want to encounter when towing a fully loaded 6,000 lbs. RV behind your Suburban. The family traveled for hours at 5 mph to reach their location in the middle of the desert. No one was in the best of moods upon their arrival. "But once we got there and you see everything—these amazing rock formations and colors and the stars and planets," all that other stuff was forgotten.
2. Ranger walks and National Park Service Tours are a must. You can learn so much more when you have an expert with you. "We took a moon walk with a ranger at Choco and learned all about archeo-astronomy" and its role in the lives of the Chacoan Pueblo, the "Anasazi," who flourished in the area until around AD 1250. Mary Jacqueline added that if you have kids, the NPS's Junior Ranger program is phenomenal. Samara and Mitchell earned 20 Junior Ranger badges each over their three-month adventure.
3. Roam free. This one really only applies to families traveling with children, but Mary Jacqueline said letting their kids "explore and be wild" was a priceless experience you don't get on most family vacations.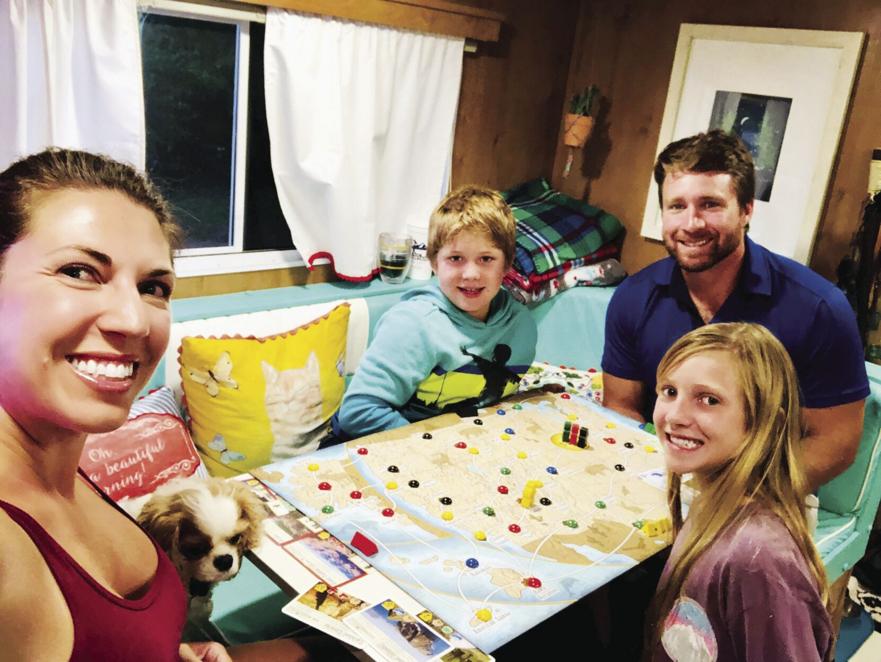 4. Togetherness. Mary Jacqueline admits that she was nervous "we were all going to kill each other" during their three-month journey. As a home schooling family, they already spend a lot more time together than the average family, but four people living together in an RV is a whole different level of togetherness. "But it was so great to be able to have totally unadulterated time together [as a family]," she said. "It was really cool to be able to create those memories, all four of us being together for that time."
5. Having your own stuff on the road. Having her own bed every night was a comfort Mary Jacqueline hadn't really considered until they took off on their journey. "I didn't realize at first how amazing that would be," she said. "I would rather take my RV anywhere than stay in a hotel [now that I know better]. It's nice having your home with you."