One might say that James E. Pennoyer, Jr. and Marian J. (Spangler) Pennoyer are a three-part love story. First, they fell in love. Then, they loved their country and wanted to serve others in their unique ways—James served during World War II while Marian became a Registered Nurse. Third, they loved Charlotte County, giving back to the community and the nonprofits they favored.
After their passing, within nine months of each other in 2018 and 2019, staff at the Charlotte Community Foundation were surprised to learn that the couple had bequeathed their entire estate to the Foundation to manage. The unassuming couple, who resided at South Port Square in Port Charlotte, left over $4 million in assets. They had no children and no heirs. Their "children" were the people of Charlotte County, a place they loved after retiring here from their native Pennsylvania.
"It was such a large gift, which truly transformed our growth," said Ashley Maher, CCF executive director. "We are humbled and proud to manage this estate; this is really near and dear to me." Talking about the couple was emotional for Maher. Tearing up as she described attending services for James at Sarasota Memorial Cemetery, Maher said, "This was his whole life, and just five of us sat there." But, she added, "Mr. Pennoyer wouldn't have wanted [a big crowd]." Although she didn't know the couple personally, she said others who did described them as being very humble. For instance, despite the wealth they had accumulated, they chose to live in the New York section of Port Charlotte before going into South Port Square—no mansions or luxury cars for this unassuming couple. However, Marian was known to carry an alligator purse with the head and tail, and she wore a double mink fur piece "with the head and tails," Maher shared, the extent of her extravagance.
Nancy Steffes, who knew the couple for six years towards the end of their lives, shared her memories. "Marian was a dog lover, and they had Pomeranians. She was an exquisite seamstress and made all of her own clothes. I remember when they had to move from independent [living] at South Port Square to assisted." Steffes and others helped the couple downsize their apartment. "We made a huge contribution to a gentleman who had a thrift store and donated to churches. Marian was so upset that most of her clothes were gone…I traveled to the thrift store twice to reclaim her clothes. There was no mistaking her clothes as they were all handmade and had labels in them."
Steffes also revealed that "Marian definitely wore the pants in the family and Jim just let it all happen." She remembered occasions when Jim would be nodding off in his chair while she and Marian were talking. Marian would wake him up in an attempt to get him to join in the conversation, and he would always say, "Yes, dear." "That is what I had put on the headstone at Sarasota National Cemetery, 'Yes, dear,' Steffes said.
Maher said that her fellow team members, who accompanied her that day at James Pennoyer's memorial at the grave site, were also emotional. "I remember thinking that we have so much we have to do." She didn't mean setting up endowments and disbursing funds and other business and financial matters. "I feel the Foundation—the entire team—is bound to make it a mission of not letting this legacy end. This is their life and their story.
"This is so much more than the money. The impact is in the story, not in the gift." And what a story it was…and is.
HIS JOURNALS TELL THE STORY
It was wartime. James Pennoyer and Marian Spangler were young and courting when James enlisted and trained to be a pilot with the 613th Bombardment Squadron of the U.S. Army Air Force. He was assigned to a B-17 named "Pistol Packin' Mama." On a bomb run to the crew's secondary target on July 20, 1944, with 2nd Lt. Pennoyer serving as co-pilot, the plane was hit by flak and its number two engine caught fire and went into a spin, according to documents that Maher shared. You see, the Pennoyers' estate also includes various news clippings, photos, military accounts, records and journals that James kept during the war years.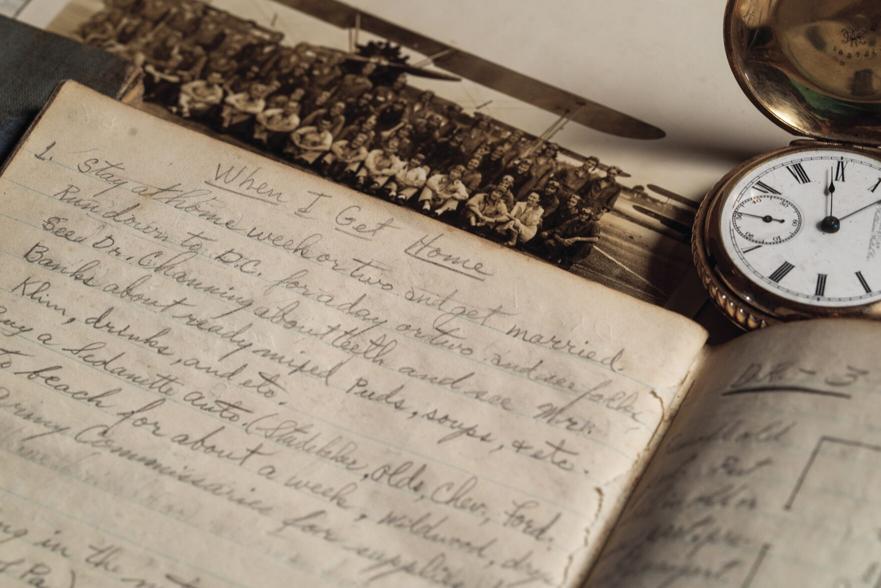 James and his crew bailed out over central Germany. The plane, enveloped in flames, exploded within seconds. Of the nine crew members, one crew member's parachute didn't open. Now with all of the crew on the ground, the Americans were soon surrounded by enemy soldiers. James hid in a wooded area, in a clump of bushes. He heard shots and was later captured. His German captors drove him past two of his crew members, who had been beaten and then shot. He and five others were sent to POW camps, and he remained a prisoner for 10 months.
Conditions were harsh, to say the least, according to his journals, which he kept up with during his imprisonment. In one he wrote, "When I get home I'm going to stay home for a week or two, and get married to Marian." It isn't hard to imagine that keeping Marian in his mind and heart helped James get through the war and his ordeal as a POW.
On August 8, about three weeks after he was captured, James and his fellow POWs were put on a train to Wetzlar [the transit camp] and "arrived at the Dulag weak with hunger," he wrote. The arrival date was August 12. He wrote that he was put in a compound with British soldiers at Stalag Luft III.
Despite the fact that the Allied soldiers were prisoners of war, they tried to keep their spirits up, as evidenced by activities James wrote in his journal. For instance, on September 24 he wrote, "Softball Canadians vs. U.S." His entry for September 26 talked of his seeing a play that was "not very entertaining." On October 2 he wrote, "The band gave a swing program which was entertaining." But conditions got worse as winter arrived and it became apparent that the Germans were losing the war.
On December 22, about five months after his capture, James wrote: "This morning was the coldest yet this year, approximately 4 degrees F. in our room." Throughout the long, hard months, Pennoyer used his time to also sketch in his journals. He meticulously drew detailed pencil drawings of houses he wished to view someday. He sketched tools. He compiled lists of foods that he liked and was dreaming of eating when he returned home. He wrote recipes! Apparently, he had an interest in cooking. There were other musings as well, depicting life free of war and suffering. Viewing the journals, aside from accounts of activities in the POW camp, it was difficult to tell that this man was a captor or mentally suffering. His strength of mind comes through in his writings as he used his journals to while away the time until he could return home. He didn't seem to be depressed or give up hope; the overall mood of his journals was optimism and looking toward the future.
Then came liberation, and James came home to Marian. They were wed in Pennsylvania and settled into their careers there. James was a Certified Public Accountant and worked as a comptroller for the state. He received his bachelor's degree from the University of Pennsylvania. In 1978 the National Association of Accountants made him an Emeritus Life Associate. Marian, a graduate of the York Hospital School of Nursing, received her nursing certification from the Commonwealth of Pennsylvania. She worked as an R.N.
The Pennoyers lived into their late 90s. He was 98 and she was 96. After their passing, it two nonprofit organizations were each surprised to receive a $500,000 endowment. One of them, the Peace River Wildlife Center, was near and dear to Marian's heart. Maher said that Marian once found an injured bird and the Center responded and helped the creature. That act of kindness prompted Marian to include the organization in their will. The other beneficiary is the Animal Welfare League. The Pennoyers clearly had a soft spot for animals. But the Pennoyers' gifts have gone a lot further in our community.
Throughout the current pandemic, many people have been hurt financially. Because of the Pennoyers' generosity, the Charlotte Community Foundation's Community Grants Fund is able to expand the annual competitive grant program to be fully used within 10 years. Over the past 7 months, hundreds of thousands of dollars have been deployed to help local nonprofits such as Charlotte Behavioral Health Care, Virginia B. Andes Volunteer Community Clinic, United Way of Charlotte County and the Animal Welfare League to name a few, said Maher.
Additional funding has provided "an opportunity for a revamped nonprofit network or community development that will support, educate and train nonprofit boards and staff to enhance their ability to serve the needs of area nonprofit organizations," Maher continued. "CCF will work with the community to encourage others to add to the fund and increase opportunity to provide much-needed training and education opportunities to nonprofits, nonprofit boards and nonprofit committees. Currently CCF is using a portion of the funds to invest in data—special needs assessments and community action plans that identify, prioritize and strategize philanthropic decisions and opportunities that provide all members an equal opportunity to thrive."
So many lives have been touched and improved because of the Pennoyers' thoughtfulness. They lived modestly and humbly. They were happy to live in Charlotte County and be together after a world war nearly tore them apart. The Pennoyers' story is one of "tragedy, heart and love," said Maher. She described the couple's lives in these words: "Humility, stoic, modest."
But the story doesn't end here. "Our vision is for others to see how this is not about a monetary gift." Maher wants the community and beyond to learn about the Pennoyers' story, especially James's detailed accounts of his experience during the war. "We are so honored and humbled from an historic perspective," she said.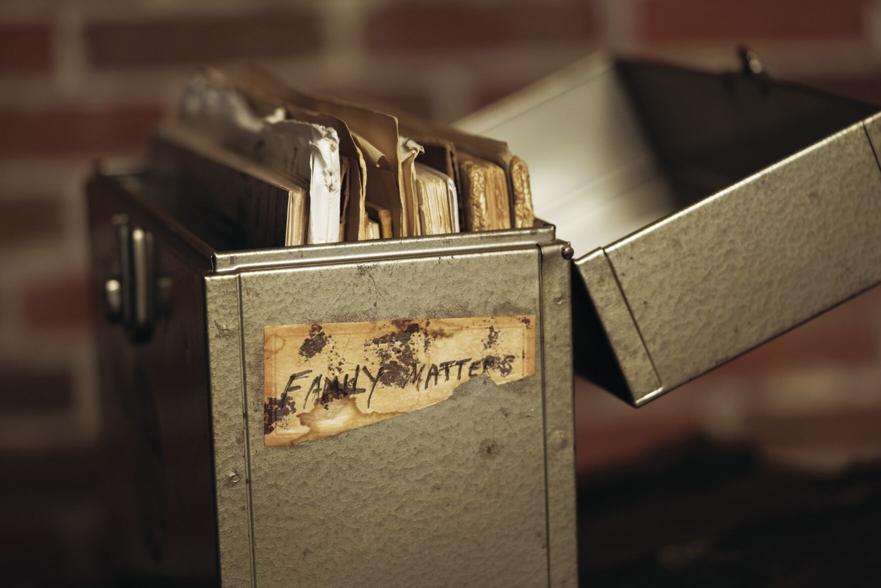 Currently, Maher is planning to hire a restorer to preserve Pennoyer's various journals and other documents and photos. She wants to hire a professional recorder and perhaps do a series of talks at the Military Heritage Museum in Punta Gorda. She said that she hopes their story can become a video or documentary film focusing on World War II from a POW's point of view.
"Everybody has a story," said Maher. She called the Pennoyers' life and marriage "a love story—who doesn't love love?" she asked. The Charlotte Community Foundation, in addition to being a good steward of the Pennoyers' generosity, wants to "memorialize a legacy and parts of their life."