If you teach people to fish, they will eat for a lifetime. But if you give them fishing poles, they'll meet you in Venice.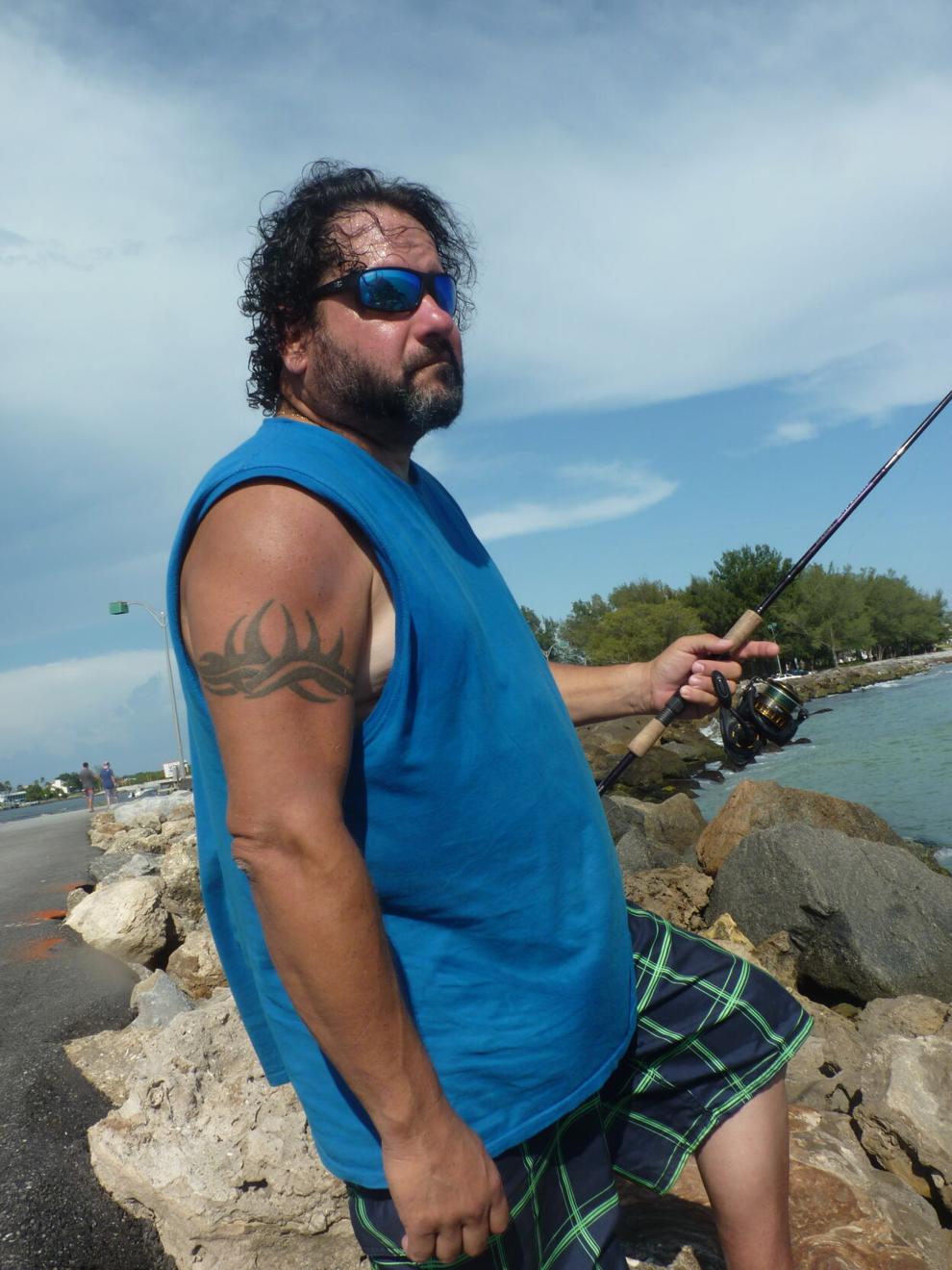 Matthew "Chewch" Wilson of Port Charlotte stood at the end of the Venice Fishing Pier with a friend, casting into the Gulf of Mexico in hopes of catching "that big one." Zya Brazier was casting his Zebco Slingshot into shallow water, not far from the two pier-side restaurants. The tourist from Tennessee arrived in town a few hours before Hurricane Elsa.
A little further north, Carlos Arzola of Mount Dora was navigating the rocks at the South Jetties, hoping to grill his catch, hopefully a pompano, redfish or mangrove snapper.
"I would eat it tonight," he said.
Across Florida, throughout the year, fishing is big business. Four million people fish here annually, according to the most recent data from the Florida Fish and Wildlife Conservation Commission.
The combined annual economic impact of saltwater and freshwater recreational fishing is $13.8 billion. Fishing supports 120,000 jobs statewide.
From Pensacola to Key West, Florida offers thousands of venues for catching fish. Whether you consider it a sport or a hobby, there are many methods – from cane poles to sportfishing yachts – and many price points from which to enjoy it.
"Charter fishing and tourism make it one of the largest businesses in Florida, and very vital to our survival," said Steve Brantley, Florida native and owner of Fish Tales Bait & Tackle in Nokomis.
Sportfishing yachts $$$$$$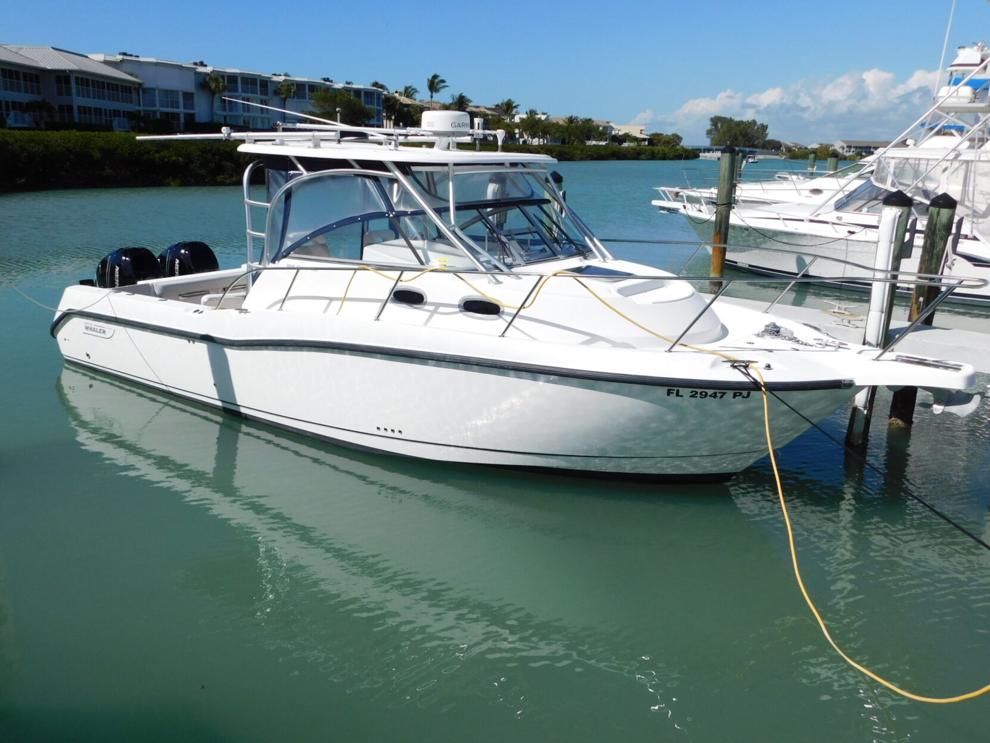 Do you think big when you think about fishing? William "Stoney" Stonecipher, broker at Pier One Yacht Sales in Cape Haze sells 30-43-foot center console boats with three or four outboard motors. Pre-owned boats cost $400,000-$1.2 million.  
Stonecipher said he also sells 25- to 30-foot fishing boats, ranging in price from $150,000-$250,000) new to ($70,000-$80,000) pre-owned. Anglers typically plan overnight trips up to 100 miles out fishing for tuna and other fish offshore.
For beginners at this price point, Stonecipher suggests that they get a guide and try a couple of different types of fishing.
The biggest segment of pre-owned boats for fishing in this region of the Gulf Coast is going to be 20- to 22-foot, center console, single engine or double engine, boats, Stonecipher said.
"(Get a) bait tank and go learn," he said.
There's an old saying that "The two happiest days in a sailor's life are the day she buys her boat, and the day she sells it." For those who prefer to have fun and then leave the other details to someone else– like aunts and uncles of young relatives – boat club membership may be the right horsepower for you.
Carissa Dressell, president of Waves Boat And Social Club, which has an office in Venice, says her customers believe being a member ensures smoother sailing.
"Start with the cost. You've got to buy the boat, right?" Dressell said. "Trying to find boats right now is very tough. Then, what kind of boat do you buy? Everybody likes different types of boating." One family member may want a fishing boat while others are partial to inshore skiffs, bay boats or deck boats.           
Then you have to figure out where you are going to keep your boat, she said. Alternatively, Waves charges a onetime fee of $4,900 plus a monthly fee that ranges from $199 to $329.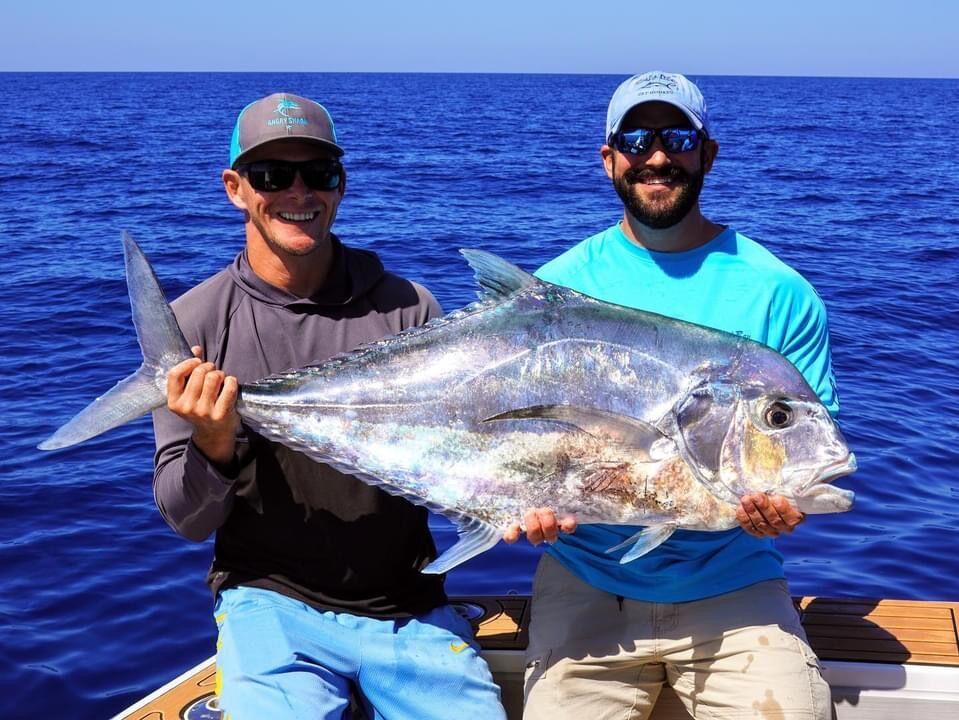 For tourists in Southwest Florida, residents who have friends or relatives visiting or just anyone who wants a one-day adventure. Stonecipher's advice and "get a guide" is a popular choice. Dion Davis, co-owner of Venice-based Bad Habit Sport Fishing Tours, says his boat is booked every day, year round.
"This is American red snapper season, which is one of our peak times," Davis said recently, adding that most of their trips are 10-14 hours; some are 30 hours (overnight). The schedule is booked tightly because weather forces them to take an occasional day off.
The American red snapper trips are 40-70 miles offshore, last 10-12 hours and cost $1,900 for the boat plus a gratuity for the crew. Boats accommodate up to six customers. For individuals or smaller groups, they break the cost down to $400 per customer for a 12-hour trip.
As the wind whipped boldly through Fisherman's Wharf Marina,  making it difficult for two people standing together to hear one another, Davis explained that they have had "a really, really strong weather year this year." They plan their revenue on being able to fish 150-200 days a year.
For a differ challenge, try spearfishing. Located 350 miles south of Venice, Key West is ranked the top spearfishing destination in the world by the Spearoscout website. Closer to home, Top2Bottom Offshore Charters owner Dustin Butera says about 80 percent of his business involves diving for shark teeth, but he takes four or five spearfishing groups out each month.
"Venice is not a huge destination for spearfishing because people don't realize the amount of fish that we can get out here," said Butera, who added that spearfishing is "one of my passions and hobbies."
Butera dives in the Gulf. The fish he targets determines what depth he goes to. Frequent targets are hogfish, gag grouper, red grouper, cobia and amberjack. They all hang out in different areas.
"It's very exciting," Butera said. "There are all kinds of different factors that are involved with spearfishing, especially if you are new. He said identifying which species you want to target is important. That affects what size equipment you use. (Objects appear larger underwater than they are.) Another factor is staying safe doing an activity that may attract sharks. Butera says he sees sharks about half the time he goes out.
"Once you shoot a fish you've got blood in the water," he said.
The cost of Butera's spearfishing charter trips vary. He fills his tanks, and rents customer equipment from Venice Dive Center, where Mark Filipiak is a scuba diving instructor. An entry level gun costs about $350, said Filipiak, who added that newcomers need not worry about losing their spears because they can come attached to a 15-foot-long line attached to the speargun.
Canoe and kayak fishing $$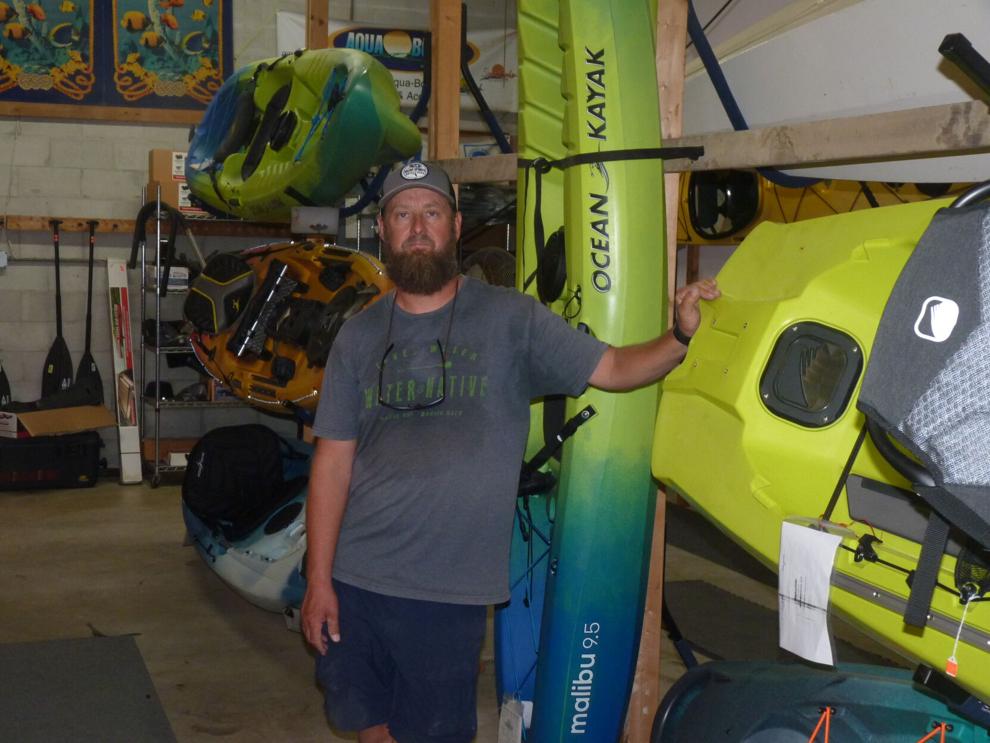 Tony Nakonetschny is the manager of Silent Sports Outfitters in Nokomis, where they have setups for kayak fishing and standup paddleboard fishing. Nakonetschny is a kayaking tour guide for sight-seeing; others lead kayak fishing tours. But he enjoys fishing from standup paddleboards in the Intracoastal Waterway, between the Vamo kayak launch in Osprey down to the Venice jetties.
"There are people that bring out the kitchen sink, and every single thing that they have," Nakonetschny said. "I take a small tackle box and two rod holders.
He added that standup paddleboard fishing is safe because he goes in shallow water and other places where motorized vessels can't go.
Silent Sports Outfitters sells a wide variety of kayaks, all of which can be rigged for fishing. "You can stand and fish; you can sit and fish," Nakonetschny said. "We've got boats here that are peddle-drive, regular paddling boats and motorized boats. These are all kayaks that are easy to transport and take to any kayak launch.
Silent Sports Outfitters sells kayaks ranging from $300-$400 (used) to $500-$5,000 (new).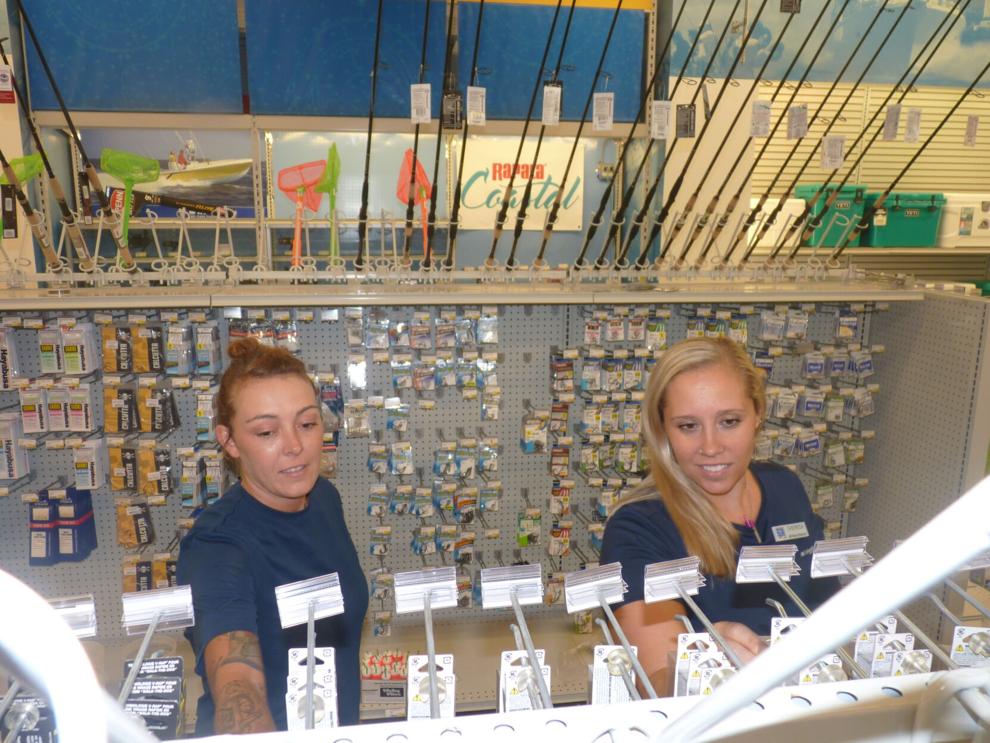 A native of upstate New York, Theresa Eannetta enjoys cruising in the Gulf and says, "cruising around the Intracoastal, throwing in a line, or throwing in a line from the beach is really relaxing" . No offshore fishing, yet. But as store manager of West Marine in Venice for about three years, she has plenty of customers who can entertain her with tales of fishing in the Gulf.
West Marine is a boating retail store, Eannetta said, "that also has anything for outdoor activities in this area. That encompasses everything from fishing gear to boat grills to paddleboards and kayaks, but also things like foul weather gear and coolers.
"If you are about to go on your boat for the weekend or the day, we try to have everything you would need to do that."
Rod and reel combos range in price from $20-$30 to $270 but they also are sold separately. One of the items featured in the store is GPS, which detect fish as well as underwater topography.