A misty morn on Venice Beach

A normal year seems out of reach

A tiny rainbow pokes the sky

As people stretch and birds fly by
A tiny rainbow appeared on a sleepy morning the day before Thanksgiving on the west end of Venice Avenue. Locals and tourists gathered there—in a circle on the sparkling sand between the Venice Beach Pavilion and the Gulf of Mexico—adding soundness to their minds and flexibility to their bodies.
The clouds receded as Elin Larsen continued her yoga instruction. She and others teach classes here on mornings and afternoons, seven days a week, 365 days a year.
The rainbow seemed to be a symbol of hope for the dozens of pandemic-weary participants on hand and perhaps signaled that, during this period of unprecedented uncertainty, they were in the right place at the right time.
Some participants, like Eric Nally, a 53-year-old advertising executive visiting from Chicago, face toward the rumbling surf for one yoga position, then watch the calm instructor for the next. It depends on their needs at the moment. Either way, their yoga mats or beach towels are on the sand for yet another class.
'More than accommodating'
At the center of the circle—literally, and figuratively, as a beacon for the multitudes of people who take her class each year—stands Larsen, 65. The Connecticut native started Free Yoga With Elin on the beach at the suggestion of a friend. It was a good decision.
Every relationship has rocky points. Larsen faced obstacles from Sarasota County Government when she began her yoga-teaching journey in 2007. But the value of the classes was immediately apparent as, within a couple of weeks, attendance was approximately 100 people.
In recent years, in-season attendance has reached 500 for the two morning classes. And county officials have been "more than accommodating, it's been great," Larsen said.
One who saw the beacon early was Ellen Stuckey, 80, who moved to Venice from Indiana 15 years ago. Back then she lived in a condominium near the beach. After hearing about Larsen's classes, the retired college professor showed up and has been a devotee ever since.
"She started this and I … came every day and it was great," Stuckey said. "She does an easy (class) but it really works, as far as exercise."
Larsen calls her style of yoga, which is designed to appeal to seniors, "sane and practical yoga. We don't do fancy stuff."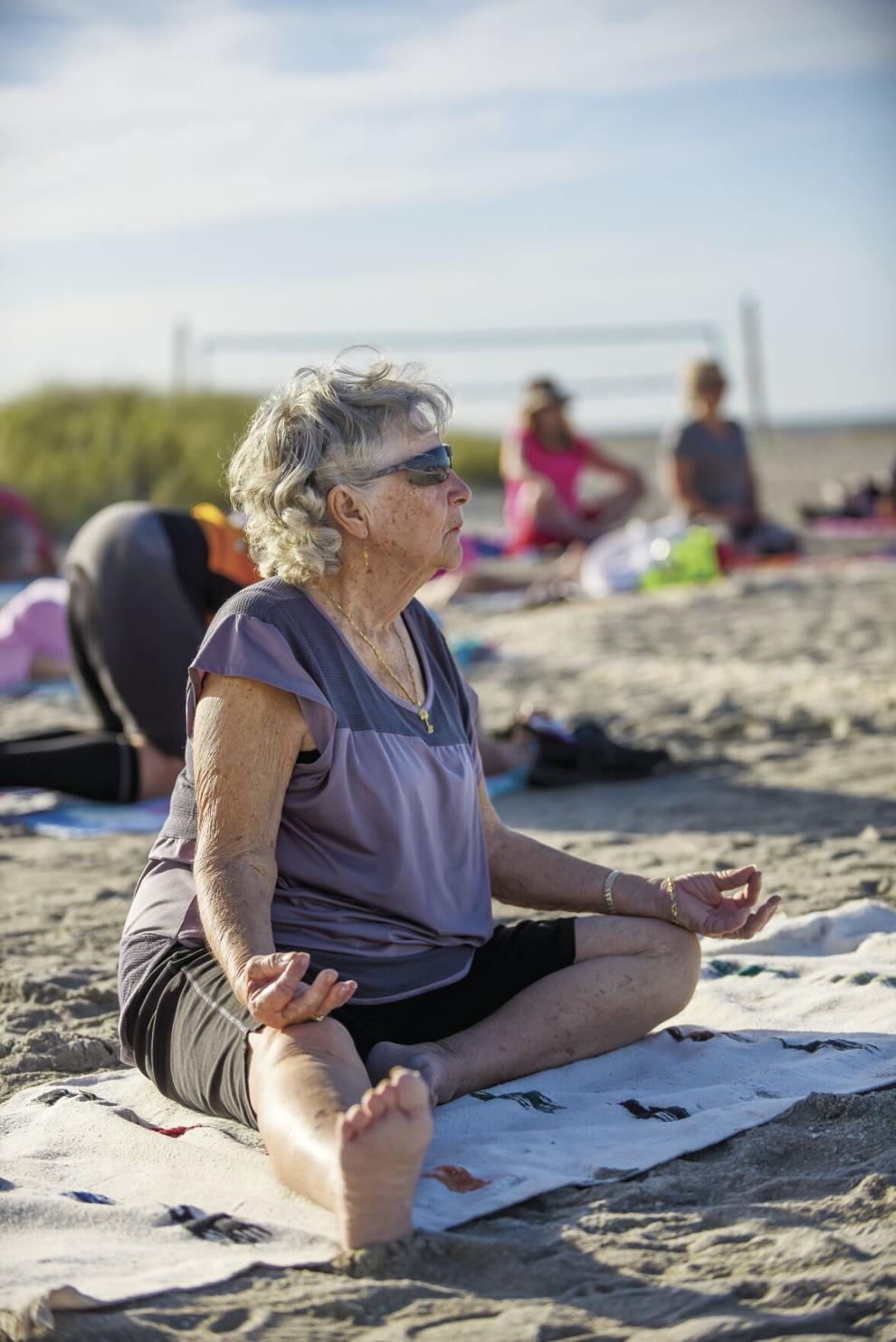 During a 30-minute class Larsen gives hundreds of instructions, some yoga poses harder than others.
"It's not intimidating because she's so easy-going about it," said Jim Johnson, 75. "She says, '(Do it) to the best of your ability.' It's just stretching parts of the body I hadn't stretched since I was in basic training in the Army. I just generally feel so much better."
Johnson says he's "still learning to balance. You will notice that the women balance like statues and the men are falling all over the place, even though they have been at it for years." Larsen encourages stumblers to find smoother sand.
Standing or stumbling, everyone is on equal footing in this class. No one gets teased for awkwardness and Johnson says Larsen tells them, "'If you are laughing at yourself, that is what you are supposed to do.' It's very low key."
Larsen's sequence of instructions is largely consistent from class to class—and she performs the poses as she verbalizes them so new participants can see and learn them in real-time while returners become accustomed to what's coming next.
The emphasis is on balance, flexibility, strength, awareness of surroundings (focus) and posture. (Meditation is not involved.) It's learning how to bend and not twist at the same time. And "practice good breathing." With everyone lying on their backs, Larsen prompts them to breathe through their noses. It's not aerobic exercise, Johnson said.
Stuckey has moved away from the beach but she still attends classes on the shoreline.
"She starts out with a very basic stretching exercise," Stuckey said of Larsen. "She does the same thing at the beginning every time, so you always are doing (something) to get yourself stretched."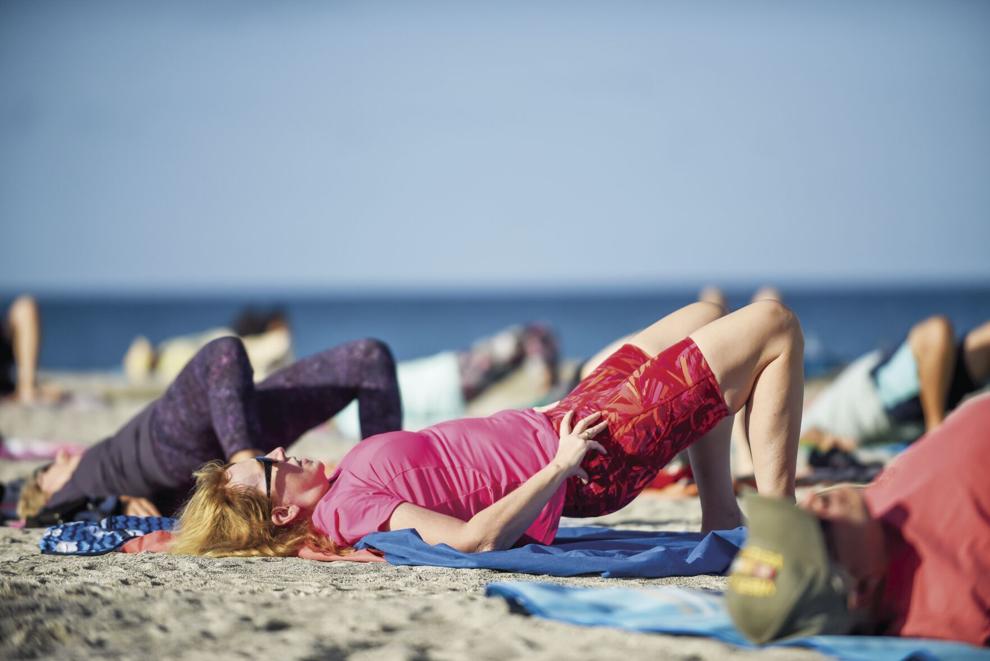 Then Larsen stops calling for stretching and starts into other movements—and after 45 years involved with yoga, including 30 as a teacher, she has a large repertoire. Some yoga poses are more difficult than others, Stuckey says, but they all are designed to strengthen and stretch your body.
Some poses have humorous names. Hearing them helps participants switch positions more quickly. After a challenging pose, Larsen announces an easier one: "Your reward is 'ski racer,'" followed by "flying bird" and then "back in 'the chair.' … All you have to do is breathe." Another pose, with participants rubbing their feet together to simulate a bee pollinating, is called "flower." Another is "cat and cow."
Participants say that unlike instructors at some workout facilities, Larsen does not require them to do anything beyond their capabilities. If someone falls out of a pose, Larsen is there to help almost before the others notice. Participants who feel a twinge of pain ask her what to do, and she gives prompt advice.
Though attendance is free, not everyone comes regularly. Stuckey says she can feel the difference in her body when she stops going for a while. "All of a sudden I realize whoa," she said.
When "whoa" happens she returns to class, but she also purchased an instructional DVD Larsen produced, which is available at Southeast Salt Coastal Apparel and Gifts, 213 W. Venice Ave., in Venice.
Johnson moved to Venice 22 years ago from Ohio. At first, he saw the folks doing yoga on the beach and laughed about it. Eleanor Curcio moved here six years ago from New Jersey. She had done yoga indoors up north. Neighbors in Pelican Point, they met while "she was walking her dog and I was giving treats to dogs," Johnson said.
Both recently widowed, they became friends. Curcio joined Free Yoga With Elin and convinced Johnson to give it a try. He had needed to do something to relieve pain from the recent reoccurrence of an old rotator cuff injury.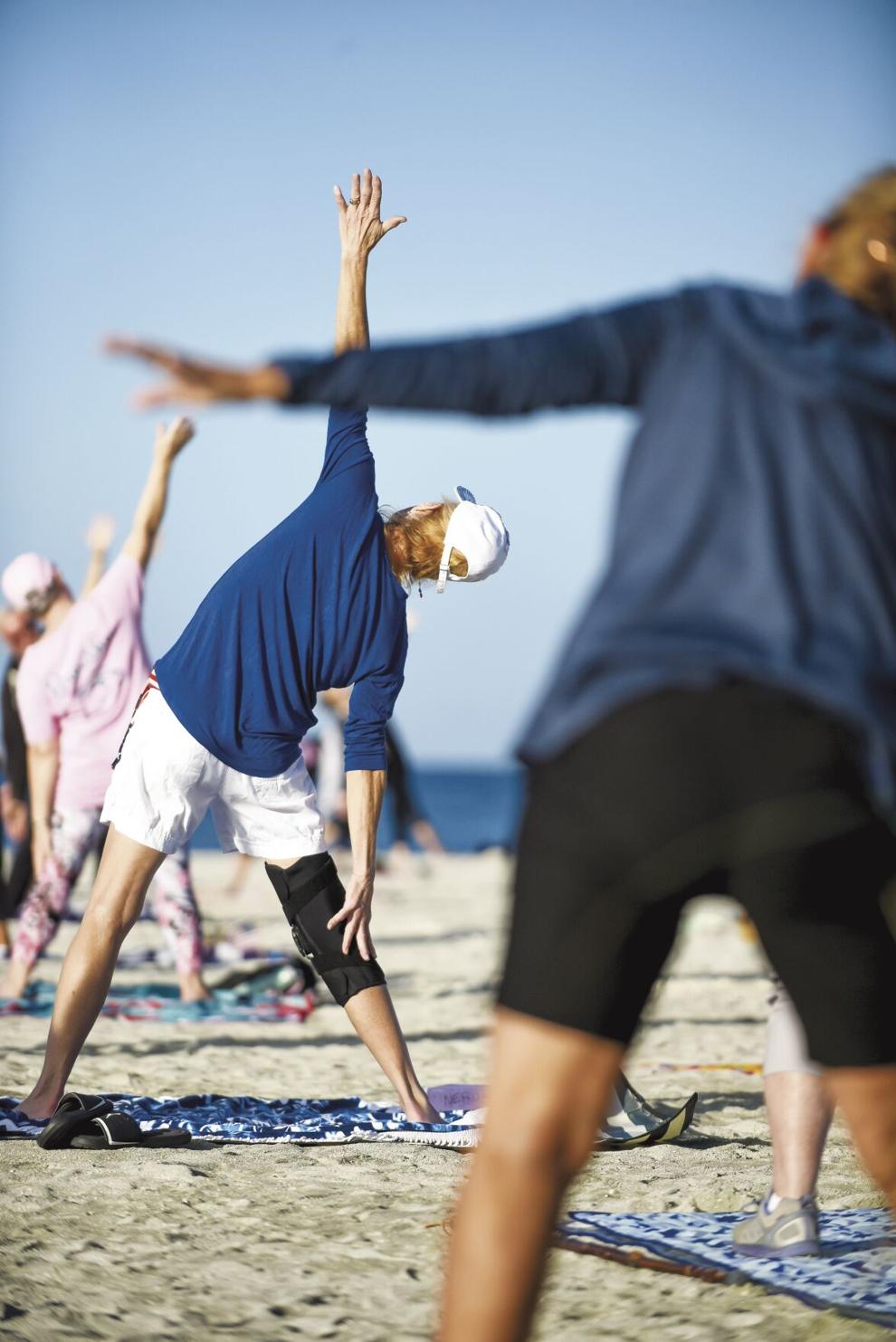 At first he said he'd go to yoga class after the new injury heeled. But one Sunday morning she told him he was going to class that day. He relented. In less than a week he had full range of motion in that shoulder. Now he can put pill bottles back in the medicine cabinet using either hand. He can bend over and tie his shoes "without falling on my head.
"It doesn't hurt," he said of his shoulder. "It clicks, makes funny noises, but it doesn't hurt anymore."
For Curcio, one difference between yoga here and yoga in Ocean City is that yoga there is indoors.
"That's the good thing here," she said of the oft-sunny beach location. "And you can do it all year. And it's nice here. I was raised in New Jersey and I'm glad I'm not there now."
Average highs/lows in Ocean City in December are 47/28 degrees compared to 74/55 at Sarasota-Bradenton International Airport. Conditions are probably similar between Ocean City and Johnson's native Ohio. He walks the beach for about half an hour prior to yoga classes.
Speaking under the pavilion after a class, Johnson says he is "absolutely spoiled. I would never do yoga anywhere but on the beach. It's unbelievable that we are able to do it here. We live in a postcard."
Participants praise Larsen for her knowledge of yoga and her people skills. "Elin is an outgoing person," Johnson said. "She'll stretch you to the limit, then when you think you can't do any more, she'll give you something easy to do where you relax."
Free admission also helps participants relax, but they are able to make monetary donations (typically a couple of dollars). They also enjoy the camaraderie—while social distancing and respecting each other's privacy.
Nally leaves Chicago and visits Venice a couple of times a year. He was on hand with his brother and a friend for Larsen's class, taking selfies with the beach in the background. Nally agreed to try yoga when he visited in August "and fell in love with it." He planned to do yoga in Chicago but he hadn't even unrolled his mat until he returned to Venice Beach.
During class Nally sees dolphins and birds and hears the sounds of the beach. Also in Venice, he bikes more and runs more than in Chicago, where it's 30 degrees, he said. He would consider retiring here.
"I have lots of friends in Florida."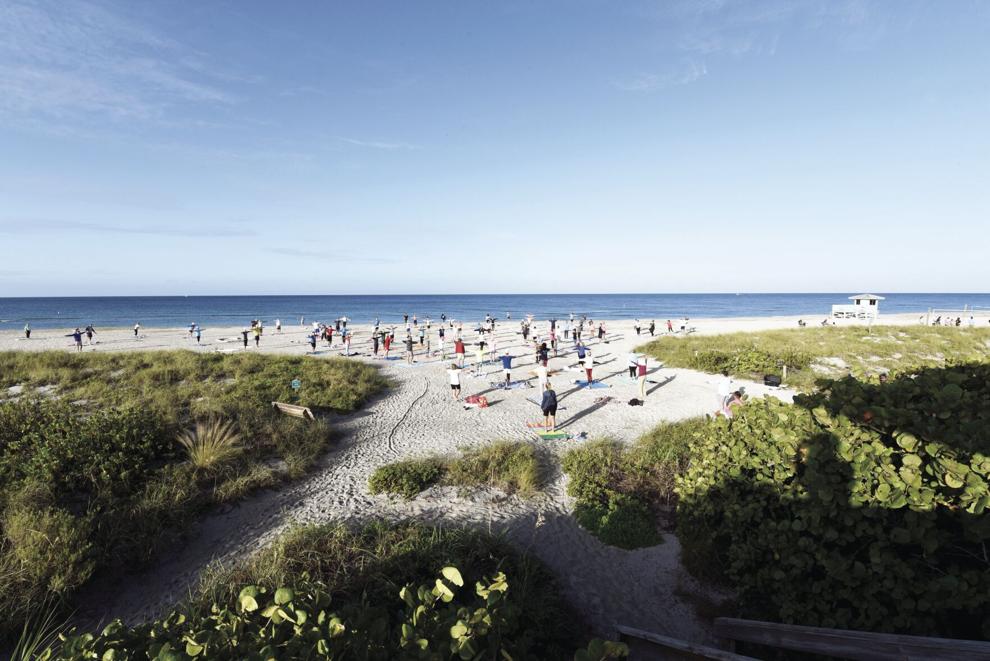 Larsen, a former Olympic-caliber cyclist, and her associates teach on the beach every day of the year to, as she says, "keep people on a regular schedule. A lot of people here live by themselves. This becomes part of their lives. If we're not here, they don't know what to do."
More new people have attended the class in 2020 than in previous years. Larsen is not sure why. Perhaps they are seeking solace in the year of the pandemic.
Meanwhile, the rainbow "grew in size" as the clouds receded. The birds flew overhead. Larsen delivered instructions against the whir of planes taking off at nearby Venice Municipal Airport and a boater whizzed by. Regular beachgoers played in the cold November Gulf surf.
Tomorrow would be Thanksgiving Day and some yoga participants would bring visiting grandchildren.
"It exposes them to new stuff," Larsen said of her class. Instruction is typically aimed at people 65 and older but participants' ages have ranged from pre-teen to 93.
"Everybody can do it," she said. "I keep it simple."
"It's the scene, the setting, the instruction, the crowd," said Nally, the advertising executive, as if narrating a Free Yoga With Elin TV commercial. "It's very entertaining."