WINTER HAVEN — When Madelyn Ivy Horn got the opportunity to open her first business, deciding on the theme was a matter of simple arithmetic.
"I've always loved candy and I started loving science fiction in high school," Horn explained. "I got the opportunity to do this and I thought 'just put together both things that you like.'"
She's done just that, too.
Confection — her sci-fi themed candy store in downtown Winter Haven — celebrated its grand opening last week.
The store specializes in imported candy, nostalgic candy of yesteryear and craft chocolate, among other things. There is also a selection of specialty toys for sale, a movie that is usually playing on a projector and, oh yeah, "Zondar" — the large robot standing sentinel at the store's large window facing Central Avenue.
"I wanted something that faced the street because I want to do really cool things with the window," Horn explained. "The robot is here and I want people to see the robot when they walk by — he's kind of the icon of the business."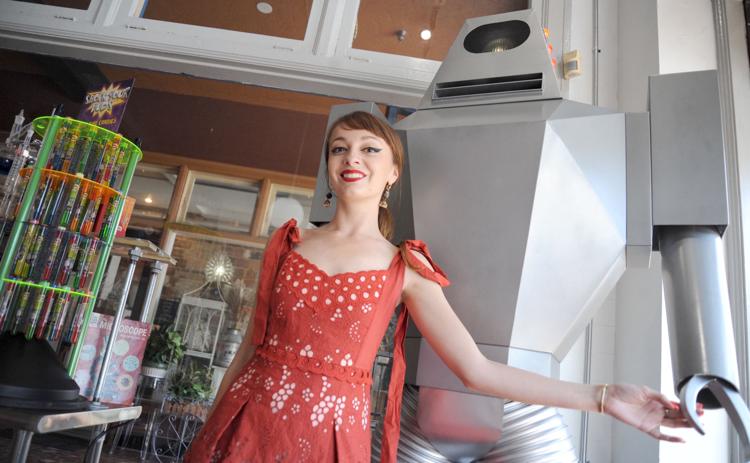 Horn says she has had a sweet tooth for as long as she can remember and that international travels to Europe and China helped escalate her hobby, as those trips provided a chance to add new candies to her palate.
"It feels like a collecting kind of thing," she explains.
Horn, 27, has worked at Universal Studios in Orlando for the past five years — most recently as a witch at Ollivander's Wand Shop — and says she still intends to make the commute to Orlando once each week to work on Sunday, one of two days when Confection is closed for business.
The whirlwind of getting ready for the business's ribbon cutting and grand opening has helped to teach the lifelong Winter Haven resident plenty about striking out on her own in a short period of time.
"There's a million different skill sets I think you need to open a business," Horn said. "You're never going to have all of them, so not being afraid to find someone who does and ask for help (is important)."
She done that, too, leaning on family, friends and other creatives to get things started on the right foot.
"My family and everyone has kind of pitched in and helped out," she said.
Confection is located at 254 West Central Avenue, Suite B, in downtown Winter Haven, across from the Ritz Theatre. To begin with, the store's hours with will run from 11 a.m. to 6 p.m. from Tuesday through Thursday and 11 a.m. to 7 p.m. on Friday and Saturday, with the store closed on Sundays and Mondays.
For more information or to follow along with the latest additions to the lineup for your sweet tooth, check out the store's Facebook page at facebook.com/confectionwh/.
—
Contact Steven Ryzewski at sryzewski@d-r.media.