WINTER HAVEN – Dick Pope would be proud.
The Cypress Gardens Waterski Team recently took top honors at the 2019 Southern Regional Show Ski Championships in Sarasota.
Approximately 80 team members traveled to the city on Florida's west coast along with seven trailers carrying everything essential to present "Gold Rush."
The team went to entertain, creating a skit centering around a prospector discovering gold. Performed on skis using music, choreography and acting, the performance included traditional ski show acts such as ballet on water, freestyle jumping, barefoot skiing and the human pyramid.
The teams at the competition are judged on the flow, execution, difficulty and spectator appeal during a one-hour performance.
"This win was a real team effort," said Jeff Stoskopf, skier and director of the show. "It was a big production just to get there."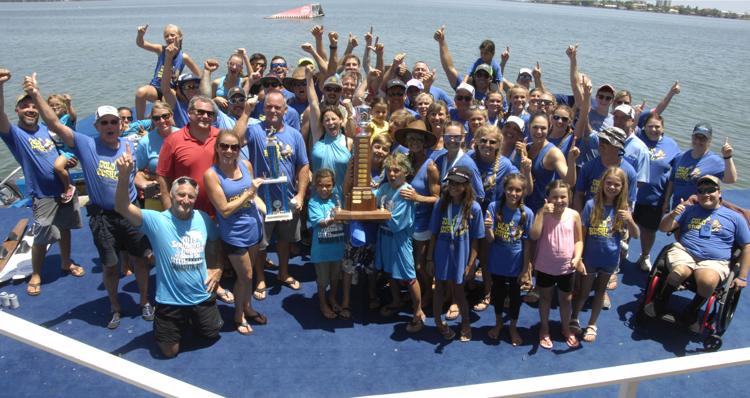 Five boats, a glider, costumes, props and other equipment were all used by the group during the two-day competition.
Beginning in early spring — long before the theme of Gold Rush had been decided on — the boat drivers pulling skiers began practicing passes.
"As we got closer to the competition date, we added music, the skit, and costumes," Stoskopf explained. "We wanted to make it entertaining and we got rave reviews."
Stoskopf said the community supported them with financial donations and still others — including Theatre Winter Haven and Polk State College — went even further by loaning them items needed for the competition.
The team is made up of all age groups – from teenagers to members in their 50s, 60s and 70s – who perform a range of jobs working together to make the show successful. There are, of course, skiers – about 32 of them — but the remainder of the team, around 48 people, is made up of boat drivers, announcers, sound and special effects technicians, concession workers and others.
And, in the case of seven families, there is more than one family member on the team.
"This is definitely a family sport," Stoskopf said. "There is no other sport like this where different generations can enjoy the same sport together."
For instance, Stoskopf and his wife, Shaune, who is also a skier, worked alongside their son, Corbett, age 20.
Veteran skier Dave Dershimer, who is in his 70s, and his wife, Marcie, who helped with costumes, enjoy being able to work together in the production. Dave moved from Pennsylvania as a teenager to become a Cypress Gardens skier.
That was in 1964 — and he said he is still in love with the sport more than five decades later.
"This team is a way of sharing with others the legacy of a sport that we all love," Dave said.
The team is made up entirely of volunteers; however, that doesn't affect the level of professionalism and number of hours the team members put into the shows.
For example, Shaune Stoskopf, one of the instructors, is in the water three or four days a week year-round (except for a couple of weeks in February because of cold weather) teaching ballet, pyramids and doubles. And, she is only one example.
The team presents a free show the third Saturday of every month at 5 p.m. at the Martin Luther King, Jr. Park at Lake Silver in Winter Haven. Concessions are available and guests are encouraged to bring a chair or blanket.
The time of the show changes in October when Daylight Savings Time ends and the next show will be held August 17.
When the competition was over, Cypress Gardens had racked up 1,561.63 points with the next closest scoring team – the Sarasota Ski-A-Rees – scoring 1,532.07 points. Cypress Gardens earned top awards for showmanship, overall show, sound crew and towboat driving.
In the individual events, Luci Lippelgoos won swivel; Taylor Camann won swivel; and Rob Kadansky and Malayna Smith won novice doubles.