LAKE WALES – A bus route that has long been hoped for, from Lake Wales to Haines City, is about to become a reality.
Beginning Oct. 1, Citrus Connection staff will be opening a new express bus route up and down U.S. 27, between Lake Wales and Haines City.
Lake Wales city leaders said the new route, which will make stops in Dundee, Lake Hamilton and Haines City, will open up job opportunities for many on the east side of the county.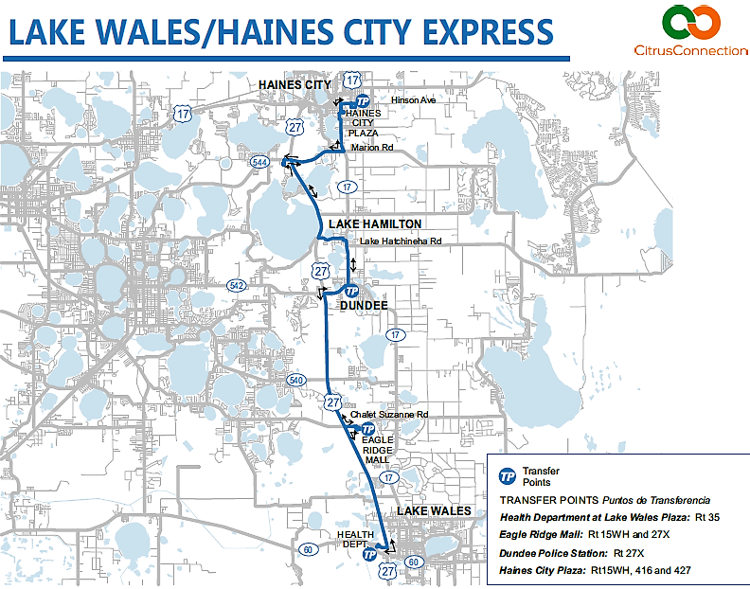 "I think, universally, that everybody thinks this is a really good thing — providing more access to our citizens to business and employment opportunities," City Manager Ken Fields said. "From our point of view, it's a great addition."
Polk County Commission Chairman George Lindsey said that funding for two bus routes was given verbal approval during the board retreat in February. An official vote will likely take place during county budget negotiations in September.
During his recent "State of the City" speech, Lake Wales Mayor Eugene Fultz said that mayors associated with the Ridge League of Cities have been lobbying for more bus routes in east Polk County over the past year. During the speech, Fultz said the route would start in Frostproof and loop back south in Davenport.
Citrus Connection Marketing and Communications Manager David Walters said the second route that also received approval would start at Posner Park Mall and loop around the Loughman area.
Funding for the new Citrus Connection routes will come from both the county and the cities being served, according to Fields. The idea has been bandied about for a long time.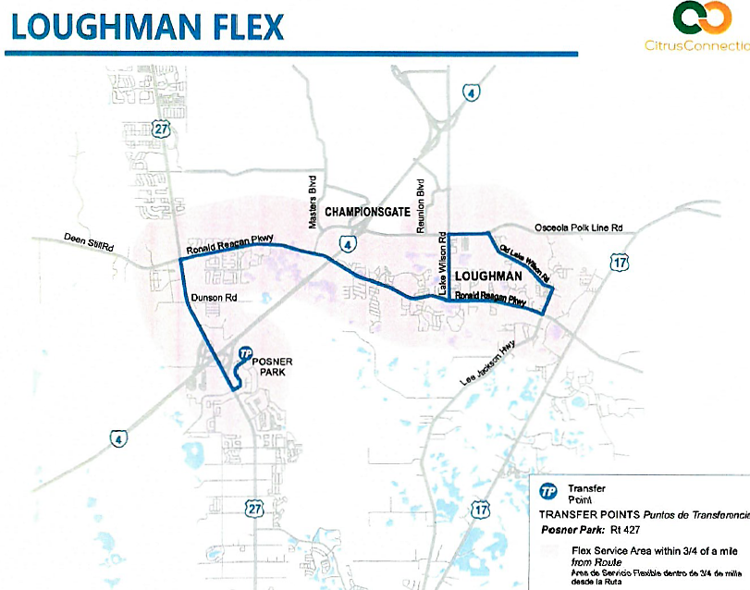 Riders will have to transfer to one of several different buses in Haines City. Those will then run into Poinciana, Davenport north of Interstate 4, and to Winter Haven. Fultz said the service would even provide a link to the Orlando Lynx bus system, which would allow people to take the bus there and back as well.
"There are a number of people who are disadvantaged who really, really want that route," Fultz said. "It's giving more accessibility to our citizens, helping them get out and about."
Currently, there is no bus service between Haines City and Dundee, which has been the missing link for continuous service up and down U.S. 27. Several buses currently serve the greater Lake Wales area, including one that dips south into Frostproof and another that runs between Eagle Ridge Mall and Dundee.
"The key is this is the first major north-south route along U.S. 27. It used to be if you wanted to go into Haines City, you had to go into Winter Haven," Fields noted. "This will be an express bus."
City officials are hopeful the service will not only get people to their jobs, but create the opportunity for local residents to learn a new skill since the route will provide bus service to Ridge Technical College on Route 544.