Frostproof's Nickell Robey-Coleman takes his best shot every time he steps on the football field, and that dedication has paved the way for him to play in Super Bowl LIII in Atlanta this Sunday.
Life has thrown the undrafted free agent cornerback plenty of curveballs, with the latest coming in the form of one of the most controversial plays in recent memory — Robey-Coleman was the defender for the Los Angeles Rams on the play where a missed pass-interference call late in the fourth quarter of the NFC Championship Game played a key role in the Rams' victory against the host New Orleans Saints.
Replay showed that the play should have been a penalty. Additionally, he was fined by the NFL for what was ruled a helmet-to-helmet hit after the fact. As a result, Robey-Coleman's name has been in the national sports dialogue more than he ever could have imagined.
Robey-Coleman can take the attention, though, good or bad.
Life has thrown more sorrows at the Frostproof High alum than most people twice his age. Yet, his effervescent personality remains undented, his confidence unshaken, his outlook still rosy.
Local fans recall Nickell's dream of signing with USC to play college football being shattered when weeks after his commitment, his mother died in his arms. The Coleman part of Robey-Coleman is tribute to her, Maxine.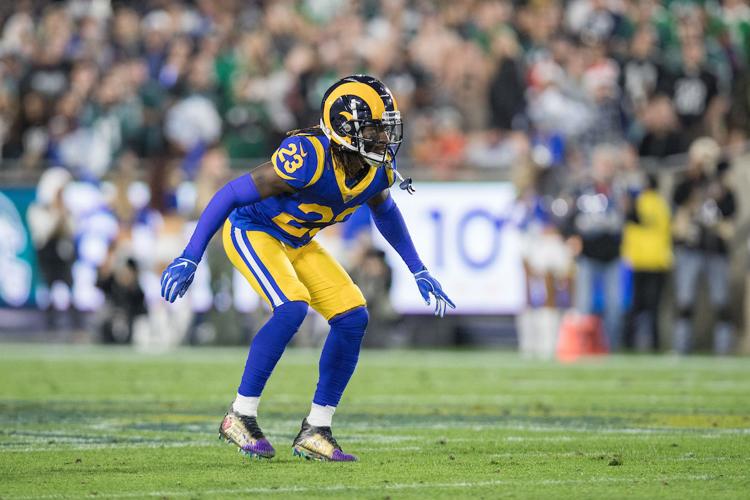 Local fans might not know, however, that tragedy struck a second time. This time it happened during the recently completed regular season, when his prematurely born five-day old son died as he rushed back from Colorado, where his team was practicing for a Monday night game in Kansas City.
Nickell Jr. was born on what would have been his grandmother's birthday.
Through all the adversity, Robey-Coleman recalls his small-town roots, where he honed his craft on Friday nights at Faris Brannen Stadium.
"Just having great support from great friends, great family — just keeping your confidence up, keeping you grounded, while at the same time just understanding that I believe in myself," Robey-Coleman said. "If someone gives me an opportunity, I'm going to show them to the best of my ability that I belong in this league."
And as for the now-infamous play — one that could very well lead to some sort of NFL rule changes regarding how instant replay is used — Robey-Coleman is open and honest.
"I came to the sidelines and looked to the football gods and said 'thank you.' I got away with one." he said. "When you catch a break, you have to take advantage. This league is too hard to get a break and not take advantage of it. "
Robey-Coleman knows he'll be asked about the play a few hundred times this week in the leadup to the game. As Frostproof's second player to appear in a Super Bowl – Alvin Harper is the other – he says he is ready to handle it.
"I made a football play, the ref made his call," Robey-Coleman said. "There's nothing I can do about it."
Robey-Coleman has bigger concerns, anyhow. The next curveball for the Frostproof alum is taking on the New England Patriots and quarterback Tom Brady — widely regarded as the best to play the position.
As ever, Robey-Coleman is undaunted.
"I'm just ready," he said. "Going against Tom, you have no choice but to get excited. He's the best."