Charles Aguon II, a Davenport resident and the headmaster at Kingdom Preparatory School in Auburndale, was arrested Feb. 6 by the Polk County Sheriff's Office on two counts of lewd molestation of a child between the ages of 12 and 16.
Aguon, 34, is also an ordained minister and went by the name "Pastor Tiger" in his capacities at the private school of about 200 students.
"Make no mistake about it — Pastor Tiger is caged up in the county jail right now, where he should be," announced Polk Sheriff Grady Judd at a press conference Feb. 6.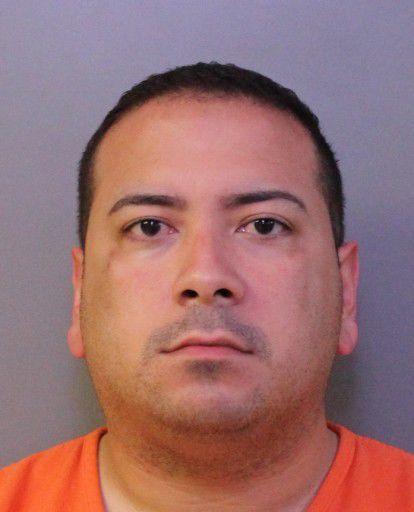 The allegations were brought to the attention of law enforcement Feb. 4, and the investigation proceeded quickly.
The victim — a 15-year-old male student at the school — detailed the encounters in an interview, saying that there had been numerous instances of of Aguon touching his penis and simulating sex with him. The victim recalled specific occurrences in November and December of 2018.
According to an affidavit, the victim made a monitored phone call to Aguon Feb. 5, during which Aguon appears to validate the victim's allegations.
Per the affidavit: "(Victim) told Aguon that he felt uncomfortable and did not like when Aguon kissed and touched him. Aguon then asked (Victim), 'Oh the loving on you?' After (Victim) stated he did not like it when Aguon touched his private parts, kissed him, and bit his lip, Aguon then stated, 'You know I was only messing with you.' After (Victim) stated a second time that he did not like it, Aguon then stated, 'I'm sorry.'"
Within two hours of that phone call, Aguon was arrested by Polk Sheriffs.
According to the affidavit, Aguon acknowledged in his interview that his conduct may have been inappropriate, and he admitted to kissing the victim on the lips and also "bagging" — a slang term for "tapping or touching another male's penis and/or scrotum," per the affidavit.
Aguon has been employed at the school for two years. He was also an athletics coach at the K-12 school of roughly 200 students, including a role on the coaching staff for the football team, in addition to his other roles.
"He checks all the boxes for people in areas of public trust," Judd said. "We are absolutely mortified by his conduct."
On the school's website, Aguon is listed under his "Pastor Tiger" nickname and not his legal name.
"If you have a name like that, maybe it makes it easier to groom children," Judd said.
The investigation into Aguon is ongoing. Judd made clear that every staff member at the school, which is located at 301 Charlotte Road in Auburndale, will be interviewed. Though the incidents acknowledged by the victim and Aguon occurred off-campus, Judd said that the grooming process may have began on-campus. Additionally, Aguon resided in a residence with three male roommates — each of whom also is employed at Kingdom Prep.
Judd also urged parents and grandparents of students at Kingdom Prep to talk to their children and ask if they had experienced any inappropriate behavior, whether it was by Aguon or any other faculty at the school.
"If there are other students who are victims, they may not recognize that they are victims, depending on the level of his grooming or his conduct," Judd said. "If there are parents that suspect (their child) may have been inappropriately acted upon or acted with … let us know.
Aguon has no prior criminal history, but Judd was clear that he believes this is not an isolated incident.
"I know you don't wake up at 34 years of age and say 'huh — I think I'll be a child predator today,'" Judd said. "There's a history. Whether or not we can ever dig it out, I don't know."