WINTER HAVEN — When Dr. Keith Bonney thinks about his role as principal of Chain of Lakes Collegiate High School, the public charter school located on Polk State College's Winter Haven campus, he recalls the Boston Celtics of the 1980s.
Specifically, Bonney thinks of K.C. Jones, the coach of the Celtics during the franchise's prolific run with the likes of Larry Bird, Kevin McHale and Robert Parish.
In a lot of ways, Bonney — who took over as principal on March 1, following the retirement of Bridget Fetter — sees his role as similiar to that of Jones. Chain of Lakes Collegiate has had a 100 percent graduation rate and been an A school for the past six years under the leadership of Fetter and the staff she assembled.
So, when asked how he has gone about his transition from assistant principal to principal, Bonney recalls something Jones once said when explaining how he coached a roster of future hall-of-famers.
"'Simple — get their input and get out of the way,'" Bonney said, quoting Jones. "Sometimes good leadership is knowing when to get out of the way. We have some excellent teachers that know what to do."
Bonney credits Fetter as a strong mentor who, even in retirement, has offered to remain available for consultation.
This particular challenge for Bonney is the latest in an academic career that has included stops for him at Lake Alfred-Addair Middle and Jewett Middle Academy, but started in Indiana.
Bonney is a Bartow native and played quarterback for the Bartow High football team when it won a state championship in 1977. He played his college career at Indiana State and that was where one of his coaches suggested he pursue a career with kids.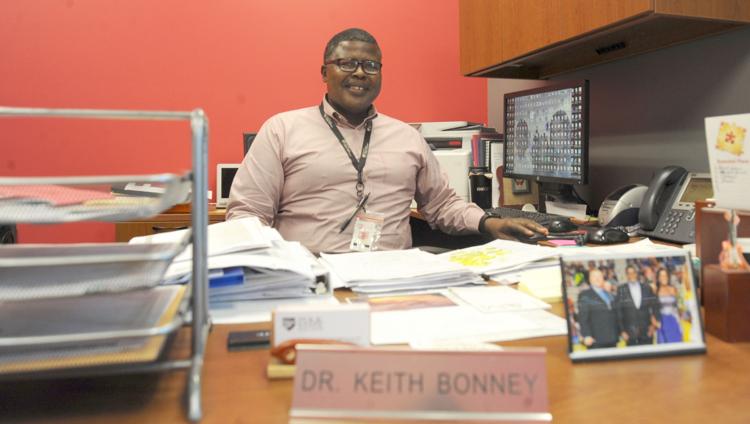 Decades later, Bonney is in charge of a school with 315 students and 15 faculty members, of which eight are teachers.
Chain of Lakes Collegiate operates as an on-location, dual-enrollment model. Sophomores and juniors in high school can apply for the lottery for Chain of Lakes — which has only juniors and seniors — if they meet the criteria to be dual-enrolled. If they are selected, at random, the school offers an opportunity for students to take their high-school courses a short walk from their dual-enrolled college courses.
By the time Chain of Lakes students are seniors, they are close to fully-immersed in a college workload.
"It gets you acclimated to doing things on your own and making your own schedule the way a college student would," Bonney said.
That model has attracted a particular type of student that Bonney says he has enjoyed working with.
"Most kids here are very assertive," he said. "They study, they're in class and they're academically-oriented. They are self-starters."
That is something Bonney hopes he can continue to foster in his role. Harkening back to some of the difficulties from his own time as a young adult, Bonney says he sees limitless opportunity for young people who seize upon it.
"I want to let them know 'you can have a better life … take advantage of everything,'" Bonney said.