LAKE WALES – Jim Weaver is the 2019 Lake Wales Area Chamber of Commerce and Economic Development Citizen of the Year.
For years, the Lake Wales Rotarian traveled to Honduras to volunteer his service. Weaver's law firm has been in business since 1976 and Weaver has served on multiple local boards.
"What a fabulous honor it is to be part of this community — thank you," Weaver said.
The theme of the annual chamber gala was "Feeling Groovy," and many in attendance dressed up in 70's outfits.
The Lake Wales medicinal marijuana business GrowHealthy won the Carl F. Durso Excellence in Business Award for larger businesses. Dressed in his best 70's outfit while announcing another award, Brian Marbutt of Citizens Bank got the crowd laughing.
"I just wanted to start out by saying I was at GrowHealthy today and it was groovy man," Marbutt said.
GrowHealthy Vice President of Production Darrin Potter accepted the award on behalf of the company. Jason Penrod of Family Elder Law introduced Potter.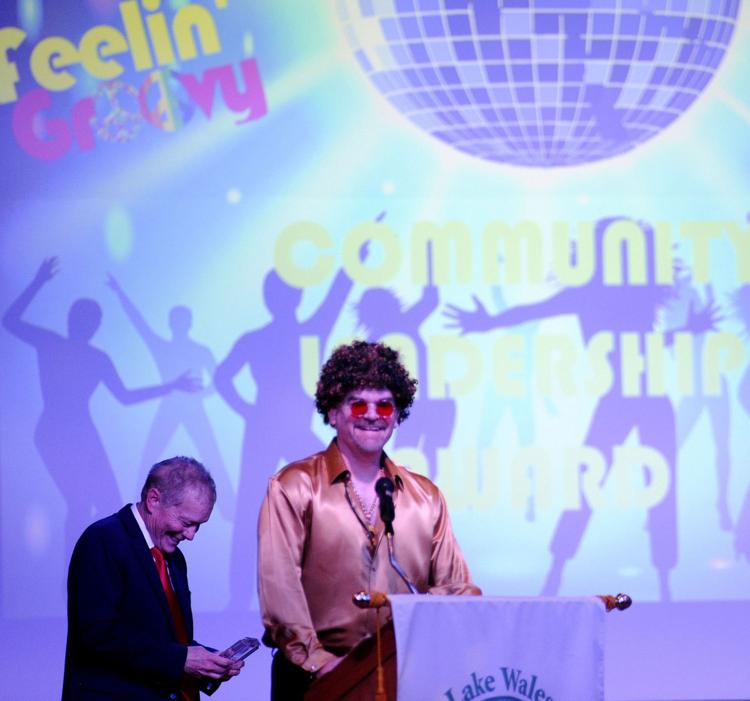 "Darrin Potter is the vice president of production or maybe it's quality control, I'm not sure," Penrod said. "Is that really your name, Darren Pot-ter?"
According to Penrod, GrowHealthy started with 25 plants and now there are around 6,000 growing on their 33 acres of property near the Lake Wales Airport. The company now employs 92 people.
CAPO Security founder and owner Gio Fazzini won the Carl F. Durso Excellence in Business Award for a small business. Dressed on stage as a groovy rock star, Fazinni also imitated a stage comic.
"Nobody told me you are allowed to change first," Fazinni said. "Think of the pictures."
Gio Fazinni said he is proud of the business he started out of his house in 2010, doing door-to-door sales. The former Frostproof High valedictorian, class president and athletic standout is closing in on $1 million in business sales in a calendar year.
Polk State College JD Alexander Center Director Dr. Andy Oguntola earned the Community Leadership Award.
"Andy is constantly trying to make a difference in the community," Marbutt said.
Oguntola recently earned a doctorate in higher education leadership.
Lake Wales City Manager Ken Fields was named 2019 Public Servant of the Year. Fields said it was city staff who deserve the recognition.
"They are the public servants out there every day," Fields said. "I'm a firm believer of public service and giving back to your community and I just love Lake Wales. I love what the staff is doing, what the community is doing here. It's the pinnacle of my career in terms of watching a community come together, roll up our sleeves and make this the best community to live in."
Family Literacy Academy was named 2019 Community Service Organization of the Year. Founders Deming Cowles and Gail Crum accepted on behalf of the non profit organization that specializes in helping area residents obtain GEDs.
"It takes a community to work together to improve itself," Cowles said.