WINTER HAVEN — As Tyler Martin let fly what is destined to be one of the more memorable passes of his varsity football career, all he could think was that he needed to give Winter Haven tight end Josh Celiscar a chance.
"I just had to make a play," Martin said. "(Celiscar is) 6-foot-4, I've got to give him a chance to make a play."
Martin did — and so did Celiscar.
The 25-yard touchdown toss with 1:30 to play was thrown perfectly, where Celiscar could go up and haul it in, giving the Winter Haven Blue Devils a 29-28 win over the Auburndale Bloodhounds.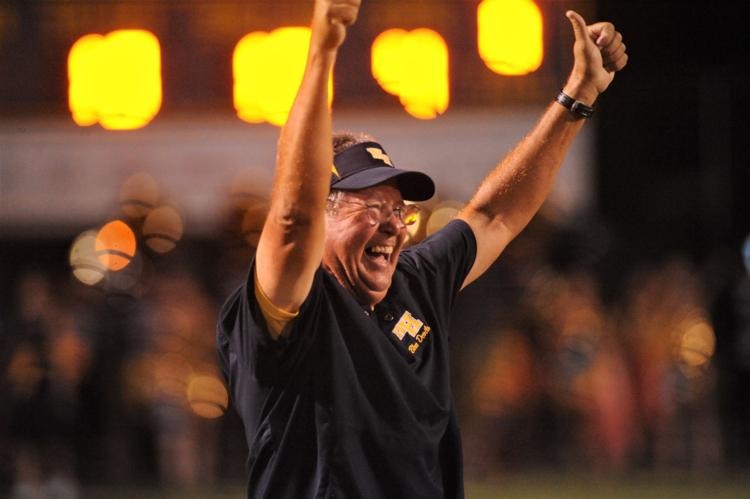 Celebrating their homecoming week, the Blue Devils (4-2) overcame a 21-8 halftime deficit and roared back to earn their fourth consecutive win in front of a large and enthusiastic crowd at Denison Stadium.
Following the go-ahead score, Auburndale (5-2) would drive all the way down to Winter Haven's 5-yard-line in the game's closing moments, but a field goal missed wide left as time expired sealed the Blue Devils' comeback victory.
Montarious Elder scored two second half touchdowns for Winter Haven and Tyreece Anglin, who was crowned Winter Haven High Homecoming King at halftime, scored the Blue Devils' first touchdown in the first quarter.
"We could have quit a lot of different times. … We found a way to win," head coach Charlie Tate said. "Our kids haven't played in front of a crowd like this, so that's exciting just in itself. People got to see a great game — both teams played their butts off."
Now Winter Haven, which looked to be in deep trouble after a preseason loss and then two losses to start the regular season, has won four games in-a-row. After an offseason that was defined by who left the program instead of who stayed, Elder said the Blue Devils who remained had to take responsibility for what would happen next.
"We just had to go back to work," Elder said. "We realized that nobody else was coming and it's on us."
Tre'veon Raggs had three touchdown runs for the Bloodhounds and Sabata Bridges had a touchdown toss.
On Oct. 11, Winter Haven will travel to take on Tampa Catholic, while Auburndale will rest up on its bye week.
———
Contact Steven Ryzewski at sryzewski@d-r.media.