POLK COUNTY — Sixteen-year-old Jackson Gerard, a Candlelight Christian Academy student and resident of Babson Park, swept the 42nd Annual Barefoot Water Ski National Championships Aug. 22-24 in Wisconsin.
Gerard took home gold medals in categories including Tricks, Slalom, Jumps and Overall Open Men's Pro Score.
It was the first time that Gerard has ever finished first overall as a professional barefoot water ski athlete. Gerard previously earned titles of overall junior champion in 2016 and 2018.
Jackson Gerard has been training at World Barefoot Center on Lake Conine in Winter Haven for six years. In a recent blog post, Gerard said he had to wait until his mother, Joani Gerard, was out of town to learn how to barefoot with his father, Clarke Gerard.
At age 10, it only took Gerard three attempts to get up on his feet.
When his mother returned to Polk County, she posted videos of her son and, within days, Gerard was made aware of World Barefoot Center, where he has been training since.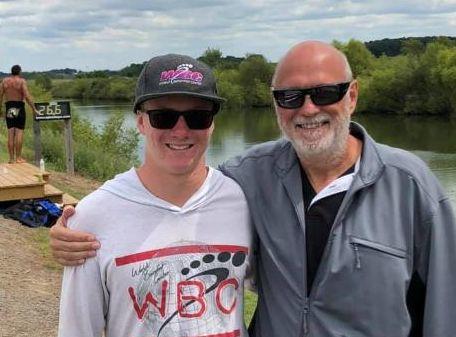 Over the years World Barefoot Center staff Ashleigh Stebbeings, Ben Groen, David Small and coach Swampy Bouchard have helped Gerard turn pro.
Lexi McCauley and Alex Youngblood, who live and train in Winter Haven full-time after relocating from out-of-state, earned Open Women's Pro Gold and Silver medals, respectively.
McCauley scored 5,800 points in the tricks category last week, shattering her old U.S. record.
The athletes competed in wake slalom, tricks and jumping. Gerard flew 77-feet in the air during his winning jump. He said he was the first pro to jump and had to wait and hope none of the other professionals could beat the jump.
"My heart was racing," Gerard said.
Asked if it felt like flying so high above the water, Gerard said time seems to slow down when performing a jump while being pulled from behind a boat driving no more than 44.7 miles per hour.
Last year, Gerard broke three barefoot water ski "tricks" world records as a 15-year-old. He broke two more records at the 2018 U.S. Barefoot Nationals, where he just missed winning best pro, and a third at the IWWF World Barefoot Water Ski Championships.
Next up for the young champion is the 2019 IWWF Pan Am Barefoot Championships Nov 1-3 in Mexico.
Clarke and Joani Gerard have taken the family to Wisconsin to compete several times and have also traveled to Italy and Canada for Jackson Gerard to compete. Jackson Gerard has twin sisters who are freshmen at Lake Wales High School. Ana plays drums in the Highlander band. Ali dances in the band and is also active with Lake Wales Little Theater.
—
Contact Charles A. Baker III at cbaker@d-r.media.